More exposure for female international athletes.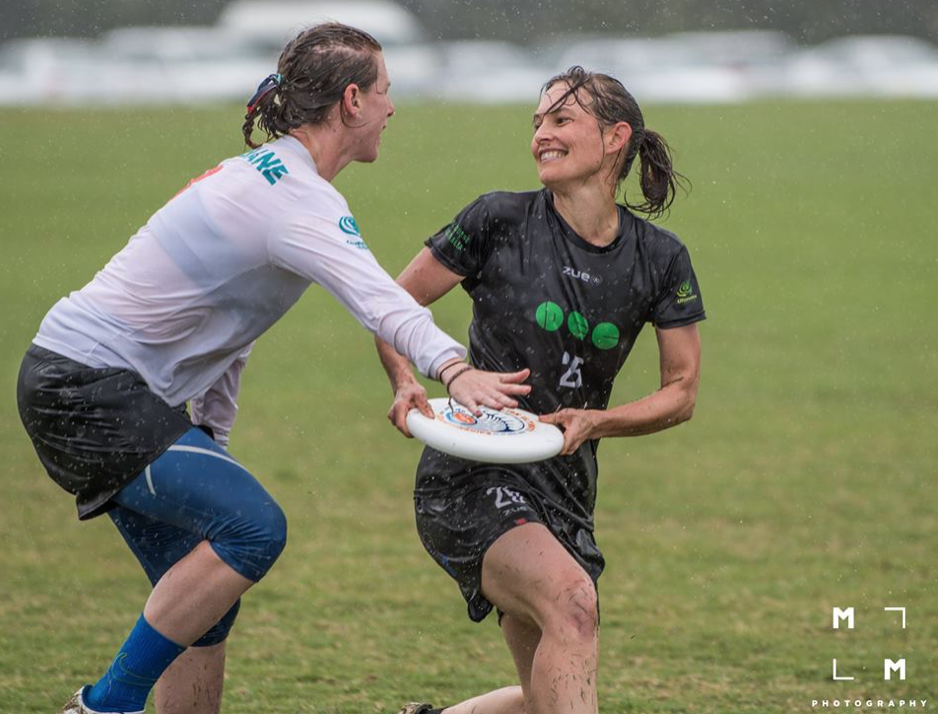 The saying "If you want something done, ask a busy person" has never been more applicable than to Lisi Moore, who is organizing a colossal cross-cultural project that she will not actually get to experience in person. Moore is a 2013 Australia World Games representative, an athlete with the Melbourne Ellipsis team who just placed 9th at WUCC 2018, a full-time physiotherapist, and a mother of two. She's also the woman spearheading the ambitious Asian Oceanic All-Stars Tour that's competing against Women's club teams in the United States from July 22-31. A few months ago, I had a chance to speak with Moore and find out a little more about the Tour, which held their opening game last night against New York Bent.
Moore was inspired by the idea of an Asian-Oceanic women's ultimate tour after seeing the success of the All-Star Ultimate Tour and the Eurostars Tour. Spurred by her experiences competing alongside international athletes such as Moe Sameshima on the Australian Firetails in WUGC 2016, Moore said she wanted a tour that could provide a professional athlete experience, capture high quality games on film, and highlight female athletes in our diverse region who wouldn't otherwise get such exposure. The more we spoke, however, the more it became clear that the Asian Oceanic All-Stars Tour was about much more than just a cultural exchange.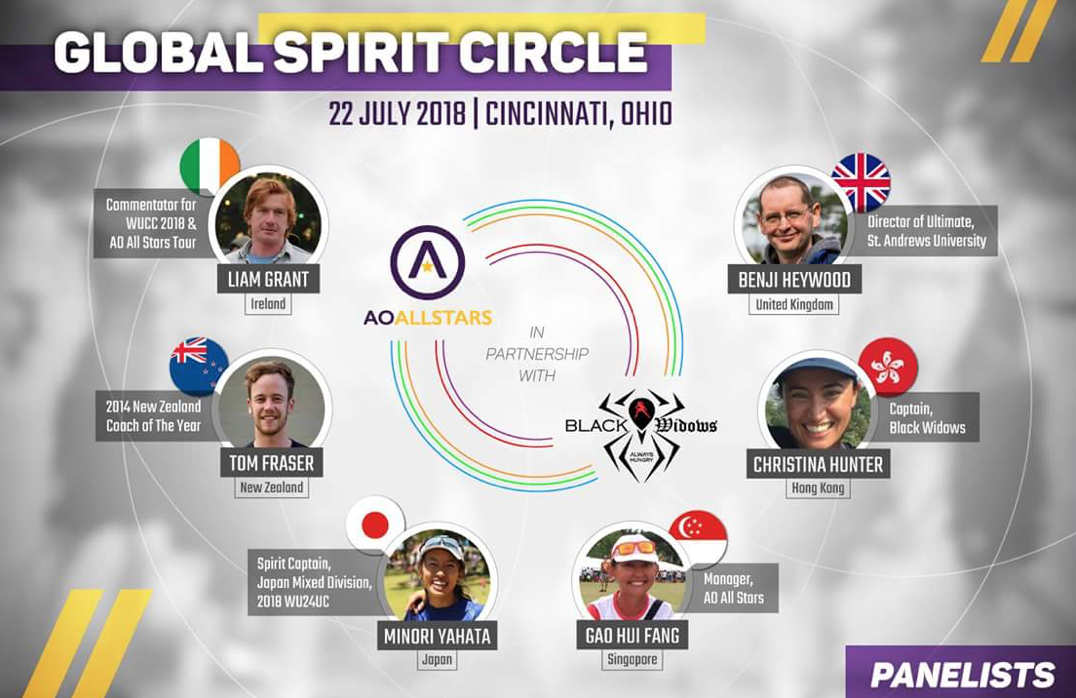 Beginning with the Global Spirit Circle initiative alongside Rival Ultimate and the Black Widows, the AO All-Stars continued an important conversation about spirit in cross-cultural contexts. In a sport that functions on trust and self-officiation, how do we overcome communication and cultural barriers to upholding the Spirit of the Game during international competition? The conversation, which took place on the 22nd of July, was broadcast live on their Facebook page, and representatives from the region were able to share how they have been focusing on raising the standard of SOTG in their communities. Tom Fraser (New Zealand) brought up the idea of rehearsing elements of spirit (hand signals, knowing the rules, trying to resolve contested calls) during team training, while Hui Fang (Singapore) reiterated the importance of keeping joy at the forefront of our minds when we play teams from other countries.
On the topic of cultural competency, Moore says she is used to enacting cultural sensitivity in her practice as a physiotherapist in Sydney. Despite her experience, she says she continues to learn new ways of negotiating different cultural styles and communicative nuances while organizing this massive project. One thing she's noticed female ultimate players around the world have in common is how outspoken and passionate they are. Because of this, she firmly believes in sport as a vehicle for empowerment.
Passionate about developing the skills and resources available to women and ultimate communities from the region, Moore has been committed to surrounding herself and the Tour with people who could contribute to the team's knowledge while espousing their values. Those include promoting women as athletes, women in leadership, gender equity and spirit. For these reasons she recruited Alyssa Weatherford of Seattle Riot as the Head Coach of the All-Stars team, in the hopes that she will impart her coaching knowledge and leadership experiences to the athletes who represent six different countries (India, Malaysia, Japan, Australia, New Zealand, China, and Hong Kong).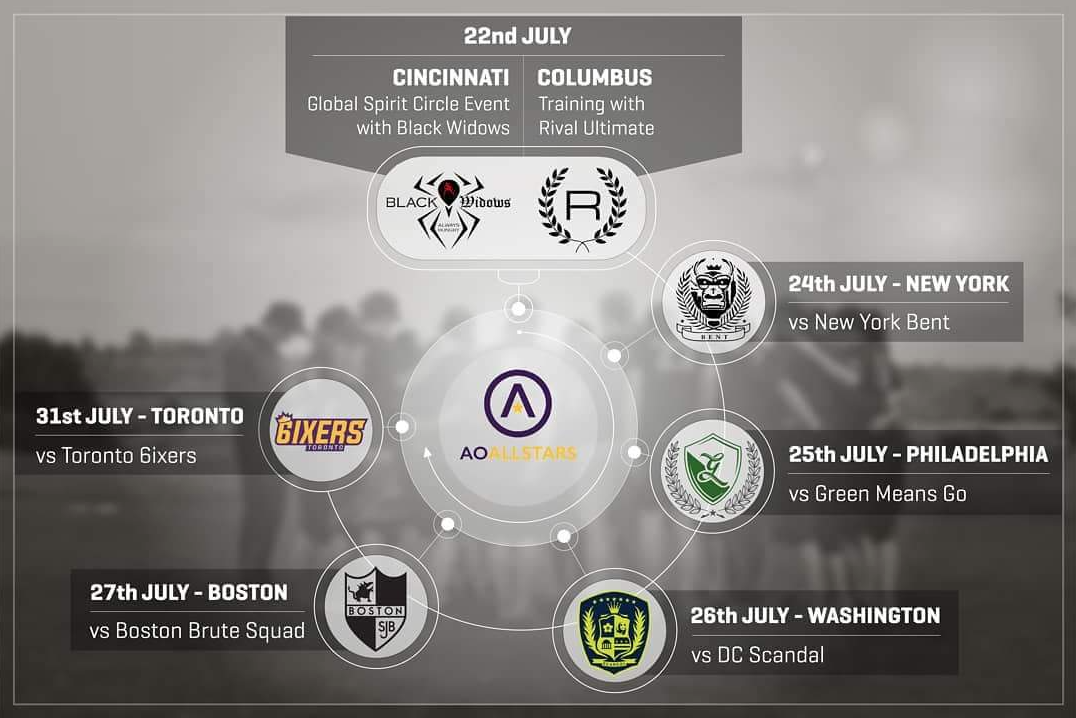 The team is in for an action-packed week and has already traveled from Cincinnati to New York just a few days after WUCC 2018. On the 24th of July, the AO All-stars registered their first win of the tour against New York Bent (14-9, video here). Tonight, they will be playing against Green in Philadelphia; they'll play DC Scandal in Washington on the 26th, and Brute Squad in Boston on the 27th before playing their final game against the Sixers in Toronto on the 31st.
Tickets to the games can be purchased here and the games can be streamed here.
Follow the Asia-Oceanic All-Stars Team in English here and Japanese here.