September 6, 2018 by in News with

0

comments
USA Ultimate has posted their end of season rankings for the club division, which will determine the allocation of postseason bids. Teams that did not meet the 10 game threshold to factor into bid allocation have been removed.
Let's look at the top 20 and the bid allocation, so we can dive in to each division.
Mixed
Rankings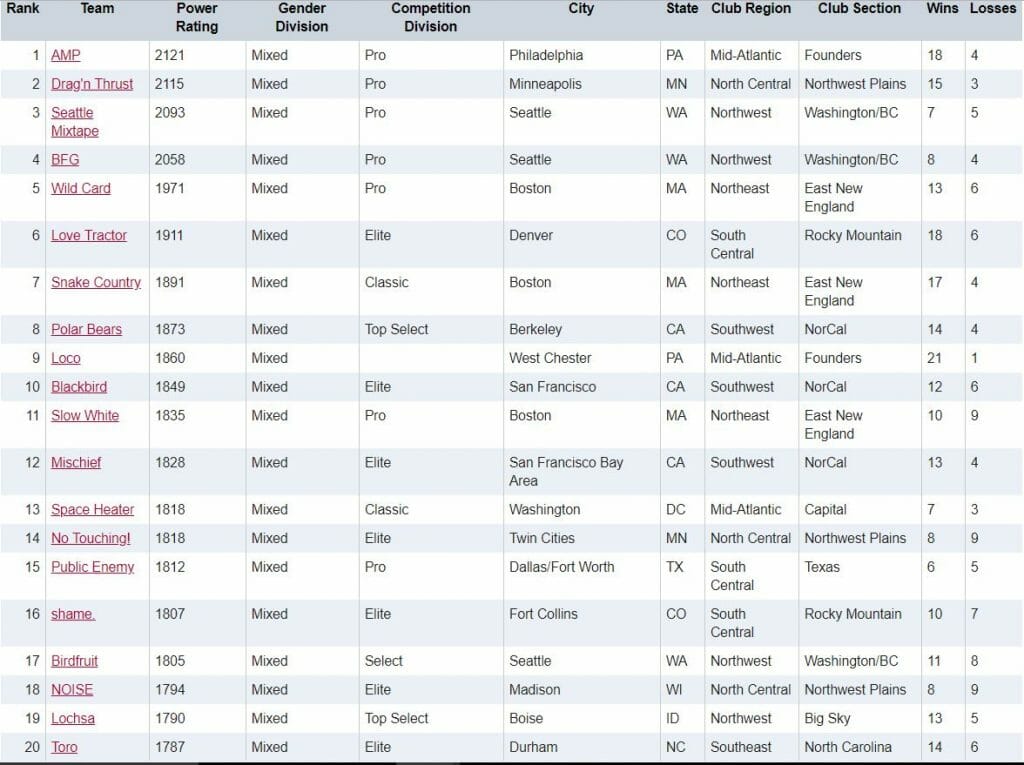 Bid Allocation
GL: 1 MA: 3 NC: 2 NE: 3 NW: 2 SC: 1 SE: 1 SW: 3
Discussion
Entering Pro Championships weekend with the least at stake, somehow the mixed division managed to generate some drama. Seattle Mixtape was felled by Minneapolis Drag'N Thrust in the final, but had they won the game by a large margin, they could have pulled Dallas Public Enemy into the bid conversation. Since they did not, Washington DC Space Heater and Minneapolis No Touching! got to keep their bids for their respective regions.
It's a coup for the Mid-Atlantic, who benefited more from the success of surprising West Chester Loco more than the vaunted Space Heater. All three will have to defend their bids from spoilers like Pittsburgh Alloy at Regionals. Meanwhile, the South Central will be dramatic, as Love Tractor, Public Enemy, and their neighbors compete for a single slot in the championship field. The Southwest must also be ecstatic to have three bids, although SW Regionals is likely to remain extremely competitive.
Women's
Rankings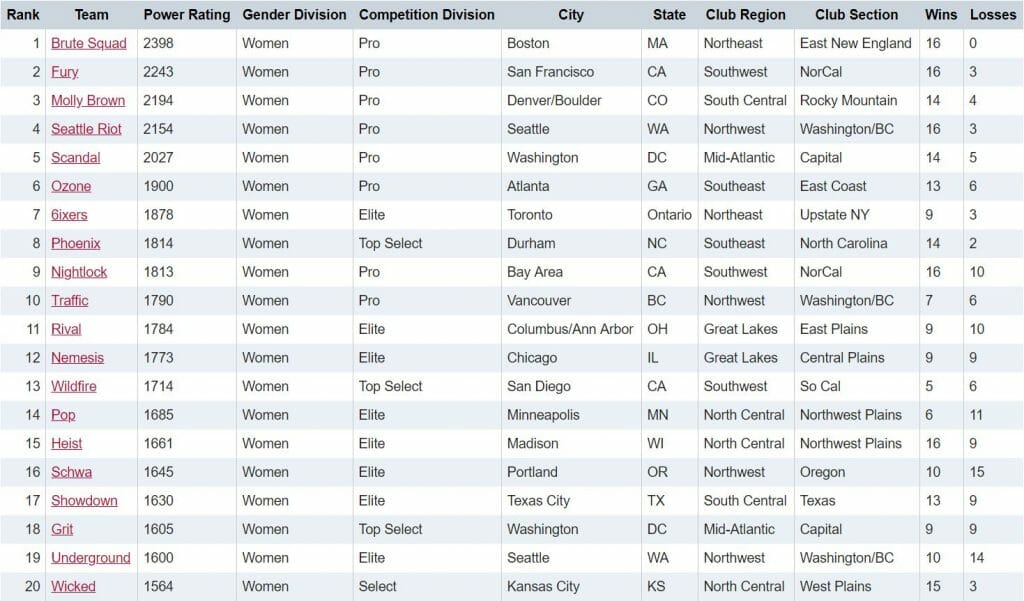 Bid Allocation
GL: 2 MA: 1 NC: 2 NE: 2 NW: 3 SC: 1 SE: 2 SW: 3
Discussion
No bids changed hands1 in the women's division. Boston Siege, the team with the best chance to climb in, lost points in four of their games at the Pro Championships, including a puzzling in-region loss to New York Bent. It is very possible that Bent coasting in that pool play matchup could have made the difference. But Siege had their opportunity, and that pile of losses left them empty handed.
Also in action in New York, Madison Heist held onto their bid, potentially with the help of Bent again! But this time, it was Heist routing Bent in consolation play that helped lock things up.
The losers in this year's bid sweepstakes are clearly the Northwest, Northeast, and South Central. Seattle Underground and Portland Schwa had middling seasons and will have to battle with Traffic and survive Riot to try and advance from the Northwest. Bent and Siege will have to survive a tough region and then upset Boston Brute Squad or Toronto 6ixers to get in. And the rivalry between Denver Molly Brown and Austin Showdown will decide who makes it to Nationals this year.
Men's
Rankings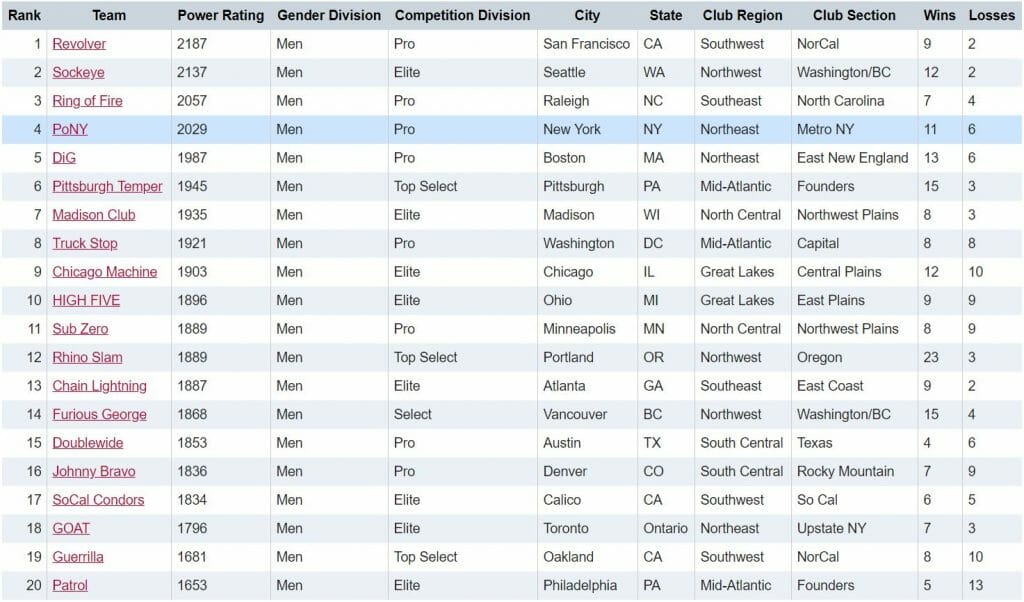 Bid Allocation
GL: 2 MA: 2 (+1) NC: 2 NE: 2 NW: 3 SC: 2 SE: 2 SW: 1 (-1)
Discussion
Despite all of the potential changes at the Pro Championships, the only bid in any division to change hands was the one that passed from the Southwest to the Mid-Atlantic. Truck Stop took care of business in a big way, opening the tournament with a 15-13 win over Dig, and adding solid results, including a 15-8 thumping of Johnny Bravo. They went from outside of earning a bid to well clear of the cutoff. It is possible they got some outside assistance, but they left no doubt.
The South Central came into the weekend with Doublewide clinging to the ledge, but it was Bravo who almost toppled off the cliff. Three losses by five or more pushed them to the brink and it came down to whether or not PoNY, whom had beaten Bravo earlier during the tournament, could upset Revolver in the final. Since New York did work, the South Central hung out by narrow margins.
When the season started, the Northeast wrangling just two bids was not on the table. But the Southeast, and to a lesser extent, the Northwest, both stepped up and nobody else really slipped out. Now, PoNY, Dig, and GOAT will head to Devens knowing someone's season will end there. Despite a strong season from Condors, the Southwest has just a lone ticket, and taking it from Revolver would require a miracle.
---
The Northeast gave a bid away, but it was clear Iris would not reach the 10 game threshold, so this was expected. ↩