Brute Squad, Nightlock, Heist, and Schwa have plenty of history from this season and year's prior.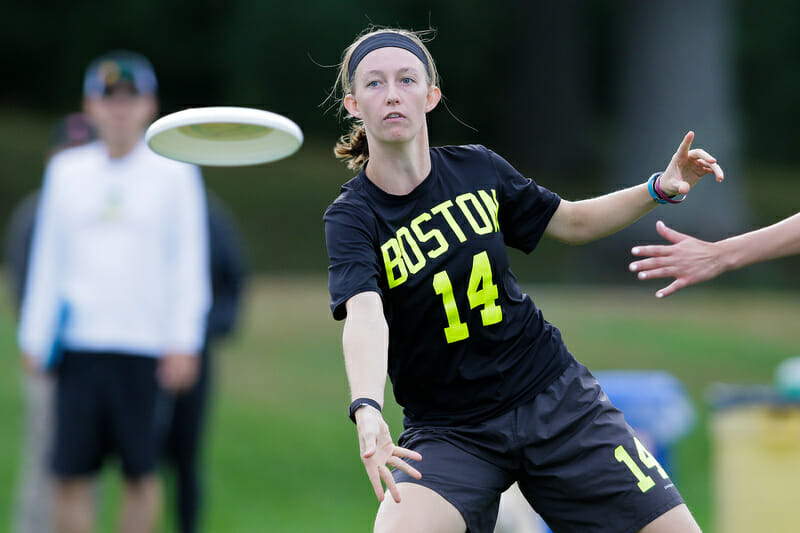 Ultiworld's coverage of the 2018 Women's Division is presented by VC Ultimate; all opinions are those of the authors. Please support the brands that make Ultiworld possible and shop at VC Ultimate!

Pool B Preview — Pool C Preview — Pool D Preview — Competition Schedule
Continuing the recent trend, Brute Squad has dominated all season and can be expected to do the same during pool play when they face off against three significantly weaker teams. While Nightlock can be expected to handily win their games against Heist and Schwa, Brute Squad will probably prove too much for them to handle. As always, we can expect to see a battle between the no. 12 and no. 13 teams. Although they're sure to put up a fight against Nightlock, the Bay Area team has been looking strong all season and is more than capable of holding seed in their pool. The Heist-Schwa game will probably be the most interesting, as Heist looks for revenge against Schwa for ending their season last year with an upset during pool play.
Despite Nightlock looking like a fierce underdog, #1 Boston Brute Squad is without a doubt the most elite team in Pool A and should be able to easily win all three games. They are 22-0 this season, making them the only undefeated team heading into Nationals, and their defense is terrifying. Anchored by players like Kami Groom, Amber Sinicrope, and Lien Hoffmann, they score quickly on offense and then grind their opponents down on defense. By pressuring a large volume of low percentage throws, they earn blocks and force mistakes at higher rates than any other team. And then they convert them. They almost never look tired, even while other teams are collapsing around them, a credit to their depth.
While Nightlock, Heist, and Schwa have all lost to lower-ranked teams this season, Brute Squad has not. They've been ranked #1 or #2 all year, and for good reason. They play consistently and execute at a level that is extremely difficult, if not impossible, to match. Expect a dominating performance heading into bracket play as they hunt for their third Championship in four years. If they remain atop in their pool and win their quarterfinal game, they will most likely face Molly Brown in the semifinals and the winner of Fury vs. Riot in the final. Brute has made it all the way to the final in each of the last three years and it would take nothing short of a huge upset in quarters or a surprising loss to Denver to prevent them from doing it again.
Likely Ceiling: National Champions
Likely Floor: Lose in Semifinals
#6 San Francisco Nightlock has been showing a lot of depth, grit, and chemistry as their season has progressed. Posting impressive scores like a 15-14 loss to Seattle Riot and a 14-13 win over Ozone, they are certainly a team that demands respect. Their offense plays with a focus and seriousness that is surprising for a young team, and when they click, it looks effortless. Expect them to rely on their speed and quick disc movement when facing both Heist and Schwa. Star defensive players including Manisha Daryani and 2016 Callahan winner Marisa Rafter can be counted on to make big plays, generate turns, and then march the disc back down the other way for a score.
While the team is usually able to execute well against less experienced opponents, they sometimes struggle against closely ranked teams while adjusting to the diverse defensive strategies deployed against them. This adjustment can take time and cost them crucial breaks before their offense finds its rhythm. For example, despite stomping through almost all of their competition at Regionals, Nightlock barely defeated Wildfire 15-13 in the semifinals and had to earn several breaks of their own throughout the close game.
The bottom line is that, when locked-in, Nightlock is capable of beating both of the lower teams in their pool, as well as several of the other mid- and low-tier teams at Nationals. If one of the higher-tier teams has a bad game (a la Riot at Bay Area Invite) and Nightlock is clicking, there is a chance for an upset as well. But if Riot, Brute Squad, Molly Brown, and Fury all execute the way they typically do, Nightlock will be hard-pressed to put up more than ten points against them.
Likely Ceiling: Quarterfinals
Likely Floor: Prequarters
Heist and Schwa have not faced each other yet this year, but the teams are evenly matched and will surely play an exciting game. Although in 2017, Schwa managed to end Heist's season by upsetting them in pool play, this year #12 Madison Heist seems to have a slight upper hand. The North Central champions went undefeated at Regionals as well as Heavyweights in early August. The team's only recent losses are from higher-ranked teams during the Triple Crown Tour. If they can keep up their level of play, they should be able to beat Schwa, but don't expect them to upset Brute, who they lost to 15-5 in the Pro Championships, or Nightlock, who they lost to 13-6 in bracket play of the Pro-Elite Challenge.
Founded the same year as Nightlock, Heist has been around for less than a decade and has been improving every season. The pair have something of a rivalry, having seen one another in pool play in four of the past five years, splitting that series 2-2. Heist's two undefeated tournaments are sure to boost their confidence, as will their 10-8 win over Nightlock during pool play of Pro-Elite. But they have also dealt with tough losses against Nemesis, Rival, and Phoenix, who are ranked just above them, and lost to BENT earlier this year – a team that did not even qualify for Nationals. They lack consistency, which could be a fatal flaw when playing against both Brute Squad and Nightlock.
In order to make any progress in bracket play, if their pool play games go as expected Heist will have to face the second squad from Pool D in the prequarters. This will most likely be Scandal, although an upset in Pool D could mean they would face Molly Brown or Nemesis. Regardless of which team it is, all three are ranked significantly higher than Heist and both Scandal and Nemesis have already beaten them this season. That Scandal game was decided by a single point – but that was their first game of the season and a lot has changed since then. It will take a massive team effort to pull off a bracket play win when the stakes are much higher.
Likely Ceiling: Prequarters
Likely Floor: Done on Day One
It will be a tough climb out of the last slot in Pool A for #13 Portland Schwa, who lost to Grit and Underground, and barely beat Colorado Small Batch at the Elite-Select Challenge. But it is worth noting that they have made significant progress since August. After another rough performance at the Bay Area Invite, they focused up and largely succeeded at Regionals. They beat teams they had lost to previously this season, held their opponents to fewer than ten points each, and only lost one game – a 13-7 battle in the final against Seattle Riot. But these wins came too late to significantly shift their ranking, and they face a serious uphill battle if they want to make it out of pool play alive.
Last year Schwa made prequarters after upsetting Heist during pool play 15-9, but then were handily dispatched by Ozone. This is likely the best they can hope for again this year. They have already lost to Nightlock twice this season and certainly have not shown that they are capable of beating teams like Brute Squad. Even if they did beat Heist again this year, they would face Scandal, Molly Brown, or Nemesis next. The most hopeful outcome for them would undoubtedly be a Schwa vs. Nemesis game, since Schwa did beat Nemesis 13-9 at Elite-Select. But that can only happen if Nemesis beats Scandal and Schwa beats Heist. While either upset is possible, the combination of both seems unlikely at best.
Likely Ceiling: Prequarters
Likely Floor: Done on Day One
---
Denotes overall seed ↩

Denotes pool seed ↩