Last year's national final was an amazing match, and the division's two top teams are primed for another exemplary contest.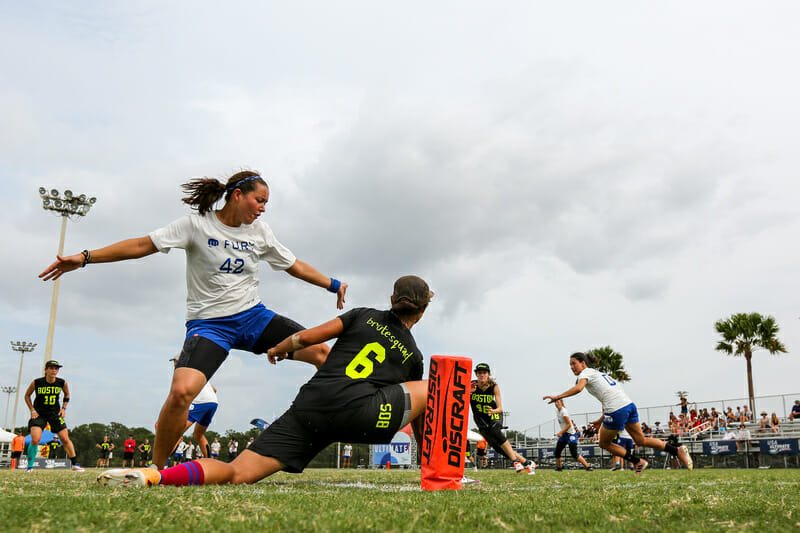 Ultiworld's coverage of the 2018 Women's Division is presented by VC Ultimate; all opinions are those of the authors. Please support the brands that make Ultiworld possible and shop at VC Ultimate!
A resilient win from Boston Brute Squad and a thrilling comeback from San Francisco Fury set up a rematch of the 2017 final. The top two seeds have played twice since the thrilling, double game point final in Sarasota. Brute Squad blitzed past Fury in quarterfinals at the World Ultimate Club Championships, winning 15-9, and won in similar fashion again in the final at U.S. Open 15-11. Brute Squad's defense has proven to be a real problem for Fury this season, and Fury will have to find areas where they can adjust if they are to improve upon the previous two results.
Both sides are undefeated through the weekend so far. Brute Squad faced a closer game than expected against Portland Schwa on Thursday, but otherwise both Brute and Fury frolicked through pool play. Their easy paths continued in quarters, with Brute beating Toronto 6ixers 15-7 and Fury ending San Diego Wildfire's run 15-8. The challenge ramped up for both in their semifinal matchups, as expected.
It looked as through Brute Squad was going to rush past an overwhelmed Denver Molly Brown in their semifinal, but a spate of inexplicable turnovers in the early stages of the second half allowed Molly to come back from down 10-5 to tying the game at 10-10. But Brute regained their more typical composure to close the game out and win 15-11.
Fury, on the other hand, were on the opposite end of a large comeback. Down 8-5 and four breaks at half, Fury rushed out of the gates to start the second, breaking five times in a row to go up 10-8. The final stretch was back and forth and required a double game point finish, but Fury were able to ride that dramatic turnaround into a return to the final.
Perhaps it's fitting that both teams' semifinals matchups featured big comebacks, considering Fury's win over Brute in last year's championship was also a comeback effort. In that one, Brute took an 8-5 halftime lead, when Brute head coach Ariel Jackson warned that 8-5 was the most dangerous lead in ultimate. Jackson's line of warning came to fruition, as Fury fought their way back in the second half to win on double game point. The win ended Fury's four year title drought and ended Brute Squad's quest for a threepeat in the process.
Now the two get a chance to go at it again, with Brute looking to confirm their status as a dynasty and Fury hoping to start another string of consecutive titles. The game will feature the best defense in the game in Brute Squad's corner and one of the best collections of handler talent in the history of the game in Fury's. It's not entirely fair to categorize the game as defense versus offense, though. Fury is, of course, also very good on defense, but Brute Squad's offense has a strong case for having the best offensive unit in addition to their top of the line defense.
Amber Sinicrope has been spectacular this season and is +9 through five games this weekend. Claudia Tajima and Jojo Emerson have been rock solid in the handler space as well. Brute's offense also features a daunting collection of cutters in Lien Hoffmann, Becky Malinowski, Jessie Grignon Tomas, and Elana Schwam. Brute's offense is better than it was a year ago, and with their defense as suffocating as it's ever been, they've been the best team in the division all season.
As mentioned, Fury's strength lies in their handlers. At times, it feels like they're comfortable using half of their roster in the backfield in some capacity, but the headliners for years have been Alex Snyder, Carolyn Finney, and Anna Nazarov. Finney and Snyder have been particularly impressive this weekend, combining for 18 assists. First year players Kirstin Johnson and Anna Reed have also been influential this year, though, and they'll also get major touches in the final.
As strong as Fury's handler core is, they've had problems against Brute this year. Handler defenders Angela Zhu and Nicole Canning are two of the best in the game and can give the most elite of handlers fits. Brute's handler defense was the biggest reason they won the two prior matchups with Fury this year, and Fury will have to better handle that defensive pressure if they are to be more competitive in this game.
Perhaps Fury will look more to players like Opi Payne and Beth Kaylor, cutters who are still dangerous with their throws, to take on more of the attacking burden against Brute. But then, they'll have to go up against Kami Groom, Cassie Wong, and the rest of Brute Squad's horde of downfield defenders. There simply is no weakness in the Brute defense for Fury to take advantage of. They'll have to weather the inevitable Brute defensive storm if they're to complete the back-to-back run. No offense has been up to that task this year, with Brute boasting a 27-0 record.
If there is an offense that can pull that off, it is Fury's. They're as experienced and skilled as any group in the division, and they already proved that they're up to the test a year ago. Brute enter as the favorites due to their overwhelming defense, but the two putting on another great show that comes down to the final moments feels likely.