Fury's defense and depth overcame Brute Squad in a double game point thriller.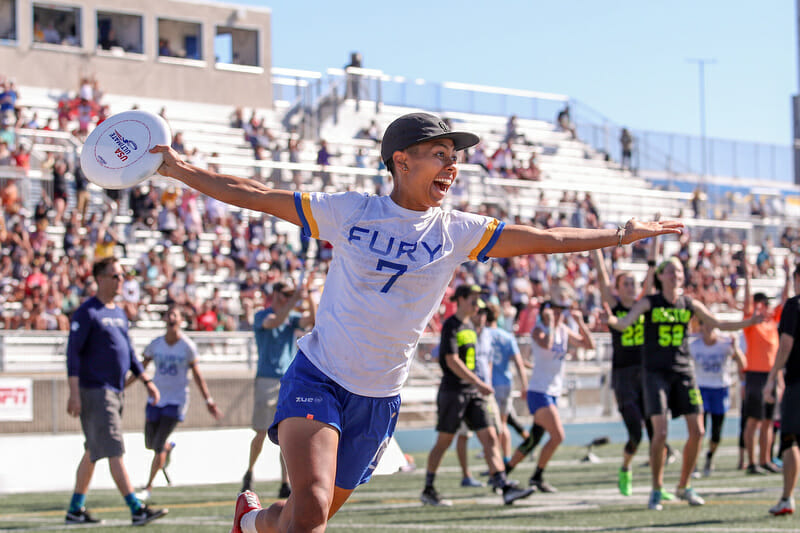 Ultiworld's coverage of the 2018 Women's Division is presented by VC Ultimate; all opinions are those of the authors. Please support the brands that make Ultiworld possible and shop at VC Ultimate!
#1 Boston Brute Squad and #2 San Francisco Fury clashed in the National Championship final for the second consecutive year.1 This season, Brute Squad was the class of the women's division, carrying a 27-0 record into the game (including a 15-11 win over Fury in the U.S. Open final back in August). Meanwhile, Fury had to rally from a 8-5 deficit in their semifinal against Seattle Riot just to reach the championship game. The combination of Brute Squad's dominant season and Fury's historical success had all the ingredients of another classic championship game in the intensifying rivalry between the two powerhouse teams.
The game delivered on drama, in many ways mirroring last year's final, down to the double game point with Fury receiving. And like last year, Fury managed a hold to win, 14-13.
As they have done all season, Brute Squad started the game off with defensive focus and intensity, forcing Fury to complete passes into small windows. Brute Squad played tight pressure defense on handlers; both Juliana Werfelli and Lauren Sadler earned reset blocks on the game's first point. Boston eventually broke to take a 1-0 lead. 
Defense continued to define the remainder of the half. Brute Squad's red zone defense was spectacular – Fury could not capitalize on five separate red zone opportunities in the first half. On the 2-2 point which Brute Squad eventually held, Fury was 0 for 3 in red zone break chances.
After the game opening break through the end of the first half, each team scored seven goals in 17 possessions. But the teams could only record one break apiece during that span. While both D-lines played extremely well and generated turnovers, the even bigger testament goes to both O-line defenses, which battled with great resiliency to earn the disc back. Brute Squad went into intermission up 8-7, set to receive after halftime.
Fury entered the second half knowing that they would need at least two breaks to capture the national title. After converting just one of their eight break chances in the first half, break chance conversion would certainly be a big focus for San Francisco. Coach Matty Tsang spoke about Fury's D-line offense during halftime on the ESPN broadcast. "We're thinking too much, we're just gonna try to keep [the disc] moving and make things obvious for each other," said Tsang.
The first three points of the second half looked remarkably similar to the first half. Brute held on the first point, but Fury's defense forced Boston to complete 20 consecutive passes in order to do so. On the next point, Maggie Ruden reeled in a well-defended huck to bring Fury to within one. Then, Fury forced a high-stall desperation throw, which Boston's Jessie Grignon-Tomas spectacularly snagged in the end zone to give Brute Squad a 10-8 lead.
However, Grignon-Tomas grabbed her left ankle upon landing and had to be carried off the field. The first year Brute Squad player had dominated the game up to that point, scoring four goals and recording one block. Grignon-Tomas's absence for the remainder of the game was pivotal, forcing Brute Squad to dig deeper into their bench or move All-World player Kami Groom over to their offensive live.
The teams traded the next four holds to 12-10, but the holds occurred in dramatically different fashions. Fury recorded two clean one-possession holds, while Brute Squad had three turnovers in their two holds. At this point, Fury was three for three in second half O-line possession conversions and Brute Squad was three for seven in second half O-line possession conversions. Fury continued playing poor D-line offense. However, Brute Squad's O-line spent significantly more time on the field, and that fact was compounded by a smaller offensive rotation without Grignon-Tomas.
The 12-10 point provided plentiful scoring opportunities. Fury's O-line uncharacteristically turned it over five times, giving Brute Squad five chances to break and take a near insurmountable three goal lead. This time it was Fury's O-line defense preventing all five of those break chances; Sarah Griffith recorded two interceptions on the point. Fury eventually held on a beautiful assist from Carolyn Finney to a face-guarded, non-moving Lakshmi Narayan. "Shmi and I made eye contact and the entire end zone was open," said Finney. "Sadler is a great defender, but with that much space, it was an easy decision." Fury's resilient hold on the 10-turnover marathon point brought the score to 12-11.
Brute Squad's O-line fatigue started showing. After nine contested passes which only generated 30 yards, a Brute Squad reset was a little wide of its intended receiver, and Fury earned possession of the disc. After converting just one of their first 12 break chances, Fury finally broke through, perhaps luckily, on a huck that was tipped by a Fury player before landing in Marika Austin's hands. The game was knotted at 12-12! With soft cap already on, the national champion would be the team that reached 14 goals first.
After the point, Brute Squad World Games player Lien Hoffmann appeared to cramp up and did not play on the ensuing offensive point. With two injuries to Brute Squad's starting offense, combined with long points and turf heat,2 the next point was a battle between an exhausted Boston O-line and a San Francisco D-line that had struggled offensively.
At 12-12, stellar downfield defense created stagnant offense; Brute Squad and Fury traded turns on overthrows. On their second possession, Brute Squad worked it to the middle of the red zone and attempted a outside-in break flick for the goal – only to be denied by a brilliant Amel Awadelkarim skying block. Fury quickly worked it into the red zone. This time, San Francisco's D-line finally converted a red zone break chance, with Bethany Kaylor breaking the mark to Awadelkarim. The break gave Fury a 13-12 lead, their first since the middle of the first half.
"I didn't know the score, all I knew is that I couldn't let [Brute Squad] get the disc and I had to prolong the game as long as I could," said Awadelkarim after the game. "I was just thinking about my teammates and how we needed to get the disc and push back 70 more yards and get the score."
Much like in their semifinal win over Denver Molly Brown, Brute Squad responded with resiliency and composure. A clean hold ended with a break side goal for Hoffmann, knotting the score at 13-13. Without a timeout available and an fatigued O-line, Brute Squad went with their starting D-line of Groom, Lee, Murphy, Sadler, Werffeli, Wong, and Zhu. Fury sent out Finney, Griffith, Howard, Johnson, Kaylor, Ruden, and Snyder. The stage was set for a double championship point for the second consecutive year between the same two opponents!
Fury worked it within 10 yards of the goal line, before a potential championship-winning pass was caught out of bounds – a red zone stop for Brute Squad. Brute Squad then worked it within 10 yards of the goal line, before a potential championship-winning pass fell harmlessly to the turf – a red zone stop for Fury. An injury was called. Lien Hoffmann subbed in for Brute Squad, while Opi Payne subbed in for Fury.
And naturally, Fury worked it into the red zone yet again. It seemed like Brute Squad would earn another red zone stop when Kaylor misfired on a pass to Ruden. However, Payne backed up the throw and miraculously caught it in traffic at the one-yard line. Two short passes later, Kaylor returned the disc to Payne for the championship-winning goal, giving Fury back-to-back titles in dramatic fashion, 14-13.
This instant classic may long be remembered as one of the best defensive championship games of all time. A long, drawn-out, double game point with a red zone stop by each team perfectly encapsulated the defensive performances by both teams. Brute Squad coach Ariel Jackson spoke highly of Fury's defense. "I [don't remember a time when] a team's defense has given us a taste of our own medicine," said Jackson. "[Fury] really made it hard to run our offense. Credit Fury for not just playing physical defense, but also taking advantage by playing really smart defense and making us pay for really small mistakes."
First year Fury players Amel Awadelkarim (bookends at 12-12), Anna Reed (perfectly placed huck at 12-12), and Kirstin Johnson (four touches on double game point) all directly impacted the outcome of the game's final few points. Fury captain Carolyn Finney praised her team's new additions. "They stepped up so big, seeing the confidence that they brought, it didn't matter that they were 'rookies', they knew what they were capable of, and they showed everyone," said the captain. While Brute Squad's O-line depth was tested via long points and injuries, Fury's top-to-bottom depth came through in the game's highest leverage moments.
"We are 313 strong," said Finney. "It took all of us to battle back together."
---
Fury won the 2017 championship on double game point, 14-13. ↩

A thermometer reading recorded a 126 degree turf temperature. ↩

The 31 includes 27 rostered players, 2 players who competed with Fury at Club Worlds, and 2 coaches. ↩