Boston's defensive intensity and Fury's offensive miscues led to a comfortable Brute Squad victory.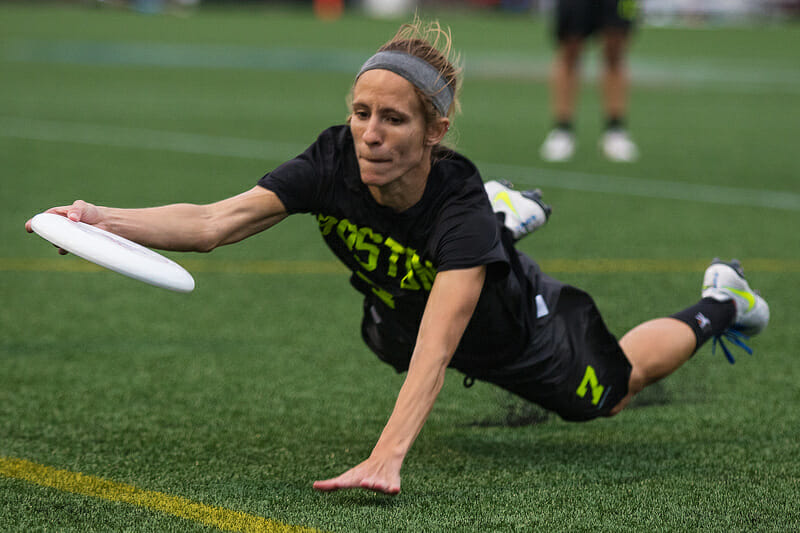 Ultiworld's coverage of the 2018 Women's Division is presented by VC Ultimate; all opinions are those of the authors. Please support the brands that make Ultiworld possible and shop at VC Ultimate!
Boston Brute Squad took home the 2018 U.S. Open title with a 15-10 victory over San Francisco Fury. In the opening stages of the game, both teams' defenses held the upper hand, combining for four breaks — two from each side — during the first nine points. Apart from a three point stretch of clean holds, neither offense looked sharp in the first half. Drops and throwaways plagued both teams' O-lines, and both D-lines were equally efficient in converting their opponents' mistakes into breaks.
The evenness of the opening series quickly disappeared after Fury broke to take a 5-4 lead. Fury had two chances to break again on the ensuing point, but were unable to push the score to 6-4. Instead, they didn't score again for the rest of the half. After fighting for the hold to make it 5-5, Brute Squad rattled off three straight breaks to take half 8-5. Brute Squad made some nice defensive plays, most impressive among them a layout block from Cassie Wong to set up the break for 6-5. But Fury's offense also fell apart. They committed unforced errors and turned the disc over three times on the last two points of the half and Brute took full advantage.
Brute Squad was able to keep their run going in the second half, holding to start the second period and then breaking once again to make it 10-5. The six goal run turned a game that had been back and forth for the first nine points into a blowout. Brute Squad's defensive pressure was too much for Fury to handle, and they were buried by a rash of offensive errors.
Brute Squad head coach Ariel Jackson felt like the Brute Squad run was a result of his team's defensive depth, something that's been a staple of the team for years. "We have a big advantage in the fact that we have D-lines that run three lines deep," he said. "Sometimes we'll come out to a great start and other times we'll wear down the other team's offense so that it pays off in the end, when we've got fresh legs and they don't…Maybe that's what happened here."
There was more to Brute Squad's defensive effectiveness than sheer numbers, though, and Fury veteran Alex Snyder praised them for their ability to influence the game. "They pressure us in ways that are different than what a lot of other teams are pressuring us to do. They are very strategic in what they throw at us. They definitely challenge us to take different looks than the looks that we want to take initially."
Snyder also explained how Brute Squad was able to go on such a dominant run, and why it seemed like the game snowballed on her and her teammates: "I think we could have recognized that there were some looks that were a little bit junkier. Our whole mantra this season is being aggressive and high tempo. Sometimes we have to continue our game plan because it's still going work and we get hesitant. I think we kind of beat up ourselves when we start to get hesitant."
Fury was finally able to get a hold to make it 10-6 and they then got a break back on their first opportunity to do so since Brute Squad began their run. But any hope of a comeback was dashed when a blown coverage downfield allowed for an easy Becky Malinowski to Lien Hoffmann goal, and a Lisa Couper turn in the reset space led to another Brute Squad break for 12-7.
Fury did get one more break at 14-10, but could dent no further into the lead than 14-11. An impressive layout grab from Kami Groom on the sideline sealed the 15-11 win for the Boston club.
It was an anticlimactic finish to the tournament, especially considering how dominant the two teams had been throughout the weekend. Really, Fury had been the more dominant side, not playing in any game that was closer than 15-11 all weekend and winning their semifinal against Washington DC Scandal 15-5. But perhaps that lack of a true test over the course of the weekend made it tougher for Fury to weather the Boston storm at the end of the second half.
At the very least, Jackson believed his team's tight semifinal against Molly Brown helped his team in the final. "It helps to play good teams like Molly Brown, " he said. "Regardless of the score we got to play against really tight defense, and we saw that from some other teams throughout the tournament for sure. But also proving to ourselves that we could play defense to that level, which we had yet done this season, so that definitely gave us confidence."
Brute Squad turned that confidence into an impressive final win, notching their second U.S. Open title in the team's history. Jackson reflected on the win, and the national audience for his team's victory, but it was clear he and his team won't allow this win to change their plans for the season. "It feels good. It's fun. I'm not gonna lie, it's fun to do it on ESPN2. But it's not Nationals," he said. "We'll definitely celebrate. We're really happy. The result helps, but also the way that we played, especially after Worlds, where we played okay but missed some things, especially on the offensive side of the disc. There's room to improve for sure, and we need to get better for Nationals than we are right now. But for me, the fact that we played much better as our team makes me feel really good, and the win is a cherry on top."