Rounding out the season's top 14.
Ultiworld's 2018 Club Awards are presented by Greenbackr, a custom crowdfunding platform from Savage; all opinions are those of the authors. Please support the brands that make Ultiworld possible and utilize Greenbackr!
With Nationals over and the winners crowned, it is time to take a moment to recognize the top performers in the Mixed Division this season. While the talent of the division reaches far beyond short lists, the Club Awards are meant to honor those players who put together what we believe to be the best seasons in the Mixed game this year.
While we consider both regular season and postseason performance, because of the nature of the Club Division, we weight success in the Series and at Nationals above all else. The Club Awards are selected based on input from Ultiworld reporters, contributors, and editors.
Player of the Year — Mixed Club Awards — All-Club First Team
Carolyn Normile (Philadelphia AMP)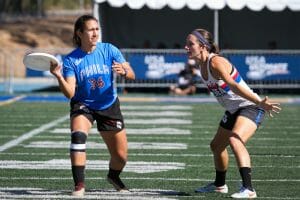 Reigning D-I College Women's POTY Carolyn Normile makes her return to the Mixed All-Club team as a champion, after helping Philadelphia AMP to their first title in team history. Plenty has been written about Normile's impact on the field in the last year, but it bears repeating that on a team loaded with talent, she continues to stand out with her big-time play.
Particularly notable during AMP's Nationals run was Normile's habit of making potentially game-saving plays when Philly needed her to, whether it was a trademark layout off a huck or coming down with a critical D out of a crowd of bodies. As one of the anchors of AMP's defensive line this season, Normile showed everyone that once again she remains one of the best players in the division.
Sam Valesano (Minneapolis No Touching!)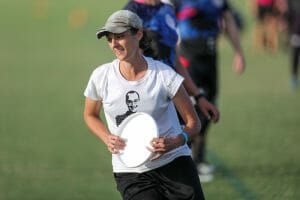 Minneapolis No Touching! had one of the most intense tournament schedules this year, and thanks to the downfield work of Sam Valesano, found themselves in the hunt against some of the best teams in mixed. It's a testament to her ability to read, adjust, and box out that the No Touching! offense ran through her even though opponents knew it was coming.
No matter how good the defense was, Valesano invariably took the line that allowed her to grab the disc above her defender and set up easy goals for No Touching! Throughout the year, Valesano was the safety valve for No Touching!, and after years of the same offense running through her, the Minneapolis squad is still a perennial Nationals qualifier. As long as she keeps hauling in any throw remotely nearby, expect the jorts and banana tights to follow close behind on the road to Nationals.
Alan Kolick (Washington DC Space Heater)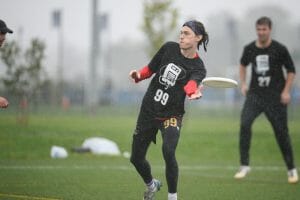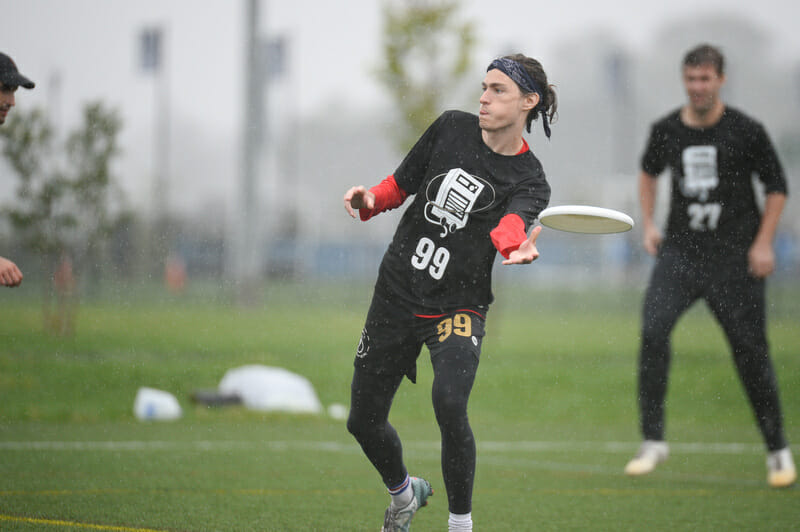 After years of displaying his otherworldly talent in the Men's Division, it's unsurprising to see how easily Alan Kolick has transitioned to mixed ultimate. The elusive lefty continues to be half-a-step ahead of defenders and very willing to carve up an entire defensive unit if he's given an inch of room. His style of play is somewhere between effortless finesse and indomitable work ethic.
As Space Heater's best male defender and the team's assist leader, Kolick's importance to their success was evident every time he stepped out on the field. No matter how stagnant or cluttered Space Heater's offense could get, Kolick was always there to find an opening. No matter his plans for next year, Kolick firmly left his stamp on the mixed division this season.
Sean Mott (Philadelphia AMP)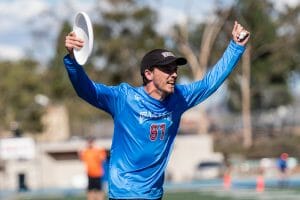 Long known for his incredible skying blocks and grabs, Sean Mott's 2018 has been a tour de force, punctuated most heavily by his time with AMP. The 5'9″ Philadelphia prodigy was both AMP's leading goal scorer this season and their most efficient player in bracket play at Nationals. Mott's prowess in the air made him a particularly difficult matchup for defenders, especially with Nicky Spiva ready to shoot the disc deep without hesitation.
The implicit trust that AMP had in Mott extended past Spiva, too. Despite his rookie status, Mott was put on the field in crucial must-win situations for Philly, and came away with the game-winning goal over Space Heater to take AMP to the final.
Linda Morse (Philadelphia AMP)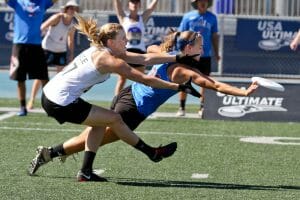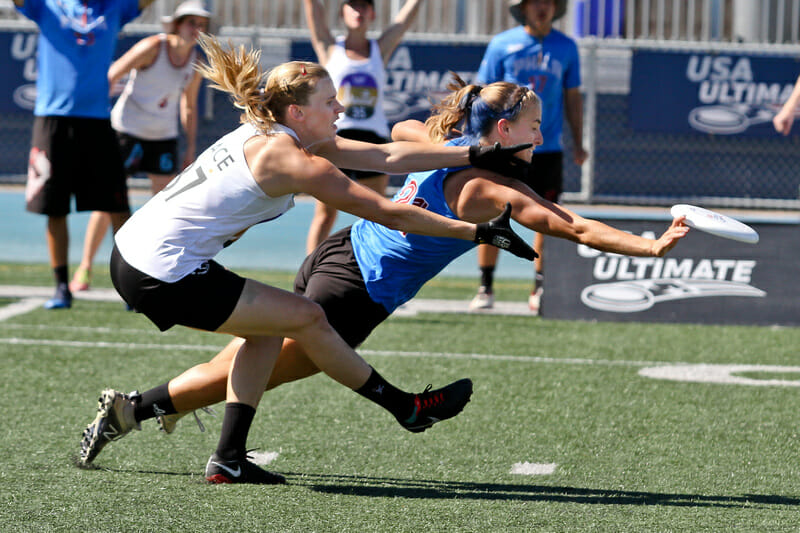 As potent as the Philadelphia offense was this year, no player had as significant of an individual impact as Linda Morse. Her abilities as a deep receiver forced opponents to choose between giving her easy yards underneath or involving a second defender, because letting her get even a whiff of the end zone in one-on-one coverage usually meant a quick score for AMP.
Morse finished with 10 goals (including the championship-winning score) and only two turnovers all tournament, a testament to her poise and decision-making. Her athleticism made her a fierce matchup on defense as well, a fact highlighted by her layout block in the semi-finals against Space Heater as they worked towards what would have been a game-winning score.
Jack McShane (Denver Love Tractor)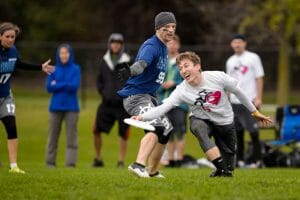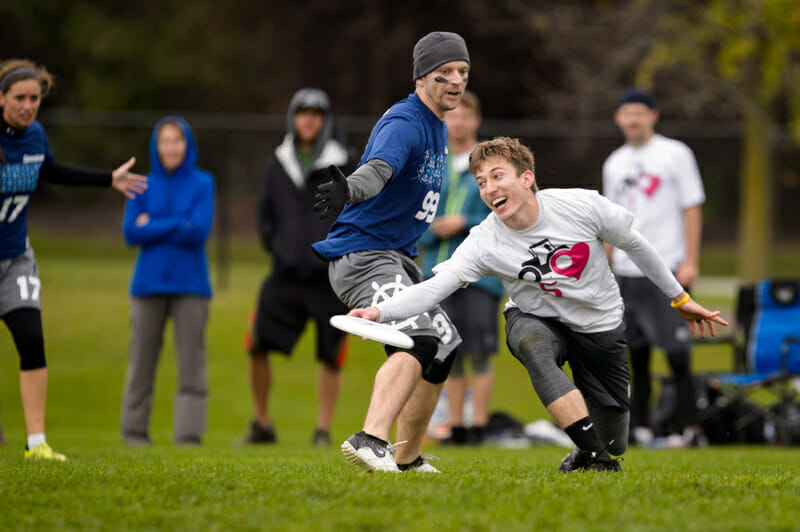 Anyone who watched a Denver Love Tractor game over the past few years would have no trouble picking out Jack McShane, and he's why Love Tractor was one of our top mixed teams this year. McShane was at the heart of any offensive set they put together, acting as the primary handler for an offense that could pick apart opposing defenses at will.
When the team got in trouble, it was McShane who bailed them out en route to victories at the Pro-Elite Challenge and the Elite-Select Challenge. He has every throw in the book, and makes each cut downfield that much more dangerous. Love Tractor couldn't maintain their peak, but the fact that they were an Ultiworld top-10 team to begin with was down to McShane.
Claire Revere (Seattle Mixtape)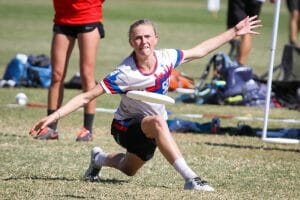 This was a return to form for Seattle Mixtape's Claire Revere. After struggling with injuries throughout the 2017, including a concussion that forced her to miss the final against AMP, Revere bounced back and showed off why she is among the best in the division.
On offense, she took over the primary cutter role for Mixtape, combining speed, great hands, and big throws for a team that lives on athleticism. Revere was the link between Mixtape's handler core and speedy goal scorers, driving for yardage out of the stack and setting up quick goals downfield. At the Pro Championships this year, Revere's 10 goals and six assists provided the balance Mixtape needed to get back on track and kick start their run at Nationals. A healthy Revere is a cornerstone for this young Mixtape core, and her combination of downfield skills is tough to match.