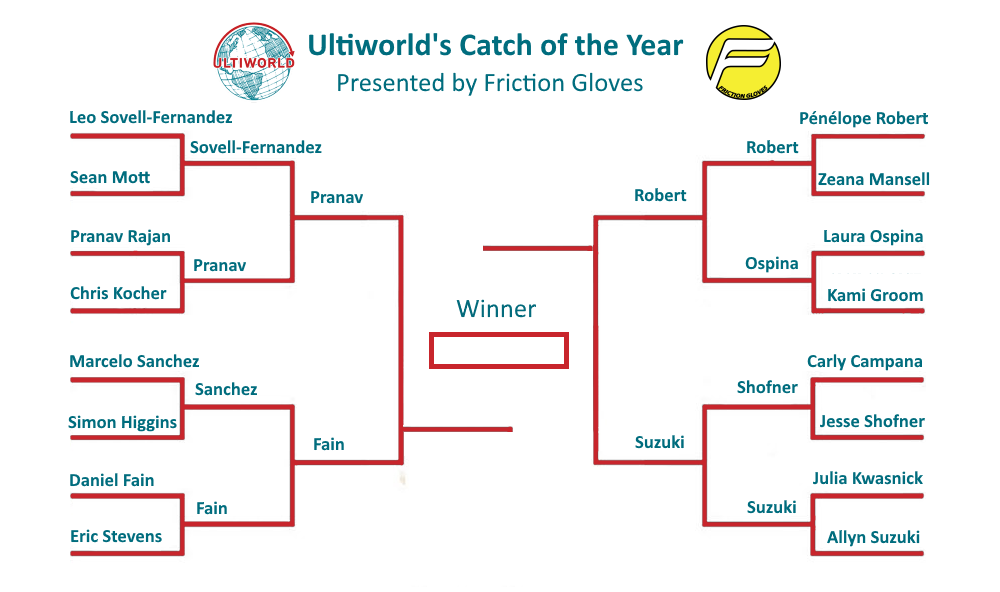 Ultiworld's 2018 Catch of the Year bracket is presented by Friction Gloves; all opinions are those of the author. Please support the brands that make Ultiworld possible and shop at Friction Gloves!
Through two rounds of voting, we've reaffirmed that our international and youth audiences remain powerful voting blocks. Down to our final four, we have two entries from the Youth Club Championships, one from the U24 World Championships, and a truly remarkable team effort from the college division. Which two will advance to face off for the title of 2018 Catch of the Year?
Semifinal voting is now open and will close on Wednesday, February 27, at 12 PM Eastern.
Round 2
Matchup 1: Pranav vs. Fain
Pranav Rajan – India (WFDF U24 Mixed)
Poor Leo Sovell-Fernandez. The Minnesota wunderkind earned more than four times the number of votes of any other winner from the second round, yet still got routed. With more than five times as many votes as any other Round 2 matchup, it is clear that Pranav has a massive dedicated set of supporters. Should we consider this next matchup a foregone conclusion?
Daniel Fain – Georgetown Catholic Justice (USAU Men's D-I College)
On the other end of the competitive spectrum, Daniel Fain and Georgetown survived Round 2 with the smallest margin we've ever seen in one of our brackets — he won his clash with Revolver's Marcelo Sanchez by just three votes. Up against the juggernaut that is Pranav, he'll need a lot more help to advance to the final.
Matchup 2: Robert vs. Suzuki
Pénélope Robert – Quebec AERA (USAU U20 Girls Club)
In Round 2, Canadian Pénélope Robert advanced past a popular Ultiworld staff favorite in Laura Ospina's diving grab from the bonkers WUCC semifinal. Robert's perfectly captured circus snag from YCC must now battle a nominee from the same division of the same tournament that hails from one of ultimate's great US hubs.
Allyn Suzuki – California Current (USAU U20 Girls Club)
After falling behind early in her second round matchup, Suzuki came back to best Jesse Shofner's similar toe-the-endzone line grab to advance to the semifinals. Now she'll face her first youth opponent of the bracket, something that has stymied so many other already in this contest. Which YCC squad has the greater following? We're about to find out.