Two special young players square off in the bracket's final matchup.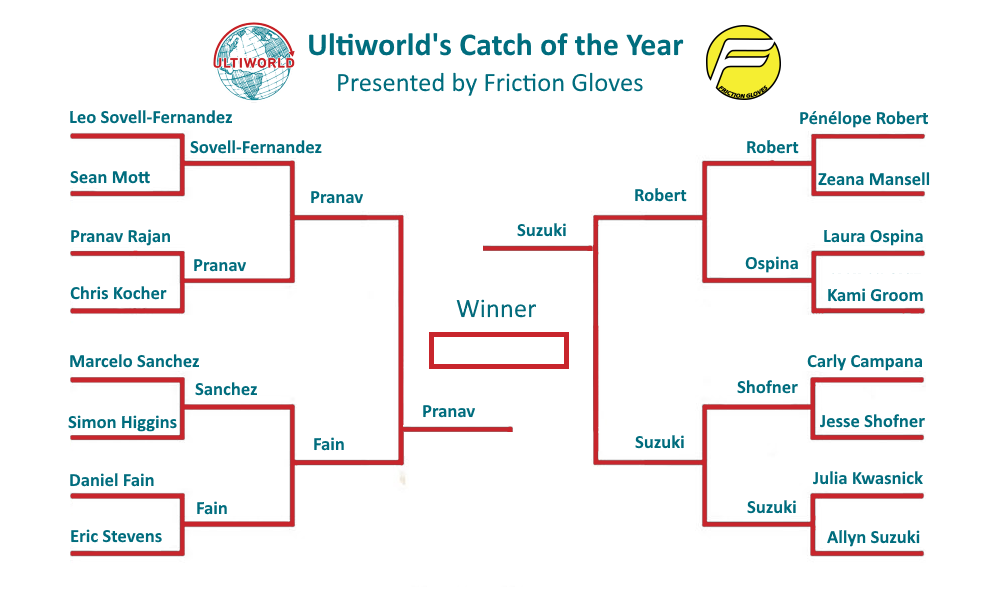 Ultiworld's 2018 Catch of the Year bracket is presented by Friction Gloves; all opinions are those of the author. Please support the brands that make Ultiworld possible and shop at Friction Gloves!
We have reached the final matchup of our reader-voted 2018 Catch of Year bracket. Squaring off are two impressive young talents that provide a glimpse into the athletic future of the game. Thusfar, they have each outlasted some of the giants of the sport as well as some spectacular individual efforts from last year. Which will be victorious in the final vote and claim the crown?
Voting for the final is now open and will close on Friday, March 1, at 2 PM Eastern.
Final
Pranav vs. Suzuki
Pranav Rajan – India (WFDF U24 Mixed)
For the first time in this bracket, Pranav's matchup was not the most voted on in the round. He still managed the most individual votes, but this time the other winner was at least in the same zip code by comparison. Was this dip a momentary aberration or a sign that his support might be eroding heading into the final?
Allyn Suzuki – California Current (USAU U20 Girls Club)
Allyn Suzuki has emerged as the female nominee for Catch of the Year, a worthy challenger to face off against Pranav for the overall title. Her success in this bracket has been a surprise to some, though perhaps not as improbable as the catch that landed her in contention. Can she spring yet another surprise to claim the title?