The intensity is climbing!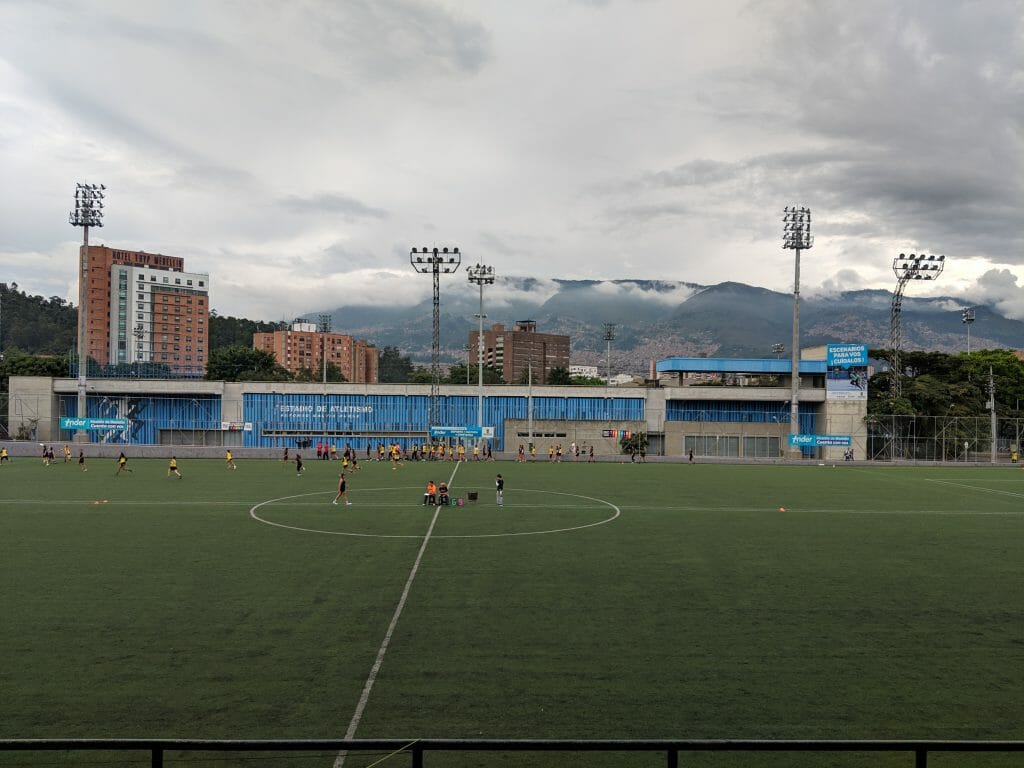 While the first day of TEP felt like a glorified party tournament and was more about the festive atmosphere of the tournament itself, day two of TEP featured heightened intensity and some truly great games of ultimate, particularly on the showcase field. The crowds in the grandstand at the Marte stadium were treated to three straight thrillers, including two double game point games, starting with a surprisingly close contest between Revolver and Paixao in the third round of play. La Onda and Sinergia UC followed with a back and forth contest that treated the local fans, and Molly Brown and Atlanta Soul concluded the run with a dramatic finish.
Here's the low down on each of the three games that brought the level of competition and intensity up a couple notches, and hopefully will be remembered as a nice foreshadowing for what is to come in bracket play on Saturday.
Revolver 14-13 Paixao
Revolver was never able to pull away from Paixao, a Medellin team. Paixao was remarkably athletic and led by a pair of impressive handlers in Edwin Andres Sanchez Restrepo, who had a game high six assists, and Alejandro Marin Roldan. Revolver looked like a team that expected to get by purely on athletic superiority, and with players like Antoine Davis and Simon Higgins on their lines, that wasn't a bad strategy for most of their games.
But Paixao was able to match Revolver athletically, especially deep. They won a lot of hucks defensively and were able to tie the game up at 10-10 after trailing 10-8. At times, as the game came closer to its conclusion, Paixao crossed the line of playing aggressively to playing dangerously, as they looked for a D-line possession to break for the lead. Fortunately no one got hurt, but it did make for a slightly unsavory feeling about Paixao's efforts to get the upset.
Still, they were genuinely impressive: they will be a real threat to some of the top teams here if they make it beyond prequarters. On the final point, the heavily pro-Paixao crowd whistled Revolver loudly, hoping to cause a turnover. Revolver was able to hold clean to avert the upset loss.
La Onda 10-8 Sinergia UC
Sinergia, despite hailing from Chile, were the crowd favorites in this one. A large portion of the crowd chanted for them every time they were on defense, and it seemed like every time they did, Sinergia got a turnover. They fought back from a 3-1 deficit to take a 6-5 lead, and they were able to hold onto that advantage going into halftime up 8-7.
The points in the first half were long, as both teams struggled offensively, but the game still set up for an exciting finish. The crowd stayed behind Sinergia the whole way, but their offense was unable to rise to the moment. The defense gave up a hold to start the second half, and they were then broken two straight times to end the game.
The final point of the game was a marathon, as Sinergia tried to tie it up and force double game point, the crowd trying to help push them to the goal they needed. But La Onda's Jonathan Jose Zuleta was too much for Sinergia on the point. He had a pair of blocks and a goal taken off the board by a pick before he finally got the game ender. It wasn't the best played game on the day by a long stretch, but the final moments and the crowd's involvement made it one of the most exciting games of the day.
Molly Brown 13-12 Atlanta Soul
Early on, Denver Molly Brown looked all out of sorts, and Atlanta Soul looked like they might win comfortably. Molly simply could not connect on any of their hucks, continually overthrowing open deep cutters. The Soul got strong first half performances from Maddy Frey, Kat Yost, Sam Hill, and Erynn Schroeder to jump out to a two break lead at 6-3. Soul did give up one break back before the half, making it 6-5, but they held their advantage into halftime, and when they broke on the first point of the second to make it 9-6, it looked like Soul was on their way to the win.
The teams traded holds to 12-9, and it looked like Molly had run out of time for a comeback. They were playing better than they did in the first half, finally connecting on their deep looks, but it seemed that their first half blunders had left them in too big of a hole.
But then all of sudden, Soul fell apart. They started committing unforced turnovers, and Molly Brown came all the way back to force double game point at 12-12. Soul turned it again, and Molly broke again to take the game on the final point. Molly scored the last four goals of the game.
Margie Quinn was instrumental in Molly's late comeback. She scored or assisted on three of their final goals, but Molly's defensive pressure, coupled with Soul's errors, and Molly's recalibrated second half offense were the real reasons for the comeback win.
Random Observations
In the second round game between Seattle Sockeye and the second Colombian U24 team, Simon Montague tried to showboat on a floating pass in the endzone with his arms in an over-enthusiastic gator chomp formation. He clapped his hands down on the disc and doinked it, and was immediately jeered by the entire pro-Colombian crowd. Sockeye got the disc back in a throw or two and quickly scored, and Montague solemnly walked back to the line, giving the "my bad" shoulder tap to his teammates.
I tried two different Colombian sodas on Friday. The first, Pony Malta, seems to be the most ubiquitous soft drink in the city. It's a malt based soda, and I can't quite compare it to anything else I've ever had before. I'm glad I tried it, and it definitely wasn't bad, but I don't think I'll have another. The other soda, Postobon Tamarindo, was exceptional. I've had tamarind soda before and knew it was good, but Postobon's version is definitely top tier. For those that haven't had it, tamarind is a kind of sweet and sour fruit, and I'm not much of a soda drinker, but I definitely get down with some tamarindo soda.
The Colombian crowds are spectacular. They stayed for the late games in huge numbers, endured two different rain storms, and play a very active role in watching. They're definitely always in support of Colombian teams, but they let even their home teams know when they disapprove of something. In a close last round game between Revolver and Uro, an Uro player made a bad foul call on a turnover, and the entirety of the crowd loudly whistled at him until he rescinded the call. The crowds this weekend have really been what's made this tournament so special.
As an update from Day 1, Molly Brown is the third team that Manuela Cardenas is playing for. I imagine she would play for Revolution if the two teams were to play each other, but until then, Manu playing as many games as possible is great for everyone watching.