The final week of the regular season is here!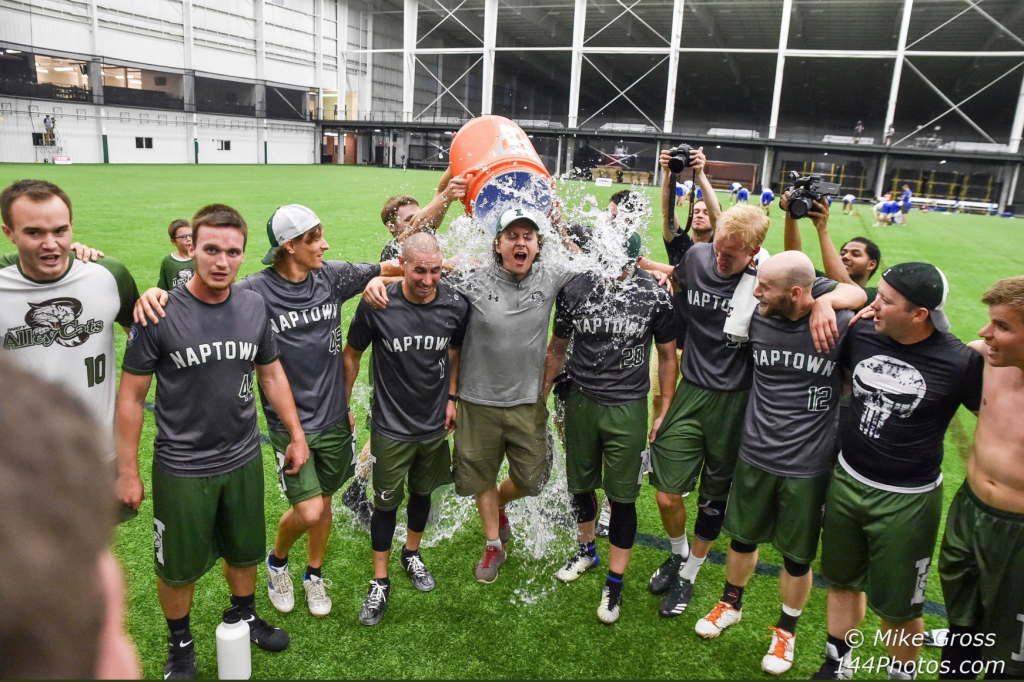 Throughout this AUDL season, Ultiworld will be publishing a weekly Throwaround, a chance for you to catch up on the amazing, funny, and interesting moments that you might have missed from the weekend's games.
Nearly every playoff spot is now locked up as we entire the final week of the regular season, but Pittsburgh and Minnesota are still
The Scores
Ottawa 22-25 Montreal
Dallas 15-22 Raleigh
Pittsburgh 24-23 (2OT) Detroit
DC 21-26 Toronto
Los Angeles 31-23 Seattle
Minnesota 17-22 Madison
New York 22-20 Philadelphia
San Diego 26-20 San Jose
Dallas 19-23 Atlanta
Chicago 21-24 Indianapolis
Nine Of 10 Playoff Teams Are Decided
Aside from one spot in the Midwest, every 2019 AUDL playoff spot has been decided! Raleigh's win over Dallas over the weekend locked up the #1 seed and a home playoff game, and New York and San Diego cruised to the #1 seeds in the East and West, respectively. Indianapolis has emerged from a chaotic Midwest to claim the #1 seed as last year's champion Madison Radicals have been unceremoniously eliminated from the postseason. Here are the playoff teams as they stand!
East
#1 New York Empire
#2 Toronto Rush
#3 DC Breeze
South
#1 Raleigh Flyers
#2 Dallas Roughnecks
West
#1 San Diego Growlers
#2 Los Angeles Aviators
Midwest
#1 Indianapolis Alleycats
#2 Chicago Wildfire1 / Pittsburgh Thunderbirds
#3 Chicago Wildfire / Pittsburgh Thunderbirds / Minnesota Wind Chill
Here's the playoff schedule as it stands, per Evan Lepler's Tuesday Toss:
7/20: East Semifinal — #2 Toronto Rush vs. #3 DC Breeze [to be played in New York]
7/20: Midwest Semifinal — #2 Chicago Wildfire/Pittsburgh Thunderbirds vs. #3 Chicago/Pittsburgh/Minnesota Wind Chill
7/20: West Championship — #1 San Diego Growlers vs. #2 Los Angeles Aviators
7/21: East Championship — #1 New York Empire vs. Toronto/DC
7/27: South Championship — #1 Raleigh Flyers vs. #2 Dallas Roughnecks
7/27: Midwest Championship — #1 Indianapolis AlleyCats vs. Chicago/Pittsburgh/Minnesota
Indianapolis Clinches The Midwest But Uncertainty Remains (And Detroit Just Can't Catch A Break)
Pittsburgh inched closer to a playoff spot with their win over Detroit and Minnesota's loss to Madison. It wasn't easy for Pittsburgh, though. For a moment, it looked like Detroit's massive losing streak was finally coming to an end. They were in a great position to win late in the fourth quarter but couldn't seal the deal: Pittsburgh's only lead for the entire game came when Max Sheppard caught the goal in double overtime that brought them the victory.
Detroit held a commanding lead going into halftime. They were carried by unsung hero Kevin Coulter, who played nearly the entire game for the Mechanix. He threw nine assists and scored four goals in the loss. As the second half started, Pittsburgh started to chip away at Detroit's lead and Sheppard willed the Thunderbirds to victory. Sheppard outdueled Coulter with an absurd 12 assists and four goals.
It was a heartbreaking loss for Detroit and their fans. This was a game they absolutely should have won. An announcerless broadcast gave AUDL.tv viewers a firsthand experience of what it's like to be a Mechanix fan. Viewers heard the yells of excitement and the groans of sadness from Mechanix fans sitting near the camera.
Detroit was up 19-13 in the third quarter, they had the disc twice on double game point, they had a two-point lead in overtime and had possession of the disc twice in double overtime and still managed to clutch defeat from the jaws of victory. Detroit will have their final chance to earn a victory in 2019 this weekend in Madison.
***
In what turned out to be a meaningless game for playoff positioning (barring a Mechanix win in Madison next week), the Minnesota Wind Chill fell to the Madison Radicals in Madison. While the Wind Chill beat Madison twice earlier in the year, they couldn't seem to find any footing against the Radicals in Madison. Madison looked much more like the 2018 Madison Radicals than the much worse 2019 version. Minnesota started the game with two breaks, but after that, it was all Madison. The Radicals looked much sharper than they had all season, and Minnesota was too sloppy to be competitive. Madison was able to comfortably race to a 21-16 finish. With a splintering in the men's club scene, this Radicals team may look a lot different after this weekend's game against Detroit.
If the Radicals beat Detroit in Madison and Pittsburgh loses to both Chicago and Indianapolis, Minnesota makes the playoffs. If this exact scenario does not happen, Pittsburgh makes the playoffs.
If Chicago beats Pittsburgh, Chicago will host the first round of the AUDL playoffs. If Pittsburgh beats Chicago, Pittsburgh will host. If Pittsburgh loses to Chicago but beats Indianapolis, seeding and home field advantage will come down to point differential between Pittsburgh and Chicago in the two games they've played against each other.
-Tanner Jurek
San Diego Clinches First Division Title
San Diego Growlers beat the Seattle Cascades 26-25 last week on a buzzer beating hammer from Jonathan "Goose" Helton to Steven Milardovich. With the win, San Diego clinches first place in the AUDL West and will host the Los Angeles Aviators in the West division playoff game after the conclusion of the regular season. While the Growlers have been front-to-back the best team in the division this year, Seattle made them sweat this one out, potentially opening the door for the Los Angeles Aviators to repeat as division champions.
On the first point of the game, Khalif El-Salaam misread a huck and the Growlers flipped the disc right around for a quick early break. Seattle dialed up the same play on the next point, and El-Salaam created enough separation to comfortable make the catch. Seattle caught back up, setting up a back and forth game in which neither team ever lead by more than two goals.
The Growlers offense was based from side stack strings, allowing San Diego's dominant cutters to get open in space, torching the Seattle defenders. Out of downfield movement, Jesse Cohen led the team with five assists. Milardovich posted six goals, including one he caught on his back after tripping over himself and the game winning catch, and five assists of his own.
El-Salaam played primarily on the Seattle O line, adding some dynamicism working with downfield with Seattle stalwart Mark Burton and Jay Boychuk. His switch had Seattle losing some athleticism on defense, and the Cascades D-line struggled to contain San Diego's attack. Goose crossed over to the San Diego defense on important points and was able to match up well with El-Salaam and Shane Worthington, the two most potent threats for Seattle.
With just under two minutes left in the game, the Growlers' Scott Radlauer laid out to poach a swing pass, leading to a late break to grab a 25-24 lead. The play essentially clinched the game for San Diego, as both teams could only manage holds after. El-Salaam caught a hammer with 29 seconds left to tie the game, but the Growlers, known for their end of quarter success, refused to send the game to overtime.
Goose ran a dominator three quarters of the way up the field and with just ticks remaining on the clock, threw a cross field hammer that Milardovich caught with a defender draped all over him.
The win clinched the first ever division title for San Diego, who will host the West Division playoff game later this month. The Growlers will have one more regular season game next week to fine tune their sets and prepare for the playoffs.
-Alex Rubin
New York Finishes Off Perfect Regular Season
The Empire closed out a 12-0 regular season after winning back-to-back games north of the border and then taking down Philadelphia 22-20 in their final game of the season last weekend.
Two weeks ago, New York looked very sharp early on as Montreal struggled to get on track. A dominant opening quarter finished with the Empire leading 8-2. The defense was the difference as New York looked clinical on break opportunities, while Montreal barely managed to generate chances. Grant Lindsley returned after missing the last few games and showed he needed a little time to settle back in. It was a bit of uneven showing for the former Flamethrower, as he tossed three assists and scored five goals, but threw a game-high four turnovers. Lindsley has been a consistent presence all season for New York, so the turnovers can be chalked up to simply having a bad game.
This was a disappointing follow up for Montreal, who was coming off a major upset of Toronto. Quinten Bonnaud balled out once again with six goals to add on to his league-leading total, but it was a tough day for Esteban Ceballos and Sacha Poitte-Sokolsky. Ceballos missed on two of his five throws in the game, while Poitte-Sokolsky dropped a pair of passes.
The Royal did manage to turn things around following the first quarter, making the game competitive. However, the Empire kept them at arm's length. Andre Arsenault certainly pressed New York, coming up with a season-high four blocks. New York's offense was also interrupted by a weather delay that lasted just over a half hour. Both teams seemed to slow down offensively following the break. That was likely by design on the Empire side, as they hoped to slow the pace and grind out a win. In the end New York saw out the 19-16 victory.
New York made the roughly two hour drive West to face Ottawa in a back-to-back for their first meeting since the final weekend of May. The Empire was nowhere near as clean to start this game as it had been the day before, committing a ton of early turnovers. After failing to capitalize on the first few opportunities, the Outlaws punched in a break to lead 4-2, eventually stretching it to 6-3.
Trailing 7-5 to open the second quarter, New York looked out of sync, typical for a lot of teams on the second day of a road trip. As the game wore and New York shook off the rust, it became clear Ottawa had not done enough to punish the Empire earlier in the first. The East Division champs stormed back to take an 11-10 lead. Lindsley put the shaky performance from the day before behind him, tossing six assists while committing just one turnover. The main beneficiary downfield proved to be Connor Kline, who finished with seven goals.
Ottawa flashed signs of life again before the half with a break following a Ben Jagt drop on the goal line to go back in front 12-11. The Outlaws continued to make the same mistakes that have plagued them all year, immediately giving back the lead to close the half with a buzzer-beating break. Ottawa clearly has the talent to compete in the division given the results it has recorded over the course of the season, but cannot find a way to avoid the crushing errors at crucial moments.
After a tight third quarter, the fourth proved to be all one-way traffic in favor of New York. The Empire cruised to a 27-23 victory spoiling another solid performance from Alec Arsenault. His four goals, three assists and one block were not enough for the Outlaws to pull off the upset.
Ben Jagt had another fantastic performance in the Empire's final game of the regular season, posting a game-high +8, five assists, and five goals. Jagt's clearly made a strong case for MVP — he's been the best player on the best team and sits in a tie2 for first in the league in plus-minus (+90) and is third in goals (54) and fourth in assists (54).
-Chris McGlynn
Is Raleigh Ready To Bury The Past?
The Raleigh Flyers took control of their Division-deciding contest against the Dallas Roughnecks early last weekend and held off a couple of Dallas runs to win comfortably, 22-15.
But Raleigh's always been able to beat Dallas in games where it doesn't really count. Since the Roughnecks joined the Division, however, Raleigh has never advanced to Championship Weekend.
They'll get home field advantage in the South Championship Game in two weeks, but it's going to be more about what goes on between their ears than the roar of the crowd in them. Raleigh has been plagued in past seasons by mystifying mistakes and lost leads, particularly against this Dallas team.
This year, they're no doubt the better team. They have legitimate title aspirations. But they'll have to get to San Jose first.
-Charlie Eisenhood
Latest AUDL Power Rankings
---
Chicago has clinched a playoff spot and is now playing for seeding ↩

with Montreal's Quentin Bonnaud ↩