The top title contenders are joined by some international guests.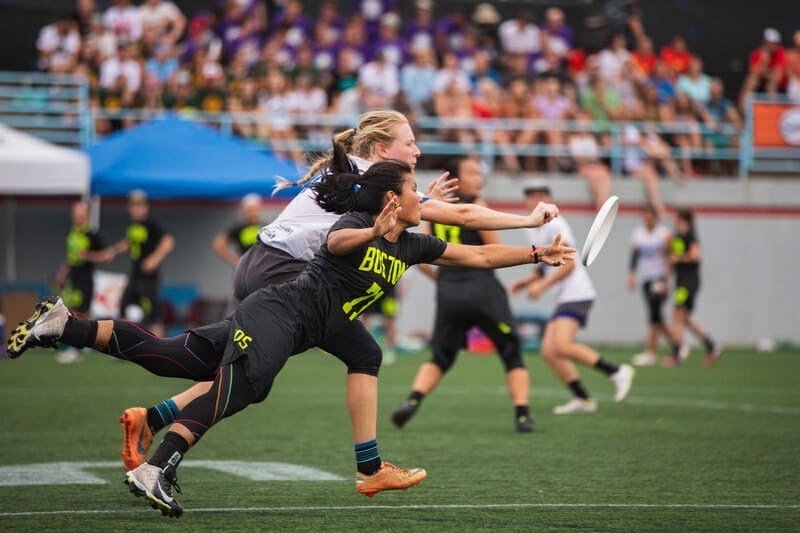 The international flavor of the U.S. Open is back! The World Ultimate Club Championships last summer meant that a lot of the top international teams stayed at home for the Open last year. But this year, top teams from across the globe are once again descending upon Blaine, MN, for one of the most fun weekends on the ultimate calendar.
With such a high volume of elite teams, a handful of which American audiences don't get to see very often, it should be a fun weekend. But what will it tell us about each of the teams present? How will it shape their seasons here in the states or their stature on the international stage? I ponder those things and more with one big question I have about each team ahead of this pivotal weekend.
Tournament Profile
Date: August 2-4
Location: Blaine, MN1
Weather: Hot and sunny throughout the weekend, with a low percentage threat of thunderstorms in the afternoon Saturday and Sunday. Temps in the mid 80's.
Top 25 teams: 8


Will Riot Continue Their Trend Of Success In International Play?
They last time #3 Seattle Riot played in a tournament with Revolution, Fury, Brute Squad, Molly Brown, UNO, and HUCK, they won gold at the World Ultimate Club Championships. Riot's shortcomings in their pursuit of a national title have been discussed to death, but for whatever reason, they haven't had those same struggles on the international stage. The U.S. Open is technically still part of the U.S. season, but with so many international teams in attendance, a type of competition that Riot has found better success in than any of their chief American rivals, perhaps they're able to turn that fortune into another major tournament victory.
Can Revolution Defend Their 2017 US Open Crown?
Medellín Revolution didn't get to mount a defense of their 2017 win at the 2018 event, so let's call Brute Squad the interim champion, with Revolution seeking to win the undisputed title. When Revo won the tournament two year ago, it was the start of their global tour de force. Now they're definitively one of the top teams in the world, and that presents the start of a new chapter in their campaign to be the top women's club team on the planet. Revolution has high aspirations for the heights they can reach as a club, and the talent to back them up.2 Winning the U.S. Open will likely be a higher priority to them than any other team in the tournament. Can they live up to their own, increasingly lofty expectations and take down the best teams America has to throw at them again? And if they do, what does that mean for them and the hierarchy of the sport on the international stage?
Will Fury Win A Regular Season Tournament?
#2 San Francisco Fury has not won a sanctioned regular season tournament since they won the U.S. Open in 2015. Their back to back national championships in 2017 and 2018 mean that they probably don't care about that a whole lot, but it is interesting. Fury has perfected the formula of being their best when they really need to be, but their lack of regular seasons tournament wins is puzzling. They obviously have the talent and capability. They lost 15-11 to Brute Squad in the U.S. Open final a year ago, in a game that never really felt that close. They also lost badly to Riot in the Eugene Summer Solstice final earlier this season. Maybe it's impossible to extrapolate anything from Fury's regular season results, and they just don't matter at all to them or anyone else, but you'd think they'd like to win one of these sooner or later.
How Hungry Will Brute Squad Be?
This will be the first tournament with elite competition that #1 Boston Brute Squad has played this season. After two straight seasons of looking like the best regular season team — including storming past the field at this tournament a year ago — only to come up short of a national title in either year, how focused will they be on winning the tournament this time around? This will be their first real competition since their heartbreaking loss to Fury in the title game last year, and they've always seemed like a team that truly wants to win every game they play. Plus, defending their U.S. Open crown against a more formidable field of competitors than last year should provide some extra motivation to come out and perform well.
Is Scandal A True Contender?
We got to see the retooled #4 Washington DC Scandal at Pro-Elite Challenge and, at their best, they looked pretty damn good. They overcame a midgame slump in the final to beat the top seeded Molly Brown and seemed to confirm their status as a likely national semifinals team. But is that their ceiling? Robyn Fennig and Austin Prucha already looked pretty comfortable with their new team, and the returners looked stronger than last season, too. Now they get to test themselves for the first time against the teams they would be taking on in semifinals. Regardless of how this weekend plays out, Scandal won't be a lock to make semis. Molly Brown, Toronto 6ixers, and perhaps even another club that will also be in Blaine this weekend will remain challengers for that spot. But we will get a better sense of Scandal's ceiling, which may be even higher than we may have thought before the start of the season.
Where Is Molly Brown In Relation To The Other National Semifinals Contenders?
Our anticipation coming into the season was that #5 Denver Molly Brown would take a step back from the dominant trio of Fury, Brute Squad, and Riot this season. Or, at the very least, they would be leapfrogged by Scandal as the fourth best team in the division. At PEC, Scandal beat Molly Brown in the final, adding support to that narrative. But that game also was a one point game, so it's not as though Scandal created an obvious separation between the two. Now with the rest of the top five teams also in the field, as well as Revolution, we'll get another look at the vastly revamped Molly Brown and potentially a better idea of where they'll fall come the end of the season. It will be important to keep in mind, however, that Molly Brown will be without Manuela Cardenas, who very well may be the team's second best player once she is back on the roster.
How Good Is Schwa, Really?
#7 Portland Schwa was a point away from making the final at Pro-Elite Challenge, where they lost to Molly Brown on double game point in semis. But three of their four wins came by a combined four goals. So are they a team on par with the perennial semifinal contenders, or are their narrow results over Minneapolis Pop, San Francisco Nightlock, and Columbus Rival more indicative of a team a little bit further back from the elite tier? They'll get a rematch with Nightlock right away in pool play, and with the quality of teams all throughout the field, we should get a pretty solid idea of exactly what tier Schwa falls into.
How Will UNO's 12 person Roster Hold Up?
The third place finishers at Japanese Nationals will have face a real test of endurance this weekend with just 12 players on the Aichi UNO roster. For comparison's sake, their pool opponents, Riot and Nemesis, have 24 and 23 respectively. Six of those players were on the team when they competed at the U.S. Open in 2017, so they will bring some important experience in playing at this tournament, but UNO also went 2-5 two years ago, and claimed wins only over London club Iceni. UNO is a top level team, with plenty of experience against this caliber of competition, but they'll need to display impressive stamina from their small roster if they're to put a strong weekend together.
Can Nemesis Survive Their Roster Turmoil?
#10 Chicago Nemesis had a rough go at this tournament a year ago, due largely to bringing a roster that was missing some of their top players. They won't suffer through such extreme absences this year, but they won't have a consistent roster throughout the weekend, either. They'll have a different roster for every day of the tournament, including missed days from Jenni Corcoran and Sarah Davis, and head coach Lindsey Hack will be absent, as well. If Nemesis is able to survive the absences and lack of consistent roster from day to day, then making quarters, and building on their strong PEC performance, should be in play.
How Does Nightlock Bounce Back From PEC?
If #13 San Francisco Nightlock has hopes of making it back to the national quarterfinals this year, they'll need to be better than they were at PEC. They will get a chance in pool play to avenge their one point loss to Schwa, and that game could be crucial in determining if they have a positive weekend or not. If they lose, they'll be looking at a probable prequarter matchup with Scandal, which doesn't seem like a game likely to help them turn their season around. Even if the results don't see a turnaround this weekend, it won't be a complete disaster. With the level of competition, it would take some truly horrible results to put them in danger of not earning a Nationals bid, but it could become difficult for them to build the confidence necessary for finding success at Nationals if they have another tough weekend.
Can The German National Team Be The First European Side To Find Success?
Twice has a European team competed the U.S. Open: London Iceni competed in 2014, and again 2017, going 1-13 over those two appearances. This is not a club team, though, so perhaps the German National Team will be able to find more success than the London club. The team is prepping for the World Ultimate and Guts Championships in 2020 and is coming off of a fifth place finish in the European Ultimate Championships earlier this summer. It's difficult to see them being able to compete with the most elite teams at the tournament, but if they're able to get a win or two, even in consolation play, it could be a nice step for European teams in this competition.
Can HUCK Follow Up Strong Worlds Showing?
Tokyo HUCK finished as the top team from beyond the Americas at the 2018 World Ultimate Club Championships in Cincinnati. It's unfortunate for them that they've been draw into such a tough pool alongside Brute Squad and Scandal, but they're still very much in play for a quarterfinal berth. They have plenty of experience at this level, including via the legend Maiko Hara, who was one of the biggest stars of WUCC 2018, and they're likely to be the second best team from outside the U.S. in Blaine this weekend.
---
Central time zone, so a listed 1:30pm start time for a game is 2:30pm on the East Coast, 12:30pm Mountain, and 11:30am Pacific ↩

That talent, notably, will be supported by Maddy Frey, who will play the rest of the season with Atlanta Ozone, and Shanye Crawford, who will play in the mixed division with Atlanta Bucket. Manuela and Valeria Cardenas are on the Denver Molly Brown and Seattle Riot rosters, respectively for the rest of the club season, but will also be playing with Revolution. ↩