On to semis!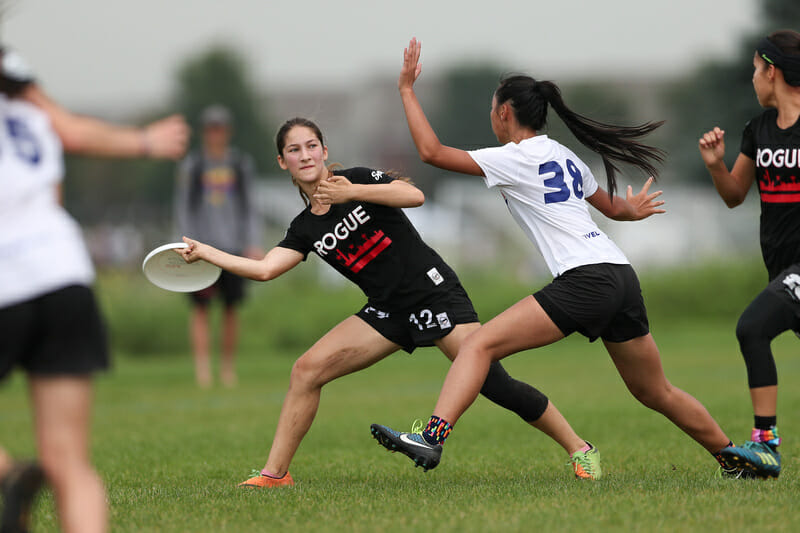 BLAINE, Minn. — After two days of competition at the 2019 Youth Club Championships, just 12 teams remain in the hunt for a title in the Boys', Girls', and Mixed Under-20 Divisions. Here's a look at the quarterfinals action from Saturday, which featured some double game point thrillers and heroic performances from some of the nation's best young players.
Girls' Division
It was all Triangle Warhawks in their quarterfinal match against Colorado Cutthroat, a 15-6 rout. Cutthroat ran a horizontal stack offense that probably worked well against other teams, but sagging handler defense from Warhawks stopped a lot of their movement before it ever got started. Grace Brown's exceptional throws — particularly a vicious inside forehand — helped Cutthroat put some points on the board, but not enough to make a game of it.
The Warhawks had a number of modes of attack, but their primary look was to push upline until they were stopped, at which point they would try to switch the field. Grace Conerly, Alyssa Ehrhardt, and Clil Phillips threw like college seniors. Warhawks face Boston BUDA in semis on Monday.
***
In the most competitive of the division's quarterfinal matchups, Boston BUDA responded well to an early run of breaks from California Current and advanced to the semifinal round with a 12-10 win. After both teams struggled with early upwind break chances, BUDA made the first breakthrough at 3-2 thanks to a hand block that earned them a short field break chance. Current responded to that first break with a 4-0 run as BUDA struggled with their zone offense and Current's Mia Beeman-Weber imposed herself on the game with her deep defense and throwing ability.
Once BUDA was able to stop the run with a hold for 6-5, though, they went on a run of their own, taking three of the next four points to go into half up 8-7. They got the only break of the second half to make it 10-8 and give themselves some breathing room on a goal by Adrena Seferian, who starred all game long. Allyn Suzuki made some big plays for Current down the stretch, and her three goals and two assists led the California club, but Current wasn't able to manufacture another run to give themselves a chance to win the game.
BUDA will advance to take on the two-time defending champions Triangle Warharks in the semifinals.\
***
The No. 14 seed Maine Rip Tide are the lowest seed left in the tournament after their emphatic 13-7 thwarting of Texas Tango. Texas had absolutely no answer for Kennedy McCarthy, who was an unstoppable force downfield. She ended the game with game highs in assists (three) and goals (four). Tango's biggest star and member of the 2018 USA U20 national team Skye Fernandez couldn't match the impact of Maine's star cutter, managing only a goal and a pair of assists on the game.
Rip Tide also showed tremendous mental and emotional strength in playing for their teammate Sophie Marcotte, who suffered a scary looking knee injury late in the first half. After giving up a hold to Tango on the first point of the second half and having to fight to hang on for a hold on their first O point of the half, they went on a 4-1 run to end it and clinch their showdown with Washington DC Rogue in semifinals.
***
Washington DC Rogue's offense wasn't clinical by any stretch, but they did have a more efficient red zone offense than a very young Oregon Downpour team, and that was the difference between the two sides in Rogue's 14-10 win. The DC club was able to win a handful of marathon points in the first half and opened up an 8-3 lead that did not feel indicative of the way both teams were playing.  Downpour played with impressive resilience in the second half and fought their way back from 12-5 down to within 12-9. They also had a short field opportunity to break for 12-10, but weren't able to convert and really threaten a full comeback.
2018 USA U20 team member Anna Dreher was impressive at just 16 years old with a stat line of one goal and three assists and poise beyond her years. Rogue were a bit deeper and spread the playmaking responsibilities across more players, but soon to be Dartmouth attendee Chloe Fugle (3 goals, 1 assist) and remarkably quick Olivia Arellano were standouts for the victors.
Boys' Division
In a back-and-forth battle, Atlanta ATLiens used a late 3-0 run to spark a comeback win on double game point 13-12 over New Jersey DEVYL. Atlanta's Ben Dameron had three goals, two assists, and a crucial layout block that set up a game-tying break midway through the second half.
Atlanta had the early edge, getting the game's first break to go up 2-1, but a Luke Barry layout D and sharp blade assist got the game back on serve. The teams traded two more breaks, highlighted by a huge layout score from DEVYL's Aylen Learned to close out the first half. DEVYL took charge to start the second half and took a 9-7 lead after some poor deep looks from Atlanta.
From there, though, Atlanta finally found the defensive pressure they needed to tie up DEVYL's handlers. Dameron's block set up the first break to tie the game at 10 before immense pressure forced dangerous passes and eventually a misthrow from Matt Krauss. Atlanta retook the lead 11-10.
Learned and Aidan Downey went back-and-forth with some superb play to land tough holds for each team and DEVYL put in another hold to force double game point at 12-12.
Atlanta turned the disc over near midfield on the game's final point, but DEVYL gave it right back with a poorly aimed throw on an under. That was all that the ATLiens needed to close out the win with a backhand huck trailing away from the DEVYL defender.
Atlanta will face Bay Area Red Dawn in the semifinals.
***
After being eliminated at the hands of the DC Foggy Bottom Boys in the quarterfinal round of YCC 2018, the boys of Bay Area Red Dawn avenged their predecessors and notched a 14-13 double game point win to claim a spot in the semifinals. It was a tight contest from start to finish, with the point differential never exceeding two at any point. DC broke twice to go up 5-3 but Dawn got one break back before DC took half 8-7.
Facing the potential of a repeat quarterfinal exit, the Dawn boys came out of half firing, breaking on the first point out to tie the game at eight. A pair of traded holds later, Dawn broke again to take an 11-10 lead that they would never relinquish. Seven holds took the game to a 14-13 capped end, but the play itself was a roller coaster of action. Layout blocks, huge skies, and highly contested completions were hallmarks of the half. Fittingly, the final goal of the game was an absurd sky in traffic by Leo Gordon over two Foggy defenders.
The highlight reel was chock full by the final goal, with DC's Will Tober (4G) pulling down numerous towering skies and DC's Matthew McKnight (7A) repeatedly feeding superb passes to his teammates. Dawn's Danny Landesman (5G/1A), Leo Gordon (3G), and DC's Jacques Nissen (1G/2A) were all downfield forces, carving up the cutting lanes and confidently distributing. On top of that, the brilliant individual performances complimented admirable team-level efforts from both squads, both of which showcased sophisticated strategy and impressively consistent execution. Unfortunately, there could only be one winner, and it will be Red Dawn advancing to take on Atlanta ATLiens in the semifinals.
***
After a closely contested start to the game, Triangle Triforce opened up a lead on Minnesota Superior with back-to-back breaks to take half 8-5 and pulled away in the second half to win easily, 14-8.
The Triangle offense was rarely challenged, led by strong handling from Josh Singleton (four assists). It took their defense time to figure out how to slow down the Minnesota deep attack, but, once they did, the breaks started piling up.
Minnesota's 6'5″ cutter AJ Larson played well in the loss, finishing with two goals and an assist while consistently threatening downfield.
Triangle is again a very deep team, though they don't have the quite the same level of offensive talent they've had in past cycles. Their D-line struggled to score throughout most of the first half against Minnesota, but they created enough chances to eventually hit pay dirt.
Sean Wiles (2G/2A) and Chris Walsh (3G/1A) had strong games as the Triangle reached the semifinals at YCC for the seventh straight year.
Triangle will face Boston BUDA in the semifinals.
***
Boston BUDA crushed Utah Swarm 15-7 in the least competitive quarterfinal. BUDA's Orion Cable continued to show off his abilities, piling up six assists to bring his tournament-leading total to 19.
Utah, who'd had success with hucking earlier in the day, struggled to find the same deep game against an athletic Boston team that brought disciplined marks and smart downfield positioning to deter hucks. The inability to finish points quickly compounded their fatigue, and they simply couldn't match BUDA's depth.
BUDA will take on Triangle Triforce in the semifinals.
Mixed Division
Riding a hot defense, top-seeded Seattle Bankroll continued their dominant performance through the opening two days at YCC by dispatching Bay Area Disc Happy Cows 15-5 in the U20 Mixed quarterfinals.
The Seattle squad were all over Happy Cows early, jumping out to a 4-0 lead through tight pressure matchup D. After a Bay Area timeout, Bankroll switched to a point of zone and Dominic Jacobs gobbled up a shot over the top in the deep space. Jalil Morris cut upline and made an impressive play to keep collect a hanging pass before shooting a 50-yard forehand bomb into the far end zone.
Bay Area finally got on the board with some patient dump-swing offense in the red zone after a Gigi Mancuso-Jackson handblock, but the Cows blew a coverage on the ensuing pull, leaving a Bankroll handler alone to line up an unmarked huck from the brick mark to steal momentum right back. The huck-happy offense from Seattle's D-line continued as Aidan Lopez-Escarez launched another flick huck allowing Bankroll to take half 8-1.
It was a similar story in the second half, as Seattle applied heavy pressure on every Bay Area cut, allowing defenders like Jacobs and Abby Hecko to pounce on Happy Cow miscues or late stall prayers.
"They wanted to run through 2-3 players in the backfield so we ran some poaches to force it elsewhere then clamped down to get blocks," said Bankroll coach Khalif El Salaam. "Defensive pressure is what we live for."
Bay Area coach Vivian Chu agreed, admitting "We succeed by breaking the mark — that's how we beat Forge earlier today. In this game, we had trouble winning individual downfield matchups against Seattle's athleticism."
If they can continue to perform as they did today, Bankroll look primed to finally capture their first YCC Mixed title after finishing as runners-up the past two years.
***
Connecticut Harpoon took on Vermont Equinox in the last mixed quarterfinal of the day. Harpoon finished second in their pool after coming in ranked last, and it was clear right away that they had been horribly underseeded. They traded scores with the Vermont team for the first few points but scored two breaks before Vermont muscled out a response and brought it back to 7-7. The score for half would outline the rest of the game: Harpoon receiver Bobby Elston in the endzone, taking whatever came at him and turning it into a score.
Harpoon relied heavily on chemistry between John Clyde and Elston to create scoring opportunities. Although sometimes it caused Clyde to overlook great short field opportunities from explosive midfield presence and precise thrower Theresa Yu, Equinox couldn't find an answer to the duo. Harpoon broke away in the second half to win in hard cap, 12-9. They certainly had to work hard for the win.
On Equinox, Nadia Stoppertone played a large poach defensive role and made incredibly athletic bids to save possession. Mason Palmer and Hayden Ellms stood out as all-around valuable offensive and defensive players.
***
In a matchup of two surprise bracket qualifiers, Indianapolis INcognito fell behind early before storming back to defeat Lexington Pi+ 15-10 to earn their spot in the semifinals after entering the weekend as the no.16 seed.
The undefeated pool winners from Kentucky started strong, breaking Indy early to go up 2-1 and expanding their lead out to 7-4. But things took a turn for the worse quickly for Pi+ as Indy started a string of breaks that wouldn't relent until well into the second half.
Execution errors started to pile up for Lexington, and INcognito grew more and more confident in converting them. Coming out of a timeout in a side stack at 7-7, Indianapolis placed Darren Smith alone in the lane where he immediately broke deep and skied multiple defenders to come down with the goal for half, sending his team into delirium.
Whether beautiful give-and-go handler motion or quick strikes deep, INcognito just could not stop scoring and their vocal energy was audible several fields in every direction throughout the second half. Lexington, to their credit, worked hard to keep their own energy up even as the game was slipping away; they simply couldn't match the intensity from Indianapolis.
Smith was at the center of the action for Indy, dominating the end zone and reeling in a game-high five goals. His team will hope for a similar performance from the impressive 16(!) year old when they square off against Connecticut in the semifinals on Monday.
***
In the closest match of the quarterfinal round, Madison MUFAbots staged a late-game comeback to squash the title hopes of the hometown Minnesota Superior side with a 10-8 victory.
The evenly matched teams ground out holds to 5-4 before Superior broke first, quickly consolidating their upwind score with a corresponding downwind break to take a three-goal lead and trading into half up 8-5, looking confident. Unfortunately for them, they would not score again.
Madison received out of half and marched it up the field for a clean hold. A gorgeous pull pinned Minnesota in their own endzone, and they turfed a swing a few throws later against a Madison zone. MUFA punched it in to get back within one at 8-7 and the momentum started to shift. Clearly playing with more confidence, Madison got into a rhythm to score their fourth straight out of half to take their first lead of the game at 9-8.
With cap on, Madison took a time out trying to finish off the hometown squad. After some flow from midfield, MUFA hung a pass into the end zone and Tenley Abbott came down with it over the outstretched hands of Minnesota's Lucy Weld to secure her third goal of the game and Madison's berth in the semifinals.
Madison now draw the tall task of having to face a Seattle Bankroll team that has, well, been rolling thus far in the tournament.
***
Watch live coverage of the YCC U20 semifinals and finals on Monday!