The semifinal round is complete!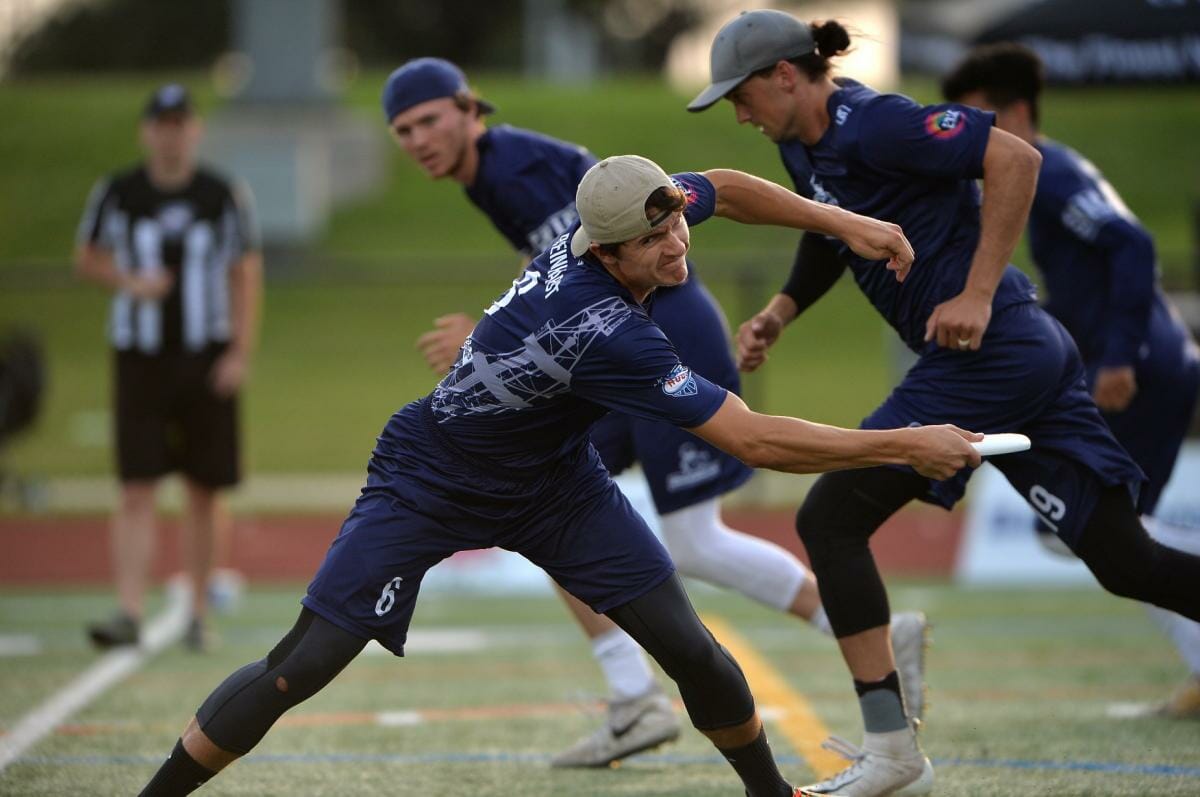 SAN JOSE, CA — This year's AUDL Championship Weekend kicked off with a Saturday afternoon matchup between New York and Indianapolis and semifinal play concluded with Dallas against San Diego. New York took control midway through their game and maintained it through bouts of weak play, while Dallas jumped out to an early advantage and fought off San Diego for the win.
New York returned to Championship Weekend for a second year in a row to take on Indianapolis, making its first trip back since the inaugural Championship Weekend. With a trip to the final on the line and wind a heavy factor in the game, it turned out to be a bit of a sloppy showing as New York ground out a 17-15 victory to advance.
The wind played a role from the first pull as it became clear this was going to be a typical upwind-downwind game of ultimate. Both sides committed a few early turnovers as they looked to solve the puzzle Mother Nature laid before them. The Empire nearly gave up an early break which would have completely changed the complexion of the game. That potential early lead for the Alleycats would have shifted the wind in their favor, but it was robbed by a sensational defensive effort from Grant Lindsley. The veteran handler racked up big offensive numbers as well, with four assists, two goals, and 705 combined yards throwing and receiving.1 Indy hung around, despite tons of errors from their offensive unit. A few more missed break opportunities led to a low-scoring first quarter, which ended with New York ahead 5-3.
It became clear early on that both sides were intent on using double teams along the sidelines. Each team found success in doing so, generating tons of blocks and throwaways. Despite the wind, this was about as creative as either team got with their defensive looks. Perhaps it was the effectiveness of these sideline traps, but it was surprising not to see more varied defensive looks from two clubs with time to prepare.
Once the second period began, the game many expected at the outset began to unfold. The Empire found momentum and spent the quarter battering the Alleycats. New York came in as a heavy favorite and built a five goal lead heading into the intermission. Many of Indianapolis' stars seemed to be out of sync, as Cam Brock and Keenan Plew turned in relatively quiet performances. Levi Jacobs toggled between being a headache to deal with downfield and a turnover machine. He finished the game 11/14 throwing with three goals and three assists, but also five turnovers. It seemed as if New York was simply going to roll to a massive win as that lead was stretched out to as much as seven in the third quarter.
Finally, the Alleycats snapped out of the funk. Empire coach Bryan Jones credited the adjustments made by the Alleycats as the margin began to shrink. On a run that spanned the end of the third quarter and the start of the fourth, Indy drew within three. Travis Carpenter came up with a massive layout block which galvanized the improved defensive effort. A complete comeback was not out of the question, as the commentary crew recounted Seattle's legendary seven-goal turnaround against Madison in the 2016 semifinals.
However, New York had other ideas as the game ground to a slow pace. Tons of deep shots went up to Empire superstar Ben Jagt, who was just as dominant as expected. He finished with five goals, three assists, and 518 yards receiving, looking completely unguardable in the air. Jagt may have entered a spot where he is unparalleled as a downfield target. He and Connor Kline proved to be a deadly duo, as Kline's efficiency was on display again. He finished with two assists, four goals, and no turnovers on just 13 points played.
Indy made one final push in the closing minutes as another double team gave the Alleycats a chance to pull within two goals, but time proved to be the enemy. New York ran out the clock to secure their first trip to the AUDL championship game. Jack Williams flew a bit under the radar with just three assists and a goal, but his 30 for 30 passing performance was critical to the Empire emerging with a victory.
Despite the win, New York looked extremely vulnerable down the stretch. Failing to close out games is an issue the Empire cannot seem to shake. It will be a task the whole team works to solve heading into a championship match up with Dallas.
In the second half of the semifinal doubleheader, Dallas battled San Diego in a matchup of two teams with very different championship pedigrees. The Roughnecks made their fourth straight Championship Weekend appearance, never having missed the final four in franchise history and already having won an AUDL title. On the other hand, the Growlers finally broke through in the West for their first semifinal appearance. Dallas pulled away for a decisive 23-18 win that, despite the final scoreline, turned out to be a thrilling matchup.
Kai Marshall set the tone for the Roughnecks right away with layout block. The rangy defender led all players with an outrageous five blocks in the contest, consistently coming up clutch in vital situations. Athleticism was on full display from both sides, but Dallas looked the stronger club early on, taking 7-4 first quarter lead. It seemed like the game could get out of hand. Dallas kept throwing double teams, much like Los Angeles had done against San Diego in the West division final. The Growlers looked comfortable though, dialing in on offense and taking advantage of a couple of overly aggressive puts from the Roughnecks. They closed the gap to just one, back on serve, with last-second goal to end the first half following a Dalton Smith reset turnover.
The wind was nowhere near as much of a factor in the latter game. Neither team seemed to have any issue moving the disc downfield, opening up the full field for offensive attack. Dillon Larberg and Abe Coffin, in particular wowed, fans with a spectacular array of throws, really testing San Diego's resolve defensively.
One of the best matchups to watch in the game proved to be Roughneck Jay Froude marking up on the Growlers' Travis Dunn. Froude made life difficult for Dunn consistently, but Dunn got his fair share of scores, finishing the contest with five assists, three goals, and a team-leading 249 yards receiving. He, along with Jesse Cohen, really powered the Growlers offense. Cohen turned in a polarizing stat line, featuring five goals and a pair of assists, but just a 78 percent completion percentage. While the offense had found its groove in the second quarter, it would be their struggles that made the difference in the second half.
Dallas wasted no time reasserting themselves with a break out of intermission. Despite the higher-scoring game, the defensive pressure never wavered. San Diego continued to press the Dallas offense, forcing long, patient points, but the Roughnecks remained focused. Dallas' young talent made a huge difference as Connor Olson and Henry Furuta made a lot of key plays for the offense; Furuta finished with three goals, two assists, and a team-leading 380 yards throwing. As a result, the Roughnecks flipped a switch late third, holding a 19-15 lead as they lined up to receive to start the fourth.
With the game teetering on the brink of Dallas taking total control, San Diego roared back with a pair of breaks. Trevor Purdy blocked an attempted hammer as part of a double-teaming mark against Kaplan Maurer to set up the second one. Maurer made up for it immediately with a layout grab for a goal to right the ship for the Roughnecks. On the following point, Dillon Larberg uncorked a massive hammer to his brother Chris for a Dallas break and suddenly San Diego was unraveling. Marshall came up with yet another big block to essentially close out the game.
The Roughnecks showcased depth and flair en route to this victory. Dalton Smith led the team with a +/- 6 rating in the game on 57/57 passing. It doesn't seem to matter the stage or situation, Dallas has the talent necessary to rise to the occasion.
This sets up a rematch of last year's semifinal matchup between the Roughnecks and the Empire. Heading into the weekend, New York seemed like the clear cut favorite to take home a title, but after another convincing result, Dallas has called that label into question. These two will take the field at 3 p.m. ET/12 p.m. PT Sunday.
---
The AUDL did some yardage tracking for this year's Championship Weekend. ↩