3 spots up for grabs in mixed. Can Deep Space finally make it to the show?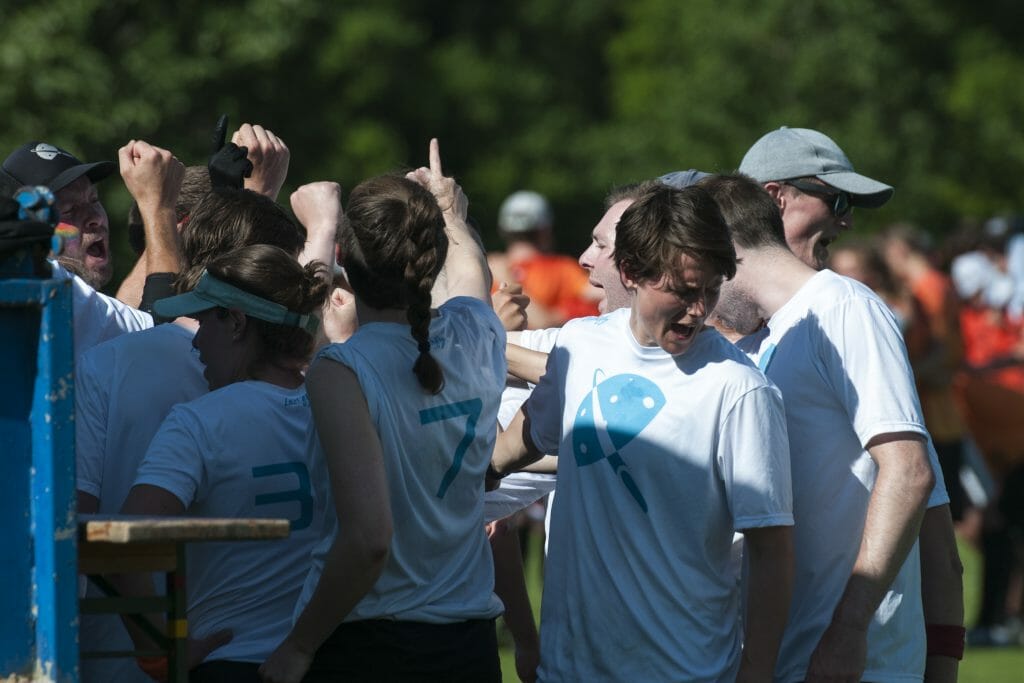 After an unusual season, the mixed division looks reasonably open at EUCR West (aka UK nationals) this weekend. The best team in the country for the last few years, Black Eagles, have disbanded and Glasgow Ultimate, who have been consistent performers themselves, haven't entered either. That's left something of a void that two teams we've seen before have filled – SMOG and Reading. There are some other interesting teams, and all this means it's difficult to call what's going to happen in Birmingham.
Tournament Profile
Location: Birmingham, UK
Teams: 8
Bids to EUCF: 3
Team Breakdown: UK-6, Ireland-2
Weather: Partly Cloudy, 20-27 C, 8-13 km/hr wind
Format
| Pool A | Pool B |
| --- | --- |
| SMOG 1 | PELT |
| SMOG 2 | Reading |
| Birmingham | Deep Space |
| Cambridge | Guilford |
Top two from each pool go straight to semis. Semis winners make the finals and directly qualify for the EUCF. The losers of the semis join the rest of the teams in a bottom bracket for the third place for the last bid out.
The Contenders
Realistically, unless other teams made significant improvements this looks like a two-way battle for supremacy. Reading, who have won two previous national championships and an EUCF title in 2016, and SMOG both focused on men's and women's last season. They had both come off grueling WUCC campaigns and seemingly needed a bit of a break. Both have come back with a vengeance – Reading breezed to the southern sectional title and SMOG not only won the northern title, but also brought back a silver medal as SMOG 2 made the final.
Reading has brought back much of the team that helped the team qualify for WUCC in Cincinnati. Players like Bex Palmer and Mark Bignal are coming off Great Britain campaigns1 and young up-and-comers like Jamie Rabbetts, Ryan Coones, Emma Klima and Erin McGready are coming off appearances for Great Britain Under-24s2. They're a generally tall and athletic team with excellent fundamentals and they can grind out results. They've been there and done it before, so will be difficult to stop.
SMOG, on the other hand, hasn't necessarily been there and done it. They made a national final in 2017 but fell to Black Eagles. The team can probably no longer be considered 'young' since a lot of these players are in their mid-20s, but there's a lot of players that are still growing here. Their squad doesn't really have any weak players, hence qualifying two teams in such resounding fashion, but there are some standouts that will make a difference. Tessa Hunt, Alex Mazzon, Kim Marsh and Fraser MacDonald are all fantastic athletes who will make a difference in most games, while handlers Tom Lees and Alexis Long will keep the disc moving effectively. They also have players who've played internationally – Long and Steve Gillman for GB men, Hunt for GB mixed and several others from beach and Under-24 tournaments.
The title is going to be a straight fight between these teams. If I were a betting man, I'd be asking for the line on SMOG, though they struggled against recently in the final of Dublin's Golden Cup, losing out to Irish all-star team Mixed Veg.
The Other Spot
There are three EUCF spots on offer in the mixed division, so the other spot is also one for some intrigue. The contenders here seem to be pretty much everyone else left, though the strongest candidates are Deep Space, Birmingham and SMOG 2.
Deep Space has been building and aiming for the top of the division for several years now. They finished sixth at nationals in their first year in 2017, and improved to fourth last time out. Their talent is unquestioned – they have players who have played for GB and other nations both in this rotation and in previous ones – but they've struggled to break through their ceiling. They fell twice to Reading at regionals so might struggle to overcome that hump to make the final, but will have sights firmly set on a spot in Caorle. Sam Vile, who was injured playing for GB at Euros this summer, is a vital part of their team but there are plenty of other players that opponents will have to take account of. Leila Denniston had a fantastic season with the GB women's team and is becoming one of the best cutters in the country, Gus Morse is one of the best deeps in the division, and Mara Alperin brings experience and handling ability. This is an important tournament for the Londoners, with a glorious opportunity to qualify for EUCF there for the taking.
Birmingham have also won a national title, and bring a tried and tested game to their home tournament. Handler Marius Hutcheson is a thrower that has to be accounted for at all times. Hutcheson is a lefty who can send backhand hucks to the endzone from anywhere on the field. They have several players who can do it all without many weaknesses, and a whole team that can go deep and cause problems downfield. Ophelia Byrne is another up-and-comer who had a successful tournament with the GB Under-24 women. They couldn't get to the final at northern sectionals but are always dangerous given their ability to score quickly and hang in when things are getting difficult. They're a strong contender.
SMOG 2 feature several WUCC players. Harry Glasspool, a mainstay of SMOG since its inception, is a force on both sides of the disc who can do everything his team will need him to do. Katie Ackerley is a solid central handler, while other players like Jenny Lam, Oliver Gray and Hari Tidswell will be also be factors. They have some Under-24s as well in the shape of Dominic Knight and Emily McCabe, but their youth is well balanced by experience. While they were something of a surprise package in making the final at regionals, they won't be able to rely on that in Birmingham. They showed in York that they might not need that element of surprise, though, and could be the first second team I can remember to qualify for EUCF if all breaks right.
The Final Three
The other teams here are no slouches, and probably won't be easy outs for anyone. Cambridge have a talented squad and could spring upsets if their big players are able to attend and are firing – they received a late bid after Irish team Tribe pulled out (a decision unrelated to the scheduled Ryanair strike). Guildford brought a strong team to regionals and earned two close wins over rivals Thundering Herd to snatch the last spot and will pair youth with experience – Elliot Jealouss just played for GB Under-20 men at EYUC while Dan Berry played with the great grandmasters team at EBUC in the summer. PELT is a young team but will have athleticism across the roster, and a winning mentality given their Irish national title. However, many of the men on that Irish championship side will be playing in the men's division at this tournament.
---
Palmer played for GB mixed, Bignal for GB men ↩

all for the mixed team ↩