Almost every game on the weekend went to seed, though Sunday saw some tight battles in the bracket.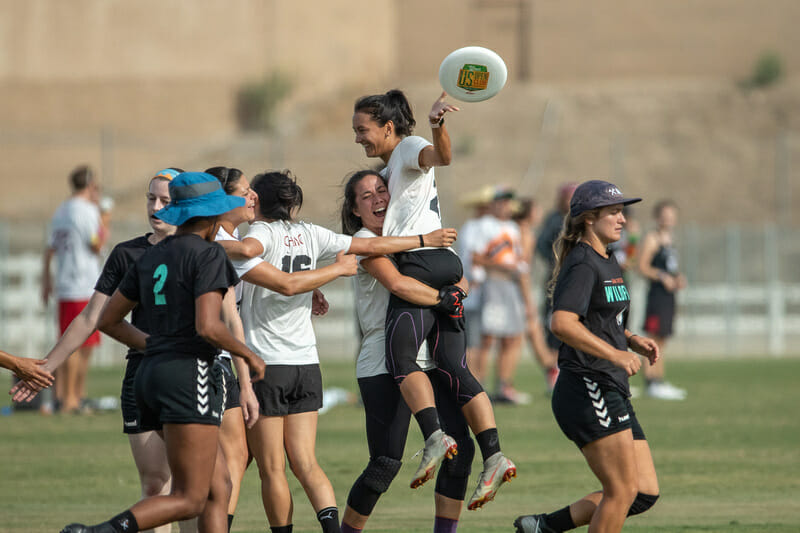 NORCO, CA – While ten teams were on hand in Norco to battle it out for three bids to Nationals, this weekend served as a stark reminder of just how stratified the skill levels are in California women's ultimate right now. The top three seeds advanced with tickets to San Diego, with few results challenging the established order heading into Regionals.
Favorites Cruise through Pools and Early Bracket Play
At the end of Saturday, all teams remained seeded exactly the same as they had been heading into the tournament without a single upset. In fact, through 20 games of pool play on Saturday, the losing team never scored more than eight points and only one game went to hard cap without the winner scoring all 13 goals. In more than half of Saturday's games, the loser scored three or fewer goals. Even no.5 seed San Francisco FAB failed to put up a fight against their pool's top two seeds, #8 San Francisco Nightlock and #20 Oakland LOL, suggesting that the backdoor bracket might be as boring and predictable as Saturday.
Thankfully Sunday bracket play was a different story, with several close games that thrilled the bucket hat-clad spectators lining the Silverlake fields. In the first round that morning, #1 San Francisco Fury quickly dispatched LOL 13-4 to punch their ticket while #11 San Diego Wildfire and Nightlock played a gritty game in the other semifinal.
After Nightlock captured an early break, Wildfire got several looks at breaking back during a marathon point, but couldn't convert any of their chances and the teams traded to 3-3. Nightlock held and then Michelle McGhee reeled in a break score to give them their first multi-point lead of the game. Both teams held for the remainder of the half, but Nightlock started on offense after the stoppage and held again to make it 8-5.
At this point, Wildfire — who were running extremely tight lines — began looking tired and turned the disc on a few uncharacteristic execution errors. Nightlock kept their intensity up with quick clean holds and another break goal to put the game out of reach. Handler Audrey Lyman showed poise and grit in anchoring the offensive line with both her short and deep game, while Hallie Dunham and Shayla Harris showed off their Stanford-bred chemistry and shredded Wildfire's zone with ease. After one of several beautiful deep shots from Audrey Lyman, the score was 12-8 in Nightlock's favor. They broke a dejected-looking Wildfire line to win the game 13-8 and advance to face Fury in the final.
Fury Tunes up for Nationals with Dominant Showing
With both teams having already qualified for Nationals in San Diego, Fury beat Nightlock to once again cement their standing as the best in the region. The two-time defending national champs jumped out to an early 7-3 lead in the first half and then cruised to a 13-9 victory to retain the Southwest crown.
Bethany Kaylor continued her stellar season, as did the whole Fury defense, which generated a ton of turns throughout the weekend, as often from tight pressure all over the field as from interceptions or block. On offense, San Francisco moved the disc quickly, scoring smoothly and efficiently. The #1 team in the country looked comfortable throughout the weekend — to be expected from a squad that is favored to fight for yet another title in San Diego next month.
"We had a solid weekend," said Fury captain Carolyn Finney. "We worked through some new strategic concepts and are excited to polish some skills over the next few weeks and show up stronger at Nationals."
Even stronger? Good luck, opponents.
Wildfire Escapes Backdoor Bracket en Route to Nationals Return
Meanwhile, Wildfire had an unexpected backdoor battle facing off against FAB to keep their season alive. FAB broke several times early on and led 8-6 after half, but Wildfire came back fired up and responded with a quick and critical hold. Dena Elimelech got a layout block that was converted for a break goal to tie the game at 8-8. After a series of holds, the game was 11-10 FAB with soft cap on. At this point, Wildfire's backs were against the wall to earn their spot at a Nationals in their own hometown and they turned on beast mode. They had an efficient hold to tie the game at 11s, and then managed two consecutive breaks to finish the game 13-11. Although FAB lost the game, they showed off their high-octane playstyle and put up an impressive fight throughout. It was a relief for San Diego, though they still had a game-to-go ahead of them.
After their scare against FAB, Wildfire went into their matchup against LOL with something to prove. Gone were the offensive miscues that had plagued them in their previous game. What took its place was the hard-nosed, grind-it-out offense that had earned them the bid in the first place. The offense was not broken once in the first half, and LOL's defense was taken aback by the well-rounded offense from San Diego. No single player dominated the game, as the team opted to beat LOL with a pinwheel of offensive looks. LOL's offense showed flashes of brilliance, especially when Marlena Hartman-Filson was on the field, but could not keep up with the efficiency shown by Wildfire. By half, Wildfire led 7-4, two breaks ahead of their Bay Area opponents.
The second half didn't fare much better for LOL. On Wildfire's first offensive point, a messy overthrow gave LOL a break chance, only to have it stolen away by Alex Diaz with a Callahan that fired up the spectators. All momentum that LOL could have taken out of half was completely shot after that, and the teams settled into trading holds until Wildfire broke again to take a 9-5 lead. LOL managed to earn back a break of their own two points later, but it was too little too late, and Wildfire's offense cleanly carried them to a 13-10 win thanks in no small part to Dena Elimelech's ability to get open deep at will. All of Wildfire's offense was locked in during the game-to-go, but when you have the reigning college POTY on your team, you may as well give her as much runway as she needs.
With their win over LOL, Wildfire secured their spot at Nationals and will once again get the chance to play on what is essentially their home field in October.