How it all went down in every division in every region.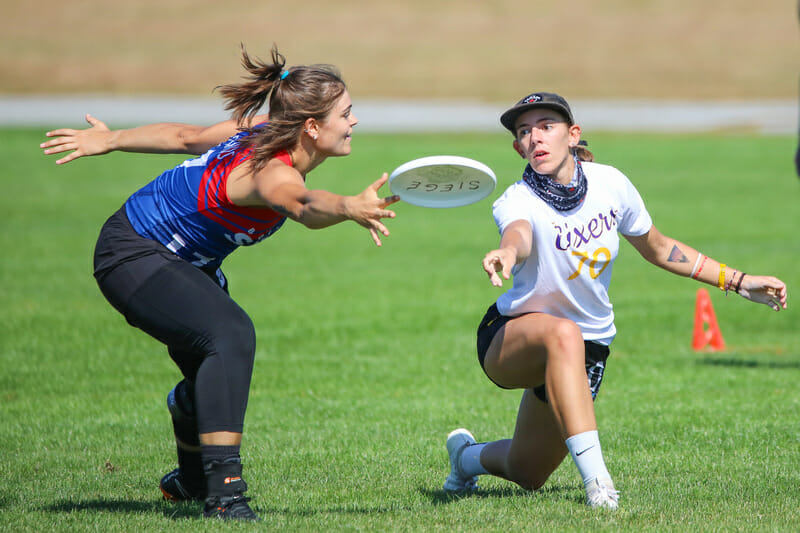 Still recovering from the wild weekend of Club Regionals? That's understandable. There was a lot of great ultimate to take in, upsets to monitor, and storylines to follow. We've got the overview for every division in every region.
For more in-depth coverage, check out our full recaps of select Regionals events. For everything else, check out the writeups below.
Bold indicates Club Nationals qualifier. Italics indicates Top Select.
Great Lakes
1. Chicago Nemesis
2. Columbus Rival
Perhaps no division's regional championship was more of a two-team collision course than the women's division of the Great Lakes. The no. 1 and no. 2 teams, #12 Columbus Rival and#18 Chicago Nemesis, respectively, blasted through their competition on their way to the final. Between them, they conceded just 19 total goals in their 10 games outside of that championship match.
Once against one another, however, both teams found a different type of challenge. With the wind that's associated with the region as the backdrop, Nemesis and Rival proved evenly matched throughout the first half. Nemesis broke first, but both teams held the lead at points. But at 6-6, Chicago scored two consecutive goals to go claim the lead at the halftime break.
Out of the half, Nemesis extended the run to four straight. That effectively put the game away with cap approaching. Rival notched a hold to make it 10-7 before the cap went on, and their final goal that made it 10-8 had no effect on the outcome. Nemesis, led by Jacqueline Jarik's downfield presence and Clare Frantz's defensive activity, earned the Great Lakes title.
1. Columbus Cocktails
2. Ann Arbor Hybrid
With one bid on the line, #17 Columbus Cocktails practically coasted through the regional competition on their way to qualifying to Nationals. They posted a +36 point differential through six games, including their strong 13-8 win over Ann Arbor Hybrid. Only Chicago U54, a who's-who of former Machine and Nemesis players, snuck within two points of taking down Columbus, during a tight 12-10 semifinal.
Undefeated run through Regionals? Check. Second-straight bid to Nationals earned in four-year history? Check. Bottles? Popped.
COCKTAILS IS GOING BACK TO NATIONALS pic.twitter.com/dGZOBcWmaT

— Columbus Cocktails (@cbusmixed) September 22, 2019
Hybrid had an impressive run of their own. After squeaking past Chicago Stripes 14-12 first thing Saturday morning, they ran unchecked to the final against Cocktails.
1. Chicago Machine
2. Cleveland Smokestack
Entering the Great Lakes Men's Regional Championships, #5 Chicago Machine was the heavy favorite. The team that entered the season with national championship aspirations looked like just that – a potential national champion.
Throughout the weekend, Machine was untested. Their closest matchup was a six point victory (11-5) over Chicago Haymaker. Against the teams most expected to give Machine a tough game, Indianapolis Brickyard and #23 Cleveland Smokestack, Machine came away with 13-6 and 13-3 wins, respectively.
For Machine, this was the first tournament we have seen Kurt Gibson at this season. A D-Line featuring a handler combination of Gibson and Johnny Bansfield showed a brilliant ability to not only generate turnovers, but keep possession and finish off breaks. Offensively, Joe White has been a force all season, and this weekend was no different. The amount of talent held by Machine is simply unmatched throughout the region, and no team showed the ability to keep up.
Mid-Atlantic
1. Washington D.C. Scandal
2. Washington D.C. Grit
#6 Washington D.C. Scandal went uncontested through most of the weekend, outscoring their opponents 82-15 through the first six rounds of play on Saturday and Sunday, before besting feisty challengers #21 Washington D.C. Grit 14-12 in the regional final. Grit also cruised through most of the weekend, then had a competitive 15-12 semifinal win over #24 Virginia Rebellion. The two teams played one of the most exciting Mid-Atlantic women's finals in years.
With only one bid on the line, Grit came out hot with a 2-3-2 junk defense that earned the underdogs short field turnovers and two breaks. Feeling the heat again from Grit's defense on the third point, Scandal managed a hold, then punched back with a huge hammer for a break that tied the game. Kate Trenerry, Lukiih Cuan, and Maria Pascale lead Grit's defensive charge, earning three more breaks for a 6-3 lead. With a growing crowd of spectators and Grit two points away from taking half, Scandal dug in. Despite an incredible footblock and two layout saves from Grit's Khin Khaw, Scandal managed to hold and then went on a break run of their own. Plays from Austin Prucha, Robyn Fennig, and Lauren Allen pulled Scandal to get back on serve and they took half 8-7.
The final tightened up in the second half. At 13-11 Scandal's Sarah Lord came up big–a layout block helped Scandal maintain the lead, and a diving catch on the next point sealed the final, the region, and the bid to Nationals.
1. Philadelphia AMP
2. Washington D.C. Space Heater
3. West Chester Loco
The mixed division in the Mid-Atlantic has been competitive all year, with a number of solid programs with both the aspirations and talent to reach Nationals. Alas, the regular season results did not square with those goals, and the region was left with just two bids to share. AMP and Space Heater brought home the pair, but for one weekend, regional camaraderie took a backseat.
#2 Philadelphia AMP, however, remained firmly planted behind the steering wheel. They sped away from the opposition, only slowing down around the bend against Space Heater, but they opened it up in the end for a 15-11 win in the final. Their structure complements their talent, and players have stepped up to fill the vacated production of last year's defectors.
In the game to go, #8 Washington D.C. Space Heater was forced to contend with #16 West Chester Loco, the eager challenger who just missed out on a third bid. Loco had to navigate the backdoor bracket, and the extra mileage couldn't have helped against such a strong opponent. It looked like D.C. might run away with it in the second half, but Loco refused to give in, and battled back to tie the game at 10-10. The game was a defensive battle, so it was fitting for it to end with a break, as Space Heater knocked in back to back goals to maintain their grip on their bid to Nationals.
1. Washington D.C. Truck Stop
2. Pittsburgh Temper
3. Virginia Vault
The Mid-Atlantic championship remained in the hands of #7 Washington D.C. Truck Stop after another comfortable run through the regional field. Truck waltzed to the final, defeating Vault 15-7 in their semifinal. It was no surprise for them to meet #14 Pittsburgh Temper in the title match. And when D.C. jumped out to a 5-2 lead, it felt like the music hadn't stopped. Despite an 8-5 halftime deficit, Temper was able to fight back to bring the game within one, trailing 11-10. But Truck Stop punched in back to back goals and won the game, 14-11.
That sent Temper to the game to go, a tenuous position where they had struggled in previous years. Did breaking through last year shatter the curse? Their opponent, #21 Virginia Vault, a new team filled with players tired of just settling for regional relevance, had just scored impressive wins over more established programs Garden State and Patrol. But Vault wasn't ready for success in the crunch-time situation; Temper immediately scored four of the game's first five goals. Pittsburgh maintained their advantage throughout the game, taking a thorough 15-6 victory to head back to Nationals.
North Central
1. Minneapolis Pop
2. Kansas City Wicked
#22 Minneapolis Pop breezed through their competition in Blaine, with no team getting within three points of them on the weekend. Makella Daley and Biz Cook were standouts in the wind, with crisp break throws and powerful cutting in the red zone, while Kayla Blanek churned out yards downfield. Despite a knee injury to center handler Rebecca Enders, Pop made confident work of Kansas City Wicked in the final, 13-9, clinching a Nationals berth.
Wicked had a fantastic tournament, going undefeated (until the final) and upsetting Madison Heist in the semifinals on a dramatic DGP finish. They just didn't have the depth of throwers needed to hang with Pop. Heist, meanwhile, should be proud of how they played. They're an extremely young team on the whole, and Wisconsin Bella Donna junior Margret Walker was a star throughout the weekend. While this season probably didn't turn out the way they wanted, Heist's future is bright.
1. Minneapolis Drag'N Thrust
2. Madison NOISE
#1 Minneapolis Drag'n Thrust, as expected, qualified for Nationals, albeit not quite as easily as they probably would've liked. Yes, Drag'N went unchallenged up to the final, including a 15-9 beatdown of Minneapolis No Touching in semis.
But right from the first pull of final, Madison NOISE's pressure was tenacious. Drag'N, perhaps due to their longish break after their semifinal, came out flat at the start and NOISE took full advantage, quickly converting two breaks and eventually taking a 6-4 lead. But a squad as talented as Drag'N isn't going to crumble under duress; instead they rose to the challenge. Behind dominant play from Sarah Meckstroth and Caleb Denecour, Minneapolis surged to take half 8-7 and never looked back. Drag'N took the title with a 13-9 final victory, finishing the game on a 9-3 run. They'll head to San Diego as the presumptive #1 seed.
1. Minneapolis Sub Zero
2. Madison Yogosbo
Who saw that coming? All four top seeds in the men's division lost in an incredibly windy first round Saturday morning, including #6 Minneapolis Sub Zero. #24 Winnipeg General Strike used a Pat Stegemoeller-approved strategy of hucking and praying to build a lead that eventually won them the game on time cap.
However, due to the other upsets of top teams, Sub's loss actually gave them an easier schedule come the bracket, with General Strike, #20 Madison Yogosbo, and Iowa Cryptic all on the other side. And unfortunately for the rest of the region, Sub wasn't going to overlook their regional competition twice. In the final against Yogosbo, Sub jumped out to a 6-2 lead, led by their defense's suffocating pressure and patience on the turn. Sub's O was efficiency incarnate, typically scoring in less than ten throws and getting their D-line back on the field.
For their part, Yogosbo didn't seem too troubled by the deficit. There were plenty of fine plays made by Colin Camp, Avery Johnson, and Alex Simmons, and, honestly, it didn't seem like they really cared about making Nationals. True to their name, Madison was there to have a good time and play some good ultimate on the side. On game point for Sub, Johnson could be heard telling Camp to get on the line, saying something to the effect of 'you should be playing when we lose.'
And lose they did, as Sub's offense capably marched down the field and scored, ending the game 15-9 and taking the sole bid to Nationals. They'll head to San Diego with legitimate semifinal aspirations.
Northeast
1. Toronto 6ixers
2. Boston Brute Squad
3. Boston Siege
4. Quebec Iris
5. New York Bent
Coming into the weekend, it was clear the Northeast, with it's immense four bid haul, had the potential for excitement and surprises. But the most surprising development came from an unexpected source: the championship final. For the first time since 2012, #5 Boston Brute Squad was felled, this time by #4 Toronto 6ixers. The 6ixers were able to claim the first regional title in their brief history and have won their last two games against the vaunted Brute Squad. They rattled off three straight to turn a 12-11 deficit into a 14-12 win.
Waiting for Brute Squad in the second place final was an elated #10 Boston Siege. The younger Boston club had just come off of back to back wins over Iris in quarterfinals and Bent semifinals, including a seven goal run in the second half against Bent that gave Siege a 9-4 lead. They never relented in that game to go and, following a strong regular season, capped it off with the program's first Nationals qualification.
That left the no. 4 seed #14 Quebec Iris and no. 5 seed #16 New York Bent to face off for the final bid. Iris was able to take advantage of an underperforming New York offensive unit to get a thin advantage. While the two teams were fairly evenly matched, Iris avenged a 12-11 loss to Bent from pool play with the clutch 14-9 victory in the game to go.
1. Boston Wild Card
2. Boston Slow White
3. Boston Snake Country
4. Boston League of Shadows
Boston teams claimed each of the top four spots on the weekend, including the region's three Nationals bids. After missing out on Nationals entirely a season ago, #5 Boston Wild Card proved themselves to the best of the Boston contingent. But they had to survive a double game point scare against Brooklyn Grand Army in quarters after letting a 9-5 lead slip away. Otherwise, Wild Card had a fairly easy time, with none of their other wins being by fewer than four goals.
#7 Boston Slow White's own scare came in crossover play on Saturday against New York Xist. In the end, they also qualified for Nationals without too many tests, including a comfortable win over #6 Boston Snake Country in the game that ensured their bid.
A little more reliant on just a couple of offensive pieces than their fellow qualifiers, Snake Country's offense wasn't on par with the two clubs that finished ahead of them. But they had little trouble once they'd fallen into the backdoor bracket, beating Xist 15-8 third place semis and League of Shadows 15-9 in the game go to.
1. Boston DiG
2. New York PoNY
3. Toronto GOAT
4. Amherst Sprout
#12 Boston DiG stunned the defending national champions to win the region thanks to their zone defense's ability to stymie #1 New York PoNY's deep game. The win avenged a 15-10 loss to PoNY earlier in the weekend, when neither team's defense seemed too invested in the outcome. DiG upped their performance for the final, but also caught a PoNY side that was slumping on Sunday. The New York club needed some fortunate breaks to pull off a late comeback against #18 Amherst Sprout in semifinals just to reach the final.
Sprout couldn't recover well enough for the game to go, succumbing to #8 Toronto GOAT's lockdown handler defense and Mark Lloyd to Andrew Carroll offensive battery in the fight for the region's final bid.
Northwest
1. Seattle Riot
2. Vancouver Traffic
3. Portland Schwa
4. Seattle Underground
At first glance, the women's division of Northwest Regionals went mostly to script: #3 Seattle Riot crushed and the two strength bids remained with the teams that earned them in the regular season. But, below Riot's run through the field, there were bits of drama. #15 Vancouver Traffic, after going mostly untested during the regular season, narrowly escaped a pool play matchup with Seattle Underground, breaking on double game point. They turned around two rounds later to overcome a strong Schwa squad, 13-11, in a well-played and hard fought matchup.
Thus, Super Sunday wound down in a way it feels like it has so many times before: #9 Portland Schwa vs. #17 Seattle Underground for the third bid in the Northwest. Schwa pulled away from the Seattle side with a strong second half to win 13-8. Julia Sherwood and Kimber Coles paced their offense to a confident victory that got them back to Nationals.
1. Seattle Mixtape
2. Montana Moondog
3. Seattle BFG
4. Boise Lochsa
#4 Seattle Mixtape claimed their fifth straight Northwest mixed regional championship, dominating surprise Montana MOONDOG in the final to the tune of 15-8, but after both teams had already secured their positions at the top of the tournament and at Nationals. Mixtape's game to go came in the previous round, against #3 Seattle BFG, where they opened up a 5-1 lead that they never relinquished on their way to a 15-8 victory. Mixtape's volume was turned up all weekend, with 13-8 being their closest margin of victory.
BFG's early matchup with Mixtape was the result of a Saturday upset by Moondog. The Montana club did not even originally qualify for the event, but got in off of the waitlist. Their 12-11 win in crossover play against BFG put the top seeded Seattle teams on the same side of the bracket. Moondog won back to back barn-burners in the bracket by a total of three goals, beating Boise Lochsa in their game to go semifinal 14-13.
That left BFG and #13 Boise Lochsa to battle it out for the final bid. BFG buckled down with disciplined offensive play, allowing them to take advantage of Lochsa's riskier decisions. The reigning club world champions closed it out, 15-12, relieved to get back to Nationals, even though their performance left something to be desired.
1. Seattle Sockeye
2. Vancouver Furious George
3. Portland Rhino Slam
4. Seattle Voodoo
There was little teams could do to derail #2 Seattle Sockeye, who took home the regional crown behind intense handler defense and dynamic offensive movement. No team scored double digits against Sockeye, even when the winning threshold score moved to 15 in bracket play. They look on track to be in title contention at Nationals.
As anticipated, the drama in the Northwest came further down the ladder. #10 Vancouver Furious George claimed the second rung for themselves, despite pool play tests from Rhino Slam and The Killjoys, with a confident 13-9 semifinal win over Seattle Voodoo. Rhino and Voodoo stuck to the script, falling into a final matchup to decide whose season would go on and whose would conclude.
And much like the other elements of this tournament, what we saw during the season was predictive. #15 Portland Rhino Slam's experience, and the play of star Raphy Hayes, allowed them to take advantage of a plucky, but undisciplined #19 Seattle Voodoo club. Once the deep lanes became tougher to access for Voodoo, Rhino's defense was able to stifle their offensive motion. They pulled away with a 15-12 victory to return to the Club Championships.
South Central
1. Denver Molly Brown
2. Austin Showdown
#2 Denver Molly Brown was simply the superior side throughout Regionals, not playing a single game closer than 13-7, and shutting out two of their opponents entirely. The women's division of the tournament was condensed into one day for fear of weather delays on Sunday, but even that wrinkle could not hinder Molly's dominance. #19 Texas Showdown blew out all of their opponents on their way to the final as well, with the exception of their 10-8 semifinal win over Denver Small Batch. But they simply did not have the firepower to hang with Molly Brown in the final and give them a similar scare to the one they gave the regional queens a year ago.
1. Dallas Public Enemy
2. Fort Collins Shame
3. Denver Love Tractor
Perhaps no result on Super Sunday was more shocking than that of  Dallas Public Enemy winning with South Central region in the mixed division. Public Enemy entered the tournament on the periphery of a region with a clear top two after the regular season: #9 Denver Love Tractor and #10 Fort Collins Shame. That narrative couldn't even make it through a viciously upwind-downwind Saturday, when PE toppled Love Tractor 13-9 in a grinding contentious front door semifinal.
Public Enemy continued their momentum into the regional final against Shame on Sunday morning. The tone for the first half was set during the fourth point of the game, in which Shame's huck with the wind sailed too far for the intended cutter. Public Enemy quickly picked up and hucked successfully into the wind to Jon Deamicis, whose continuation throw floated over his target but was saved by a diving Eric Carter. Carter's throw into the end zone missed cutter Veronica Coombs but went straight into the hands of Deamicis for the break, and the rest of the team stormed the field in celebration. At that point, Public Enemy took the lead 3-1 and full control, adding four straight breaks to take half 7-1 on a confused Shame side.
No other team at Tulsa brought the depth, athleticism, and energy needed to match Public Enemy this weekend, and they played to their strengths in taking advantage. Deamicis, Brooke Wooldridge, and Alan Villanueva were the main playmakers on PE's D-line, while Kevin Christian and Michael Hays made things run smoothly for their offense.
The result in the final set up an unexpected matchup between the two bid-earning Colorado squads in the game-to-go. Love Tractor, from the outset, looked a step slower than their rivals, having played an extra game in the backdoor bracket and possibly still feeling the effects from their grind in semis. Fort Collins jumped out to a 7-2 lead at half as Tractor's offense struggled to move the disc towards the upwind end zone. Shame eventually held on for an 11-6 decision, ending Love Tractor's season for a second straight year and punching their ticket to San Diego.
1. Austin Doublewide
2. Denver Johnny Bravo
3. Denver Inception
#11 Denver Johnny Bravo and #13 Austin Doublewide met in the regional final, as expected, with only their semifinals opponents providing any sort of resistance to the inevitable meeting of the region's two predominant regional powers. Sunday's rounds were shortened across all divisions in anticipation of possible storms that thankfully never came, although ominous clouds brought occasional showers during the morning. The wind on Sunday was slightly milder than Saturday, but consistent in direction, making all games an upwind-downwind contest. After a tug-of-war of a first half, with the score tied at 8-8 and the 75-minute hard cap steadily approaching, Bravo miscommunicated on their own goal line going downwind, leading to a relatively easy block for Doublewide's Kai Marshall. Marshall immediately floated one into the end zone for a streaking Kaplan Maurer, giving Doublewide their first lead since 1-0 and leading to the loudest cheer yet from the sidelines and onlookers. Austin pounced on another turnover and Dalton Smith, who was strong for Doublewide all tournament, tossed in the game-winner not long after.
Another back-and-forth game was happening on the next field over, where Denver Inception was able to break Houston H.I.P. on double game point to win 12-11 and reach an incredible seventh straight game-to-go to Nationals. They stayed neck-and-neck with Bravo in the first half before eventually crumbling at the hands of the more established program, 12-7.
Southeast
1. Raleigh Phoenix
2. Atlanta Ozone
3. Florida Tabby Rosa
#7 Raleigh Phoenix played in one close game all weekend: an 11-8 win in their pool play opener against Tabby Rosa. Otherwise, they blasted their way through everyone they played, as they claimed their first regional title since 2013. Even #13 Atlanta Ozone proved no match for the Raleigh club in the final. Phoenix jumped out to a 5-1 lead, and were only broken once all game, winning 13-8 on the backs of dominant performances from Lindsay Soo and Anne Worth.
Despite suffering their most lopsided Regionals loss since at least 2004 in the final, Ozone still kept their record Nationals streak alive without too much trouble. They went through pool play untested, and had no trouble with Tabby in first place semis. After Tabby overcame a first half deficit against Birmingham Steel in the second place semifinals, they did give Ozone a closer game the second time around, but Ozone were never in any real danger of missing out on Nationals.
1. Asheville Superlame
2. Durham Toro
3. Atlanta Bucket
The landscape of the tournament devolved into chaos during the third round of pool play when the top two seeds, #14 Durham Toro and #15 Florida Weird, both suffered upset losses. The losses put #21 Atlanta Bucket and Asheville Superlame on the fast track to the final, and meant that only one of Toro and Weird could make it. Superlame rode that fast track all the way to the regional title, avoiding any breaks down the stretch against Bucket thanks in large part to the strong offensive play of Joel Wooten.
Toro, meanwhile, fought their way through the backdoor bracket. They easily swatted away Atlanta JLP, Athens Murmur, and Charlotte Storm to set up a game to go to the game to go matchup with Weird. As they did in the regional final a year ago, Weird dug themselves into a big, early hole they could not climb out from, setting up a Toro-Bucket showdown for the final bid. In a rematch of a come-from-behind Toro win in pool play, Bucket never led, getting broken on the first point of the game. It wasn't until the second half that Toro finally created some breathing room, but their defensive performance was enough to claim the region's last bid and their third straight trip to Nationals.
1. Raleigh Ring of Fire
2. Atlanta Chain Lightning 
3. Tampa Bay UpRoar
#3 Raleigh Ring of Fire had just one pool play game closer than 13-4 (their 13-9 win over Columbia Lost Boys) and allowed an opponent to reach double digits only in the final against #17 Atlanta Chain Lightning. Chain was similarly dominant, allowing just 18 goals through pool play, and winning their semifinal by an even larger margin than Chain did. They weren't overmatched by Ring in the final, but they didn't have quite enough to stymie a fully clicking Ring offense.
Tampa Bay UpRoar were led by a dominant performance from Andrew Roney to upset Brickhouse to win Pool C, but they were no match for Chain in either of their cracks at them, particularly in the game to go when they were completely overwhelmed by Chain's defense and defensive efficiency.
Southwest
1. San Francisco Fury 
2. San Francisco Nightlock
3. San Diego Wildfire
4. Oakland LOL
Another year, another Southwest crown for #1 San Francisco Fury. They made short work of most of their competition, beating Wildfire 13-7 in their tournament opener in pool play and finishing off Nightlock 13-9 in the regional final. Fury even blanked two opponents and look locked in going into Nationals.
Coming into the weekend, there was some question if #8 San Francisco Nightlock could fend off #11 San Diego Wildfire. Their duel took place Sunday morning in the first place semifinal. Nightlock took two breaks in the first half to gain the advantage, but the game was hotly contested throughout that period. However, Wildfire faded in the second half, worn down by their deep Bay Area opponent. Nightlock pulled away for a 13-8 win.
Wildfire did secure the final bid, but not without some harrowing moments. Having expended themselves that morning against Nightlock, they needed a second half comeback against FAB to return to Nationals.
1. San Francisco Mischief
2. San Francisco Polar Bears
3. San Francisco Blackbird
The Southwest's mixed division championship was long predicted to come down to who could have a better game between neighboring #11 San Francisco Mischief and #12 San Francisco Blackbird. And when the two crossed paths in the final, that still was potentially the story. The margins were narrow between the two experienced clubs, and while Mischief's offense gave Blackbird the disc a little too frequently, their O-line defense was able to keep them from falling too far behind. Mischief picked up their play late in this one, yanking a 13-11 win from a game that could have gone either way.
The nature of the final set up #19 San Francisco Polar Bears with a chance to upset Blackbird. The game began with opposite energies: Blackbird looked unfocused while Polar Bears looked tenacious on their way to a 4-1 lead and eventually a 7-4 halftime advantage. Blackbird opted to tighten their lines and deploy a zone that proved great at slowing down PBR's game, but the slow pace did not favor the trailing Bay Area club. A slogging point as cap went off was a must-have for Blackbird, who converted to make the score 10-9, Polar Bears, in a game to 11. But another break was not in the cards, and Polar Bears converted to win 11-9 and earn a place in the field at Nationals.
1. San Francisco Revolver
2. SoCal Condors
3. Livermore Oat
How can a result we're so used to be so interesting? Seeing #4 San Francisco Revolver atop the Southwest is old hat, but given their dramatic personnel changes and lack of regular season dominance, there were plenty of questions about whether or not the powerhouse program would be supplanted. After all, their main challenger, #9 SoCal Condors, looked to be one of the toughest regional opponents since Revolver's formative days. When the dust settled, however, the latest iteration of Revolver took care of business as they predecessors had, topping Condors 13-10 in the final. With Ashlin Joye steering the D-line to breaks and Eli Kerns, a one-handed Simon Higgins, and new addition Adam Rees producing for the offense, San Francisco remained the Southwest's dominant presence.
In the backdoor game, Condors didn't let their disappointment hold them back against no. 4 seed Livermore Oat. The SoCal club went to work and built an insurmountable lead on their way to a 13-6 victory over an opponent showing the effects of having to go through the entire second bracket.