Superlame shouldn't come as a surprise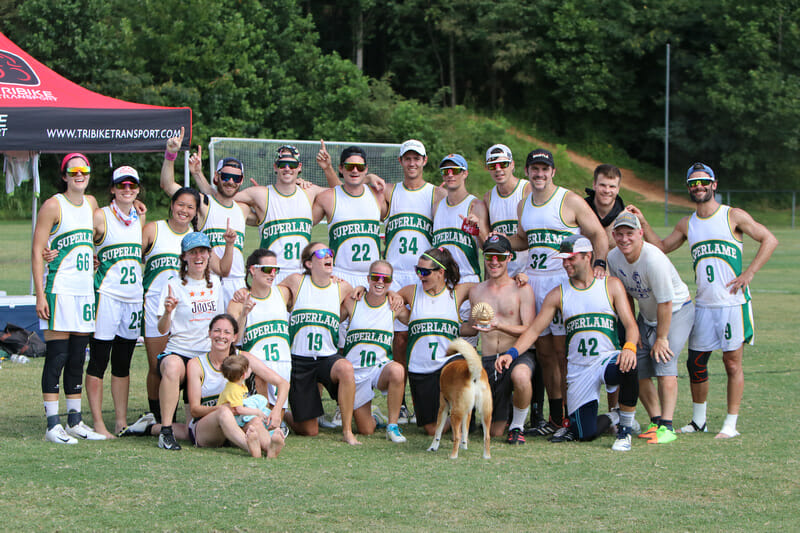 Ultiworld's reporting on the Club Mixed division is presented by Universe Point cleats. All opinions are those of the authors. Please support the brands that make Ultiworld possible and shop at Universe Point!
ADVANCE, N.C. — Superlame's Joel Wooten is a tough player to guard on the mark, and his last possession of the weekend showed exactly why. On the goal line to win the Southeast Championship, his long lanky frame forced his mark on Bucket had to sell out onto the force side to stop a potential flick to an incoming Sara Dieter. Dieter seemed to turn her hips to clear back to the stack, but she hesitated, and with his mark sold out on the sideline, Wooten sliced a low inside backhand to Dieter with the precision of a seasoned player who had mastered that move over his career. Superlame took the game 13-11 and the sideline exploded into celebration and chants of "Lame! Lame! Lame!" as they were cheered on by a crowd that had just witnessed the men's final on the adjacent field. Champagne bottles were popped, and Superlame rode their high into their tent to enjoy a moment of celebration before parting ways.
When we use words to describe the way that middle-seeded ultimate teams get to Nationals, we sometimes default to the word "sneak." We sometimes default to the obvious picks of who should go to Nationals based on which teams earned the bids. Sometimes, a middle or lower seed "sneaks" their way into a game to go.
There was nothing sneaky about what Superlame pulled off this weekend at Southeast Regionals. For that matter, there was nothing sneaky or subtle about what they did all season long in the Southeast. Between the start of their season in July and the regional final, they beat every regional caliber team in the Southeast with the exception of Toro, who they never played. At Regionals, they dispatched opponents in a dominant and confident fashion that you'd expect from a seasoned club team like Mixtape or Drag'n Thrust. They accomplished this without hosting a formal practice or sitting down as a team to watch film. How did they not slip up?
"Our strategic success is heavily based on communication," explained captain Ryan Sitler. "The average age of our team and the experience playing together with other teams allows us to have effective communication. We have a lot of strategic minds and so it's about finding the advantages that we can exploit every game."
Every player on Superlame has a history of competing a high level. The collective starting foundation of the players on the team allowed Superlame to focus less on having to worry about sticking to offensive and defensive fundamentals and more on how to adapt to every game they had to play. In their run through pool play, Superlame exploited their matchups deep and opened up the field with their hucks. Throwers like Taylor Pope were happy to fire deep to the team's athletes, especially on D-line possessions. On Sunday in a rematch of the North Carolina sectional final, Superlame faced more zone and much tougher defensive assignments against Storm's Micah Hood, Abigail Berry, and Savannah Hadwiger. It wasn't until early in the second half, when Taylor Minch secured a great layout catch block right on Storm's goal line, that Superlame was able to start pulling away. One area where Superlame inarguably shone all weekend was in their backfield defense. While their defenders did an excellent job guarding Storm's veteran handlers, Storm had a lot of trouble slowing down Andrew Cohen and forcing him out of the handler space even when they switched to zone.
The final was really the only time when Superlame's focus seemed to truly slip. After taking a 6-3 lead in the first half, Bucket came back to tie the game at 6-6. For a moment, it seemed like Superlame could come apart. Bucket's side stack worked well throughout the game as they isolated Katie Gainer and punished Superlame's errors. But Superlame's talent, and specifically the playmaking capabilities of Joel Wooten who played a phonemenal second half on Superlame's O-line, staved off Bucket's chances of taking the regional crown. When Wooten went deep, he had no problem stepping up to the challenge of making a layout catch at the back of the endzone or using his long frame to pull down a hanging disc.
And then, of course, there was his final assist to Sara Dieter. The last play of game summed up the traits that made this team successful: experience, trust, and the confidence to play to their talent.
Joel Wooten is, and I mean this politely, old. He's a player from a previous generation of players from Atlanta who have largely hung up their cleats. You can't blame a player who wants to pack it in after winning a club championship a decade ago and leaving a great legacy in their wake. A lot of players on Asheville Superlame share that same story. Names like Cate Foster Yakey, Taylor Pope, and Ben and Sara Dieter are names you'd expect to see only at Masters Nationals or as outliers on pro or club teams. We've seen mixed teams like Space Heater and Snake Country cobble together elite players who are still on the cusp of their prime experience a lot of success in the mixed division. What makes Superlame different – and they are going to be very different from the other mixed teams in San Diego – is the fact that the average player on Superlame are, in the traditional sports sense, past their prime. Don't tell them that, though, because they are the 2019 Southeast mixed regional champions and they are going to Nationals.
Toro: Proving Their Grit
Ring of Fire coach David Allison retweeted something on Friday night before Regionals that applies well to the wacky journeys teams can face in regions with multiple bids:
"Remember your mission, but be ready to change it."
It's a paradox a team that gets knocked into the backdoor bracket faces. How do you adapt when your possible path to nationals takes an abrupt turn? Toro has represented the Southeast at Nationals since 2017 but their battle to keep the strength bid they earned for the region was the toughest test the team has faced at Regionals to date. To secure their strength bid to Nationals, Toro had to take the long road through the backdoor bracket.
After coming back to win against Bucket in the first round of pool play, Toro dropped their 3rd round game to Huntsville Outlaws, setting up a three way tie that Bucket won on point differential. It pushed an already banged up Toro squad into the position of having to win every game they played from then on to make Nationals. They did it through a combination of great defense and a positive energy that reflects the impact younger players out of the Triangle have had on the team's culture and mentality.
Toro's first game of the weekend against Bucket demonstrated exactly how big a contribution they'd get out of their D-line. Trailing 10-8 against Atlanta, Toro fired off five straight scores to win 13-10. While Toro's sidelines kept the team energized, their force middle defense and the athleticism of players like captain Heather Zimmerman turned the game around. Throughout the weekend, it was the adherence to this formula of strong team defense and high energy that got Toro through five hard elimination games.
"We've talked about our mental toughness all season," said captain Tristan Green. "This whole season we were a team that focussed on energy but this weekend we went deeper than that to focus on why we're playing. Being fun with each other is definitely a big part of it but this weekend a big 'why' was wanting to make Nationals. We have a lot of people with a lot of drive to do that."
Tapping into that 'why' fed Toro's energy through the weekend. They held onto their defensive edge throughout the bracket and when the time came to finally face Bucket again in the game to go, an early two break run and an electric offensive performance from Green gave Toro the edge they needed to end their marathon weekend with a bit of a sprint. After a Bucket drop put Toro on the doorstep of a break on the very first point, Micheal Meilstrup hit Sydney Harris at the back of the endzone with a perfect fading OI forehand to the back cone. While on Saturday Toro opted to force middle, they went backhand in the final and their collective stamina showed in their ability to both convert more of Bucket's turnovers and recover quickly from offensive mistakes.
The last point of the game was punctuated by a series of give and gos by Green who hockey assisted the final goal by Christine Bookhout. It was a fitting end to the weekend for Toro and specifically for their women. Bookhout and Zimmerman never subbed from the lines they played on this weekend and, despite battling a meniscus tear and MCL sprain, Tyler Smith showed the same sort of poise with the disc that she acquired while coming into her own as UNC Pleiades' primary offensive handler this past college season.
After celebrating in the huddle with his teammates, Green had high praise coming out of the game for Toro's "play to win" mentality.
"Whether it's me on the field or whether it's other people making plays and executing we know that everyone can come out and win," he said. "I think having everyone on the line with that mentality creates situations where we all have the best chance for success."
Sometimes to truly find your mental edge in sports, you have to test and temper it in the arena. Pressure is something that every team struggles with at some point, and it's hard to think of a harder test than going through four single elimination games on top of three pool play games to go to Nationals. The lessons they learned as the team that beat AMP at Pro Champs but also lost games to Space Heater, shame. and Jughandle prepared Toro for the regionals they had to play. More than just a vindication for Toro's mental toughness, it's also proof of why the club regular season matters. When their season seemed like it was on the edge, Toro never faltered and they looked pretty good doing it.
Toro veteran defender Sydney Harris said as much in the huddle after the game:
"That was a mountain and we f***ing climbed it. That's why I f***ing play this sport."