Breaking down every region and all your contenders.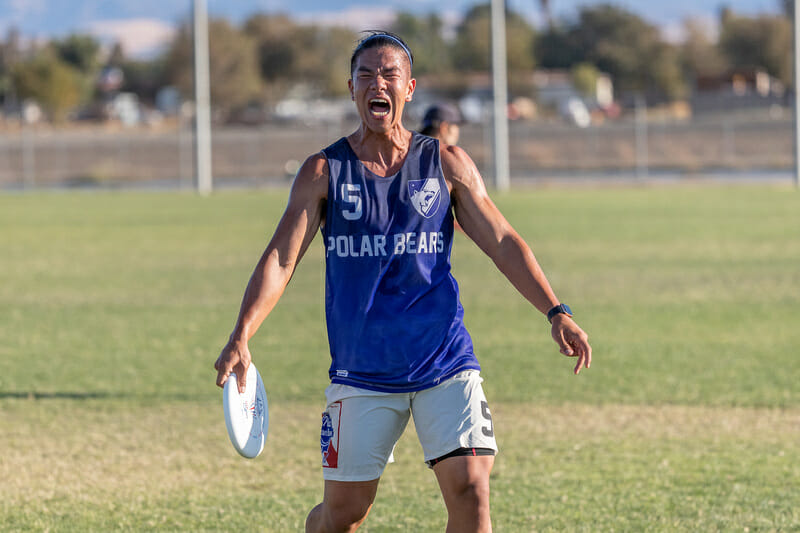 The regular season and Sectionals are now behind us. We can finally get down to business. After a regular season where incentives and motivations are constantly in flux, teams are at the point where their goals are on the line. After this weekend, labels will be slapped on their accomplishments, evaluating their season for better or for worse. We take a look at who is on track to get a good grade, and which teams could surpass expectations and upset the order.
Great Lakes
Competition Schedule
Dates: October 2-3
Location: Cincinnati, OH
Number of Bids: 1
Excitement Level: 🔥🔥🔥🔥🔥
Unlike the men's and women's divisions, the mixed division in the Great Lakes may be the most intriguing and exciting regional tournament this year. In any other season, this is a region that would have likely earned three bids to Nationals for the first time since the regional redraw. Instead, there are at least four San Diego-worthy teams staring longingly at just one bid.
The favorite here is probably #9 Ann Arbor Hybrid. They've played the best tournaments they could find without flying, including Select Flight Invite (SFI) East and Elite-Select Challenge (ESC), which leaves them with a nice record but not a lot of truly tough matchups. They lost early in the season in the SFI final to #12 Cleveland Crocs – their only loss in 2021 — but since then have avenged that loss twice over, including in the ESC final and the Sectional championship game. Hybrid's roster is improved since 2019 thanks to an influx of talent eager to join the regional runner-up from that year and try to break through to Nationals. They've shown an athletic defense, led by Sara Nitz and Nathan "Skunk" Champoux, with schemes that are more advanced than most mixed squads'. Their offense, led by Connor Lukas and Brittany Wright, has really only struggled against good zone defense, and if they're going to lose at Regionals, that's the most likely reason.
Cleveland Crocs came together as a combination of folks that played on Cleveland Smokestack and Notorious CLE in previous years, plus some additions from other teams nearby. They've had a strong first season, handling the other Ohio competition by beating two-time defending regional champion #16 Columbus Cocktails in every meeting — at SFI, ESC, and twice at Sectionals. Their offense is led by Joe Marmerstein and Mitch Cihon, and their defense is led by Libby Lehman and Dutch Kirkman. Look for big plays from late add Iris Javersak and Griffin Binkley. As any new mixed team might, they're still growing and improving and looking for new ways to play together well. They'll need to find another gear at regionals if they're going to win the bid to San Diego.
Columbus Cocktails has seen some roster turnover since winning the region back-to-back in 2018 and 2019, which figured to come to an even balance, but hasn't resulted in on-field success in 2021 to match the previous years. Sadie Jezierski and Penny Wu have been harrowing for opposing teams to match up against, bolstering a team that already had the strongest women in the region, led by Cara Sieber and Emily Barrett. They've been playing without Jeff Brauning and Phil Cherosky this summer and haven't quite figured out how to replace the throws that those two bring. The Agami brothers still lead the defense and both are still capable of taking over points, if not games, but haven't been able to carry the team past Crocs and Hybrid this year. Cocktails has been able to get breaks fairly consistently all season by winning matchups and being savvy and heads up downfield. They'll need to sort out the optimal lineup for their offense in hopes of unseating the favorites and bucking recent history at Regionals.
The other big contender, and the perennial unknown, is #18 Chicago U54 Ultimate. They posted a roster that looks great on paper — including some huge additions since 2019 — didn't play at all before the Series, and then cruised through Sectionals as expected. Adding the likes of Georgia Bosscher — who is still playing at near peak levels — Jesse Buchsbaum, Reed Hendrickson, and AJ Nelson to a team that already included stars from early '00s Chicago nationals rosters means that everybody ought to be taking them seriously. The biggest questions are predictable ones — what kind of shape are they in at this point? What kinds of schemes and sets are they able to implement given the pick-up nature of their season? Will a crew of savvy veterans that are old and wise find ways to mitigate the matchups against younger, faster opponents? We all know they're capable of stealing the region, but with minimal time to come together and only one chance, it's going to be very exciting to see if they can pull it off.
Many games between Hybrid, Crocs, and Cocktails have been tight enough that one team having a bad day could easily make the difference between history repeating itself and seeing the underdog upset. It's hard to know what to expect when U54 inevitably clashes with one of the three best teams from the East Plains section, but the Great Lakes mixed regional semis and final could be the three most exciting mixed games of the year.
Mid-Atlantic
Competition Schedule
Dates: September 25-26
Location: Frederica, DE
Number of Bids: 2
Excitement Level: 🔥
For the third consecutive season, it appears highly likely that two-time defending national champion #6 Philadelphia AMP and #1 Washington DC Space Heater will advance from the Mid-Atlantic to the National Championships, but going straight to a double-elimination bracket leaves room for the odd upset to cause some havoc and mess up somebody's plan.
Space Heater will be the favorite coming in undefeated on the season with a 15-10 win over AMP and a tournament win at AMP Invite already under their belts. The 2018 semi-finalists reloaded this year adding dynamic playmakers like AJ Merriman, fresh off a breakout AUDL campaign, and Amber Sinicrope, fresh off five straight national finals appearances with Boston Brute Squad in the women's division. Returning the likes of Jenny Fey, Joe Freund, and Sandy Jorgensen keep Space Heater's floor high, and adding Alex Ghesquiere as head coach raises this team's ceiling to a place it's never been before: national champions. Expect Space Heater to stay undefeated this weekend and cruise to nationals in as little as four games.
If anyone is going to knock off the favorite, it's the team that's done it before (albeit not this season): Philadelphia AMP. This is a slightly different team than the one we saw win the 2019 championship. While Nicky Spiva and Calvin Trisolini return after a year off, and the team adds Lindsay McKenna from rival West Chester Loco, the losses of Anna Thompson, Sean Mott, and Michael Ing are too big to ignore. AMP has already lost games this season to Space Heater, Sprocket, and Drag'n Thrust and looks a step behind its championship peak. After cruising through Sectionals, it is hard to imagine this team missing nationals, but it is equally difficult to see them taking down Space Heater to claim the regional crown. Still, the steady leadership from coach Patrick Sherlock and legend Raha Mozaffari along with the continued ascension of Liz Hart and Paul Owens mean you write off Philadelphia at your own peril.
So who's the best of the rest? #20 Washington DC Rally is the third seed on the strength of their Sectionals runner-up finish (losing only to Space Heater) and head-to-head victory over Pittsburgh Alloy earlier in the season. A fifth-place finish at the Select Flight Invite East proves that Rally can hang with some of the best teams in the area, but also doesn't inspire confidence in a potential knock-out upset. Similarly, West Chester Loco, losers of the game-to-go in 2018 and 2019, have put together a nice season going 9-5 so far. But, they haven't proven they can play competitively with either top team, losing to AMP by seven and six goals respectively in their two meetings so far this season. Pittsburgh Alloy lost many of their top women-matching players to new team Pittsburgh Parcha and suffered through winless Sundays in their two TCT tournaments so far this year. While New Jersey Jughandle pulled off a nationals appearance not too long ago, they also don't appear to have the top-end talent to make a return appearance in 2021.
North Central
Competition Schedule
Dates: September 25-26
Location: Blaine, MN
Number of Bids: 2
Excitement Level: 🔥🔥
Despite a bit of a roster revamp from previous title-winning iterations, #5 Minneapolis Drag'N Thrust continues to be the heavy favorite out of the North Central region. This season they opted out of the Triple Crown Tour tournaments, and only played in the AMP Invite, where they proved that a core of Sarah Meckstroth, Caleb Denecour, and Kat Ritzmann is still a pretty darn dangerous set of weapons on the field. The team rolled through their competition at Sectionals, allowing a maximum of eight points against them in any game — a total that has only been surpassed by opponents three times in the last three North Central Regionals tournaments combined. Never say never, but Drag'N has their spot at Nationals basically guaranteed.
The other teams at this tournament are all competing for second place, and things are a bit more up in the air. No. 2 seed Madison NOISE has made quite the commotion this season, dominating (most of) their competition and winning Cooler Classic along the way, only suffering their first defeat of the year in the Sectional final to Drag'N. Their strength this season can at least partially be attributed to the pick-up of 2019 Women's Player of the Year Robyn Fennig, though don't underestimate the impact of additions Margaret Waker, Brittany Kokinos, Dylan DeClerck, or Clea Poklemba. NOISE has played the most consistent season of the North Central challengers and their road through the bracket could end up being entirely opposition they've previously bested this season, earning them the status as favorite for the second bid.
If, by chance, NOISE doesn't play up to their potential, there are several experienced squads lurking. Iowa's Chad Larson Experience may not be the title contenders they once were, but could be primed to make their return to Nationals for the first time since 2015 after winning their section over a newly minted Kansas City United. If CLX can keep it together, they have a good shot at qualifying. Meanwhile, Kansas City announced their presence on the mixed scene in the TCT Pro-Elite and Elite-Select Challenges, finishing in the top five at both tournaments and spent most of the season ranked in our Top 25 before nipping at CLX's heels at Sectionals. They'll be looking to recover their early-season form and have enough talent to come away victorious in a game-to-go. This weekend also looks like the end (for a while anyway) of Minneapolis No Touching! mounting a real challenge for the region's second bid. The multi-time Nationals qualifier had a rollercoaster of a season and will need to find a higher gear if they want to return to San Diego.
Northeast
Competition Schedule
Dates: September 25-26
Location: Devens, MA
Number of Bids: 3
Excitement Level: 🔥🔥🔥🔥
Even in a normal year, the Mixed division at Northeast Regionals is going to pack a surprise or two. Remember when Grand Army beat Slow White, setting off a chain of events that lead to Xist making Nationals without beating a single qualifying team and #1 overall seed Wild Card losing on universe to Slow in the game-to-go? Now take all that, mix in a year of wild roster turnover, new teams that are beating the defending Nationals champs, a quasi-Swiss Draw format, and you've got the ingredients for an unpredictable weekend.
The top seed, by virtue of their win at East New England Sectionals, is #8 Boston Slow. Slow is undefeated against Northeast teams this year, only dropping games to out of region powerhouses AMP, Space Heater, and Drag'n Thrust. They boast the same kind of balanced collection of experienced veterans and exciting new talent that has served this program well before — captain Olivia Hampton and former Michigan star Amy Stoddard have been feasting so far this season. The 2016 national champs have yet to really put their full roster on the field together this year and have to be considered the favorites on paper, but both #19 New York XIST and#10 Boston Sprocket will feel that the regional title is within their reach.
Xist finally have their full AUDL and PUL contingents available for the first time but are coming off of a shocking pool play loss to out-of-nowhere Connecticut Deadweight at Sectionals; Xist got revenge in the rematch, winning 14-8 in the Sectional final. Sprocket are similarly hard to nail down, beating AMP but chalking up multiple losses to Slow and Xist. Perhaps that's to be expected from a new team packed with talented but young players like Caitlin Go and Tannor Johnson. Lying in wait for both of these teams is Boston Wild Card, who have suffered a subpar season by their standards but have plenty of veteran players experienced at navigating the bracket at Devens and locking down bids to Nationals.
Could Wild Card knock off one of the three favorites? Does Deadweight have another big upset in them that shakes up the bracket? Could Brooklyn Grand Army or Boston League of Shadows move from also-ran status towards the front of the pack? You might not bet on any one of those things happening, but it's mixed Regionals at Devens: The biggest surprise would be no surprise at all.
Northwest
Competition Schedule
Dates: September 25-26
Location: Olympia, WA
Number of Bids: 3
Excitement Level: 🔥🔥🔥🔥🔥
With six teams that have been ranked inside the top 16 this season and a seventh in the top 25, Northwest mixed is the deepest regional across all divisions. There are three bids to go around, but the top two teams in the region, #3 Seattle Mixtape and #2 Seattle BFG, look to have a lock on two of those slots. Those two have only lost to each other and #4 Fort Collins shame all season, while mostly blowing out the other regional contenders. While Mixtape won three of four meetings this season, BFG looked like the stronger team at Sectionals and took down Mixtape in the final 13-12, largely by out-executing their opponents.
BFG can strike quickly, as they did on multiple 30-second holds vs Mixtape, but they are willing and capable of swinging the disc over and over until an opening emerges. While Mario O'Brien and Tommy Li anchor the O-line, center handler Cheryl Hsu and downfield target Leah Bar-On Simmons stepped up to make the difference at Sectionals. Both teams were missing some key pieces that will likely be back, making them even more formidable at Regionals (and Nationals): Khalif El-Salaam, Emily Smith-Wilson, and Jen Cogburn for Mixtape; Charlie Mercer and Kerry Chang for BFG.
The top contender for the third bid is a classic veteran team starting their season with the Series. Loaded with recent Sockeye and Riot players (at least eight from each team), #11 Seattle Sorta dominated lower-seeded teams on a blustery Sectionals weekend with a formidable zone featuring Duncan Linn spearheading the cup and Zane Rankin gobbling up anything deep or floaty. On Saturday, the O-line featured Paige Soper and Alyssa Weatherford, but both sat out most of Sunday, leaving the handling to Sam Harkness, Matt Knowles, and Frank Devin Barich. Against Mixtape and BFG, Sorta still earned turns (even going up 4-1 on Mixtape), but execution errors doomed them to give up many more breaks than they earned. If Sorta can build on their Sectionals experience to refine their chemistry, then they have the talent to upset the top two. If not, they remain vulnerable to the gauntlet of contenders awaiting them at NW Regionals.
And what a line-up it is! #15 Seattle Birdfruit, #25 Montana MOONDOG, Boise Lochsa, and #24 Portland Administrators all seem like legitimate Nationals teams. Seattle Birdfruit grabbed the third spot at SMUT behind the reliable handling of Margo Heffron with wins over Lochsa and Administrators. 2019 Nationals darling MOONDOG is back with a pair of universe point wins over Lochsa at Sectionals after a shorthanded roster had to settle for sixth at SMUT. Lochsa added Abbie Abramovich from Riot and Paige Kercher from Mixtape and were ranked as high as #11 based on solid results at PEC, but their stock dropped with the losses to other regional contenders. The Administrators jumped into the top 25 via a win over MOONDOG at SMUT and have remained there by going undefeated in winning their section.
For all these teams, it seems that any single game could go either way, and in this season where regular season results don't really matter, the team that brings something extra to Regionals will be booking a ticket to Nationals.
South Central
Competition Schedule
Dates: September 25-26
Location: Round Rock, TX
Number of Bids: 2
Excitement Level: 🔥🔥🔥
Although the team may not have goals on principle, #4 Fort Collins shame. certainly heads to Austin with their sights set on San Diego — and as a favorite to clinch one of two bids to get there. Across their performances at Colorado Cup and Pro Championships, shame. had some high peaks that demonstrated that they have the potential to dominate all of their prospective competitors at Regionals if they play at the top of their game. But some of their downswings make it difficult to say with certainty that they will clinch the top spot if they lose their groove in key games, particularly against Texas competitors #17 Dallas Public Enemy and Austin Waterloo.
The same rivalries that caused intrigue and upsets in 2019 South Central Regionals will come into play this weekend. Dallas is once again most likely to be a wildcard. Public Enemy will be the only team at the tournament who has a win over shame. this year, but they have also lost to Denver Love Tractor and Waterloo. History has shown you can never quite predict what you'll get from this talented but streaky team in any given tournament. Whether Public Enemy can repeat 2019 and qualify for Nationals again will depend on which face of this team we'll see this weekend.
If Public Enemy falls flat at Regionals, Waterloo and Love Tractor have the next best shot. Of these two, Waterloo — with the depth of the roster, particularly their women (several of whom play for Austin Torch) — has better odds in a head-to-head matchup and at challenging shame. for the top spot. Love Tractor shouldn't be completely counted out, however, as their squad does have elite veterans and promising new talent. But thus far in the season, Denver has not displayed the consistency or mental toughness to justify saying they pose as much of a competitive threat as Austin or that they have as strong a shot at Nationals as years past, when they were a top team in the regular season. They have a chance to flip the script this year.
Denver Flight Club showed flashes of potential early on but have had a rollercoaster season which has dashed any hopes they had to be considered a real contender for a bid to Nationals. With a rough showing at Ski Town Classic and two losses to Love Tractor by wide margins at Sectionals, Flight Club might not be a favorite to make it into the top two, or even top four, but they can come out on top amongst the remaining teams with Regionals-level ceilings if they kick their roster's athleticism into full gear.
The upper echelon of this region may feel pretty predictable, but exactly which combination of shame., Public Enemy, Waterloo, and Love Tractor will advance to Nationals is very much up in the air. Of the four, shame. certainly has the most secure chance of not having to refund any travel reservations they may have already made for San Diego.
Although one can imagine a world in which two Colorado teams advance, the more likely case would be that the two top Texas competitors duke it out for the second bid. In this scenario, whether Waterloo rides the wave of momentum from their Sectionals win to clinch their first-ever Nationals bid, or Public Enemy steps up to secure yet another Nationals appearance, will come down to mental fortitude in the big games on Sunday.
Southeast
Competition Schedule
Dates: October 2-3
Location: Bermuda Run, NC
Number of Bids: 1
Excitement Level: 🔥🔥🔥🔥
After a brief foray into two-bid paradise in 2019, the Southeast is once more in the familiar position of gnashing its teeth in the one-bid outer dark this year. Only #7 Durham Toro have played at an elite level all season, but with just a single ticket on the table and a slew of contenders charging fast behind them, they cannot afford any Sunday slip-ups.
A slip-up seems unlikely on the face of things. Toro began the season hot — and rich — with a tournament victory at the inaugural Richmond Cup. They've kept up a regimen of playing good games against other Nationals-caliber teams all summer, a fact reflected in their lofty ranking. Grayson Sanner and Heather Zimmerman have both had strong campaigns so far alongside the traditionally reliable Christine Bookhout and Tristan Green. Headline performances aside, Toro's real strength in 2021 is a depth of talent that compares favorably to any other club in the nation, save perhaps Mixtape or Space Heater. Which is to say, an off-game from a key contributor isn't likely to sink them. Whether it's Georgia Tse, Elizabeth Parker, Jacob Mouw, John McDonnell, or somebody else to pick up the slack, odds are good Toro will get the job done when it counts.
But while Toro are ship-shape internally, there is a rolling boil of teams in the next tier down who threaten to capsize them if the conditions are right. Asheville Superlame took the region's other bid in 2019, and they are looking for a return trip to San Diego. The roster features a few key holdovers from that unit — Anne and Ryan Sitler, as well as the ageless Joel Wooten — and some eye-raising pick-ups. Caroline Taylor and Devin Cox have picked up with them after years of terrorizing the Atlanta scene, and stand-out defender Tim McAllister makes the cross-divisional jump from Ring of Fire.
Nashville have been building a competitive unit for a few years now with #21 'Shine, and that hard work could well bear fruit this year. It'll be tricky for them to nab the sole bid, but they have cut their teeth against good competition this season. A point in their favor is that, outside of Toro, they may have the region's best women's unit, featuring the likes of newcomers Jesse Shofner, Jin-Mi Matsunaga, and Tori Taylor, as well as former Tennessee-Chattanooga star Liz Barnes.
Outside of the top contenders are another layer of teams good enough to knock one of the above out of the competition. None of Athens Murmur, Gainesville Weird, or Raleigh Malice in Wonderland seem to have the horses to make it all the way through a regional final, although they all have years of organizational know-how and enough talent to get hot for a chaotic bracket run.
More intriguing as actual darkhorse contenders, though, are a pair of teams to emerge from the reorganization of Atlanta's mixed landscape. M'kay's roster features a number of former Bucket and JLP players (Katie Gainer1, Sun Choi, Michael Venezia, Rachel Thurston) alongside an intriguing throwback — 2015 men's college player of the year Chris LaRocque. Flock, though they've been flying under the radar, is poised to come into full view. They have a Georgia Tech-inflected core highlighted by Cate Woodhurst (who has been coaching the men's team there), Ollie Peterson, and Micah Jo. Throw in a trio of players who missed sectionals for Disc Diversity's first Con10ent Tour stop — Shanye Crawford, Chupzi Lema, and Seph Abdullah — and a two-way firecracker of a surprise roster addition in Jasper Tom(!), stir, and you have the recipe for some upsets.
Southwest
Competition Schedule
Dates: October 2-3
Location: San Bernadino, CA2
Number of Bids: 2
Excitement Level: 🔥🔥🔥🔥🔥
The Southwest has long had a reputation as being very top-heavy, a region with plenty of talented squads hanging around the edges, but never enough to upset the status quo of two or three powerhouse Bay Area teams dominating the leaderboard. Heading into the Series, this region once again looked predictable enough, though new team #13 Arizona Lawless appeared to join #14 San Francisco Mischief as qualifiers in waiting. Lawless had put together a very solid regular season and while Mischief had a slow start at SFI West, they may have only improved on the roster that earned them national runner-up status in 2019. Then Sectionals happened, and both favorites finished third in their respective events. Given the seeding requirements, these two may end up in the same pool to start the weekend. Suddenly, it's game on in the Southwest, with potentially up to six teams that will feel they have a shot at a bid.
We've seen a LOT of Lawless this summer. It hasn't been all smooth sailing for the Phoenix-based upstarts, though. A loss in the Colorado Cup final and a de facto win at SFI West (with dubs over Polar Bears, Burrito, and Mischief) were a fantastic start for the new program; they couldn't keep up the momentum in a disappointing trip to Boulder for Pro Champs, though in the six-team mixed division, they still cracked the semifinals there. They were poised to emphatically stamp their mark on the region at SoCal Sectionals, but a bumpy Sunday led them into two straight losses against #22 Los Angeles Lotus and San Diego California Burrito. During those games, they were missing standouts Melissa Dunn and Sean Ham, but they weren't without talent, either. The team has a deep roster, boasting the likes of Jamie Eriksson, Cynthia Thomas, and Dakota Lippincott, alongside many of the best performers from Phoenix Sprawl, the top Arizona men's team for many years. At Sectionals, their depleted roster helped their competition throw them out of rhythm, which was largely responsible for their two losses at the end of the tournament.
Next door in the rankings, Mischief has a fairly abbreviated resume compared to Lawless, and that hasn't worked in their favor. While their roster is undeniably impressive, their in-region losses have started stacking up, especially against the teams they'll need to beat to make it to San Diego. Alongside a DGP loss to Lawless at SFI West, they had a rough Sectionals, getting doubled up by #23 San Francisco Polar Bears 10-5 in semis. Mischief seemed to sleepwalk through that game, offering little resistance to the Polar Bears' offense off the turn and letting PBR dictate the way the game was to be played throughout. While their semifinals may not have painted a pretty picture, the roster tells a different story. Julia Kwasnick, Jordan Jeffery, and Cody Kirkland will go a long way to help Mischief reach a game-to-go, where it will then just become a question of if they've played enough during the season to have the kinks all worked out.
Many things about the Polar Bears' season mirror that of Mischief's. The Sectionals champs also only attended SFI West before the Series, and they also dropped several games against teams they're going to have to play again and beat. Once again, the in-region losses have piled up for this perennial contender, as they suffered defeat at the hands of Lawless, Lotus, and Burrito this season. If their final result at the tournament taught us anything, though, it's that Polar Bears are rounding into form at the right time. They seemed scattered with intensity and line-ups on Saturday, but by day two they were dialed in. While one can point to the addition of Paige Applegate and Kristen Pojunis as notable pickups, it was their core that ultimately still held strong and kept them on the path to claim the sectional title.
Los Angeles Lotus is a strange one. A rough loss to Lawless at Colorado Cup stands out, even if they did return the favor some 70 days later at Sectionals, where they trounced Lawless in the second half of the game that won them the tournament. Sectionals proved one other fact, too: Chris Mazur and Kelli Iwamoto might be the most fearsome D-line backfield in the division. It's not just the two Worlds champions that have brought Lotus this far. They host a number of 7 Figures alumni, alongside a contingent of UCSD women that won Nationals in 2019, including Avery Jones, Alex Diaz, and Rebecca Ellis. If their overall roster isn't convincing enough, it might help to drop a reminder that they were the only team in the entire region not to drop a game at Sectionals. Bid contender? Yup.
California Burrito rounds out the contenders on this list. The mixed team out of San Diego boasts wins over Polar Bears and Lawless, but haven't had much of a chance to prove themselves against other elite teams, and didn't do enough in the regular season to blow away the competition. One of their players described them via Instagram DM as "very regionals average." Still, at Sectionals, they had the game of the tournament when they beat Lawless to take second. Credit where it's due: Abe Shklar, Ava Hanna, Michael Noblett, and the rest of San Diego's defensive unit took care of business when it mattered most, and for them to make Nationals, they'll need to replicate that same magic in two or three games at Regionals. No big deal.
We'd be remiss not to mention NorCal second-place finishers San Francisco Classy. A now perennial Select Flight team, Classy sit at 12-1 on the season and split a pair of games with Polar Bears at Sectionals. Thanks to the format, they never faced off with Mischief and they don't have many marquee wins on their resume, but they are talented and feisty enough to ruin someone's weekend even if putting together a run all the way to a game-to-go seems a little beyond their reach.
Based on rosters and the totality of the season, Mischief and Lawless still seem like the favorites, but things are a lot murkier than they were before the start of the Series.
---
formerly Katie Franchot ↩

Originally scheduled for Norco, CA but moved this week after the field reservation fell through. ↩