What paths are there to a semifinal lineup without one of the pool winners?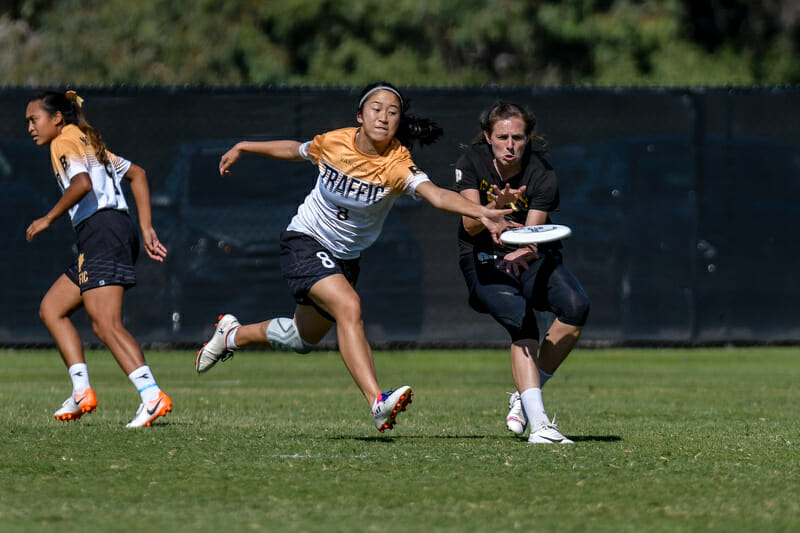 Our coverage of the women's division at the Club Championships is presented by Breakside Strength and Conditioning. Check out Breakside to find out how you can unlock your athletic potential for just $10 a month.
For a time this season, it truly seemed as if the four institutions in the women's division, San Francisco Fury, Boston Brute Squad, Seattle Riot, and Denver Molly Brown might not be the only viable semifinalists.
And then Thursday of Nationals happened.
Every one of the dynasty programs won their pool, and it wasn't even that close. Fury didn't face a single opponent in Pool A who could reach double digits against them. Only Raleigh Phoenix got scored 10 when playing Molly Brown, and they still lost by five. Brute Squad handily dealt with the Toronto 6ixers, leading 9-1 at one point. Even Washington D.C. Scandal – who had seemed an equal to the sovereign quartet this year – was chasing Riot the whole round, losing 15-11 in a game that never felt that close.
By the end of pool play, the possibility of a repeated showing of 2018's semifinals looms larger than ever. So, the question remains: what will it take for one of these teams to lose? Here are a few best guesses as to how each of the pool winners could somehow be forced out before semifinals.
Brute Squad: Facing Scandal Or Phoenix In Quarters
The path for a Brute Squad upset may be the clearest. Since June, Scandal's been making the case for their return to the upper echelons of the women's divisions, and they've proved they can snag wins against the teams at this level. Thanks in no small part to their fiery defense, Scandal has wins over Fury and Molly Brown this season.
What they don't have is a win over Brute Squad, despite meeting twice in the regular season. But that shouldn't necessarily be seen as a discouragement. Scandal played Brute Squad extremely tight at the US Open, losing in heartbreaking fashion on double game point. The D.C. team doesn't have a problem creating turns when their defense takes the field. Brute Squad has a tendency to play help defense, which sometimes leaves holes that an elite thrower like Robin Fenig or Carolyn Normile can exploit. Scandal's power throwers will force Brute Squad to respect their deep game, leaving them the option to work the disc with well-timed unders. Scandal could do a lot with a sizable first half lead; the larger the D.C. break tally, the more likely Brute Squad is flinch and maybe dig themselves a hole they cannot escape.
If Scandal drops their game against Raleigh Phoenix, the path to a Brute Squad upset becomes a lot murkier. Phoenix has some powerful athletes, but has struggled to fit the pieces together this season. If they're to beat Boston, it would likely come from a few key players winning individual matchups. Linsday Soo, Jenny Wei, and Claire Revere will need to outplay their counterparts with their season on the line, while Phoenix's handlers will also need to play a near perfect game.
Wind tomorrow will make a win for Phoenix even harder. Raleigh's throwers are at their best when they don't have to wrestle with nature to get their throws off. It's not a coincidence that Phoenix wins when Jessi Jones and Ashley Powell are hitting their hucks. Without that ability to stretch the field deep, Phoenix will have an uphill climb.
Riot: Facing The 6ixers Or Nemesis In Quarters
Much like Scandal, there's a very real chance that the Toronto 6ixers could play spoiler to a team in the top four. Granted, they were more than a few points shy of causing Brute Squad to sweat in pool play, but they have a little bit more of an advantage against Riot – the two teams haven't played each other in the past two season. Riot hasn't had to overcome an elite team that they haven't had reps against in the recent past. They have plenty of experience against Molly Brown, Brute Squad, and Fury thanks to years of healthy competition, but the 6ixers provide a new challenge. Meanwhile, Toronto has become an elite team in their own right.
A lot of Toronto's success lies on the shoulders of Lauren Kimura. When she's having a good game, the 6ixers are a threat to any opponent. That goes both ways, though. Kimura struggled against Brute Squad on Thursday, and shouldered a lot of the blame for the deficit that the 6ixers sunk into in pool play. However, if Kimura can figure things out by quarters, it's hard to find a player on Riot that can guard her. Qxhna Titcomb may be a good option, or even Rachel Bradshaw if Riot chooses to switch her onto a handler. Regardless of the mark, if Kimura can turn on the fireworks, there's no player in the nation that can shut her down completely.
Toronto's not a one-woman team by any means. The offense is made up of a formidable, interchangeable line of athletes including Brit Dos Santos, Sarah Innes, and Anouchka Beaudry. The 6ixers also have an X-factor in Cat Phillips. The Australian hasn't had quite the impact that you'd hope from an international mainstay, but there's no reason she can't flip the switch against Riot. There are plenty of weapons on this Toronto team, and without a strong scouting report, Seattle could suffer another quarterfinal surprise.
Before the 6ixers can set their sights on Riot, they'll have to beat Chicago Nemesis. If Nemesis was the team to advance against Riot, their chances aren't quite as strong as the 6ixers, and they might have to resort to a huck and hope game to throttle Riot early. Of course, Riot's dark abyss of a downfield defense has been swallowing hucks all tournament, and likely won't stand for a strategy so brazen.
Molly Brown: Facing Traffic or Schwa in Quarters
The case for Molly Brown losing in Quarters is simple: they've almost lost to Schwa already this season, and that was a Portland team without the full strength of their roster. For those following the division closely, Schwa's double game point loss to Molly Brown in the semis at the Pro-Elite Challenge looked like a promise of greater things to come.
The formula for Schwa to pull off an upset over Molly Brown remains the same as it was in June – play at a pace that Denver can't match. Schwa started their season playing faster and looser than their opponents, which worked for them. Most teams in the division caught up eventually, or were able to force more mistakes once they set their defense, but that doesn't discount that playing style as a long-term strategy. Molly Brown is accustomed to dictating the pace in their games against teams seeded beneath them. If Schwa's plucky combo-handlers like Ella Hansen, Eva Popp, and Mariel Hammond can get past the first line of Molly Brown's defenders, it could be enough of an advantage to carry them all game and straight into semis.
Traffic's route through Molly Brown is also quite simple: Denver has no idea what to expect when facing Traffic. Thanks to Canadian Ultimate Championships dominating the attention of Vancouver, they haven't actually played many games against elite teams, and no team outside of the Northwest knows what to expect against the Canadians.
Even after a full day of pool play, Traffic's ceiling and floor largely remain a mystery. Yes, they have perhaps the most underrated elite female athlete in Catherine Hui and a handful of others that have proven themselves under the brightest lights, but they also haven't actually had many significant wins. It's a safe bet that Julia Zhang, Collefas and Zellema Mot, Laura Mason, and Naomi Morcilla can keep the team in close games, but they'll need those players to be in peak form to upset Molly Brown.
Together, Traffic are a spark plug, a fire-starter, a let's-cut-the-brakes-and-see-what-happens option when picking an upset over Molly Brown. There's no historical evidence that they can conquer Denver, but they may be the only team where that fact works in their favor.
Fury: Facing Wildfire or Nightlock in Quarters
As luck would have it, Fury's facing their regional rivals on their path to semis. And yes, rivals is a loose term. Fury hasn't lost to Wildfire or Nightlock. Ever. But that also means that both challengers are playing with house money against the champs. As underdogs, they should feel comfortable loosening up a little.
There are two factors that could play into their advantage. As they'll only have one game to play on Friday, Fury doesn't have the luxury of playing their way into form. They need to be locked in from the get-go. If they drop a few points to start the game, all that is needed is for their opponents to hang on to the slight lead and run with it as far as they can. It's not a perfect strategy, but it may be the best you can hope for when facing the best ultimate program of the past decade.
The second factor is a little closer to a nuclear option: an act of god. If Nightlock or Wildfire can score the first upwind break in a game that really should have been cancelled due to tropical storm warnings, they could break down Fury in a war of attrition. It sounds wild, and it is—but it's also nuts that Fury have won nine championships since 2006.
Semis may not be set in stone for any of the teams that topped their pool, but it's about as close to a lock as it's been in previous years. And if that is the indeed the result we see on Saturday, the final four will be plenty exciting nonetheless.