Scandal and Molly Brown continued to knock heads, while Schwa surprised.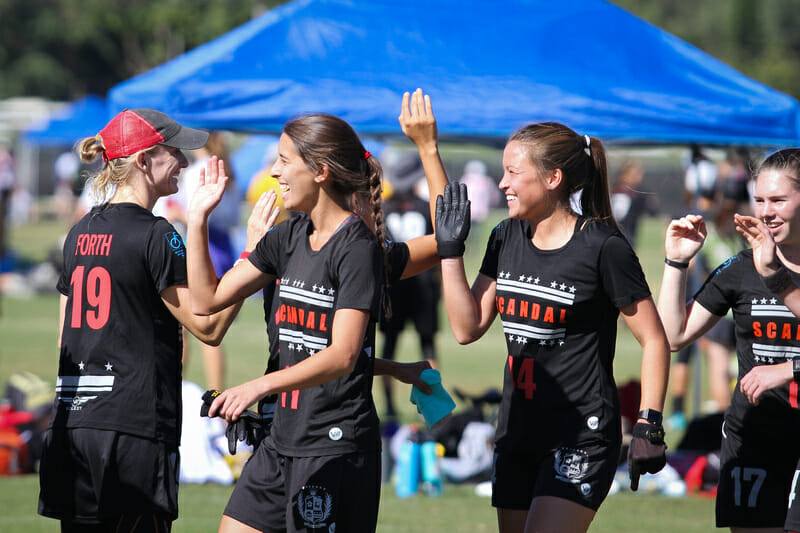 AURORA, Colo. — After two days of hot, intense ultimate, the landscape of the women's division is starting to take shape. For an early season tournament, the Pro-Elite Challenge was surprisingly chaos-free. The favorites took care of business, both in pool play and early bracket play, and upsets were few and far between. This set up a closely contested bracket, that climaxed with #4 Scandal beating #5 Molly Brown on double game point.
That's not to say that only the top seeds provided any drama in the women's division. There were plenty of games outside of the finals that captured our attention. Here are some of the takeaways from the tournament that could have ramifications as the season goes on.
Scandal and Molly Brown Impress with Revamped Rosters
At first glance, the two top seeds making the final doesn't seem to have much of a story behind it, but that would be missing the epic showcase of talent in the women's final, along with all the spectacular ultimate that led up to it.
For a start, Denver Molly Brown's path to the final was almost upended by Schwa in their semifinals game. After breezing through pool play and posting a confident win over Raleigh Phoenix, Molly Brown ran into the haymaker that was Schwa's offense.
"Before the game, our offense had turned the disc one time against Phoenix. Schwa came into the game playing really tight on defense and poaching off our side stack. It really stagnated our offense," explained Claire Chastain.
#8 Schwa's defense turned up the heat early, but it was their offense that kept them in the game. Molly Brown's defenders were caught flat-footed on a number of occasions as Portland aggressively moved the disc downfield. It was only once the two teams started rhythmically trading points that Molly Brown had a chance to settle into the game and get back a few breaks.
"Once we took a breath on offense, we were a little more tactful with our defensive lines," said Chastain, as co-captain Alika Johnston affirmed silently alongside her. "We had to put on some pretty big lines to get a few breaks. Players who could switch easily. That slowed down their small ball and changed how they played downfield."
Still, Schwa retained the lead until double game point. With Scandal awaiting the winner a field over, Molly Brown sent out seven of their best1 and took advantage of a Schwa drop to score the break they needed to advance.
Washington DC Scandal had their own battle in semis, facing off against the #6 Toronto 6ixers. They didn't face any of the struggles of Molly Brown, though. Whether through scouting or smart field awareness, DC had Toronto's number early on. Scandal's handler core, at times led by Carolyn Normile, Kathleen Ratcliff, or Robyn Fennig, mercilessly out-threw the 6ixers early on. After every turn, there was a Scandal player racing towards the end zone –most often Amy Zhou. Scandal took a 4-1 lead, which they held until the final points of the first half. The 6ixers mounted a tremendous comeback, led in part by some spectacular play from Miriam Tingle. Unfortunately, it wouldn't last long. Scandal regained the lead from a Fennig I/O huck, and with time expiring, Toronto rushed a few passes and coughed up another, effectively ending the game.
In the final, Scandal carried their momentum from the 6ixers win into a strong first half, going up 5-2 before Molly Brown had a chance to blink. The depth of Scandal's roster shone through in the first half of the game, as their all-round offense ground down Molly Brown point after point. Whenever D.C. needed a player to step up, someone inevitably would.
"We depend on our depth and will play our depth at every tournament," noted Scandal coach Alex Ghesquiere with pride. "It's fun to have the splashy names come but it's even more fun to play with a team that can't be beat by stopping any one person."
By the time half rolled around, Scandal was up 7-3 and Molly Brown looked like a team without answers. "We had a hard time putting pressure on them in the first half," admitted Chastain. "We had plenty of opportunities but could never close out."
Molly Brown used their midgame respite to refocus on defense and make simple defensive adjustments, the team changed their force from forehand to backhand, and committed to funneling Scandal's cutters out to the edges of the field.
Those adjustments earned immediate dividends. Scandal held out of half –on a magnificent play that saw Carolyn Normile and Jesse Shofner layout in tandem for a disc, which Normile scooped just before Shofner—but after that it was all Molly Brown for five straight points, giving them a 10-8 lead.
"Our offense had been playing well and were a little too confident," said Ghesquiere. "We felt like we were going to win and let off a string of breaks. That can happen in games like these."
It wasn't just that Scandal's offense was giving the game back to Molly Brown –Denver was earning it. Alika Johnston, Rachel Wilmoth, and Bert Abbott spurred Molly Brown forward by hounding their assignments on defense and making sound throws when given the disc. During this run, Molly Brown showed the same composure that shaped them as an elite program for the past few years.
Despite dropping a slew of points, Scandal was not done. After taking a timeout to lick their wounds, the DC squad sent out a stacked offensive unit and got back into goal-scoring mode. Scandal immediately scored for their first hold in four points. Then they broke to tie it. And then broke again to take a lead. Thanks to the reliable play from their stars, along with Nada Tramonte, Casey Gorman, and standout rookie Christine Valvo, Scandal turned a two-point deficit into a single point lead.
The two teams held from there, right into hard cap. On the final point of the game, Denver sent out a kill line, filled with some of their most notable players from this era of Molly Brown. Scandal didn't even blink. The game that had been filled with runs of breaks and hard-nosed person defense ended almost anticlimactically. Scandal's offense caught the pull. Worked the disc downfield unimpeded and scored on a around backhand to the break side.
For Scandal, this win is a promising sign of good things to come. This is the best showing that the team has had at a TCT event since their dominant run earlier in the decade. Each and every addition to Scandal's roster this season fits in with the team and contributed this weekend. Barring injury, it'll be a challenge for any team to upset them or grind out a win over them. Despite this, Scandal's leadership wasn't content after the win.
"We aren't satisfied with this game or even this weekend. No team has ever won Nationals in July," said Ghesquiere. "We know we have a lot to work on and have a lot of projects to finish before we can become all we are as a team."
As for Molly Brown, a single point loss to Scandal isn't a death sentence. It was clear from the preseason that Scandal was going to improve, and challenge the best teams in the nation. Molly Brown is still building as a program and has been incorporating and revamping their offense, which is a work in process. "We're running a new system –both on offense and defense," said Chastain. "Our season is broken into phases, and we're still in the foundational phase, which included going back to the drawing board more than once this tournament… there's still plenty that we're growing with."
It's hard to tell exactly where these two teams fall given that Fury, Riot, and Brute Squad chose not to attend the Pro-Elite Challenge. As it has been in previous years, those three teams are the litmus test for elite women's ultimate. Scandal and Molly Brown could very well be at their level or just a tier below. We'll have to wait until the US Open to get those answers.
6ixers Thrive as They Attempt to Peak Early
Historically speaking, the Pro-Elite Challenge has not been Toronto 6ixers' tournament. That's not because they've done poorly in the past; it's because they literally do not attend it. A standard 6ixers season starts much later in the year. The Canadians prefer to spend the earlier part of the summer building chemistry as a team before attending any tournament where they'd face elite competition. For the past two years, Toronto has avoided playing a Triple Crown Tour event before the last weekend of July.
That narrative has completely flipped with the Canadian Ultimate Championships on the line. "This season is starting earlier for us because we are trying to peak earlier," explained 6ixers captain Jordan Meron. "With Canadian Nationals on the line –which we are trying to win to represent Canada at Worlds—going to these earlier tournaments and getting these reps in is important. Everything we're working on at these early tournaments will matter for Nationals."
It was apparent from the offset that Toronto had a little bit more of an edge than their competition. The 6ixers were more structured and disciplined than most of their competition, relying on their system to carry them through tight games. It also may have been that they were missing so many players to the U24s championships, and had to fall back on their system to ensure there wouldn't be any chemistry problems.
"We were missing Brit Dos Santos on the O-line, and five crucial players from our D-line," said Meron. "So that's a really big deal. But they're all playing in Germany, so we see it as all 23 players on our squad are getting equally good reps, even if we're not all together."
If the tournament offered a learning curve for players to step up, they didn't really show it. Barring their loss against Scandal, the 6ixers remained relatively unchallenged by their opponents. In the toughest pool at the tournament, Toronto went 3-0, and rarely ever got broken. While they had to work for every point, they executed their offense at a higher level than their competition.
"We were looking at every game as its own challenge. Working one game at a time," said Meron with pride. "We played our players as needed and all 20 stepped up on one occasion or another. There may have been a learning curve for some, but everyone made a difference. This tournament was a complete team effort. "
The 6ixers benefited from the full extent of their roster, but a few players had standout performances. Tingle excelled in her defensive assignments, and was just as ferocious on offense after the turn. Molly Lewis was an anchor for the defense, tasked with the taller, tougher athletic assignments and then taking charge as a handler when needed. Finally, the 6ixers leadership were quick to praise Krystal Dos Santos, who took a larger role on the field and had a breakout performance in their estimation. She was easily the team's best deep defender, along with being an active cutter downfield and a nightmare to guard.
Ending just shy of the final may not have been the finish that the 6ixers wanted, but they accomplished all their process goals over the tournament, and played with a speed that was fiery yet calm. Thanks to the inclusion of Canadian Nationals, it'll be a long, drawn-out season for the team, but they are built to go the distance.
Schwa – The Surprise of the Pro-Elite Challenge
Whatever doubt there had been about Portland Schwa heading into this tournament was emphatically obliterated this past weekend. It wasn't just that the Portland team won their pool or even made semis; they played like a team that could have won it all. Were it not for an unfortunate drop on the final point of their game against Molly Brown, they may very well have done just that.
Watching Schwa all weekend, the first thing that stood out is how quickly they move the disc. One of the underrated aspects of the top teams in the women's division is the pace at which they play the game. It's not just that Riot, Fury, and Brute Squad have better athletes or throwers, they also have a different gear from most of their competition. The perennial semifinals teams continue to make it there in part because they run roughshod over their competition, not giving them a chance to set. It's rare to find a team outside of the top four or five that can keep up with them. Well, if this weekend is an indicator of anything, it's that Schwa has found a way to compete at that pace.
"Tempo is a big focus for us in practice." said coach Matt Melius. "We play a lot of mini to keep people moving and because our offense doesn't have traditional roles, we ask a lot of our players to play on their toes and move the disc around."
Schwa's deep run in the bracket was very much founded on this newfound pace –along with disciplined person defense and some help from their elite throwers. In many of their games, it did not seem as if Schwa individual talent dwarfed that of their opponents. Against Rival, Nightlock, and Pop, the roster depth and talent was actually fairly comparable. And yet, in all of these games, Schwa came out of the gate hot, and took a convincing lead, which helped them overcome any late game surges as their opponents found their footing.
Their style of play is buoyed by the lack of traditionally defined roles on the field. Yes, they have specific players that are better with the disc in hand, and others that can tear up the deep space, but every athlete on their roster looked comfortable filling in a position where needed. This helped scramble up the defenses that they would face, too. It's hard to know who to mark on Schwa if you consider yourself a 'handler' or 'cutter' defender.
Right into semis, Schwa beat teams with their unconventional style of play, but even more impressively, there is still room to grow. Adding Ella Hansen and Shea Brennan will undoubtedly help improve the team, and they can improve with their endurance and decision-making late in games. There were a few games where Schwa allowed their opponents to fight back into it late in the second half –that won't be an issue if they can fight off fatigue better in the future.
There's a lot more to be said about this team, but for now, it's enough to say that they impressed. If Schwa continues to play with the pace and ferocity that brought them to semis this past weekend, they're in line to have their best season in recent memory.
Three Teams to Keep Your Eye On
It's easy to forget, but #10 Columbus Rival was one point away from making semis. With Paige Soper, Stevie Miller, and Libby Lehman adding their firepower to the already-stoic Columbus roster, Rival never looked overwhelmed by their opponents. There were a few too many times that they shot themselves in the foot, but that can be chalked up to early season wrinkles that will be smoothed out with time. Rival is a very well-drilled defensive team that can generate turns. As their offense improves over the season, their results should start to look better and better.
If 2018's Pro-Elite Challenge was Raleigh Phoenix's debutante ball, 2019's tournament was the year the gloves came off. We knew the team would be better with Claire Revere, Lindsay Soo, and Lyra Olson. Phoenix is a team of true athletic marvels who all make smart decisions and have a great energy. They desperately missed Ashley Powell this weekend as another power thrower alongside Jessi Jones, but she'll be back soon, with Anne Worth in tow. Lock it in, Phoenix will be a threat throughout the rest of the season.
This was a tough tournament for #7 San Francisco Nightlock. Starting as a the top seed in their pool and getting knocked out in prequarters is a bitter pill to swallow for any team, and sours their otherwise respectable 4-2 record. Handlers were in short supply for the team, and they made uncharacteristic mistakes across the board. There's a giant asterisk on their tournament, though. Not only were they missing Marisa Rafter for all of Saturday and some of Sunday, but they were also missing Julia Kwasnick, Lani Nguyen, Jackelyne Nguyen, Shayla Harris, and Michelle McGhee. It's safe to say that Nightlock will look a lot better when all those players are back. There's plenty to like from the team, and they should be fine going forward –assuming they aren't missing a full line of their best players next tournament, too.
All Tournament Team
Mariel Hammond (Portland Schwa)
Lauren Kimura (Toronto 6ixers)
India Stubbs (Atlanta Ozone)
Lindsay Soo (Raleigh Phoenix)
Lisa Pitcaithley (Denver Molly Brown)
Amy Zhou (Washington DC Scandal)
Jennifer Corcoran (Chicago Nemesis)
---
which is hard to quantify, because 'their best' is some undetermined selection out of 12-20 players ↩