A defensive slugfest went Brute Squad's way.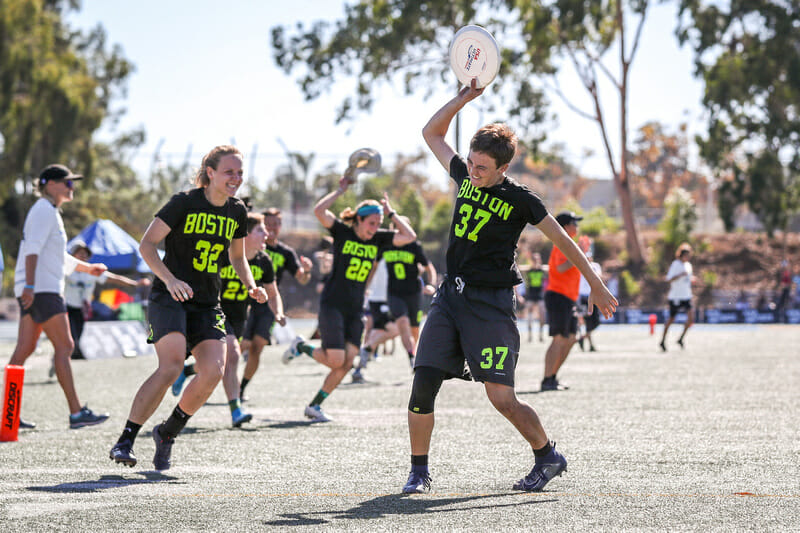 Our coverage of the women's division at the Club Championships is presented by Breakside Strength and Conditioning. Check out Breakside to find out how you can unlock your athletic potential for just $10 a month.
SAN DIEGO — There are only a few great ultimate rivalries that stay evergreen across multiple seasons. The latest edition of the Boston Brute Squad – San Francisco Fury series provided every example of why theirs transcends that of so many others. On double game point, Brute Squad rewrote the narrative of their otherwise troubled season by triumphing over Fury 14-13, breaking their streak of heartbreaking Nationals losses to the Bay Area powerhouse.
There was never any doubt that this game was going the distance. Even after the two teams got off to a sloppy start – dropping multiple passes in the early points – the pedigree of both teams was too great for either team to pitch a shutout. These were the last two undefeated teams left in the tournament, and they played with a tenacity that exemplified how they made it this far. Together, the teams were 8-0 against the field, although their seasons to this point had been very different.
For Fury, their path to semis was clear cut. A successful regular season with only a few tight losses set them up as the top seed at Nationals. With a favorable pool, the defending champions cruised through pool play, earning a bye to quarters. In the bracket, the sun shone on them once more, as they faced Nightlock in quarters. Their Bay Area rivals tried their best to scare Fury, but the game was never close.
It was a very different road for Boston. In an uncharacteristic change, Brute Squad gritted through the regular season, battling through tight games with lower-seeded teams and taking some unexpected losses. "This wasn't the season we were used to having," admitted Boston captain Kami Groom. "We had to put in more work this season than we expected."
It wasn't a clean season for Brute, made even worse by losing their regional championship to Toronto 6ixers for the first time in program history. Even after making Nationals, the team entered as the fifth seed and had to face the 6ixers and a Raleigh Phoenix team that had just beaten DC Scandal in prequarters. This wasn't the 1-2 matchup that had defined their championship games the past two year.
"Despite our season, we pulled it together at Nationals. This is the place we wanted to be. This is the team we wanted to be playing. This is the moment we wanted and it couldn't have been better," said Groom.
Brute may have played with a chip on their shoulder, but there was no underdog in this game. It was a game of two champions; two alphas in their prime, testing each other in a way that no other team could.
So while the game may have started out messy, it was only a matter of time as to when the teams were going to lock in.
As luck would have it, that came about on the eighth point of the game. Before then, the teams had traded a break but mostly were losing possession on miscues and shaky drops. With Fury up a break, leading 4-3, the teams dropped their gloves and started trading blows.
The matchup between Lien Hoffmann and Opi Payne was case in point. From the opening pull, the two players were attached at the hip. With Brute Squad on offense, Payne looked away for one second to take stock of the field, which Hoffmann used to immediately step into the break space and corral a short pass. Payne was out of position, trying to recover with a wide stance, but Hoffmann easily threw around her for the Boston hold. It wasn't a flashy play but it exemplified the truest fact of the game: it was going to be won by inches.
That's not to say that big plays didn't abound. Fury had a safe upline pass into the endzone for a quick hold, only for Cassie Wong to appear in a flash for a run-through block. For a full stall count, Fury forgot their smart defensive positioning, allowing Lauren Sadler to uncork an upwind huck to Kami Groom that was never in danger of being blocked. From there, Angela Zhu flashed an around backhand to Tulsa Douglas, putting Boston back on serve and up 6-5.
Zhu was pivotal in every sense of the word, playing the most points of anyone on Brute. The yin to her yang was Carolyn Finney. Fury's heart and soul was the same impact player that had carried them past Boston last year. They ended the game with 4A/1D and 1G/4A/3D, respectively, but their impact was far beyond those numbers.
At 6-5, with Brute Squad leading, Boston's handler defenders chased down a deep pull to force Fury into a short mistake. The team turned to Zhu immediately, and she patiently waited for her shot. A slanted flick hit Nicole Canning in stride for Brute to take a two-point lead.
Finney responded immediately. Fury drove it down the field, only to cough it up just shy of the endzone. Before Boston had a chance to capitalize, Finney flashed into a throwing lane, forcing a short turn. She picked up the disc, dished it off to Nazarov, and charged upline. Her gravity brought her defender and the attention of the Boston defense, leaving Desmond open to get an easy short pass in the front of the endzone.
The teams continued to battle back and forth. Brute Squad took an 8-6 halftime lead and extended their advantage to three to start the second half. But Fury rattled off three straight to tie it up at 9-9.
At 11-10, with Brute Squad holding a slight lead, Douglas launched a deep huck for Kami Groom despite her defender having both steps and positioning on her downfield. Groom had just slowed to come back for the under and had to reignite her sprint, move around her defender to take positioning, and get vertical to sky her for the goal. She did all those in short succession. Fury was stunned. Groom did it again on the next point, this time in double coverage.
Suddenly, Fury was on the brink. Brute Squad led 13-10, and with cap on, Boston needed only a single point to advance to the final.
Finney struck deep from the handler space, neatly collecting a huck and securing a smooth hold for Fury. 13-11.
Brute now had three game point chances on offense.
On Boston's first chance, both teams dropped all pretenses of patient offense and embraced a desperate style of ultimate that showcased some of the best defense in the women's division. That point alone featured two stopped hucks from Finney, all while she was marking Malinowski, a player with seven inches on her. Hoffmann had two blocks while marking Payne. There were jump balls, drops, and run-through blocks. Eventually, Fury outlasted Brute Squad after a Kaylor huck sailed over Groom to a bidding Marika Austin for a Fury break.
Kaylor's hot streak continued on the next point, setting up Narayan with a beautiful assist for another break.
In just a few short minutes, Brute Squad's lead vanished. The game, once firmly in Brute's control, suddenly became a double game point playoff, just as it had been between the two teams in the 2017 and 2018 national championship games.
Once more, it was Austin that gave Fury their break chance. A huge layout block in front of the endzone stopped Brute Squad's run just short of a triumph. San Francisco moved it up the field quickly before Opi Payne fired a huck into double coverage, which Douglas was happy to bring down. "I was so impressed by their help D," said Kaylor. "That's what got Tulsa that huge block. Whenever a disc went up, you could count on two black jerseys being there underneath it."
Seeing Douglas with the disc was all Trop needed, and she tore off downfield. The huck was sent her way, with all of Fury giving chase.
It still wasn't enough. Trop dumped the disc quickly to Groom before striking upline, burning her mark, giving Groom all the space she needed to put out an easy flick.
Brute Squad's sideline was muted in disbelief for half a second, the entire team wondering if a cheer might break the spell and bring it all crashing around them. Instead, the roar of the crowd kicked in for them, and they all rushed the field to embrace an ecstatic Trop.
It was a momentous win for Brute Squad, something the team had been working towards for three seasons. More importantly, it was a sign of trust in their young core. Only three players on their final line had been on Brute Squad the last time the team had won Nationals, and a new core of young talent was entrusted with closing the game over Fury instead of the old guard.
For Fury, it was clearly a disappointment, but not the crushing blow that it might have been to teams who had not made it all the way before. "We may have fallen short of an outcome goal, but it was still a good season," said Kaylor. "Monkey's off our back, right? Really, this will help us get a chip on our shoulder, which Brute Squad has worn very well for a bit."