A study of contrasts.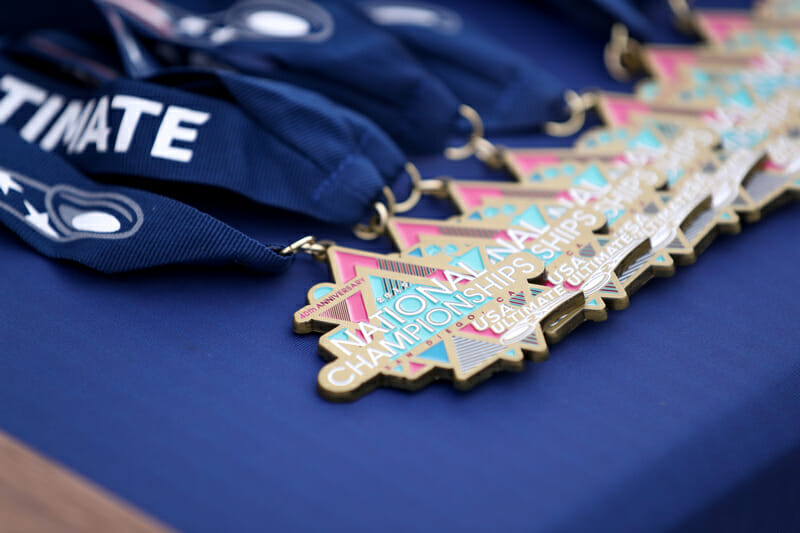 This article is part of the Clear Cut series on Ultiworld that features writing and storytelling from elite players and coaches. If you are interested in writing for the series (or have ideas for it), please contact [email protected].
Club Nationals. The grand finale of the regular season. For many, it is the culmination of every workout, throwing session, practice, tournament, mini camp, etc. into a weekend-long battle with others who have done the same. For others, it is a chance to follow along as the best teams in the country go head-to-head for a National Title.
If you asked me how I felt going into the tournament, I would have expressed similar feelings of excitement, nervousness, and resolve. I would have told you that I was ready to compete with the best and leave it all out on the field; that I was confident in my team's ability to climb the mountain and win our first championship. Though, now that the dust has settled, as I reflect on the highs and lows of my team's tournament and season, part of me isn't sure that I should have gone to the tournament in the first place.
Before I explain, here is some back story. The only reason I agreed to play club this year was because of how accessible it was made for me. Doublewide participated in four tournaments this year (Colorado Cup, Pro Champs, Regionals, and Nationals) and they allowed me to miss Pro Champs for economic reasons. Not only was Regionals within driving distance, but I was also able to stay with family and friends at each of the three tournaments I went to. This meant that my financial contribution for the entire season came down to two flights, jersey costs, and subsidized team dues thanks to a Doublewide fundraiser.
At Nationals, I stayed with my family that lives in Chula Vista, a city south of San Diego and just north of the Mexico border where a majority of the population is Hispanic. The tournament itself was held in the Del Mar district, where over 90% of the population is white, and the team Airbnb was located in Pacific Beach, where 80% of the population is white.
I went straight from high-flying frisbee games to eating out with the primos at the local taco stand. I went straight from hanging out at the fancy White Claw-filled team Airbnb to hanging out at a family birria cookout with cumbias in the background. I went straight from being surrounded by Patagonia, Chacos, and genitalia humor to sharing the stories and struggles of being a Mexican-American in the United States.
Even then, knowing all that I currently do, the cultural dissonance I was experiencing didn't hit me until I had a Saturday night conversation with USA Ultimate staff about diversity in ultimate. The question itself was simple: "Hey Gabe, do you have any ideas on what we can do to increase diversity in the sport?"
My answer? Not so much.
I started off by rambling about how competitive ultimate frisbee exists at an access point that is conducive mainly to middle-income, college-going individuals. I shared thoughts on how college ultimate is the main developmental period for any player that ends up playing competitively, and how intrinsically limited you are by not having access to a strong college program, finances aside. Eventually, I stumbled back onto my own experience and, as I spoke on the tension that exists for any person of color (POC) in the ultimate community, I found myself talking about the Nationals experience that I was living in that very moment.
I thought about how my cousin immediately reacted with, "Damn, you guys are up on the boujee white side of town" when he heard where the tournament was. I thought about how the people in my family were confused when I told them both why I was in San Diego in the first place and how much I travel just to play AUDL and USAU. I thought about how much money you need to pay in order to compete at the highest level. Most of all, I thought about the number of barriers that needed to be removed for someone like me to even consider playing competitive frisbee in the first place.
What really drove the point home was the simple fact that, each and every day, my cousin was willing to drive me, in classic "Mexican hospitality" fashion, three-plus hours round trip in California traffic on days that he still had to go to work. A lot of people I know would call it "impractical," "unresourceful," or "inefficient" to go through all that trouble, much more so if someone wanted to go through it. After all, why don't you just call an Uber? But refusing a ride from my cousin inherently felt like a betrayal of the family and community values that exist in my culture and, truth be told, it is simply one of many examples of the sharp contrasts I felt in San Diego.
Cultural dissonance is defined as "an uncomfortable sense of discord, disharmony, confusion, or conflict experienced by people in the midst of change in their cultural environment." I will be the first to say that I was unable to identify this feeling for most of my life, even though I always knew that I never fully fit in. At my suburban public high school, I was one of only two "smart" Mexican students in the top 10% of my class. At my church? I was the white-washed preacher's kid that was going to a fancy college in California. This polarized experience made me feel like I needed to pick a reality in order to be successful, and I slowly began to reject the culture that I was raised in, subconsciously hoping that it would lead me to the optimal outcome.
Once at Stanford, I still felt compelled to associate more with my white friends because I had somehow internalized that white culture was smarter, more successful, and more productive than my own. It wasn't until my junior year that I was able to realize how mistaken that narrative was and how damaging it was to my relationship with who I was. As I was making that realization, I was also captaining Bloodthirsty (the Stanford Men's Team) and I, along with the other captains, made a conscious effort to make diversity a focal point of recruiting.
During my last two years of college, I am proud to say that the majority of the team was POC, and I learned to expect that experience from an ultimate frisbee team, even though I knew the opposite was true. Additionally, as I transitioned back the community in Texas that raised me, more and more of my time was spent interacting with POC on a daily basis. As I write this, I work in a school that is 2% white, my family and church community is predominantly Hispanic, and my continued interaction with white culture has been, for the most part, limited to ultimate frisbee.
To me, the piece that continues to be particularly striking is that I was never consciously aware of my gradually diminishing exposure to white-dominated spaces, even though I was fully aware of the segregated society I was already a part of. It became one of those things that I gradually fell into without paying attention, until one day (during Club Nationals) I realized how much my experience had changed over time. And I was unsure how to handle it because I was still caught in the middle of the cultural seesaw that caused it in the first place.
Even now, I struggle with why I continue to play. I love the game and I love the teammates and friends I've made over the years. This year, I had the privilege of participating in the club season with subsidized expenses, and even if I had the financial means to pay for everything myself, I would feel guilty knowing that no one else in my community could realistically strive to play for an elite level club team without sacrificing enormous amounts of time and money, all for something that offers no real benefit outside of general enjoyment and competition. After all, why should I be able to benefit from something that no one else in my community has access to?
Feel free to contact me with questions, ideas, concerns, thoughts, etc. at [email protected] or on Twitter (@gambitohdez).