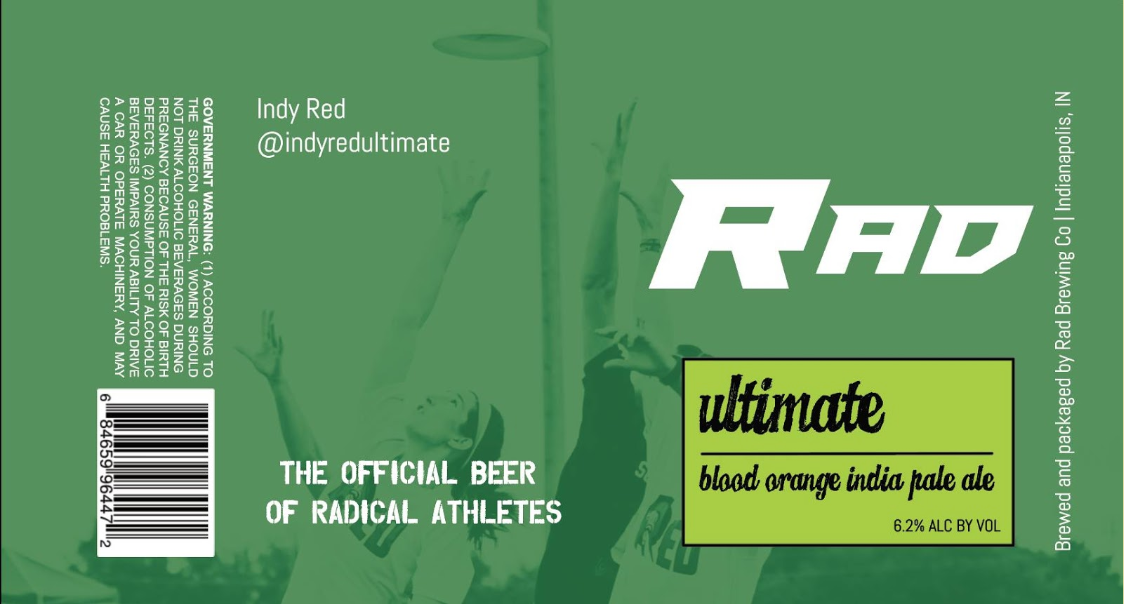 Premier Ultimate League team Indy Red has partnered with a local brewery to promote their team, the league, and the sport.
Indianapolis' Rad Brewing Co. (formerly Flat12 Bierworks) recently rebranded with a mission to support and promote alternative ways to get active. They strongly believe in the power of sports and the importance of developing an active community that is accessible for everyone. To that end, they donate a portion of every sale to local youth sports organizations, paying particular attention to non-traditional activities such as ultimate, roller skating, and rock climbing.
Rad's beers are named after sports and athletic activities, and each can design features local, national, and international businesses, teams, and athletes. The ultimate beer launches today, and the can design features a picture of Indy Red players. It is a 6.2% blood orange IPA.
Ultimate still comfortably falls within the category of "non-mainstream" sport for most, and given the never-ending quest to increase exposure to our sport, the partnership between Rad and Red is a match made in heaven. As is the case with many partnerships, the connection developed thanks to being in the right place at the right time. A 2018 Red player who frequents the brewery heard the owner discussing his plans for activity-themed beers and struck up a conversation about including Indy Red.
"I'm passionate about developing community," Rad Brewing Co. CEO Jason Wuerfel told BrewBound. "I benefited greatly from my background in athletics and I owe a lot of who I am to the community and positive mentorship I received growing up. I'm concerned about the affordability and access to traditional sports as costs rise and programs get cut. Today there are more ways to be active and involved as there's ever been. At Rad, in addition to brewing world class beer and cooking up the best burgers around, we hope to become a gathering place in the community for groups and individuals of all ages looking for alternative ways to stay active within a social environment. Rad is my way of giving back and I'm really excited to see the impact we can make."
The PUL and Rad Brewing Co. share similar values. The PUL mission is to achieve equity in the sport through improved accessibility and visibility of women and non-binary players through competition, leadership experience, and community partnerships. Red hopes that this partnership will help drive them closer to that goal.
"Partnering with someone like Rad, who reaches a wider market of people who could become interested in the sport, could help expand and diversify the ultimate community. I have this dream and hope that exposure to this sport creates a ripple effect so that it isn't just the person that went to brewery who learns about ultimate, but also their friends, coworkers, and family after hearing about it," says Indy Red's Kelly Vogeler. "Indianapolis is one of the smaller ultimate communities compared to other PUL or AUDL cities. My hope is that people are exposed to the sport through this partnership and it piques their interest enough that they attend a pick-up game, sign up for a league, or attend a Red or Alleycats game. One thing leads to another and soon we have more people signing up for adult and youth leagues, maybe even joining a club team at some point."
The Red and Rad relationship, aside from being a fun alliteration, is another example of the PUL finding unique and interesting ways to connect with their communities. Last year, through their Sponsor-a-Player fundraiser, they raised over $120,000, and, this year, many teams have fun initiatives planned to raise awareness and funds. Partnerships such as this one between Rad and Red can propel ideas and goals forward faster than anyone can accomplish alone, and sometimes they start from something as simple as going out for a beer after a game.
The launch party for the Ultimate blood orange IPA is on today at Rad Brewing Co. from 6:30-9:30 PM.