Organizers, coaches, and leaders in our sport can certainly hope for the best while also preparing players for the worst.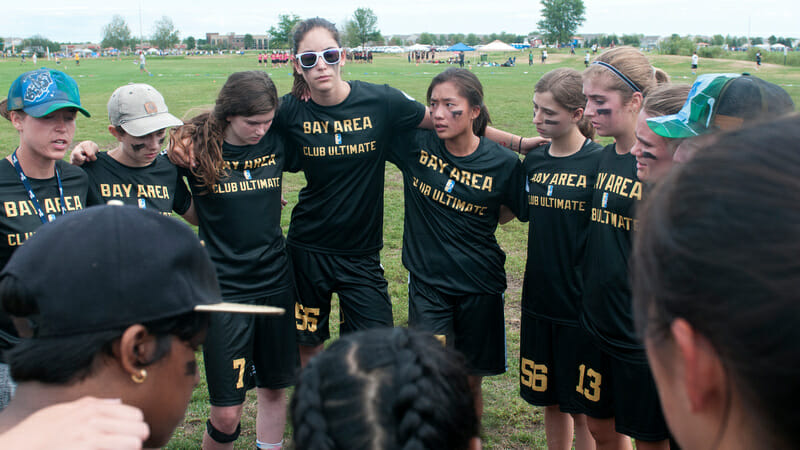 This article was written by guest author Jen Pashley, the Director of Youth Programs for Bay Area Disc and a head coach of BADA's U20 Girls YCC team. A version of this post also appeared on the Bay Area Disc blog.
While ultimate organizers across the country are creating contingency plans to combat the spread of COVID-19, weighing the potentially devastating financial costs with the moral obligation to prioritize the safety of the community, there is one thing we are thus far neglecting to plan for: helping players deal with the heartbreak that their seasons may already be over.
While "heartbreak" is not — and should not be — a factor when deciding to cancel or postpone events in the name of safety, it is an incredibly important emotional consequence that we need to prepare our players for.
Although we are all sending each other words of encouragement and reminders to stay safe and wash our hands, we aren't really thinking about the emotional repercussions for athletes who may not get to compete again this season — or perhaps ever again with their current team or division. Unfortunately, this is a very real possibility.
Right now, high schools across the country are cancelling all sports programming, colleges and universities are restricting non-essential travel until the end of the semester, USA Ultimate has cancelled all sanctioned events until April 20th, all of the semi-pro leagues have at very least postponed their seasons, and the U20 National Team has been told to hold off on purchasing flights to Sweden for the World Junior Ultimate Championships.
College players may not get to battle it out for a championship this May. Athletes who made a semi-pro team for the first time may not get to step out onto the field in front of a roaring crowd. Those players who worked so incredibly hard to make the various US National Teams may not get to represent their country this year, or maybe ever. It's a situation that didn't even cross our minds as a possibility, because who on earth plans for this? We simply can't.
I've been thinking about this a lot, mostly because I've personally felt the utter gut-punching heartbreak of a sudden end to a season before. It was eleven years ago that I found out my college team had just been disqualified from participating in the postseason because of a mishap with our paperwork. It was a simple mistake: our captain didn't realize that she had to get our roster approved by the registrar and mail it in by the deadline. When I found out, I sobbed for hours on end. I went to the bar with my friends and got drunk. I cried again. My teammates tried to console me, but couldn't. It felt like nothing could replace the chance to compete during my final year of college.
Now, thousands of players may feel a similar heart-wrenching disappointment.
So what can we, as organizers, coaches, and leaders in our sport, do to help players dealing with heartbreak? I've outlined some recommendations, which if you can't meet in-person can be done through any online meeting platform.
Address it head-on. Instead of avoiding talking about the potential end to the season, address it head-on, honestly and compassionately.

Yes, our season may end in a way we weren't expecting. We are going to be here to help one another through that. Whatever does end up happening doesn't change our continued focus to accomplish the goals we agreed to at the beginning of our season.

Help players plan to process. Similar to responding to an emergency, ask players to mentally prepare for a sudden end to the season.

How would you feel if U20 Worlds were cancelled tomorrow? What would help you through this devastating news? How might you still be able to have fun, feel challenged, and improve as an athlete?

Allow for emotions. Players should be able to feel the full spectrum of emotions if something devastating happens. They can be sad, angry, anxious, stressed, silly, or even happy. All of these emotions are totally valid and normal, and we should give space for players to be able to feel them.

I know you're all feeling a range of emotions to this news right now. Know that feeling this way is totally normal. We're all here as a team to help you work through them.

Create a space for sharing. Opening up the conversation for players to express themselves and share with others is a really valuable part of healing. Don't feel like you need to lead and control the conversation; help direct when needed, but be a more passive participant.

I'd like to take this time to open up the floor for anyone who would like to share. What's on your minds right now?

Adjust expectations. Once you've given players an opportunity to express emotions and share those emotions together, find a productive time to adjust expectations. This may not be able to happen immediately. Sometimes we need to sit and process emotions for a few days before being able to move forward.

Now that everyone feels pretty good about moving forward, I'd like to take this opportunity for us to focus on how we might be able to accomplish the goals we set at the beginning of our season given these new circumstances. We talked a lot about building trust between players — how might we still be able to do this?

Check-in again. It's not enough to have one or two meetings to deal with devastation and assume that players are going to get better on their own. You have to check in with them again. Set aside some time for one-on-ones and ask players how you can create a clear "end" to the season.

It's been a few weeks since our postseason was cancelled. What would you all like to do to celebrate the end of the season on our terms? An end-of-season party? A fun final scrimmage of seniors versus underclassmen?
We can certainly hope for the best while also preparing for the worst. It's up to us to ensure that players are prepared for what comes next and are able to successfully navigate it.