Jeanne and Lee Cheese are turning the Atlanta AUDL franchise into a community affair with their focus on attracting more fans of color and building a new player development pipeline.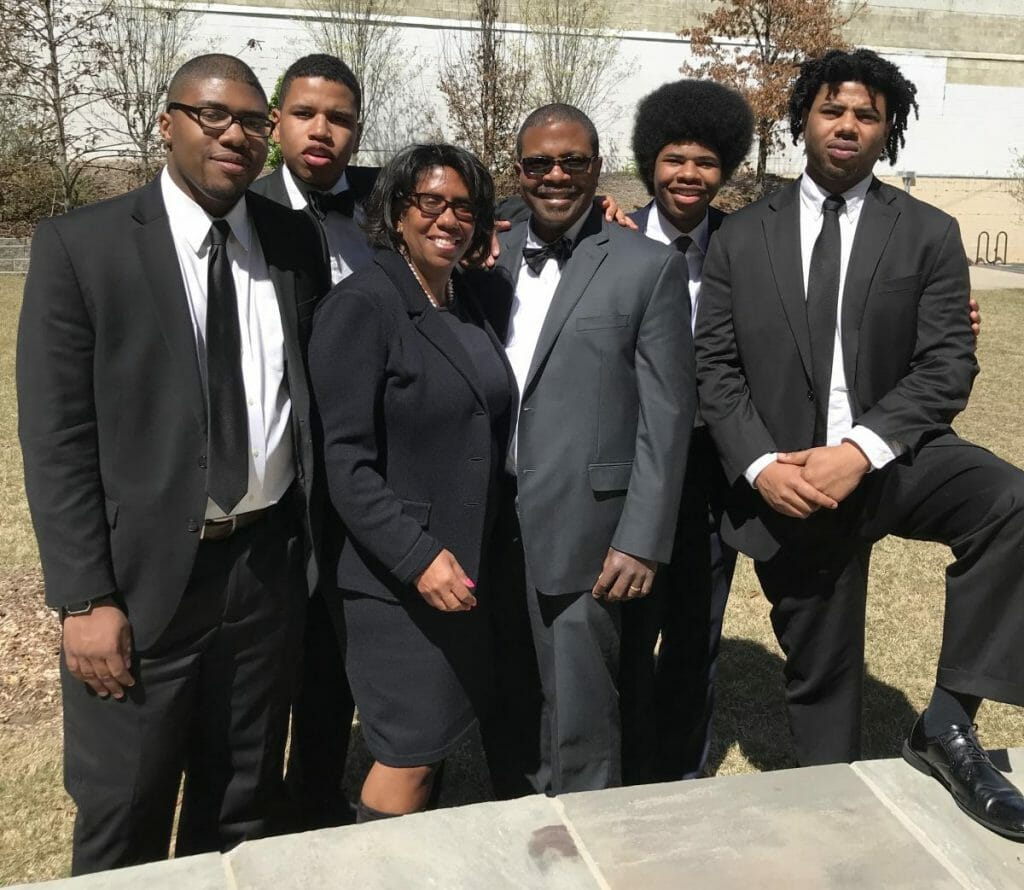 The AUDL's newest owners are adding a familial element to the Atlanta Hustle ownership group.
The Cheese family, led by Jeanne and Lee and including sons Evan, Aaron, Adam, and Thomas, purchased a ten percent share of the Atlanta franchise, which was announced by the Hustle on October 7. Jeanne Cheese is the sister of Hustle part-owner Peter Thomas and was involved with the team as an informal consultant before joining the ownership group. The Cheese family has already made an impact on the Atlantic Division franchise and hopes to deepen its influence as official partners.
When Peter first invested in the Hustle before the 2019 season, the Cheeses showed a keen interest in the business and naturally wanted to help promote the Hustle as part of their family. It was an obvious progression for Peter and the Hustle to turn to them when a previous partner left the ownership group. The Cheeses had already been informally consulting about equity, diversity, and inclusion to help the Hustle think through ways to increase involvement and fan attendance among people of color.
When the opportunity came up to purchase part of the team, the family had no hesitation. "Our children were one hundred percent like 'if you don't do this, we're going to put you out of the house,'" Jeanne recalled. "We see it somewhat as a family approach. Of course, they're not giving up a dime, but as far as a family…we thought, let's do this."
Jeanne has been watching ultimate since Peter — who played in college at the University of Vermont, in the club division for Atlanta Chain Lightning, and in various Atlanta area recreational leagues — started playing about forty years ago.
"When I was introduced in high school to ultimate," Peter said, "I was encouraged by family including my sister to follow my interest…my family were natural supporters." Jeanne came to many of his games and tournaments, bringing along Lee once they got together. That kind of support helped encourage Peter to follow his heart and continue to play ultimate, despite often being the only Black player on his team. He later introduced the sport to his own and the Cheese kids.
Peter's relationship with his sister was crucial in securing the family's investment. "If we didn't have the exposure to ultimate for over thirty years," Lee said, "and if we didn't understand it, and if we didn't have sons that have played the game, and we hadn't gone to games…I don't think we'd be in this space right now."
As owners, the Cheeses' goals include growing diversity in all areas of the organization, growing the local youth scene as a fan and player pipeline, and increasing attendance at Hustle games. "We're not trying to find more players," Lee said, "we know that will happen because we have tryouts and combines. We know that is going to happen because somebody is engaged in that already. Our input is going to be: how do we make more people like us that are more observers than players?"
The Cheese family got involved in ultimate first as spectators, and they are planning to bring more fans to their games and to bring a more diverse group of fans to their games. How many future AUDL owners or players–or most importantly fans–have not yet seen the sport? The Cheeses are hoping to expand the Hustle's reach and bring ultimate to communities that simply have not yet been exposed to the growing sport.
From their years as ultimate spectators, Jeanne and Lee bring a perspective that not many involved in ultimate know. Many who are involved in AUDL leadership are former players, at least at the recreational league level. The Cheeses also have an extensive network as a family reaching from the wider African-American community in Atlanta to the campuses on which their children attend school and can draw both players and fans from.
"The Cheese Family being a firm part of the African-American community in Atlanta and with good connections–that's one more window of opportunity for the Hustle to not just benefit and to learn about opportunities that wouldn't have been available to the team," Peter said, "even with me as one African-American co-owner of the group. It's not the same as having a husband and wife team who are also owners and also dedicated." He said the Cheeses' impact will be "more than double" his because of their extensive network and relationships in the Atlanta community. The AUDL reported that "the Cheeses are involved in several civic and social organizations, including Better Marriages of Georgia and the Atlanta Chapter of Jack and Jill."
The Cheeses are looking beyond just the Hustle or the AUDL and hope to make an impact in the broader ultimate community. Along with Peter, they are supporting the creation of a team at Atlanta's Morehouse College, a Historically Black College (HBCU) where Lee is an alum and their son Adam is a sophomore. No HBCU fielded a USAU college division team in 2019. Peter and Adam Cheese have worked together to find the right people to talk to at the university level to sanction a new club sport team, while Adam is taking the lead on recruiting players. Peter said he is interested in potentially sending coaches from the Hustle to support the team. He also has recruited help at the most recent Hustle combine and has found interest from attending athletes.
Building a team at Morehouse is an important step to building the youth-to-professional player pipeline and developing new fans for the Hustle. Plenty of youth players from Atlanta Flying Disc Club (AFDC) leagues attend schools without an ultimate team, curtailing their playing careers. Reaching those athletes and fans is part of the Cheeses' and the Hustle's mission and will provide a blueprint for ultimate players at similar schools to build their own teams to develop the sport.
Despite onboarding in the midst of a pandemic, Jeanne and Lee have already hit the ground running, participating in conference calls and the occasional COVID-compliant in-person meeting while fielding Hustle-related emails daily. Lee, who retired, said he felt like he was back at work.
The Cheeses are among a small cohort of AUDL owners of color. For an organization with a committed focus of diversity, equity, and inclusion, this is a positive step towards building stronger representation in leadership.
"Seeing what it did for my kids when they play…their exposure and growth around the sport all their lives brought us to this point," Jeanne said. "It's culminating–we have the time to give, we had the money to give, we had the energy to give, and we had the passion because of what our experiences have been to make this an opportune time to leap in and be all in."