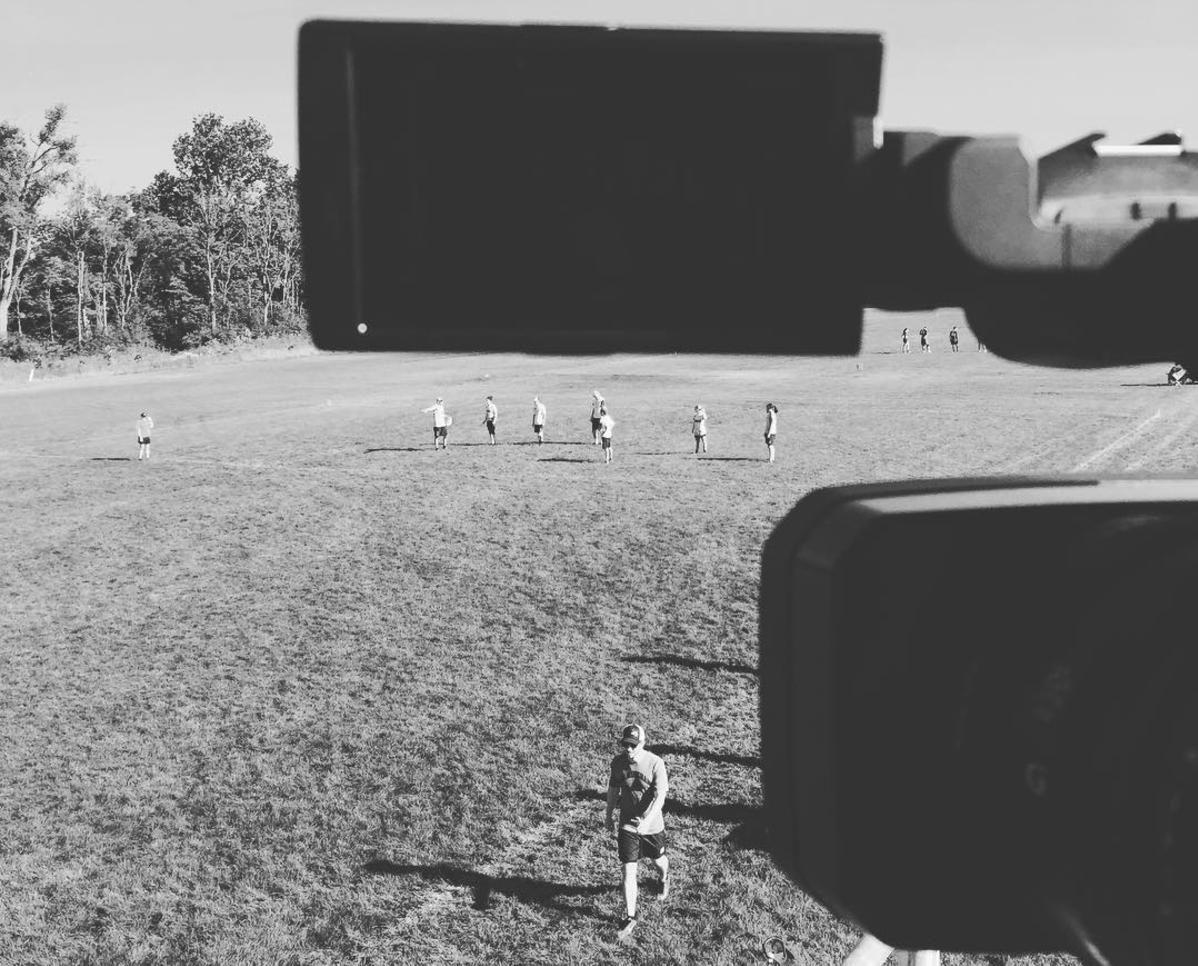 Tuesday Tips are presented by Spin Ultimate; all opinions are those of the author. Please support the brands that make Ultiworld possible and shop at Spin Ultimate!
Why should you film your teams' ultimate games? Filming games allows your team to expand your options for strategic analysis: whether it's team film sessions, individual film review, or captains and coaches watching film to determine strategic adjustments and practice plans, having the footage available allows your team to take your strategic development to the next level. For example, showing your team how to adjust to a certain zone works much better if you can show them in their own game, where players can more easily put themselves on the field and visualize their own actions.
Game footage can also be a great tool for individual improvement, allowing players to see where to make gains in their game, see how they are most effective on the field, or provide extra motivation to work on their skills. Team film can also have some more fun (yes, film study is fun for some of us, though maybe not for everyone) applications too, such as making highlight or lowlight reels, or finding the best clips to promote and celebrate your team on social media. You can also have a lot of fun filming your games and off-the-field antics, and being able to look back on those memories years later is a great way to relive your glory days.
Before you start team filming, there are a couple of questions you should consider. First, what are your team goals for filming? If you're primarily filming for analysis, you will take a different approach than if you are filming for highlights or to document your team memories, and your equipment needs will vary. You'll also need to determine what kind of budget you have to work with.
To film games, there are a few things that I would consider to be absolutely necessary. First, you need a tripod (or possibly a gimbal/stabilizer, depending on your setup). It might seem tempting to just hand the camera to somebody standing on the sideline, but trust me, the motion sickness you get when trying to watch the shaky handheld footage isn't worth it. Second, you'll need someone (or someones) to be in charge of the camera and the footage. This means bringing the equipment to tournaments or practices, charging up the batteries, and downloading the footage from memory cards. You'll also need somebody to take all the video and share it with the team, whether that's just uploading it to the cloud or editing games together before sharing.
Third, once you have a camera and a tripod, you need someone to film. This is a sticking point for a lot of teams — the most common method teams use is to have an injured player (something most college teams will have on hand) operating the camera. If you've ever been that injured person, you know that standing separately from your team all weekend isn't always the most fun experience – shoutout to everybody who has put in that time for their team. But you can easily share the workload between teammates, which lightens the work for any individual. On teams I've been a part of, I've found that a few games of reminding people to get to the camera usually leads to a bit of a rhythm. Typically, a handful of players will do most of the filming, but having a rotation of several players can help you cover most points while having consistent camera operators.
Now, let's get into what you equipment you'll need, depending on your budget!
Low Budget
If your team doesn't have much of a budget to work with (<$100), you can still get some basic footage. At this budget level, your best bet will be using a cell phone to film, using some kind of phone-compatible tripod or gimbal setup and some external battery power to keep your phone charged throughout the day.
Phone cameras these days are very high quality, and most players on your team probably have a phone you could easily use to film. Phones also allow for easy streaming and can easily and quickly post highlights to social media. However, most phone cameras don't have much if any optical zoom, which means you won't be able to get too many close-up highlights. Additionally, you'll have to figure out how to store your footage: if you have an unlimited data plan, you can stream the games, saving the footage on the cloud, but otherwise, you'll have to deal with storing and sharing the footage from your phone, which may be cumbersome.
While some high-end phones now have optical zoom options available, the quality and consistency won't match what you'd get from a video camera with moving lenses. This means that a phone setup will be better suited from the sideline, where you can more easily see all of the action. In this case, you can choose if you prefer having your phone mounted on a traditional tripod, or use a handheld gimbal for smooth footage.
Low Budget Recommended Pack (Total $45-$95):
Medium Budget
With a medium budget (~$400), your team can get a nicer tripod and a camcorder-style video camera. With this, not only will you be able to film in HD, but you'll have easy-to-operate optical zoom, allowing you to get a better look at the field when the disc is far away, and get zoomed in on highlight plays or other fun moments.
For this budget level, I recommend the Sony HDR CX405, which will allow you to capture 1080p video at 60 frames per second. This type of camera, in addition to being relatively affordable, has another great advantage: it is compatible with a Sony camera controller, allowing you to control the camera movement and the zoom with one hand. This is especially helpful if filming for highlights (which requires more camera movement and zooming in and out), but is great for any type of filming. A USB power bank like the one linked above should provide enough power for a day of filming, and a 128GB microSD card provides enough storage for a whole weekend's worth of game footage.
Medium Budget Recommended Pack (Total $396):
Higher Budget
With a higher budget (~$800), your team can spring for a nicer camera. The first thing you're likely to notice with a better camera is an improvement in the picture quality — even if the camera is still recording in 1080/60p, a better lens will give you a cleaner-looking image. Higher-end cameras will also typically record at higher bitrates, which is basically the amount of data that the camera records (higher bitrate generally corresponds to better looking video but will also take up more space). Many of these cameras will also have better, more customizable settings, including the possibility of recording at higher frame rates or resolutions (such as 120 frames per second [fps] or 4K resolution).
Filming in 4K may be overkill for most ultimate footage, but higher frame rates can get you clean-looking slow motion highlights. For example, compare these two slow-motion highlights. The first was filmed at 60 fps, and has some obvious blur even after using professional editing software. The second was filmed at 120fps and can be slowed down considerably without any blur or choppiness.
For higher-budget cameras, two suggested options are the Panasonic HC-V800 and the Sony HDR-CX675. The Panasonic camera will allow you to film slow-motion effectively at 120fps (though without sound) – so if your plan is to focus on highlights, this is a great option. On the other hand, the Sony camera will give you a high-quality picture and is compatible with an external zoom controller, similar to the setup described for a medium budget. So, if you want to get those sweet slow-motion highlights, the Panasonic HC-V770 paired with a nice tripod will work well, while if you want high quality game footage and an easier-to-use setup, the Sony HDR-CX675 paired with an external zoom control tripod will be best.
Higher Budget Recommended Pack – Slow-motion focus (Total $760):
Higher Budget Recommended Pack – Control focus (Total $765):
Very High Budget
If you find yourself with an even higher budget (~$1500-2000), you can buy a top-of-the-line consumer camcorder, paired with plenty of storage space, extra battery, and a better tripod. The two camera options I would recommend are the Sony AX53 and the Panasonic HC-WXF1. Both cameras have 4K capability, at least 20x optical zoom (24x for the Panasonic), and can film at 1080/120p in high speed/slow motion mode (though the Sony camera can also record sound in its "High Speed Recording" mode, while the Panasonic does not record sound during "Slow Motion" mode). The Sony camera also has a "smooth slow recording" mode, allowing you to record three second bursts at 240 frames per second, which could be a great tool for analyzing throwing form. As before, the Sony camera is also compatible with the remote zoom control. B&H offers a comparison of the two cameras.
If you're going to spring for a nicer camera, you'll likely want to spend some extra money for a nicer tripod as well. With the amount of traveling and moving around the typical ultimate sideline setup goes through (everything from being stuffed in a trunk to being carried between fields four times a day), having something lightweight and sturdy is important. I would recommend the Manfrotto Befree tripod kit, which has a fluid head with pan and tilt locks and individually adjustable legs (perfect for those uneven fields).
With the higher bitrates used by these cameras, file storage becomes a bigger concern. If you want to use the highest possible bitrate (100Mbs, such as 1080p in high speed mode), you'll likely want a 256GB SD card to capture a whole weekend's worth of footage (or two 128GB if you want to change them out each day). Additionally, you'll need to make sure that any SD card you buy is fast enough to keep up with those speeds — the Sony AX53, for example, requires an SD card with UHS speed class U3 to record at 100Mbs. There are many possible options for an SD card, such as this one, and you may want to shop around for a bit to find one on sale.
Finally, as you start to spend more money on the camera, you may also want to spend a bit for quality-of-life accessories. In particular, a camera rain cover is a great way to keep using your camera without fear during those tough-weather tournaments. Most cameras are pretty resilient, and you can always create a make-shift cover using some plastic bags, but having a rain cover designed specifically to keep your camera safe from the conditions may give you the necessary peace of mind to keep filming when the skies open up.
There are always more expensive cameras with fancier features that you could spring for, like the Panasonic DVX-200 or Sony Z150, which are standards for ultimate broadcasters like Ultiworld or Fulcrum. But the expense and skill required to operate these cameras and get good results make them unnecessary for team filming purposes.
Highest Budget Recommended Pack (Total $1280):
Drones
While there may still be some disagreement about the place of drone footage in ultimate broadcasts, drones can be useful for team filming. Generally, the cost of purchasing a drone along with their usage limitations means that you won't buy one specifically for the purpose of filming ultimate. Still, a drone can get you a unique high-angle view that is nearly impossible to replicate otherwise. However, it does have a few drawbacks. First, weather (especially rain and wind) may make operating the drone impossible or at least very risky. Second, local regulations are an important part of drone flying — many places do not allow drone flying. Safety regulations also mean you can't fly drones over the field of play, limiting the useful angles you can capture on film. Third, drone battery life is significantly less than a normal video camera, meaning it's not a viable option for filming a full tournament day without consistent charging (and somebody to manage the drone throughout the whole day).
The DJI Mavic Air 2 combo pack ($988) gives a high-quality drone with three batteries, allowing for about 1.5 hours of filming. If you can charge the additional batteries while the drone is in use, a dedicated drone-operator may even be able to film a whole day of ultimate. If you're looking for something a bit cheaper, the DJI Mavic Mini 2 combo pack ($599) can give similar results, though the smaller size means that you will be even more susceptible to adverse weather/wind conditions.
When it comes to filming with the drone, there are two basic approaches: you can move the drone to follow the disc, or park it high up, using a static view to capture the whole field. Following the point will get you better quality footage but requires maneuvering of the drone, while a static view can give you that bird's eye view of the whole field without needing any regular input.
How to Film Ultimate Frisbee
Regardless of what equipment you're using to film your games, there are a few key strategies that will give you the best possible footage while making the best use of your battery power and storage space.
First: figure out where to set up your camera. If there's any kind of elevation nearby, you should try to make use of it, whether it's a set of bleachers or just a hill next to the field. If you're using a phone, you'll probably want to set up on the sideline, where you can easily see both ends of the field (since you don't have access to consistent optical zoom). For full game footage, an elevated camera at midfield will give you the best angle:
An elevated angle from the endzone works great too, but usually you won't have access to that extra height. In that case, set up your camera behind the endzone that is closest to your team's gear. When filming field-level from the endzone, I recommend setting up basically in the center of the field — if you set up off-center, a team running vertical stack will block the camera's view of the other side of the field, potentially causing you to miss some important moments.
Next: film what you need and not what you don't. Here are some basic rules for how you should film in the majority of scenarios:
Turn the camera on and start recording just before the start of the pull.
Stop the recording and turn the camera off after the point ends.
Sometimes you might want to capture some sideline energy, a fun timeout game, or maybe some pre-point dancing, but most of the time, you'll want to focus on what's happening on the field, during the point.
When the point starts, it can be very helpful to give a quick intro to what's happening – maybe the score if you know it, or listing the players on the field, or the type of offense/defense your team is running on that point.
During the point, giving some commentary is a fun way to stay engaged in the game and also add your own personal flair to the film.
Do your best to balance keeping all the players in the video with being as zoomed in as you can. If you're filming from midfield, you'll want the disc to be on the side of the frame, allowing most of the shot to be taken up by the cutters (but with a bit of room behind the thrower in case there's a backward reset). If you're filming from the endzone, you'll have to zoom in when the disc is on the far side of the field, or when the offense is moving away from you, and zoom out when the disc is coming toward you.
If there's a floaty throw or a huck, use that time to zoom in on the play and get that highlight shot.
If you're filming primarily for highlights, you'll want to be fairly zoomed in on the disc most of the time — find a balance between zooming in to get the best shot, while still being able to follow the flow of the point easily and smoothly.
While filming: watch the camera, not the field. This is the biggest mistake I see people make — you start watching what's happening on the field, your teammate makes an insane layout catch, and then you remember to look down and realize you didn't catch it on camera. Yes, watching the game on the camera screen isn't as fun, but making that little sacrifice will immortalize those moments for your team forever.
With a return to competitive play on the horizon, this is a great opportunity to commit to filming your team's games and having fun in the process!