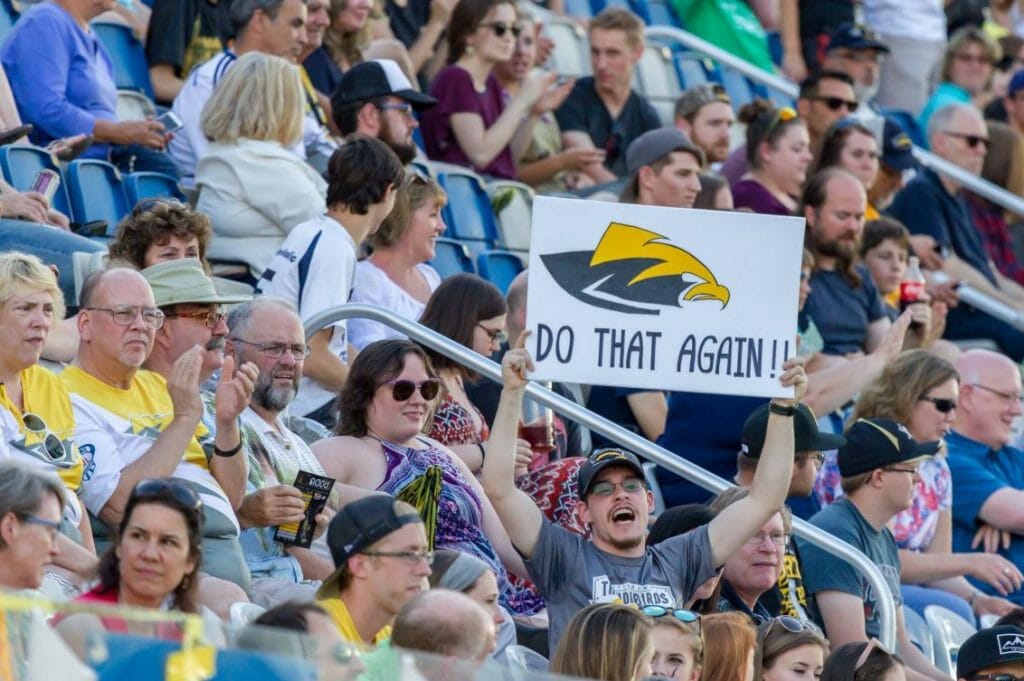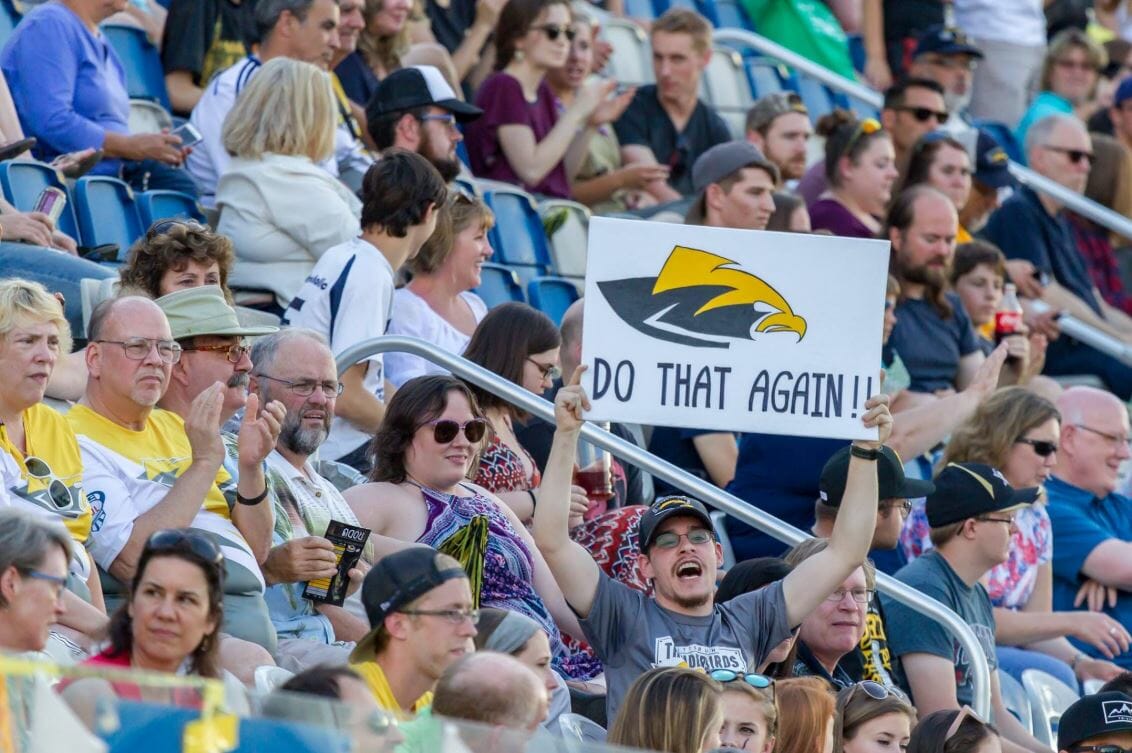 Hello and welcome to a new frontier in ultimate frisbee: you can legally bet on the sport. That's right: DraftKings has started offering markets for the AUDL in Illinois, Michigan, Colorado, Tennessee, and West Virginia with more states on the way.
And what that means is that we're starting a new column for subscribers with weekly AUDL betting picks, our best bets, and game analysis.
Let's talk about some quick betting basics first (feel free to skip down to read about the week 9 games).
Betting Against the Spread
Sports teams aren't always evenly matched. Picking the Chicago Union to beat the Detroit Mechanix really isn't all that interesting. So sportsbooks set a point spread on the game that is designed to make the wager a coin flip.
For example, the first game this weekend is the Union vs. the Madison Radicals. The Union are three point favorites in the game, which means they are listed as (-3). You can bet that the Union will win by more than three goals by taking that Union (-3) bet. Conversely, Madison is a +3 underdog. If they lose the game 20-18, you still win your bet, because they lost by fewer than three points.1
We will make picks against the spread every week, but we may also suggest times when betting the moneyline might make more sense. More on that below.
American Sports Odds
Almost all sportsbooks, including DraftKings, charge a vigorish (often called a vig or "juice") on bets. You'll often see spread bets (theoretically 50/50 bets) listed at -110, which is the way that American odds are denoted.
Negative odds (like -110) represent the amount of money that has to be bet in order to win $100. So if you wanted to bet on the Union -3 with a -110 price, you would have to bet $110 in order to win $100 (or $11 to win $10). When you win a bet, you get your original bet back plus your winnings, so a $110 bet would pay out $210. That extra 10% is the vig that the sportsbooks charge.
Positive odds (like +140) represent the amount of money that you win if you bet $100. So a $100 bet on +140 odds yields a $140 win (i.e. a $240 payout). You will see "plus money" odds on underdogs, especially when you are betting on the moneyline.
Betting the Moneyline
Betting the moneyline is simple: pick the team that is going to win. You don't have to worry about the spread.
Of course, it comes at a price. If you want to bet the Union to simply win against the Radicals, you would have to pay -170 odds (i.e. bet $170 to win $100). If you think the Radicals can pull off the upset, you will get +140 odds — an attractive price but you don't get the comfort of the +3 points you get if you bet on the spread.
Over/Unders
You can also bet on the total combined score of both teams in the game. This is called an over/under bet. Sticking with our Union/Radicals game, the over/under number this week is 37.5. So if the final score was 20-18 Chicago, then the over would win, because the combined score of both teams is 38 points (20+18). Over/under bets are typically priced at -110 odds.
Odds Changes
In liquid sports betting markets (where lots of people are placing bets and there are serious gamblers making big wagers), the spreads, moneyline prices, and over/under lines all fluctuate leading up to the game, sometimes dramatically. So a team might open as a four point (-4) favorite, but then lots of people bet on the underdog, so the favorite drops to a three point (-3) favorite to help balance the action.
The AUDL is not a liquid betting market. Not only is it available exclusively through DraftKings (for now), but it is a very niche league. So far, we have not seen DraftKings making any spread changes, although some prices have moved from -110/-110 to -115/-105 or even -120/+100.
Futures
One other option for betting on the AUDL is to pick the team that you think will win the 2021 Championship. This is called a "futures" bet. Right now, the favorite is the Atlanta Hustle at +500 (bet $100 to win $500).
Parlays
A parlay bet is a single bet that has multiple wagers that all must win in order for the parlay to pay out. So you can place a single $10 bet and sometimes win $1000 or more — if all the "legs" of your parlay hit. Sportsbooks like to advertise big parlay wins because they make a substantial amount of their profits from parlays. They can be useful in certain circumstances, and they are certainly fun. But they are often bad bets, as you essentially lever up your wager. Hitting five legs of a six leg parlay is still a loss, whereas six separate bets would likely yield a tidy profit.
Basic Betting Strategy
Here are a few basic tips:
First of all and most importantly, never gamble with money that you can't afford to lose. If you think you might have a gambling problem, call 1-800-GAMBLER.
Manage your bankroll. Sports betting has big variance, even for professional bettors: you can go very cold for longer than you think. Make sure you don't wager too much at once, and don't chase your losses by betting more to try to get back to even. Set aside an amount you'd feel comfortable if you lost it all, and stick to working within portions of that figure.
Look for value. The key to success in sports betting is to make bets with positive expected value. Don't just blindly bet on your favorite team. Look for bets where the spread or price is out of sync with the proper value. For example, last week, the New York Empire were +900 to win the Championship, implying a 10% probability of the team repeating as champs. In my view, that's way too low! Betting the +900 is a good bet. Others must have agreed, because they are now just +700 to win the title, even though they lost to Atlanta over the weekend and are more likely to go on the road in the playoffs.
Check the lineups. There is a ton of uncertainty around who will play in any given week since AUDL players aren't full professional athletes. Some players skip every road trip. Normally, I would recommend betting games early in the week (and that's true in other sports). But AUDL lines are set early in the week before active rosters are released: wait for them to come out on Thursday before making wagers. There's value to be found.
Watch the schedule. Road trips are tough. Back-to-backs are tougher. It's unclear whether or not DraftKings is pricing that in, but, either way, you should be paying attention to when and where a team is playing.
Alright, it's time to get into this week's games. Off we go!
Week 9 AUDL Games
Chicago Union (-3) at Madison Radicals
Chris' Take: Welcome to one of the best games of Week 9. Madison is a handful to deal with at Breese Stevens Field. These two teams have split three-point home wins so far this season. For Chicago to be a three-point road favorite feels a bit bold. With both teams bringing close to full-strength rosters into this one, I think they are two evenly matched sides. Even if the Radicals lose this one, I believe it will by less than three. I'm taking Madison as the home underdog. Madison +3
Charlie's Take: This is a critical game for both teams. The Union can clinch a playoff berth with a win. Madison has to win — and by a lot — to stay alive in the playoff race. I expect a packed house and a rowdy home crowd. This is a much better Chicago lineup than the one that lost to Madison by three earlier this season, but this line still feels a little bloated for the road favorites in what is likely to be a low scoring game. Madison +3
Keith's Take: Madison +3
---
An exact Union three-point win results in a "push" and everyone would get their bet refunded. ↩
Bets Perspective: A New Ultimate Frisbee Betting Column (And AUDL Week 9 Picks!) is only available to Ultiworld Subscribers
Already have a subscription? Log in
Whether you visit Ultiworld for our reporting, our podcasts, or our video coverage, you can help us continue to provide high quality content with a subscription. By becoming a subscriber, not only do you receive benefits like exclusive articles and full article RSS feeds, you also help fund all of Ultiworld's coverage in general. We appreciate your support!