We inspect the kits from one of the newest and most affordable ultimate apparel companies.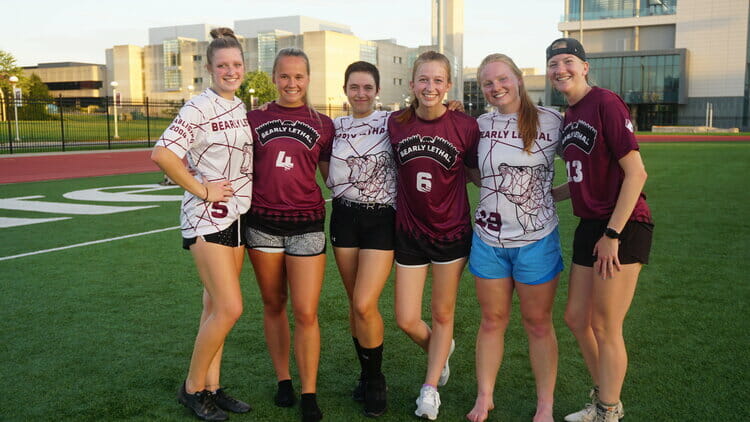 Ultiworld was compensated for this review by Project 1 Sports. Opinions are solely those of the reviewers. Additionally, Project 1 CEO Zakk Mabrey is a contributor for Ultiworld.
Olivia Alongi: Project 1's creator, Zakk Mabrey, has launched a new company that manufactures team jerseys. They personalize each team's product by adding custom quotes and colors at affordable rates. They also try to give sponsorships where they can and cut the cost of jersey orders whenever possible.
Zakk was cool enough to send Dhara and I two demo field kits, including a sun hoodie, a pair of shorts, and a jersey. We're excited to tell you all about our experience wearing and working out in the gear.
Dhara Patel: Five years of playing ultimate means I've got a lot of jerseys. Like, a lot. Through purchasing new kits and trading jerseys each season, I've received the opportunity to experiment with many different jersey manufacturers — Spin, BE, Five, and Patagonia, just to name a few. These companies have consistently dominated the ultimate apparel landscape, but their kits can become quite expensive, especially taking complex designs or full sublimation into account. Project 1's emphasis on providing teams with quality apparel at an affordable price made me very excited to test out this new gear.
Olivia: As a borderline hoarder of athletic gear, I'm always happy to try out some new apparel! Growing up, I played a lot of different sports, and I learned early on that I feel most comfortable playing in loosely-fitted gear. When I opened my package and snuck a glance at these shorts, I was a bit hyper to get started, so let's begin with them.
Shorts
Dhara: For starters, I love the material. One of my biggest pet peeves when it comes to athletic clothing is when pieces are too thick, but Project 1 does a great job at making sure the shorts are light, airy, and breathable. I took these shorts out on a run and found that they never once bunched up or moved out of place. In regular Pittsburgh fashion, it began raining during the middle of my run, but the shorts are a thick enough material to wick away water and keep you dry and warm.
I am also a huge fan of the adjustable waistband. Though the shorts fit my waist perfectly, the ability to adjust the waist makes these shorts so much more inclusive for differing body types and provides a comfortable fit for all. Similarly, I always like to roll my shorts up, and the elastic waistband makes this so easy while maintaining a clean look.
The only qualm I have about these shorts are the length. I ordered a small and found that the shorts hit an awkward spot on my legs: not long enough to be right above the knee, but also not quite short enough to be the length of typical soccer shorts. Personally, I would love for the company to adopt adjustable lengths, where customers can select to remove or add inches to their pants and shorts. Integrating in this feature would, in my semi-expert opinion, make these shorts perfect.
Rating: 9/10

Olivia: I am a big fan of this color blue. Huge, actually. The color is neutral enough to be paired with a lot of other garments. I ordered a medium and they fit perfectly on me, especially because I like my shorts to fall right above the knee. For reference, I'm 5'1″ (okay, 5′, but my license says 5'1″).
The shorts are light and made from nice material, or at least that's what my sister tells me. (She studies at LIM, a fashion school, so I'll take her word for it.) They also allow me to run freely without getting bunched up. I always wear compression shorts underneath all my shorts, but there isn't much of a need for them with this pair.
For my friends who like to roll their shorts, these are also for you. They're adjustable and have strings as well to help them fit. (Little observation: if you look closely you can see the seam line, but I am indifferent to it.) Also, I've already washed them quite a few times and they look the same as the day I unwrapped them. Two thumbs up, and I'm ordering more colors.
Rating: 10/10
Short-Sleeve Jersey


Olivia: A duck, a rubber duck… I was easily swayed by the design of the front of the jersey. On the back, a number in a clear, good-sized font and space for a team or player name.
I ordered a medium jersey as well, and again, I loved the fit. The quality of the print is durable — and sweet, may I add! I can fit a sweatshirt or another long-sleeved layer underneath the jersey. We all know how lovely the weather around ultimate is – temperamental as always and changing every other game – so it's nice to be able to throw something under a jersey. It's especially annoying when you're cold and nothing fits under and you can't put something over top.
As stated in the previous section, I am a roller of shorts and also of shirt sleeves as well. It may or may not be a result of my queerness, but it's a way of life. As I was rolling my sleeves, I noticed that the lining of the shirt is a different color compared to the black exterior of the jersey. VC's brand jerseys do the same. Is it a big deal? Not to me, but if that's something you're wondering, there you have it.
Rating: 9/10
Dhara: The design on this jersey is phenomenal. I received a Missouri State Bearly Lethal jersey and the sublimation of the design onto the jersey is impeccable. The image remains vivid enough to where minor details stand out, and no aspect is lost in translation from the concept itself to the final jersey. The issue I have with the jersey is the material.
When I first put the jersey on, I appreciated how thin and pliable it seemed. I also liked the fit: I often find that a lot of the short-sleeve jerseys I buy or receive extend all the way down to my elbow, but this jersey remained in the short-sleeve mid-arm territory. However, as I began to work out, I could feel the static accumulating in the jersey. The jersey also seemed to cling to my body, instead of being airy and flowy. This is the major qualm I had with the jersey, as I found myself tugging my jersey away from my body a couple of times throughout my workout.
Similar to Olivia, the queerness in me constantly compels me to roll up my sleeves, and with my jersey, as well, the color underneath is different from the color of the jersey. I, however, am actually a fan of this; when you roll up the sleeves, it ends upbringing in a nice contrasting pop of color that works to accent the main color of the jersey itself.
Rating: 7/10
Sun Hoodie
Dhara: The sun hoodie is easily my favorite part of this product review. I received an off-white sun hoodie with the red and black Project 1 logo on the front, and firstly, a spectacular design that could not be cleaner.
As a Chicagoan transplanted to the East Coast, the cold is nothing new to me, and as summer became autumn, I found that the sun hoodie was the perfect piece to wear going to and from the gym and during warmups. It does a great job of being airy and breathable, while still providing more warmth than the traditional short-sleeve jersey.
I, again, ordered a small and found that the sun hoodie was oversized on my frame, but as a fan of oversized hoodies, I found this to be perfect. For reference, I am 5'6″ and have a slender build, and the hoodie hits right below my waist. I docked off a half point because the sleeves do run a bit long, but in retrospect, an XS was likely more appropriate for my body, so take that -0.5 points with a grain of salt. Besides the slightly long sleeves, I have absolutely no complaints with this sun hoodie. I love the design, the feel, the fit, and the comfort, and will definitely be wearing this as often as I possibly can.
Rating: 9.5/10


Olivia: A silky-smooth sun hoodie. Yes. My medium is the perfect warm-up hoodie. I just got one of those real-life jobs. but when I'm not spending all my time sitting on the train to and from New York, I do occasionally get to the gym. Warming up is one of the most important parts of my game because I'm one of those injury-prone people. When I started shooting around on the basketball court with this hoodie on I felt good.
This may come as a huge shock but because I'm 5', my arms and legs aren't long, so my hands did disappear in my sleeves. I'd recommend downsizing if that bothers you a ton but otherwise, it was a great fit for someone fun-sized like me. This design is neat but it also has a lot going on and a little too much for my taste. Less is more and I like the plainer jersey. But who doesn't love a maroon anything, right? It also has a pocket. This particular hoodie wasn't my favorite, but I'd purchase it with a different design just because of the feel and fit.
Rating: 8.5/10
Overall
Olivia: All in all, P1 has some real staple ultimate gear. A standard kit of theirs would be two jerseys (one white base, one dark base) and shorts. Otherwise, apparel sold separately runs as such: shorts are $20, short sleeve $22, long sleeve $24, and a sun hoodie is $25. The quality you get with this gear, the price is a steal.
When asked about my sizing for this review, I answered with a medium, but then specified that if I could receive a smaller size but in "Men's", I'd prefer it because of my own comfortability. Whenever I order mediums in "Women's", I'm frequently dissatisfied because the fit is always off and not pliable. There's no way you could pick yourself up from a layout and not have the whole shirt rolled and bunched up, which is a huge pet peeve of mine from too tight of a shirt. I was super happy with the medium P1 sent me and is actually what I think a medium fit should be.
This being my eighth year of ultimate, I can definitely say this is the lowest cost of a kit I've encountered. With other major ultimate apparel purveyors, one jersey alone is $54. I'm not saying it's not worth it, but I will say after three college seasons it hurt my wallet. Comparing the P1 jersey with its more expensive counterpart, there weren't defining differences. The pricier jersey may be an insignificant amount smoother and its hue shinier, but ultimately has the same general look as P1's jersey. Also while the other jersey's color black is solid black, P1's almost has red hues in their black.
I had a favorite company for shorts, but I have to say I have a new number one now. P1's shorts are a completely different material than my previous favorites, which have become my go-to for lounging as P1's are now my everyday workout ones. For context, I only wear shorts & beanies in the house, no matter the season. I'm a sports journalist and didn't minor in fashion, but I have learned what I like to sweat in.
Rating: 9/10
Dhara: Overall, if I were to lead a team, I would definitely consider investing in kits from Project 1. The affordability combined with the comfort gives Project 1 an edge over its competitors.
The only qualm I have with P1 is the jersey material. I, personally, like heartier material better, since the relative thickness of these jerseys prevent it from sticking to your body. Regardless, P1 provides a real threat to the top jersey manufacturers currently at the forefront the ultimate apparel scene. Only minor issues were found in both Olivia and I's reviews of these kits, and when you factor in the affordability, these issues become even more negligible.
One thing I would recommend, however, is sizing down for the jerseys and sun hoodie, as both Olivia and I experienced minor issues with the length of the sleeves.
Rating: 8.5/10