The league will have six games shown live on FS2 and at least one tape delayed game each week.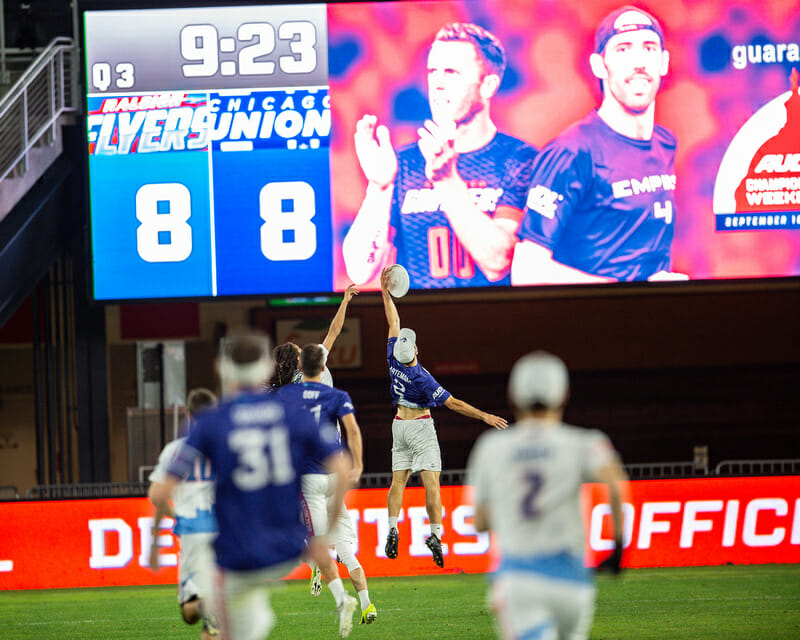 The AUDL announced Monday that it is renewing its television contract with FOX Sports, adding an additional two years to the previous two-year deal which expired after the 2021 season.
The cable sports network FS2 will air the AUDL Game of the Week each Saturday night, including six games aired live. The others will be shown as a tape-delay, often late on Saturday night, and all games will be replayed the following Wednesday at 6:30 PM Eastern. The AUDL Championship game will be shown live on FS2 and replayed on FS1 the following day.
"We are thrilled that FOX Sports is continuing to support the AUDL in the growth of professional ultimate," Steve Hall, CEO and Commissioner of the AUDL, said in a statement.
This deal shows continued growth for the AUDL, which is entering its eleventh year as an organization. "It's continuing to move up this long media food chain," said Tim DeByl, the AUDL's President of Media and Marketing. "We wanted to get on Saturdays live as much as possible, and they were good with that concept."
The existing AUDL schedule didn't fit well with existing media commitments FS2 already had, so only some games could be aired live. FOX Sports 2 wanted the games to be in a consistent time slot, but the peculiarities of AUDL stadium rentals could not accommodate that across so many different cities. In the end, the AUDL kept more-or-less the same contract they had from 2020-2021 and added Saturday games to it for the next two seasons.
"So far we've generally outperformed in our time slots," DeByl added. "The Wednesday replays did better than college football replays that they tried there. So they were willing to try us on Saturday."
FS2 is estimated to reach over 57 million homes in 2022 and draws fans beyond just the existing ultimate community. It is, however, one of the least-watched cable channels.
The league still has more media deals in the works. Last season's arrangements with EuroSport India and FanSeat are still in renewal talks. There will not be a return of the DraftKings "Free Friday Frisbee" games that were popular, but the league is still working on alternate plans for some featured Friday night games.
The Saturday night Game of the Week slate starts strong with a classic rivalry game between the DC Breeze and the New York Empire. Their Week 1 opener from last season went down to the final throw, and their recent preseason showcase at TEP went to overtime.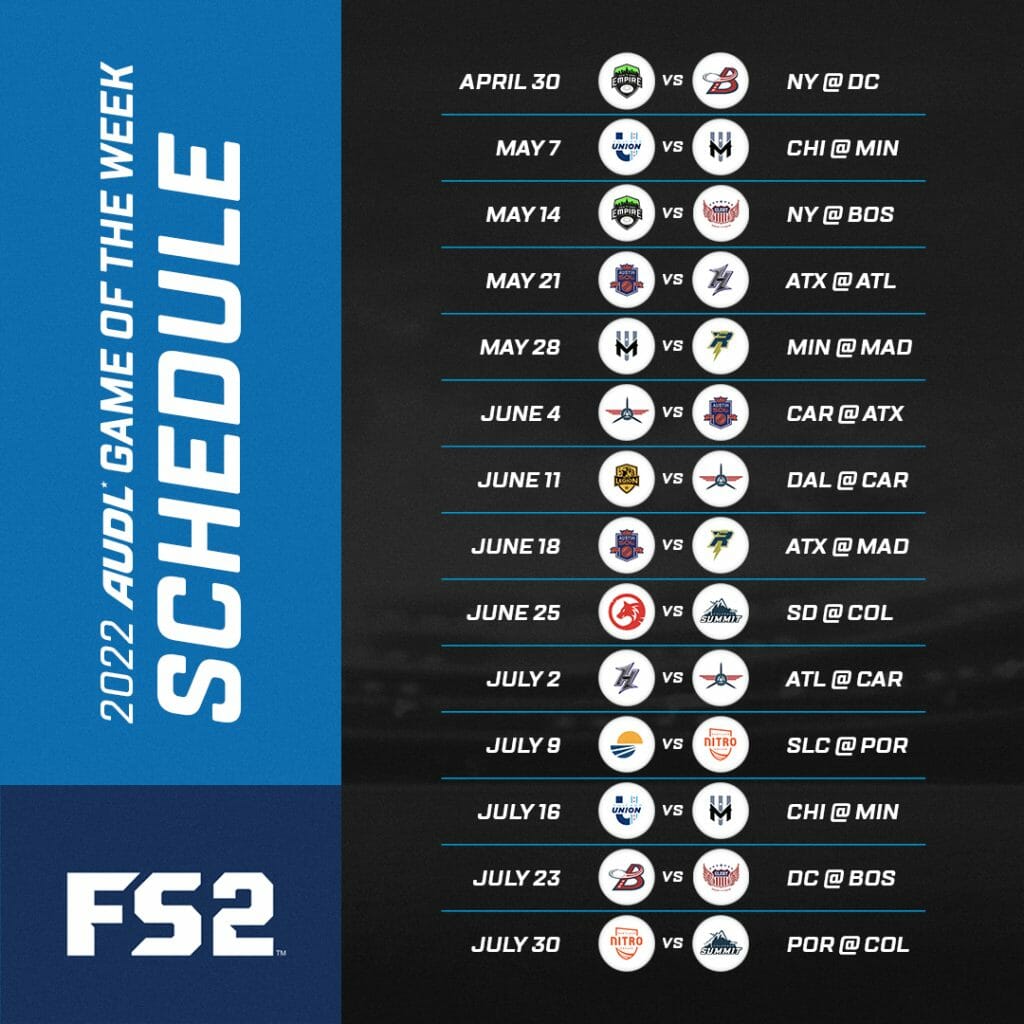 The league is also making an effort to showcase the West Coast expansion teams, especially as they look to make their first playoff push. Weeks 9, 11, and 14 feature Salt Lake, Portland, and Colorado, indicating that the league thinks all three teams will be competitive deep into their first season.
No Canadian teams are featured in the Game of the Week, despite their return to main AUDL competition. The prohibitive logistics of moving production across the border all but eliminated home games in Canada from consideration. While road games were in play when creating the schedule, FS2 does not broadcast in Canada, so showcasing games between American teams is more likely to draw better ratings.
Carolina, Austin, and Minnesota have the most Game of the Week appearances at three apiece. Only three games in 2022's FS2 slate do not feature at least one 2021 playoff team (June 18's Austin @ Madison game along with the Week 11 and 14 contests between expansion teams). 11 of the league's 25 teams (44%) will not be featured on a Game of the Week broadcast — the three Canadian teams (Toronto, Ottawa, and Montreal) along with Detroit, Indianapolis, Pittsburgh, Tampa Bay, Philadelphia, Oakland, Los Angeles, and Seattle.