All 40 teams will be streamed or filmed!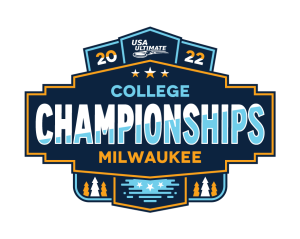 The 2022 D-I College Championships are here! Beginning 8:30 AM Central on Friday, May 27th, 40 D-I college teams will battle it out in Milwaukee, WI, for the first spring college titles since 2019.
Streaming coverage of D-I games will be available on YouTube and Ultiworld.com/live starting with pool play on Friday. Ultiworld and USA Ultimate's coverage will continue with more pool play and prequarters on Saturday and then the quarterfinals on Sunday morning.  On Sunday afternoon and Monday, ESPN will broadcast the semifinals and finals.
In addition to our video coverage, Ultiworld is posting round-by-round updates on our event page and livetweeting games at Ultiworld Live. Watch the site for full recaps, features, and stories from the tournament!
Here is the complete live video schedule for the tournament (all times local). Ultiworld is also filming two games per round for Ultiworld Full and Plus subscribers! In total, all 40 teams at the tournament will be captured on camera at least once during the weekend for the first time ever!
Friday, May 27th
8:30 AM: #14 Washington vs. #7 NC State (M)
8:30 AM: #14 Pittsburgh vs. #7 Tufts (W)
10:30 AM: #15 Ohio State vs. #6 Vermont (M)
10:30 AM: #8 Stanford vs. #1 North Carolina (W)
12:30 PM: #16 Auburn vs. #9 Michigan (M)
12:30 PM: #7 Tufts vs. #2 Colorado (W)
2:30 PM: #17 William & Mary vs. #12 Texas (M)
2:30 PM: #6 British Columbia (6) vs. #3 Carleton (W)
4:30 PM: #5 Georgia vs. #4 Pittsburgh (M)
4:30 PM: #5 Washington vs. #4 UC-Santa Barbara (W)
Tape Delay for Ultiworld Subscribers
#9 Michigan vs. #20 UConn (M)
#10 Cal vs. #19 Wisconsin (M)
#11 Minnesota vs. #14 Washington (M)
#3 UNC v. #6 Vermont (M)
#11 Minnesota v. #18 WashU (M)
#9 Vermont vs. #20 William & Mary (W)
#12 Georgia vs. #13 FSU (W)
#11 UC Davis vs. #14 Pittsburgh (W)
#8 Stanford v. #13 FSU (W)
#11 UC Davis v. #18 Purdue (W)
Saturday, May 28th
8:30 AM: #12 Texas  vs. #8 Cal Poly SLO (M)
8:30 AM: #9 Vermont vs. #5 Washington (W)
10:30 AM: #10 California vs. #6 Vermont (M)
10:30 AM: #17 Northeastern vs. #13 Florida State (W)
12:30 PM: #9 Michigan vs. #4 Pittsburgh (M)
12:30 PM: #12 Georgia (12) vs. #1 North Carolina (W)
2:30 PM: #11 Minnesota vs. #2 Colorado (M)
2:30 PM: #10 UC-San Diego vs. #3 Carleton (W)
5:00 PM: PreQuarter (M)
5:00 PM: PreQuarter (W)
Tape Delay for Ultiworld Subscribers
#4 Pittsburgh v. #16 Auburn (M)
#13 Utah State v. #17 William & Mary (M)
#1 Brown v. #12 Texas (M)
#3 UNC v. #10 Cal (M)
#8 Stanford v. #12 Georgia (W)
#6 UBC v. #10 UC San Diego (W)
#15 Virginia v. #19 Colorado State (W)
#16 SUNY Binghamton v. #20 William & Mary (W)
Prequarter (M)
Prequarter (W)
Sunday, May 29th
8:30 AM: Quarterfinal #1
8:30 AM: Quarterfinal #2
10:30 AM: Quarterfinal #3
10:30 AM: Quarterfinal #4
12:00 PM: Semifinal (ESPN)
2:30 PM: Semifinal (ESPN)
5:30 PM: Semifinal (ESPN)
8:00 PM: Semifinal (ESPN)
Tape Delay for Ultiworld Subscribers
Quarterfinal #5
Quarterfinal #6
Quarterfinal #7
Quarterfinal #8
Monday, May 30th
Live
12:00 PM: Color of Ultimate Exhibition (USA Ultimate YouTube)
3:00 PM: Women's Final (Live on ESPNU)
5:30 PM: Men's Final (ESPN3) [Re-airs on ESPNU at 9 PM CT]