The top stories and players from the first HSNI in three years.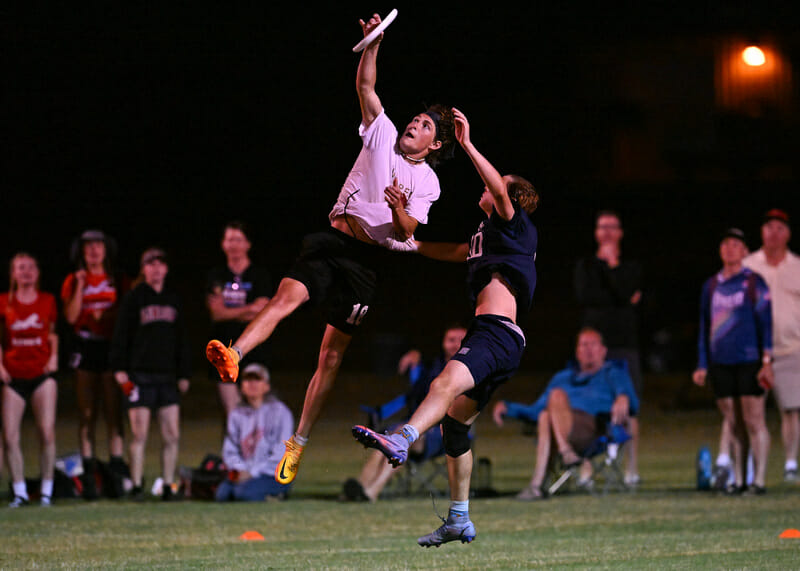 This article was co-authored by Tyler Byrum.
RICHMOND — In a wonderful celebration of young players, high school players took to the fields to test themselves at the 2022 High School National Invite. The top teams put on a show in the bracket, while top players displayed some of the fantastic talent up and coming in ultimate with Like-worthy highlights. Let's dive in to the stories for every team.
Lone Peak Show Multifaceted Strength In Win Over Whales
The Boys Division final, under the lights, was an electric game, in no small part due to the intensity and playmaking of the victorious Lone Peak Knights (UT), who claimed the title over Nathan Hale / Waldorf Whales (WA) 15-11. They showed themselves as the unquestioned class of the tournament with their strong play throughout the event and confident closes against fierce competition.
The driving force for the Knights was their stellar and balanced defense. While containing Declan Miller is not the only challenge the Whales posed to their opponents, it was the most pressing. No team gave the Seattle star a tougher time than the Utah side, and it wasn't through help defense, a single standout player, or a zone set — it was a rotating cast of strong defenders mixed with zone, a diverse set of obstacles they put in Miller's way.
On top of making the evening tough for Miller, the Lone Peak defense applied pressure in plenty of spots and were fastidious with the opportunities they created. Utah generated nine break chances and only failed to reach the end zone on one of those possessions. They often found success by jumping onto the attack while the Whales were still organizing themselves. That pace of play was driven by the team's leader, Everett Saunders, who tossed in five of the team's six breaks and threw the huck that set up the other. His fearless hammers, including the game-winner, broke the team out of some tight spots. He finished with seven assists and a goal.
On the other hand, their offense's big plays masked some of how efficient they were. They gave up just five break chances. Max Dehlin anchored the unit, finishing with two goals and three assists, which perhaps undersells his steadying presence. The senior made one of the plays of the night late in the game, catching a deflected disc with reaction speed that seemed impossible. Their cutters, led by Preston Hawkes, outran their defenders to get space to operate.
With Miller and primary handler Tucker Kalmus getting a lot of defensive attention, the Hines brothers had standout performances for the Whales. Older brother Ocean tallied three goals and four assists, while also tossing some gorgeous pulls, including one deep shot that helped set up the team's first break. Younger brother Cedar snagged four goals, and perhaps the play of the night was an emphatic sky over two defenders for his team's ninth goal.
But Lone Peak wore down the Whales, who were step for step for most of the first half. While the Utah team broke to open, the Whales got back to back defensive scores to tie the game at 6-6. They had some quality break chances in the second half that they missed on, including two great looks to Miller that were both throwaways. The Knights got through those tough moments that might have changed the game and instead pulled away for the W.
Seattle Semifinal Showdown
Some of the late game context for the final comes from how the semifinal rounds played out. On one field, Lone Peak sprinted past Lincoln in a momentum-building and leg-saving performance.
But Nathan Hale/Waldorf faced a stiff challenge from the team they beat in the Washington state title game, Eastside Prep. The underdogs jumped out to a 4-2 lead that demanded a response. The Whales rose to the occasion, pushing back in front, but Eastside just kept hanging in, even getting the disc with a chance to tie late. The Whales fended off the comeback to advance, 14-12.
Much of Eastside's success came from a breakout performance by sophomore handler Axel Olson. Their star, Alexander Belfiore, had his impact limited, but Olson shone bright in a seven-assist effort where he was asked to handle a very heavy throwing load. Goal-scorer Filip Icev and defender Syon Rao both also played prominent roles.
But it was Miller, Kalmus, the Hines brothers, and Milo Friedman who starred for the Whales. Their fast-paced offense was able to split the defense frequently enough to force the Eastside O into short rests and keep them under pressure. Their own zone did pretty nice work, although it too often was undone by Olson. Some execution errors proved to be difference-makers for Eastside, whose razor sharp offense showed just enough flaws for a strong opponent to capitalize.
Around the Tournament
– Lexington (MA) put up an impressive fight in both of their Saturday bracket runs but ran out of necessary energy to run with the Whales. Andreas Padilla was one of the tournament's toughest matchups, while cutter Ethan Wang electrified downfield with speed, skies, and cellies. They knocked off Edina to start the tournament in a thriller, gave the Whales some resistance in quarterfinals, and, led by Padilla, came back from a 4-1 deficit in Pool play against Washington-Liberty for an 11-9 win.
– Behind the crisp handler work of Micah Davis, St. Louis Park (MN) had an outstanding weekend despite falling in prequarters. They brought a ton of depth that other teams couldn't match. Junior Ryan DuSaire is also poised to become a star. Their phenomenal jerseys were the must-have item of the tournament, and on Saturday evening were spread across the tournament populace after fetching voluminous trade offers.
– HB Woodlawn (VA) broke seed after knocking off East Chapel Hill in Pool play on Friday. Sophomore Mitchell Blaha was one of the team's stars of the weekend as a two-way player. With juniors Liam Dunn and Josh Lightner also showing a lot of potential, this team could be even better next season.
– Edina's (MN) great season, led by dynamic senior Peter Mans, came to a close earlier than expected for the Minnesota state champs. Zone defenses continuously proved a problem for Edina's O-line. Much of their roster is back in 2023, so don't be surprised if they take a step forward with this season's lessons motivating them.
– Lincoln (WA) may have not been in a close semifinal, but that's likely because they spent themselves with so many late game battles along the way. They lost a pool play game to Wissahickon on universe, then beat South Eugene in the same situation in the next round, and squeezed past Jordan in the quarterfinals in yet another sudden death scenario. Ryan Shigley and Zoli Ishikawa-Szabo were strong in the backfield, while Max Gade pulled in tough catch after tough catch in the cutting lanes.
– It was a tough weekend for Lexington Pi (KY), one of the long-standing HSNI attendees. They were one of the teams that were ill-prepared to handle zones, with impatient throwers getting in the way of their impressive skills. And they had little defensive versatility, unable to match up well with a very short roster missing key bodies. Lula Dutille reprised her star role with decisive play but impressed even more with her commanding presence as the team's vocal and mental lead.
– The starpower of Wissahickon (PA) was impressive, with the Grossberg brothers leading a team that could get on energetic runs. Older brother Adam was one of the tournament's standouts, but sophomore Sam has all of the talent necessary to grow into a similar player. Doug Hoyer played a key role as a goal-scorer. They played perhaps the most physical brand of defense in the field, one of the few teams who seemed more comfortable matched up than in zone.
– Chapel Hill (NC) had some close calls that they couldn't close out on that make their weekend look worse than it was. They could have gotten wins in their pool play game against Eastside Prep and prequarterfinal versus Lexington. But their small roster had trouble finishing tough games. Junior Seth Fried was fantastic as the primary handler, a versatile thrower with good speed and IQ.
– It was admittedly a learning experience for East Chapel Hill (NC), who stumbled out of the gates against St. Louis Park in what turned out to be a pivotal game. Their troubles mostly stemmed from an inability to link together handler completions, misfiring on resets that made it tough for them to battle back defensively. After graduating some big talents in recent years, ECH should be expected to take some time to develop their next stars.
– Despite all the talk about North Carolina's tough weekend, Jordan (NC) was the team that delivered. They were oh-so-close to a semifinal berth after winning out in pool play comfortably. Whatever you've heard about Tobias Brooks probably doesn't do him justice, as he might have been the best player in the division and still has another year of high school ultimate to come.
– Washington-Liberty (VA) was no easy out in pool play, showing fight against every opponent, even if their losing efforts. Kian Thomasbeer was a dangerous downfield target who could get into the air against even the best defenders the tournament had to offer. If they are able to find a way to win against Lexington, who knows how their tournament turns out? But their pretty experienced outfit had a few too many giveaways to quite pull off the wins they were looking for.
– One of the most energetic teams on the field was South Eugene (OR), who seemed like they could get their engines revved up at just about any time. Henry Wayte and Theo Schaid Hefley played key roles, though perhaps Sam Mayer-Radke made the play of the tournament for them in their universe point win over St. Louis Park in quarterfinals. They played with a lot of confidence and exuberance, clearly a source of strength of the Axemen.
– Carolina Friends (NC) showed real resilience on Friday. After a pair of potentially distressing losses to start their tournament, including getting blown out by bottom seed South Eugene, CFS bounced back in their best game against a tough Wissahickon team. They stepped up to the challenge, and while they couldn't earn the win, they put forth an effort to be proud of. Noah Bush, Lance Lawida, and Callum-Ashley Shanahan flashed receiving skills, while Cole Zemon keyed offense with some strong handling and Reed Burkert did a bit of everything for CFS.
Ultiworld Subscribers: read on for the All-Tournament Line and Honorable Mentions!
Bonus Content for High School National Invite 2022: Tournament Recap (Boys) is only available to Ultiworld Subscribers
Already have a subscription? Log in
Whether you visit Ultiworld for our reporting, our podcasts, or our video coverage, you can help us continue to provide high quality content with a subscription. By becoming a subscriber, not only do you receive benefits like bonus content and full article RSS feeds, you also help fund all of Ultiworld's coverage in general. We appreciate your support!