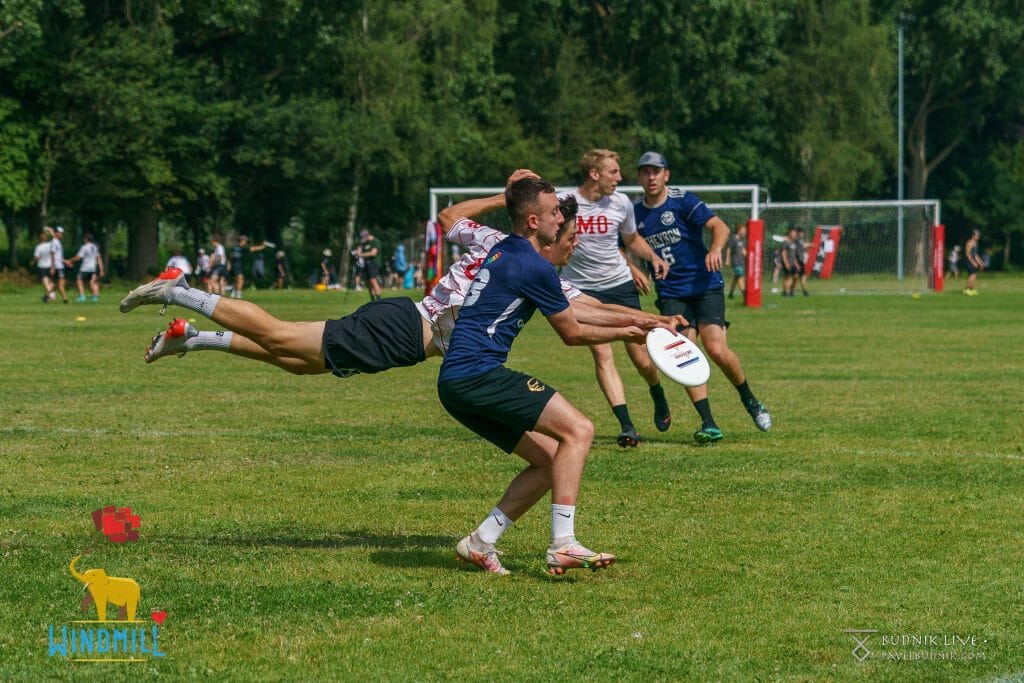 This morning saw the end of Swiss draw at Windmill 2022, with bracket play in the afternoon. All that remains tomorrow is the final game for every team. Everyone outside of the six finalists playing in the morning, with the three finals all happening in the stadium live on the stream once everyone else has finished. Here's what happened today and what's coming up tomorrow.
Clapham reaches a hard-won final
Clapham (London) has been the class of Europe for much of the last decade but has struggled relative to expectations so far this season. It lost at Elite Invite to Wall City (Berlin), and then conceded three in a row to lose the semi at Tom's to Iznogood (Noisy-le-Sec). The Bullfrog came here with a point to prove with most of its squad together for the first time this season. Entering bracket play it had not lost but did have a draw on the record against Iznogood, a tough 13-13 contest that the Londoners took control of late but couldn't execute for a winning point after turning Izno's O line, allowing the French team to get back to level pegging.
Today Clapham defeated Flying Angels (Bern) in the quarter with relative ease, and then faced the ghosts of Bruges by meeting Iznogood again in the semi. Izno had also had a tough weekend, losing to Chevron (Old Salt's Rugby Club) early on and then to FUJ (Prague) in the first game this morning. The game started with a brutal 16-minute point, both teams struggling to execute and making mistakes amid good defensive pressure. That set the tone for an attritional, drag-out game that ended just 7-6 to Clapham. There were some calls that took some time and a couple of injury calls, but the main reason for the low score was how long many of the points took. Clapham took an early lead but Izno was able to come back bit by bit to take it to universe point, a Joe White huck drawing the scores level and causing chaos on the French sideline. The final point itself was something of an anti-climax with crisp, precise offense leading to a routine Justin Foord score at the front of the endzone that resembled little of what had come before. Clapham, though, moves on to its first final of the season and will be looking to take home silverware.
3SB emerge as the challenger to Primadonna Girls
The women's division has so far looked to be a competition to see who will challenge Primadonna Girls (Denver) in tomorrow's showcase game. The American team has defeated all comers, winning 15-8 over Panthers (Wroclaw) and 15-7 over Flying Angels in the bracket. So far the closest anyone has come was a 13-10 loss by 3SB (České Budějovice) and tomorrow we'll see a rematch of that game. 3SB beat Spaniards Enraladas (Tenerife) 11-9 in its semi to get through to the final. The Czechs play a physical brand of defense and aren't afraid to take long shots down the field. The fact that the game is later on1 may well help Primadonna Girls. The team is here for a bachelorette party and took it fairly easy on Friday night, but Saturday night is the big party night at Windmill so there may be some sore heads in the morning. 3SB will be aiming to create more headaches and spring what would be a pretty big upset.
Mooncatchers put it all together to make final
Famously mercurial Belgian team Mooncatchers (Brussels) has had a good season so far. At its best, the team is capable of challenging, and beating, any team in Europe. That was in full evidence in the first game of xEUCF 2021 when it defeated reigning champion CUSB La Fotta (Bologna). However the other side of the Moon was visible for the rest of the tournament as the team struggled to put things together and ended up in the 17th place game below teams they were much better than.
With that in mind, it was difficult to predict what we'd see from Moon this weekend. Beforehand I pegged the team as a dark horse and so it has proven. A day one loss on universe point to FUJ was the only blemish on its record heading into bracket play, where the two teams met again and played out another nail-biter in the semi-final. This time, though, Moon was able to come out on top and will play Clapham in the final tomorrow afternoon. When Ben and Rephael Jonkers are playing well, challenging opponents deep and making fireworks happen with the disc Moon can be wildly entertaining and extremely effective. The team will be hoping for quite a show tomorrow in a game it enters as significant underdogs.
Waitlist blindsided by Indian Ambush
The mixed division seemed to be reaching a conclusion that would see GRUT (Amsterdam), PuTi (Helsinki), SMOG (Manchester) and Waitlist #1 (Seattle) face off in the semi-finals. All four teams had played at least one of the others and the games had all been tight and competitive. They avoided each other in the quarters so the table was all set.
The European teams held up their end of the bargain, even if SMOG was pushed hard by German team Disconnection (Freiburg). Waitlist, though, was upset by Ambush (Goa), which took half 8-3 leading to disbelieving refreshing of the app around the venue. The final score, 12-9 to the Indians, reflects a second-half comeback but Ambush proved to be strong enough to withstand the best efforts of its American opponents.
Captain Tejas Shevde said that the team has been building to this tournament for a year. "This is our first international tournament as Ambush and our goal now is just to get out and play a lot of international tournaments. We were coming here with the intention of playing the best that we can but we knew that we were good enough to get into the top four, the top two or even lift the trophy. We were clear on that and I am very glad we're here, we're enjoying the tournament."
Fellow captain Stania Peris added that the team is drawn from different states across the west of India and meet up once a month for camps but train regularly in pods. When asked where the team can go, she said emphatically: "The only way is upwards!"
The team's ultimate goal is to play in the US Open. In its Windmill application it said that it was looking forward to playing in the final against GRUT. Eventually it fell four points short of that aim, losing 12-8 to PuTi. Still, it got a lot closer than anyone expected. Perhaps with that level of follow-through on its aims we'll see Ambush playing on American shores sooner rather than later.
Familiar finalists in mixed
Despite the huge surprise elsewhere, the two European semi-finalists in the mixed division got the job done. PuTi defeated Ambush 12-8 with a professional performance that dealt with the athleticism and dynamism of its opponents effectively and kept the disc moving on offense. The Finns will face an opponent that they know very well in GRUT. The Dutch ran out to 8-2 leads at half in both the quarter (against Reading) and the semi (against SMOG) with crushingly effective defense, eventually winning 10-4 in the semi. The team has dialled up its intensity from where it was earlier and the tournament and was blanketing all of SMOG's dump options in a dominant final four display that made yesterday's result, where SMOG won on universe point, look like a total outlier. It seems that GRUT is peaking at the right time, and captain Ben Oort was delighted both with the overall performance of his team and how hard they made it on their opponents:
"We were very eager to get them back after yesterday and we came out of the blocks firing, I'm very happy with the performance. We knew that it could have been an ugly game because of how difficult the wind was to predict, and it was at points. We knew there were going to be turns and there were going to be mistakes, even by our O line, so we just figured if we can put out pressure on defense we can get the disc back. We think we are younger and fitter and I think we showed that. I personally had six or seven stall eights so that shows how good the team D was."
---
The women's final start's at midday local time, 6am ET. ↩