Clapham and SMOG repeat but a new women's champ!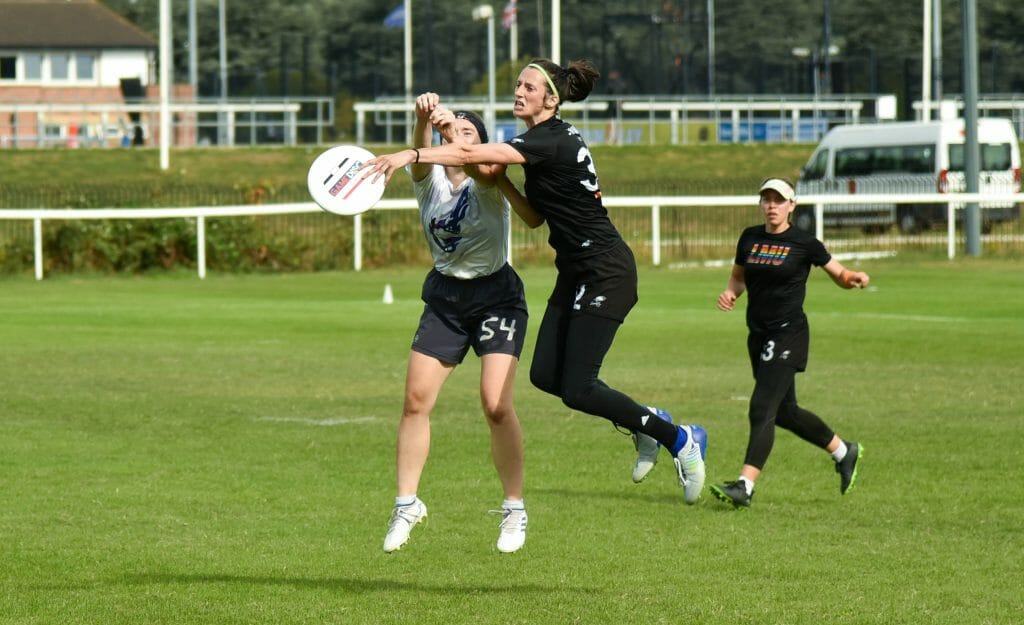 The winners of UK Nationals were fitting considering the ultimate world is continuing the march towards normality. The national championship trophies were hoisted by familiar faces in every division, although one group was outfitted in a new kit from the last time they tasted gold. The return of the Irish teams provided some intrigue but in the end the tournament was extremely chalky.
LMU Wins First Gold
London Masters Ultimate is a team set up to facilitate masters-age female players staying in the sport. The group trains weekly but there is no commitment required, with many of the players having to take into account childcare and other commitments that make playing for a regular club team difficult. This model has meant that LMU has been able to retain some of the best players in the UK from the 2010s, with a number of the players from that era's dominant Iceni team among the LMU squad. They have also added some players from other teams in London and sprinkled in some talented foreigners to build a formidable squad.
After finishing eighth at WMUCC in Limerick earlier this year, the team looked well set up for a strong run at UK Nationals. There was a larger squad than last season, a lot of pre-existing chemistry and the kind of players in Jenna Thomson, Claire Sharman, Chesca Tyler Weddell, and Francesca Scarampi that will make an impact in whatever game they play in.
After coming through the pool with three universe point wins,1 the team advanced directly to semis. They overcame another London team, SYC, 15-11 to progress to the final against Dublin Gravity, the reigning xEUCF bronze medalists. LMU's players have pretty much all played in plenty of huge games, and that experience showed as they scored five in a row to take an early 7-2 lead. The Gravigals, carrying some unfortunate injuries that shrunk the squad, mounted something of a comeback that brought it to 11-9, but in the end the Londoners came away with the title 15-11.
The big-name players came up big for LMU. Sharman scored four times, Thomson had a goal and two assists, Tyler Weddell had an assist and two goals, while relentless cutter Catherine Gainey chipped in an assist and three goals. While many of these players have won together before, it is LMU's first title as a team. Given how well they played and how much they still seem to enjoy playing together, it may well not be the last.
SMOG Claims Third Straight
It's not quite Clapham's streak, but no team has won three mixed titles in a row in the UK since Bear Cavalry did so from 2011-13. The northerners matched that feat by defeating Reading, their main rival in the UK, with an almost-perfect offensive effort. SMOG gave up only one break in the final, though they did give up some turns as they pushed the disc downfield aggressively, as per usual. Almost every time they did, though, they were able to snatch back possession and hold serve.
After Reading's break, to take the game to 11-9, there was an opportunity for the WUCC quarterfinalists to come back into the game but SMOG held their collective nerve, giving up only one turn in the rest of the game for a 14-11 win. Offensive stars Tom Bennett and Tom Lees were crucial, with three assists and a goal each, but equally as important to the win was the defensive pressure that SMOG was able to exert on Reading throughout. Reading's offense has been excellent all season but with athletes like World Games players Nick Williams2 and Rachel Naden3 there to take advantage of any slip, it was too much for the team in black to overcome. Helen Roberts was a force in a losing effort with two assists and three goals in a game where she spent far more time open than not.
SMOG has had some disappointments outside the UK, not playing up to the potential of the talent in the team either at WUCC or at EUCF in the past. It has a great opportunity to do so this time around with the EUCF mixed division looking slightly weaker than in previous years. It also has potential history in its sights this time next year — no UK mixed team has ever won four in a row.
Clapham Dominance Continues
Honestly, at this point we could leave it there with the heading. The Bullfrogs were victorious once again but this time around there was some intrigue as they toppled a new foe. Scots Alba beat their Irish rivals Ranelagh convincingly in the semifinals to get a shot at the title. That shot ended as every other has done so far — in defeat, this time 15-10 to Clapham. The ability and experience of the Londoners was too much, as it has always been, and Clapham won its 21st national title and will now turn its sights to earning an 11th European crown.
The first half saw Alba struggle to keep its offensive flow going. The Scots thrive on an aggressive, energetic style but were quiet as Clapham exerted stifling pressure, particularly on the resets. After half at 8-5, Alba was able to pick the energy up and start to assert themselves on the contest. The teams traded points for a while with some big plays on both sides — a massive layout catch from Ross Nugent was answered seconds later with a huge block by Justin Foord that created a layout Callahan for Tom Abrams — but eventually the Clapham pressure told. Foord was as pivotal as ever with four assists, a goal, and two crucial blocks. His fellow World Games players stood out too; Ash Yeo was unstoppable in the cutting lanes, finishing with an assist and six goals, and Tom Abrams continued an excellent season with two assists and goals. Cameron Agnew was excellent for Alba, contributing not only two goals and assists but consistent downfield production and disc movement, while Joel Terry was fantastic on defense and was unlucky on several occasions not to come away with more reward for his efforts, not least when he won a battle with Yeo in the air only to see the disc drift right into Yeo's path at the second time of asking.
For Alba, this is hopefully the start of something. The team was created to win Nationals within five years. If we discount 2020, this is three years and it has improved from fourth to third to second. For Clapham, this was Sunday. 21 down, 11 to come.
European places confirmed
As mentioned in the preview, the lack of entrants for EUCF in the women's division meant that teams entered directly to that tournament and did not need to qualify here. On the women's side, Iceni (London), Bristol, and SSS4 will go from the UK, while Dublin Gravity will join them in Caorle. In open, the teams that made it were no surprise — Clapham, Alba, Ranelagh, Chevron, Smash'D, and Devon were strong favorites to take those places and all booked their tickets with little fanfare, although Devon had to beat surprise packages Bristol to qualify through the backdoor after a tough loss to Smash'D earlier in the tournament.
The mixed division was where the best story lay, though. SMOG, Reading, and London Deep Space  seemed to be the top three teams reasonably comfortably, and so it proved. Deep Space were pushed hard by SMOG Rising in the quarters but Rising followed that loss up with a shocker to Glasgow, knocking it out of contention for EUCF altogether. Glasgow fell to Oxford to set up a game-to-go between Oxford and Leamington Lemmings.
The Lemmings program has been building for several years and now features some outstanding young players. It was able to earn a reward for the hard work put into developing these players by beating Oxford 11-95 to secure a well-deserved first-ever EUCF berth. Seeing Lemmings up against Europe's elite would have been a massive shock before 2018. It was a team that until then was considered to be on the lower rungs of the game in the UK, but has built the right way through the effort of stalwart players who have been around for several years. It will be fun to see how they do at the highest level.
---