Celebrating some of the top players in Europe ahead of WUCC.
The 2021 season in Europe was a strange one. The ongoing pandemic meant that there was really only one European tournament that counted and meant that preparations for the 2022 season were pushed back slightly. So far this season it's been back to something like normality, but in the rush to get back to that normality we missed the opportunity to recognize the best players on the continent in 2021. With WUCC around the corner and many of these players preparing to face the best in the world, let's go back and hand out some flowers.
Player of the Year
WINNER: Aline Mondiot (YAKA)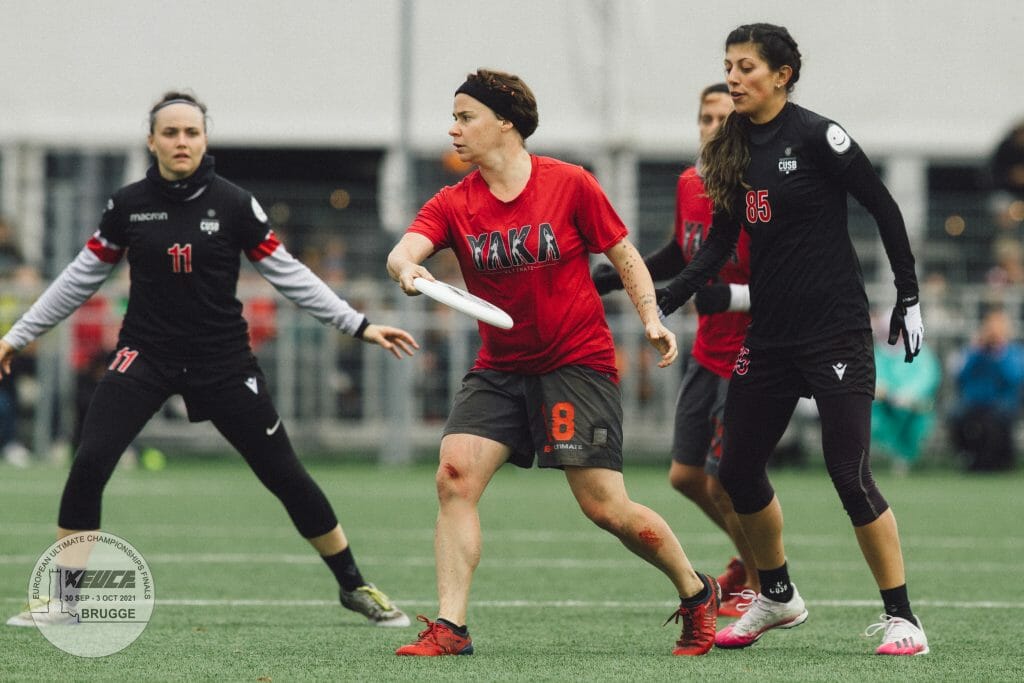 A microcosm of just how effective "Rasta" was last season was the European final. In the biggest game of the season, she threw nine assists and caught a goal. She was the center of YAKA's universe on offense, a conductor expertly directing the orchestra as they played a triumphant tune. Not only was she central on that side of the disc, but she flipped to the D-line and played at the front of the zone that gave CUSB Shout problems in the second half and led to the French run that won YAKA the title. She followed up her first European winner's medal with a World Games appearance and is set to lead her team into WUCC as one of the teams best placed to cause the North (and South) Americans headaches.
"I could talk about Rasta's on-field prowess with the disc, canny ability to generate blocks in big moments and also lead strategic adjustments for the whole team at the biggest stages. Anyone who sees her play can see she is a star," said YAKA teammate Robyn Fennig. "More important, Rasta is everything it means to be YAKA. A lot of leaders can bring together a group of talented players, but Rasta assembled a team of leaders in their respective communities who know what it's like to value investing in others. She sees the work that we all put into others and through this investment in others, we find out what it means to invest in and bet on ourselves."
Runner-up: Sarah Eklund (Valkyria)
Eklund has been one of the best players in Europe for years, leading Swedish sides that have competed with the best in the world and playing with the Eurostars on tours to America. Last season she was a crucial part of Valkyria's surprising run to the semi-finals of xEUCF, playing both ways and being absolutely dominant against pretty much everyone at the tournament. She's got height, speed, great throws and a knack for being in the right place at the right time. All that put into one package makes her one of the best players on the continent. She'll be playing in the mixed division in Cincinnati, but here's betting that the change in division won't stop her being as dominant as ever.
Offensive Player of the Year
WINNER: Áine Gilheany (Dublin Gravity)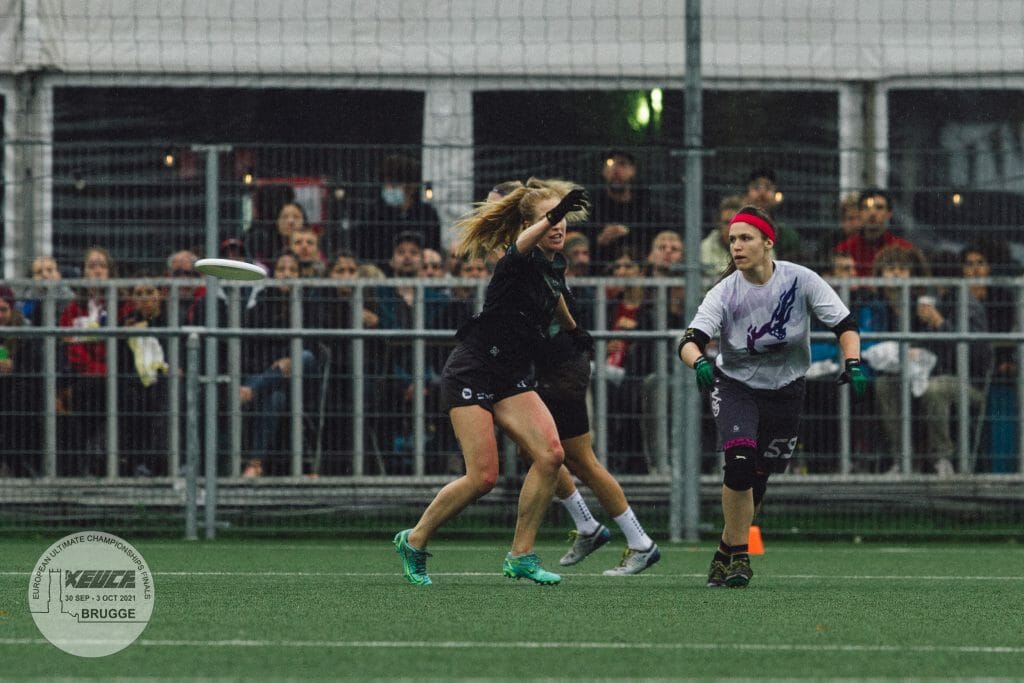 The pantheon of female Irish Ultimate players is filled with exceptional athletes — names like Sarah Melvin and Fionagh Mernagh — whose play style represents the resilience and ferocity of their Celtic heritage. In the other cultural corner, Áine Gilheaney turns on the charm.
"Competing at the highest level in Europe these days is no easy feat," says Gravity coach Leanne O'Neill. "Áine makes it look effortless with her flawless throws and unrivalled work ethic. No matter the stakes, score, or lack of sunshine, you can always count on Áine for a cross-pitch scoober and a smile."
That cross-pitch scoober falls in the 'conservative' category of Áine's array of airslicers by the way, a show that has danced across European pitches and opponents alike for the past few seasons.
Áine's incisive slices have helped Gravity and Ireland carve out a reputation on the biggest stages. She has been a crucial part of pioneering campaigns for Irish sides, orchestrating their flow from the backfield with her menagerie of manicured maneuvers. Last season saw Áine develop her game further, getting greedy for glory and dominating the offense downfield for Gravity as well. She'll be a key part of their campaign in the States this season, too.
It is a true mark of mastery when greatness is expected and yet room is found to overperform. On and off the pitch, Áine continues to drive herself and her team forward with her inimitable, irresistible style.
"She is always looking for ways to better the team and push her teammates at trainings and tournaments," says Leanne. "She is a captain that leads by example."
That's the danger with charmers. They'll not only get what they want, they'll get you to want it, too.
Runner-up: Sarah Eklund (Valkyria)
Eklund gets her second silver medal of these awards. That might seem an odd choice, but such was her dominance with disc that it was impossible to overlook her. She won her matchups with metronomic consistency and pulled her team along with her, giving them options whether acting as a reset, an initiation cutter, or a bailout deep cutter. She's as hard to stop as anyone in Europe and her double recognition reflects how fantastic she was last season, and remains this season.
Defensive Player of the Year
WINNER: Molly Robbins (Valkyria)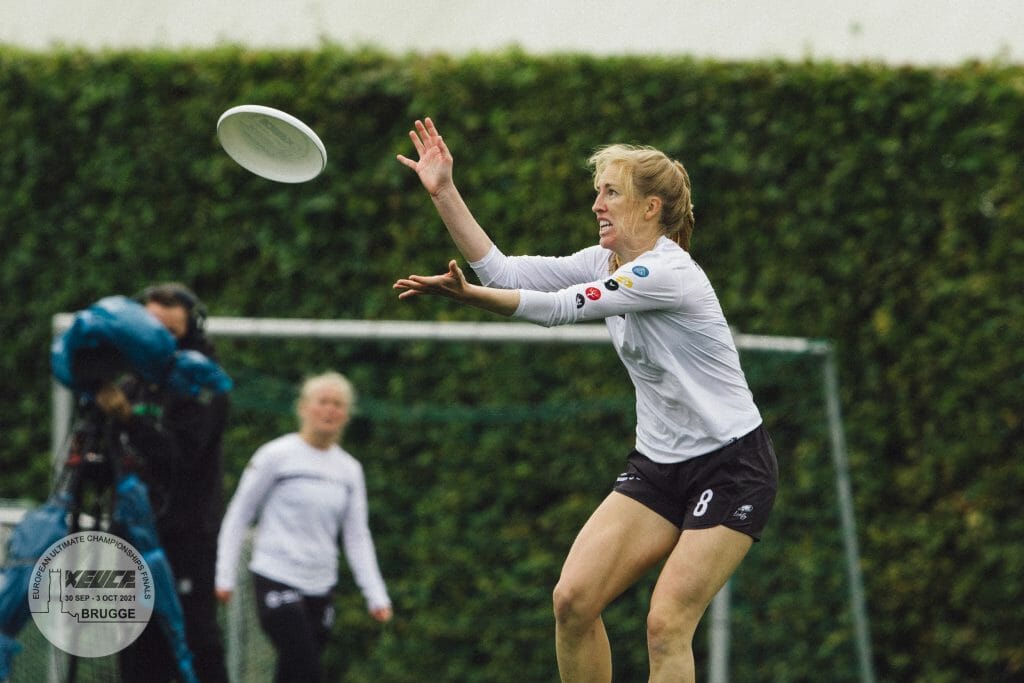 Another Valkyria player that made a huge impact was captain Molly Robbins. While Robbins was very good offensively, it was on defense that she made her greatest impact, where she was as vital a part of the D-line as Eklund was on the offense. Not only content to shut down cutters and make things difficult for the best players in the division, she got some huge layout blocks and swatted away high discs with contempt. She was also a key emotional part of the Valkyria team, a leader that helped to push her squad into the semifinals despite their relatively small squad.
"Molly is so very fit and strong and uses that force of muscle on the field. She baits behind cutters making you think the pass is safe until the attack for a layout D comes," teammate Sofia Eklund said. "Sadly she has moved back to the USA now but she was a very central part of Valkyria and really gave us that team feeling. Her sideline game is from another planet! She is so, so supportive and great at creating awkward games at dinners and parties so even Swedes socialize!"
Runner-up: Robyn Fennig (YAKA)
Another American in Europe in this category, Fennig was a huge part of YAKA's march to the title. Not only is she able to generate blocks and lock down the deep space, she's a phenomenal puller that set her team up for success over and over again in challenging conditions. Once the team got the turnovers they were able to get so frequently, she was able to control the offense and take the kind of shots to the end zone that end games quickly and demoralize opponents. She'll be playing mixed with Madison NOISE in Cincinnati, but if she returns to Europe for EUCF later this year, it'll be a big reason that YAKA could take home another gold medal.
Breakout Player of the Year
WINNER: Oda Homlong (Valkyria)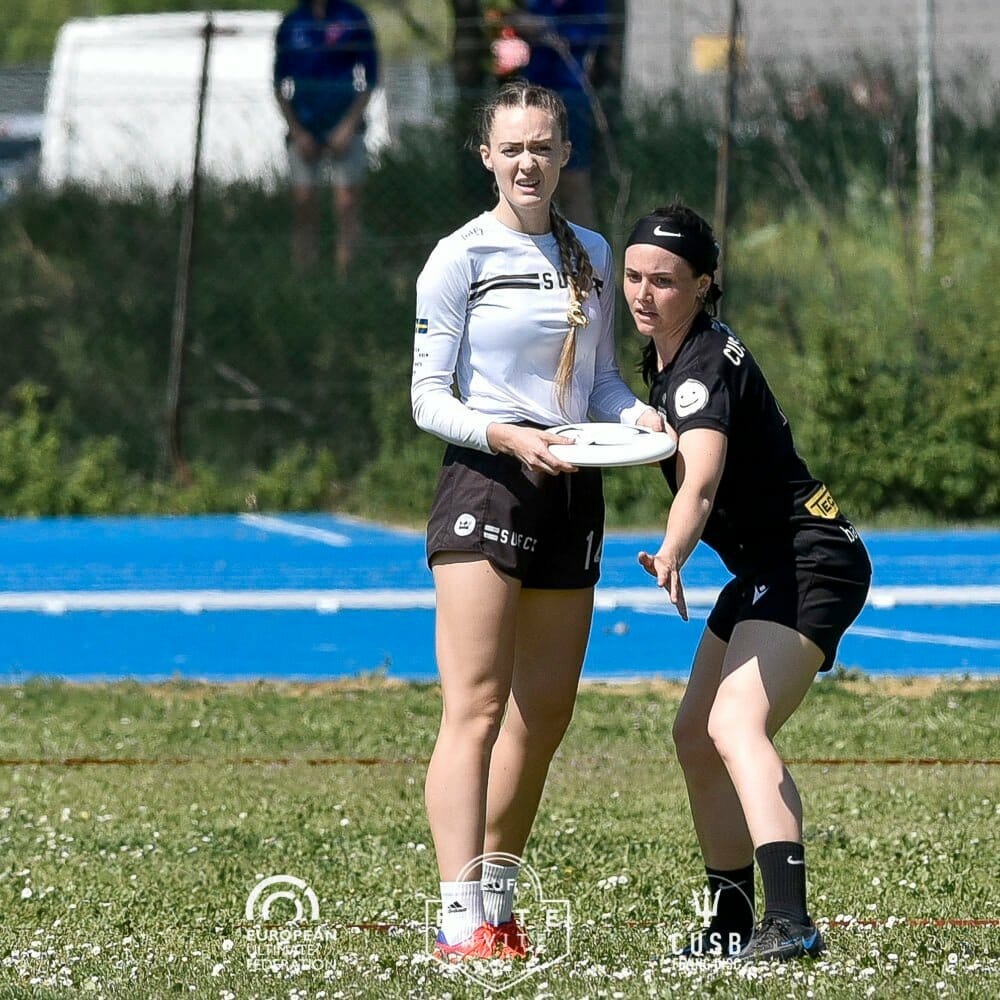 Homlong first made her mark at the European Indoor Championships. After an impressive showing for Lithuania there, she was one to watch for outdoors last season. She lived up to the billing, bringing her impressive speed and catching range to a Valkyria team that played extremely well throughout the tournament. She's continued her good form this year, getting plenty of blocks at Windmill and playing a key role in the Valhalla mixed team that will be heading to WUCC. She's still young and has room to improve, but she's already made an impact.
Sofia Eklund glowed with praise for Homlong. "Oda is just a machine on the field. She never stops and has such high intensity and focus on just one thing: making the D," said Eklund. "She is a lovely teammate too but has so many friends across all teams and divisions that you might lose her — a GPS on her would be great at the bigger tournaments!"
Runner-up: Jessica Chambers (Gravity)
Chambers has been around for a little while, playing roles on previous Gravity teams and on the Ireland team that won European gold in 2019. However, her role changed last season to a featured cutter on the O-line, something that brings a new level of pressure on a team that came into Euros as one to watch. Chambers thrived in her new spot, creating plays downfield and keeping the offense running with her calm, sensible throws. A matchup against Fennig in the semifinal was a cracker, and Chambers proved she belonged at that level. Her height and downfield prowess will be an important factor for Gravity in Cincinnati.