Revolution earned a win in a dramatic, back-and-forth classic.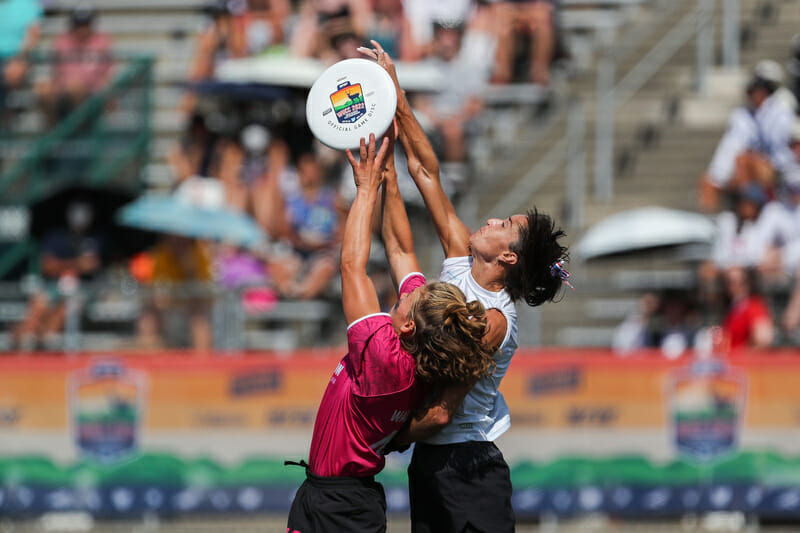 MASON, OH — Medellín Revolution (COL) refused to lose the WUCC gold medal game for a second time in a row against San Francisco Fury (USA). In a game of immense swings and stunning moments that culminated in a heart-attack-inducing, back-and-forth double game point, Revolution did just enough to claim their first world championship with a 14-13 victory that will live in the memory for quite some time.
It was the first time since 2010 that the top two seeds squared off for the gold in the women's division, which just so happened to be the year that Fury had last won the world title as well. It was also, somehow, the first time these two titanic clubs had ever played each other as well.
After the bracket up to the final was a little lacking in terms of meaningful suspense and excitement, there was hope that the two best teams all week long would close the tournament with a thriller. They did not disappoint.
Though it looked in the early stages as if they might not deliver the grand finale we had hoped for. Revolution fell behind two breaks early, going down 3-0 after squandering a break chance of their own on the opening point. Medellín scored just one of their first four red zone possessions, while Fury had a perfect completion rate in the same stretch, and it looked like Revo was perhaps headed for a repeat of the 2018 final, when miscues and lack of refined red zone structure saw them fall out of contention early against Seattle Riot.
But unlike four years ago, Revolution had an unassailable resilience about them. A layout block from Elizabeth Mosquera on the goal line slammed the door shut on a Fury red zone possession and led to Revo's first break. That sparked a bizarre sequence of points, which included Fury missing a lot of hucks, but Calise Cardenas making a controversial catch for a goal with the disc pinched between her legs.
It was also a stretch defined by Mosquera's pulling, which often had Fury starting with possession from the back of their own end zone. The period culminated with one such Mosquera pull being dropped by Fury's stalwart handler Carolyn Finney to give Revolution as short a field as you can have to break for half.
It was an 8-3 run that was marked equally by big plays from Revolution as it was by confusing errors from Fury, none more shocking than the dropped pull. But the fight back from Revo after the poor start was indicative of a team that believed it would win the game, no matter what miscues or chaos might happen before the final goal.
The second half felt like a battle for which team's offensive identity would hurt themselves less: Revolution's crowded reset space give-and-goes, or Fury's commitment to hucking.
For much of the half, it was Fury winning that battle. They weren't hitting on every deep shot, and at least one missed deep look was brought back on a controversial dangerous play call after a huge block from Manu Cardenas. But big grabs from Dena Elimelech and Loraine Guerin, as well as some more precise hucks from the likes of Maggie Ruden and Anna Nazarov, allowed Fury to stay in the game and gradually fight their way back to level amidst Revolution's reset and miscommunication turns.
It took Fury the entire second half to get back even, and a couple of D-line possessions at 13-12 to get the break to force double game point for the gold. And in truth, all of the second half up that point felt like a mere warmup act to the game's main event.
When Nazarov layout blocked a Yina Cartagena pass that ended up being between two different cutters in the same space, that's when the game really started. It's also when Revolution's refusal to lose jolted back into their play. The crowd was chanting their lungs out, desperate for Revolution to get the disc back.
And that was when Fury's deep game fell back out of sync as well. Nazarov tried to paint a long forehand deep and across the field to Donnya Ajdari, but Mangi Forero gave everything to beat her to the disc, twice, to ensure Revolution would get at least one more possession. It was Forero's last involvement, as she went off injured after the play and was replaced by Aleja Torres.
An awkward hop from Ximena Montaña caused another reset turnover for Revolution and then her over-pursuit after an underneath completion to Opi Payne beckoned for another Fury huck. But Payne's backhand put to Lisa Couper hung far too long, and Manuela Cardenas, who had already been the game's most influential player, sprinted into the play to swat the disc away and ensure, once again, that Revolution would get at least one more possession.
When Cardenas sent a long backhand for Mosquera streaking deep with steps on her defender, it seemed destined to be the last possession Revolution would need. But Mosquera's sprint and full extension layout could only get a hand on the disc, not the catch.
But on the ensuing possession, Fury's ho stack got too deep, and Cartagena beat Couper to Nazarov's long pass to the middle of the field. Couper bid on the play, allowing Cartagena to continue streaking for the end zone unmarked, and when Valeria Cardenas picked up and casually hit her wide open for the score, the point that felt destined to go back and forth forever was over.
Revolution refused to lose for just long enough.