In a rematch of last year's title game, New York avenged its defeat with a beatdown of the 2021 champion Carolina Flyers.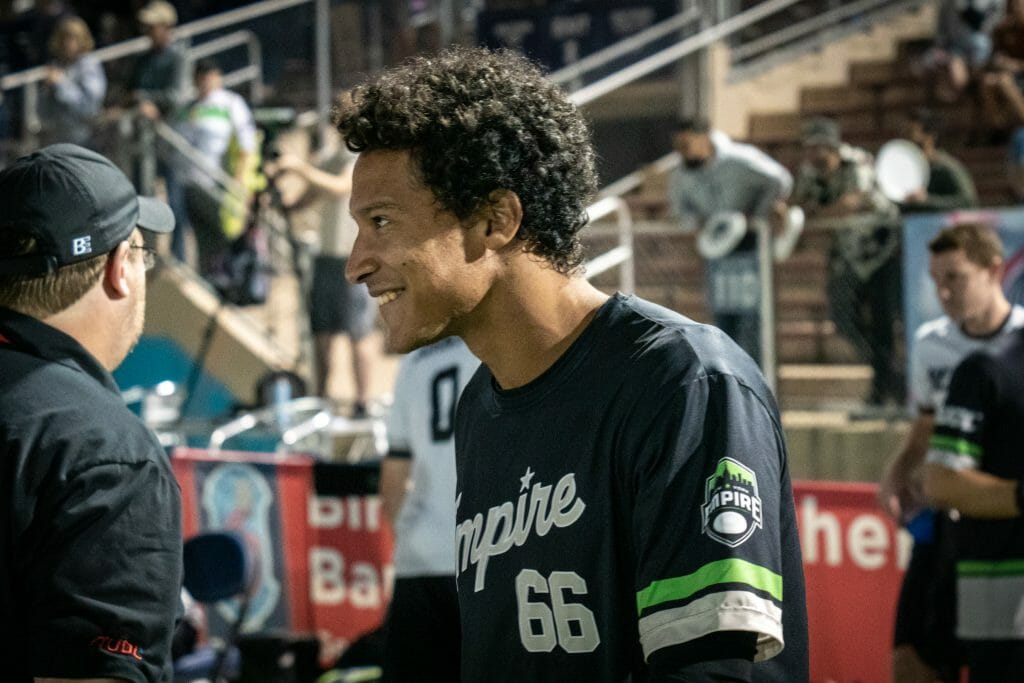 In the game billed as the de facto league final, the New York Empire played a ruthlessly efficient offensive game to dispatch the Carolina Flyers 22-16. The Empire came in with reinforcements, featuring more depth than they played with in 2021, seeking revenge for their championship game loss, and looking to extend their perfect season. The Flyers, meanwhile, were out to prove that their version of team building, working from the youth system up rather than importing star players from out of town, would prove to be more effective. Ultimately, the Empire played nearly flawless offense, mirroring Carolina's effort from last season, to advance to the championship game.
"Obviously losing to this group last year–and there's a lot of ties between these communities over the last several years–there's a lot of guys who have been waiting for this game for a year," Empire coach Charlie Hoppes said. "People were all the way locked in from the very beginning."
New York patiently worked against a matchup defense from Carolina to start the game. Ryan Osgar found Jeff Babbitt at the front cone to punch in the score. The Flyers answered right back with a patient, 23 throw hold against high pressure defense from New York as fans settled in to watch what was expected to be a back and forth offensive showcase.
The Empire made the game's first mistake when Elliot Chartock fired a red zone backhand too quickly for Babbitt. Ethan Bloodworth caught Eric Taylor's warning track huck on Carolina's counterattack, but Charles Weinberg snuck in to block Bloodworth's backhand near the goal line, and New York held and seized momentum. On the next point, New York forced three Carolina turnovers. The Empire turned it back twice, but on their third possession the Empire sideline called a timeout. Off of the stoppage, Jack Williams hit a long inside break forehand to Babbitt just inside the end zone line and the Empire broke first for a 4-2 lead that they would not relinquish.
The Empire weren't done yet. With under a minute to go in the first quarter, the Flyers were marching down the field when a clock malfunction halted play. After the teams got a free timeout and the chance to reset their positioning, Alex Davis checked in the disc with 15 seconds left. He was immediately hand blocked by John Randolph, who anticipated Davis's reset throw perfectly. Randolph's floaty backhand on the offensive breakaway found Ben Jagt's hands despite a pile of defenders around him. Jagt was just outside his attacking end zone with time running out, but he had just enough time left to flip a high release to Marques Brownlee as the horn sounded. The Empire lead grew to 5-2 to close out the first quarter.
Carolina held to open the second quarter when Henry Fisher worked the underneath space against a defense preventing him from going deep. It was their first score in over eight minutes of game play. The Flyers defense continued to pressure New York, but the Empire withstood the tight defense and shifted the mental pressure to Carolina as the Empire continued to hold without turning over the disc. On their second offensive possession of the quarter, Yanuck fired an open deep look too far and the Empire called another timeout looking for a lead-extending break. Carolina tried a zone look to change the pace of the game, but the Empire patiently worked around it and extended their lead to 7-3 on a John Lithio crossfield shot to Elliott Chartock.
The Empire offense continued to find easy solutions to all of the problems Carolina threw at them: matchup, zone, sideline roller pulls, and double teams. Coming off of his worst performance of the season in last week's divisional final against DC, likely league MVP Ryan Osgar played a near flawless game, finishing 21/21 with seven goals, two assists, and, most importantly, zero turnovers.
With just over three minutes left in the half, Carolina had their chance to make a move. Dylan Hawkins smartly peeled off of his matchup to block a long huck aimed at Osgar. Seeking their first break of the game, the Flyers called timeout. With tons of space underneath, Fisher collected the disc and launched a 70 yard huck to Jacob Fairfax as the Flyers inched just a bit closer. New York managed one more hold and Carolina had a chance to match them receiving with 46 seconds left in the half. Though the Flyers are typically masterful at end-of-quarter situations, the Empire defense corralled the Carolina handlers effectively and Yanuck's desperation heave floated out the back of the end zone. New York took a 9-6 lead into halftime.
"Our defense really took our gameplan and ran with it and was able to completely make it work," Empire coach Anthony Nunez said after the game. "Our defense was the anchor in this game and kept us fired up. The other thing is that we had possibly one of the most energetic sidelines that we had all year, and that's because everybody is bought into this culture of what this team is about."
Carolina looked to flip the script to start the second half. Starting with a rolling pull out the backhand sideline, the Empire needed a wild inside cross field break throw just to start their offense. Against heavy pressure, Williams turfed a flick and the Flyers burned an early timeout looking for a momentum-shifting break. After an inside shot hit off Alex Davis's hands, the Empire also called a timeout, sensing the importance of the moment, and hoping to cool off Carolina's energy. Sol Rueschemeyer-Bailey tossed a rare huck that Osgar pulled down and the Empire scored the insurance goal to extend their lead and maintain control of the game.
"I don't think we ever felt like we were out of the game," Flyers coach Mike DeNardis said after the game. "And we had momentum changing plays that we just couldn't capitalize on. We had probably four, five, six of them and it's like at some point you have to capitalize on them if you want to make a comeback and we just never did."
The Flyers looked shaken for the first time all season. New York went on to seize the moment, scoring the next three goals to blow the game open. Carolina, realizing the mountain of a comeback attempt ahead of them, started to take more risks — sending multiple defenders at New York's resets, hoping that their unpredictability would lead to a block. The Empire didn't blink, patiently finding the open cutter against whatever defense the Flyers threw on the field.
In their East Division final against DC, the Empire faltered down the stretch before ultimately winning on a buzzer beater. Against Carolina, they didn't let the Flyers even hope for a chance. Though Carolina's effort never waned, and the Flyers exhausted their playbook trying anything that would disrupt the Empire's offense, New York simply outplayed Carolina from start to finish. Though the Flyers offense found their rhythm in the second half, their effort was too little too late–and the New York offense was just too good–for it to matter. The Flyers earned just five break opportunities in the game and could only convert on one. On the other hand, New York went 7/12 on their chances. While the Flyers O-line defense is normally a strength, the Empire used timeouts to render it ineffective, as Carolina typically subbed on their defensive unit.
On offense, Yanuck paced Carolina with 5 goals, 5 assists, and 554 total yards on 53/56 throwing. Matt Gouchoe-Hanas was strong as well, with 386 throwing yards on a 45/45 night and a pair of blocks on a night when New York threw just eleven turnovers. Fisher was held off the goal sheet but registered three assists, including a pair of big backhand hucks.
"The takeaway from this game is that I really appreciate how hard the guys fought in spite of the litany of mistakes," said DeNardis. "There was never a real collective energy suck until the end of the game when we knew it was over. That's the kind of stuff you need to win championships…We're a great team for this league. We're gonna be back. We're going to keep fighting and growing. This team came back and beat us a year after we beat them. They had more of a chip on their shoulder and we have to get back to that 'world's against us' mentality or we're striving to beat this team now and we have to put in the effort and energy to do that."
It will be the Empire instead who have a chance to compete for their second AUDL championship. Jack Williams was the star of the New York offense, pacing the team with 8 assists and 581 total yards. John Lithio turned heads with his impressive game, going 22/22 throwing with an assist and four goals. Two-time AUDL MVP Ben Jagt split his playing time evenly between the offense and defense, collecting two assists, two goals, and a block on the night. Elliot Chartock and Sol Rueschemeyer-Bailey played some of their best ultimate in the offensive backfield, combining to go 101/102 in the game as offensive playmakers.
New York will advance to play Chicago in Saturday's championship game. The Empire were able to catch just a glimpse of the Union's semifinal win before they needed to begin preparing for their own, but they will be ready for the challenge ahead. Empire coaches were quick to praise Chicago's quickstrike D-line offense but are confident that their team has the tools needed to take down Chicago and finish out their perfect season with a championship.