The first-ever Panamanian team at World Club Championships brought together a national community.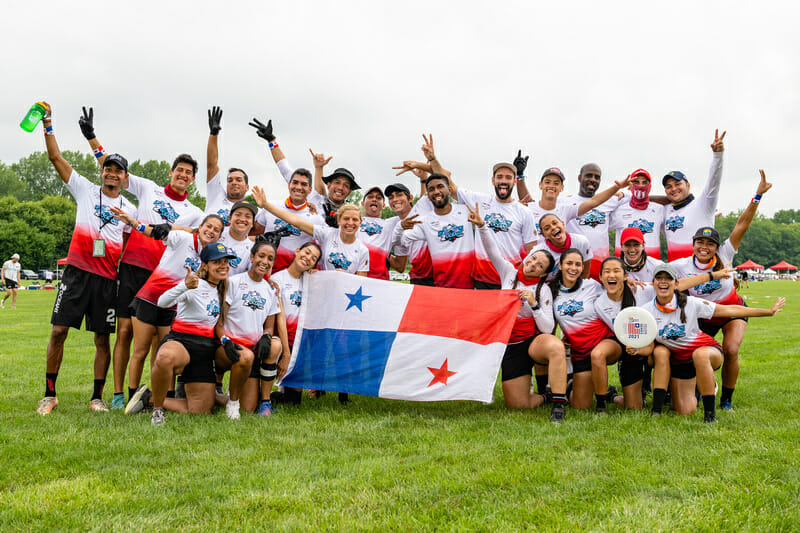 The Panama Canal serves the purpose of bridging the Atlantic and the Pacific Oceans together. Similarly, the Panamanian mixed team Two Oceans bridged the country's divisional divide to compete as one team for the 2022 World Ultimate Club Championships.
Despite entering the tournament in the lowest seeding bucket, Two Oceans emerged from pool play with three wins and a spot in the top bracket. While they lost their Round of 32 game to tournament top seed Seattle BFG, the Panamanians' performance in Cincinnati proved themselves a strong team who can not only hang with but also win against international competition.
This becomes all the more impressive when you realize this is the first time any team from Panama has ever participated in a senior club WFDF championship.1
Setting the Scene: Building the Canal
There are  three different divisions that compete in Panamanian Nationals – open, women's, and juniors – and club teams for each, including Top Ultimate, Caribes, Ush, Esparta, Wakanda, and West Coast in open, and Fieras, Furia, and Amazonas in women's. Like many countries, there are also organizations, such as Top Ultimate, that run leagues, clinics, and events.
The main person to thank for growing the sport in Panama is the Two Oceans coach and head of Panama Ultimate, Harold Henry. Henry is a gifted recruiter, constantly gathering local youths to play ultimate.
"He's actually the glue," said a member of Two Oceans leadership, Tyler Mead. "He's the one that brought different people in the group to mix all of our teams together."
"He sees one person and he's like, 'oh you could play frisbee, come to one of our practices,'" said team leader Debbie Cisneros.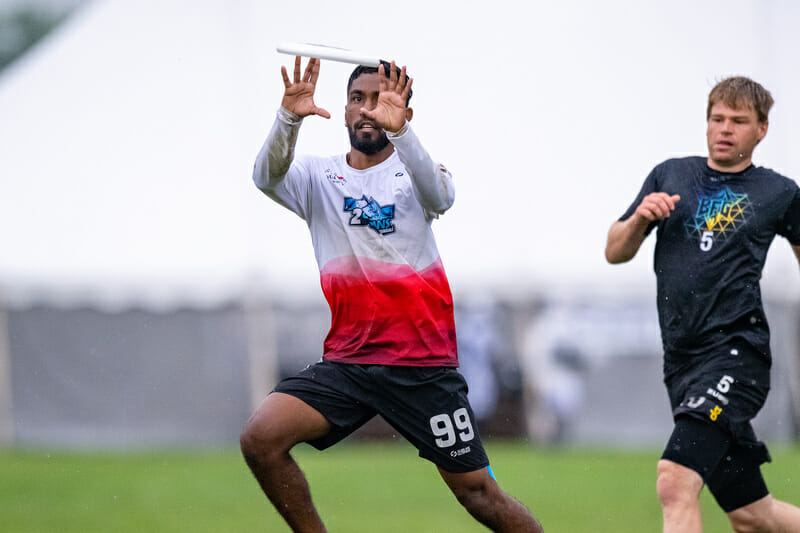 Charting a Course
One of the reasons Panama hadn't made it to WUCC before 2022 is largely due to the bid process for the tournament. Each country that participated in previous WFDF world championship events are first in line to claim bids. WFDF then starts awarding bids to newer countries and teams in rounds until they fill out the event; if teams decline bids, it opens the door for new teams. Panama Ultimate finally got their chance, and eagerly accepted the single bid they could secure.
Since Panama has only open and women's divisions and just the one bid to WUCC, their ultimate community was forced to make a decision. Wanting to send both their male and female-matching players to a world championship event, they chose to combine forces and compete in the mixed division. They gathered players from six teams in total, with heavy representation from the open team Top Ultimate and the women's team Fieras. Both of these teams have done well in their domestic club adventures and are the top two teams in the country.
As one team, Two Oceans spent seven and a half months getting themselves prepared to compete at Worlds, including six months spent on conditioning and creating chemistry.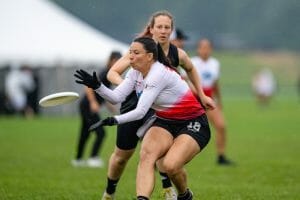 Panama had several objectives going into the event. The first was to represent their country. They also wanted to finish high enough to potentially enter both their men's and women's teams as well as their mixed team into other international WFDF events, including the Pan American Ultimate Championship and the next WUCC.
"We are super proud, super happy to have a position to come here because it's a chance to show to ourselves that we can compete with other countries," said Two Oceans captain and Amazonas player Ximena Derteano Varela.
Imports and Exports
In terms of actually getting to the tournament, Two Oceans did not struggle as much as other teams and, unlike most Latin American teams this year, did not have to request help from international pickups.2 With the help of their community in Panama, they were able to fundraise by hosting tournaments, selling replica jerseys, and creating a Bingo contest that helped with tournament fees. They also got help from the Panamanian government to ensure that they were able to sort out their visas.
"The Ultimate community in Panama has been really supportive," said Cisneros.
Two Oceans was able to live stream every game from WUCC and more than 150 people from back home tuned in. The team appreciated the support they received from their country.
Henry added, "In the end, without all the players, this could not be possible."
Riding The Wave
Two Oceans surprised a lot of teams at WUCC: despite being seeded last in the pool, they won three of their pool play games early in the week. Their game against Mainz Mainzelrenner (GER) could be counted as almost a blowout at 13-8. In their second win against Mexico City Condor (MEX), the teams took turns going on runs, but Two Oceans landed on top in a double game point thriller. Their final win was against the pool's second seed, London Deep Space (GBR), 13-11, securing their spot in the top 32 bracket — an impressive achievement for the first-time team.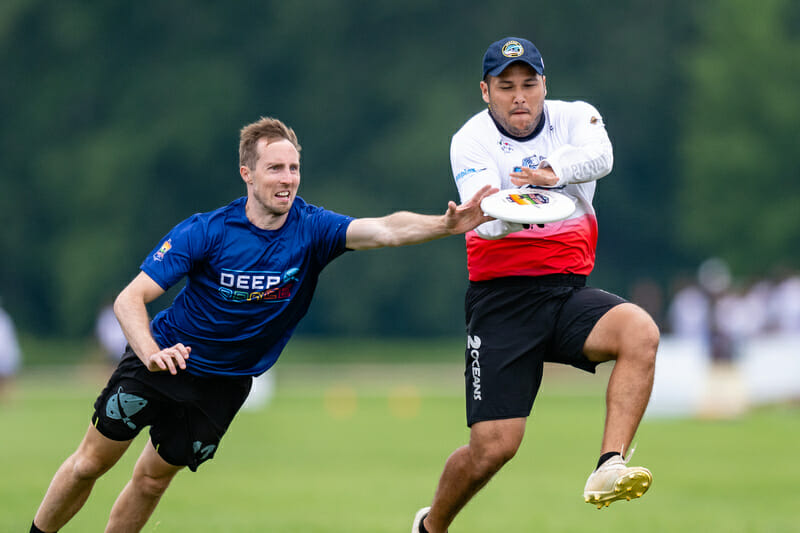 Two Oceans' success may be in part due to their low ranking: with a lack of appearances around the globe, no team knew how much damage the Panamanians could really do.
"They don't know what to expect of us, and that is an advantage. Teams treat us as underdogs and we utilize that," said Diego Andres Rothery Mack, who was second on the team at WUCC in total scores with 25. When asked about their ambitions for the tournament, Mack added with a smile, "We look forward to being the champions."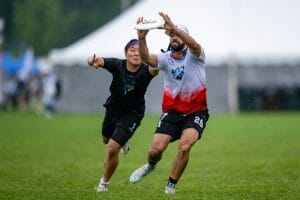 But there would be no victory lap for Two Oceans. They ended pool play with a tough loss against Madison NOISE and then Seattle BFG quickly knocked them out of bracket play. They eventually got a walkover win against a Japanese RATELS team that had backed out of the tournament and landed in 28th place overall.
No matter their defeats, the team stated they would have been happy to only win one game; winning more was just an added bonus.
"We are learning a lot from all the teams from all the different continents, so we are excited about that," said Cisneros.
The team enjoyed their time at Worlds, taking in every moment. They valued their time with each other, as they don't typically get to compete as one unit. As a team, they have bridged the two oceans of the open and women's divisions and will take what they've learned back to their individual teams in hopes of growing Panamanian club ultimate.
"What we're doing is absorbing all of the culture and energy, it will be to share it with our individual clubs back in Panama," said Daniel Gamez. "Because we have so many clubs that we actually are going to reshare it."wfdf
---
Panama rostered a mixed team to compete at the canceled 2020 WUGC. ↩

More than half of the roster the Dominican team Santo Domingo Meclao fielded for WUCC, for example, were based in the US since strict visa rules kept 14 Meclao players from traveling. ↩