LA and Philly came up short against Colorado and DC, respectively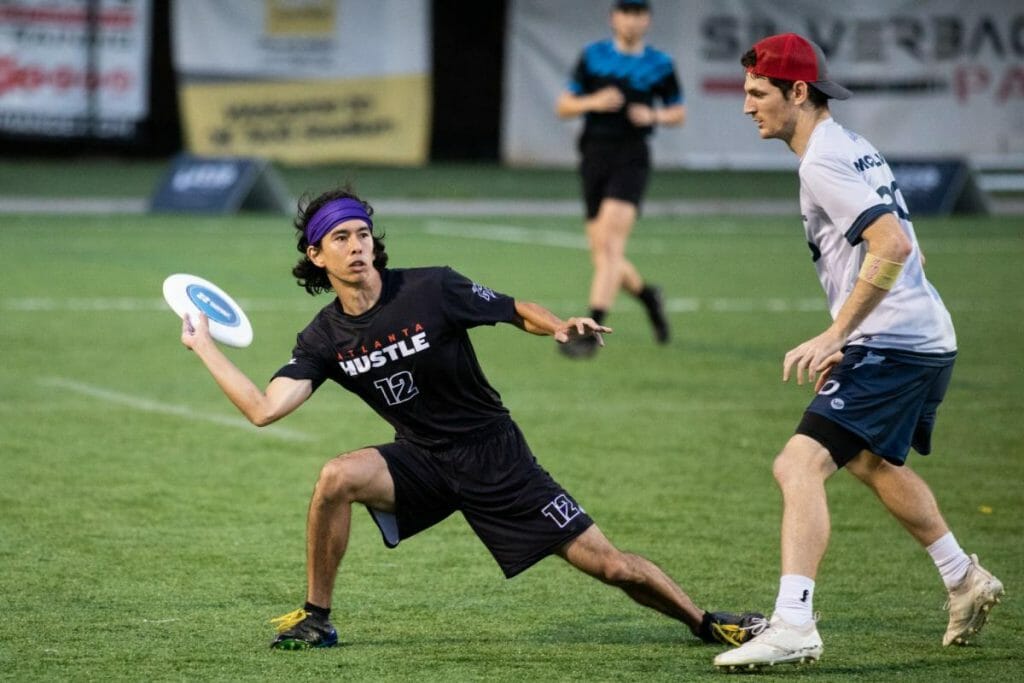 Besides the Atlanta Hustle knocking off an undermanned Carolina Flyers outfit this weekend, the favorites have dominated so far across the AUDL. Teams that have played so far this season have either won or lost all their games. That's all going to change in week 3, as we get top of the East (NY @ DC) and top of the South (AUS @ ATL) matchups between undefeated teams.
Let's not get ahead of ourselves, though: here's what we saw in week 2.
Standings through Week 2

Two Little, Too Late
On opposite coasts, two very similar games featured late comeback attempts. Both the LA Aviators and the Philadelphia Phoenix met division rivals as underdogs, and despite valiant efforts saw their comeback bids fall just short.
On the east coast, the Breeze used a patient D-line offense and the lack of any pressure from Philadelphia to build an early five goal lead. The Phoenix kept giving the disc away on misthrown hucks, and DC walked it into the end zone without much resistance. Midway through the second quarter, Greg Martin's layout Callahan provided a game-changing spark, and Philadelphia used a 7-2 run spanning halftime to tie the score at 13 after trailing 11-6.
Goals in the closing seconds of each of the first two quarters also helped, but the Phoenix took a few pages out of the DC playbook, patiently working up break chances after missed shots from the Breeze. After DC rebuilt a multi-goal lead, Philadelphia went back to the same strategy to close the gap late in the 4th quarter. The Breeze suffered from some uncharacteristic miscues (at least compared to last season's near turnover-free form) and the Phoenix toned down their huck-happy approach just enough to inch their way back in the game. A late break brought the DC lead down to one, but despite forcing a turnover with seconds left, Philadelphia didn't have enough precious seconds on the clock to even launch a full-field prayer.
Philadelphia took the short drive home after a third straight regular season game decided in DC's favor by one goal.
Over on the west coast, Colorado scored six goals in a row at one point and had a 16-9 lead after the 3rd quarter. In blustery conditions, Los Angeles then went on a shocking 6-2 run to make the score respectable, holding Colorado scoreless for nearly seven minutes to close out the game. The Aviators started rolling their pulls down the sideline; aided by a strong wind, they forced the Summit to start against a double team trap often within a few yards of their own goal line. Who knows what might have happened had they played so aggressively earlier in the game, or had the game been five quarters and more time remained for LA to mount a comeback.
The Aviators adjusted well to a Colorado defense that focused on shutting down quick handler motion. Jason Vallee and Pawel Janas kept the ball moving around the backfield, but as a group, LA was willing to put the disc deep despite the wind. The Summit defense compressed resets into tight windows and took away easy, front-of-the-stack looks. When LA was able to generate quick movement to open up huck looks, it was often able to succeed, and the Aviators did so with aplomb in the 4th quarter–just too late to complete what would have been an impressive comeback.
At the end of the day, in both games the division favorites held on to what looked like comfortable wins. Both of the losers — Philadelphia and Los Angeles — have expectations to make the playoffs, and most importantly their learnings in close games like these could make a difference should they meet these same opponents again in August.
Mailbag
Have a question about the AUDL? Send it in to [email protected] with AUDL Mailbag in the subject line. You can also message me on Twitter at @StallSeven.
What is the optimal fantasy AUDL strategy? – Tanner on Discord
For those unfamiliar, Alt Fantasy Sports is hosting AUDL fantasy this season. While it's not quite ESPN, it's very cool that an actual website is bothering to host such leagues. Below is the default scoring:
Stat – Points
Goal – 1
Assist – 2
Hockey Assist – .5
Completion – .1
Callahan – 5
Huck – 1
Throwaway – -1
Stall – -2
Drop – -2
50 yards Throwing – 1
25 yards Receiving – 1
Block – 4
Tanner's being a little bit cheeky asking this question, since we play in the same fantasy league, but I'll dish out the advice I have anyway. With this point system, throwers are much more valuable than receivers (2 points per assist compared to one point per goal), and I'd be looking at players that have high assist-to-turnover ratios as strong fantasy players. Jordan Kerr (90 assists on 93% passing in 2022), Pawel Janas (74 assists on 94% passing), and Ryan Osgar (72 assists on 96% passing) stand out in that regard. The other big point-getting stat is blocks. Players who get lots of blocks and also contribute offensively should be valuable; a few examples are Chad Yorgason, Kyle Henke, Ben Jagt, Alex Tatum, and Dylan DeClerck.
One additional trick to success in AUDL fantasy is navigating the schedule. Some weeks teams have double headers, and bye weeks are inconsistent. If you have a player on your roster who has two bye weeks in a row, it might be worth releasing them and hoping to snatch them back on the waiver wire once they start playing again. Having a bit of knowledge about the ultimate calendar is helpful as well. Week 5 has substantially fewer games than a typical week and coincidentally it is also the USA Ultimate D-I College Championships during which many AUDL players are either playing or coaching. If you have a player who has a game that week–make sure you check the active roster ahead of time to make sure they are actually playing!
News and Notes
What an interesting debut for Portland. Leandro Marx, Raphy Hayes, and co built an 8-3 lead only to have Salt Lake close the game on an 8-2 run of their own and escape with a two point win. Ian Sweeney's swap over to offense seems to have worked. He notched 6 assists for the Nitro.
Toronto would have defeated New York by a single goal…if you added the goals they scored against the Empire with the goals they scored against Boston as part of their doubleheader. Not a great start for a promising Rush team.
After last week's slow start against Houston, Austin's defense came out firing in the first half against Dallas. The Sol led 19-3 at the break and converted 79% (19/24) of their break opportunities for the game.
After the schedule-makers gave them a double-bye to start their spring, Detroit, Chicago, and Montreal all will make their season debuts in Week 3. After that, every team will have at least played one game.
Every team has at least one 0 in their record, meaning no team who has won a game has also lost a game and vice-versa.
Last time the Flyers started 0-2 (as they have this year after getting thumped by Atlanta this week), they won their first championship.
Power Rankings
Carolina drops below Atlanta following the Flyers' five point loss to their division rivals.
Meanwhile, Atlanta jumps over a Minnesota team that played a closer-than-expected game against Indianapolis.
Portland climbs up a few spots thanks to their impressive showing against Salt Lake.
Toronto falls down the rankings behind Boston after not looking particularly competitive against the Glory, though the Rush had played against New York the night before.
Get ready for the big showdown in week 3: #1 NY takes on #2 DC in the nation's capital!