Past Articles in Cincinnati Flying Pig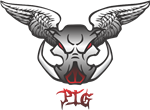 Find more information on the Cincinnati Flying Pig team page.
Catch up before the start of the Triple Crown Tour this weekend!

With 76 teams headed to Blaine, this could be the biggest, most exciting edition of YCC yet.

North Carolina takes home the YCC title 13-8 over Cincinnati.
Find us on Twitter
Recent Comments
Find us on Facebook