Catch up before the start of the Triple Crown Tour this weekend!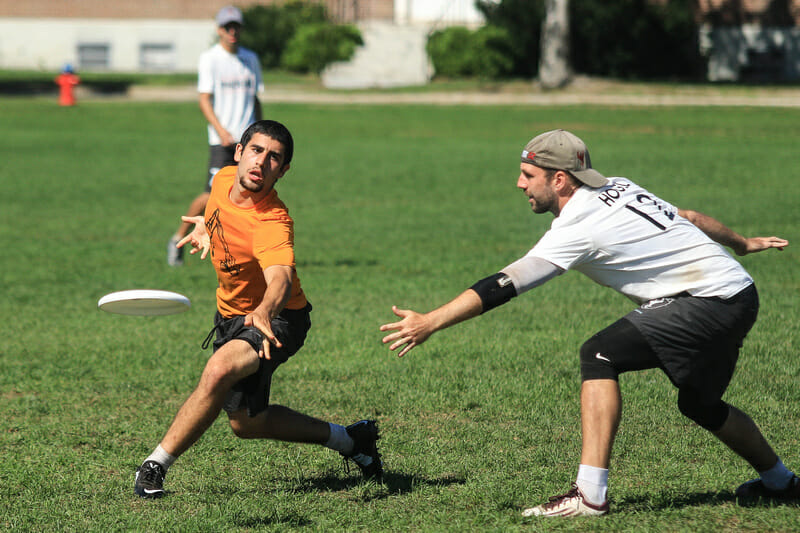 During this 2017 summer and fall season, we will publish a bite-sized weekly recap of the action across the Club Division. This will serve as a supplement to our standard tournament reporting and will offer a high-level look at the latest happenings and the biggest stories of the week.
We've been following along with club roster releases and wrote in late May about the biggest offseason player moves. Now we catch up on some early season club action with the first major tournament of the year — the Pro-Elite Challenge — coming up this weekend.
Want your tournament listed here? Submit a recap of what happened right here.
Men's Division
Dig Tops Ironside At Boston Invite
Yeah, take it with a big grain of salt, but Boston Dig upset 2016 national champion Boston Ironside 15-14 in the final of the Boston Invite. Ironside was missing a number of key players to various commitments including Beach Worlds, but it was still a shocking loss considering the pedigree of the Ironside team.
Perhaps we shouldn't be so surprised. Dig went to Nationals last year and has clearly rounded out the bottom of their roster with much better depth, even if they lost their best player in Jeff Babbitt. 2017 D-III player of the year Henry Babcock was an important contributor alongside Dig "vets" like Ben Sadok. Don't expect Dig to dredge up another win against Ironside this season, but do consider them a legitimate threat to earn a fourth bid for the Northeast.
Quick Hits
Portland Rhino easily defeated the competition at Eugene Summer Solstice.
A few states over, Denver Inception took the title at Fort Collins Summer Solstice, blowing by Utah's Powderhogs 15-9 in semis and beating a stacked Masters team, Johnny Encore, 15-12 in the final.
Top-seeded Huntsville Freaks edged out South Carolina's Lost Boys 11-10 in the final of the ATL Classic.
It was a good weekend for the new NYC club team Blueprint at Boston Invite, as they went 6-1 to finish fifth, only losing to Ironside (15-5). Connecticut Colt took third with a 15-8 win over New Jersey Garden State Ultimate.
A Chicago Black Market split squad won SCINNY over the impressive Cincinnati YCC team Flying Pig.
Mixed Division
Wild Card Wins Mixed Easterns, Boston Invite
After missing Nationals amidst a major roster turnover in 2016, Boston Wild Card is the early frontrunner in the Northeast after a strong pair of early tournaments at Mixed Easterns and Boston Invite, where they topped 2016 national champion Boston Slow White to win both.
2016 national runner-up Connecticut Metro North finished third with losses to both Slow White and Wild Card.
Quick Hits
Women's Division
Riot Starts Strong At Solstice
Seattle Riot, as usual, opened their season at Eugene Solstice and came away with a comfortable undefeated performance to win the tournament. They defeated San Francisco Nightlock 13-8 in the final.
Also in attendance at Solstice: a new Bay Area team, LOL, which has some heavy hitters on the roster (note that the team played with some Fury players at Solstice). LOL is reportedly going to play in the Series.
Quick Hits
Atlanta Ozone bageled both their semifinal and final opponents (Atlanta Outbreak and Florida Tabby Rosa, respectively) to win the ATL Classic. Woof.
Kansas City Wicked topped Denver Jackwagon 13-9 in the FC Solstice final.
Raleigh Phoenix opened their season with an easy tournament win at the Cackalacky Challenge, defeating Triangle YCC team Warhawks 15-7 in the final.
Indy Rogue beat Chicago Dish 8-4 in the SCINNY final.
At Texas 2 Finger, Dallas Maeve beat Houston Inferno 10-5 in the 1v2 game.
#1 seed Boston Siege got out to a good start to their 2017 campaign with a 15-11 win over Pittsburgh Hot Metal in the Boston Invite final.
Looking Ahead
The Pro-Elite Challenge kicks off the Triple Crown Tour and the competitive club season this weekend in Denver, Colorado. The pools are here. Ultiworld coverage starts tomorrow with preview articles. Follow along with our reporting this weekend on Twitter and here on Ultiworld, and stay tuned for our filming schedule!