With 76 teams headed to Blaine, this could be the biggest, most exciting edition of YCC yet.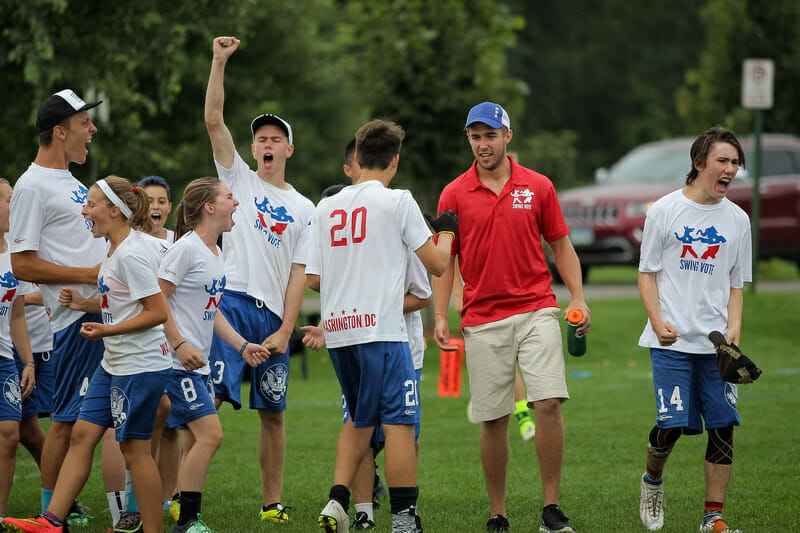 The article is presented by CUT Camps; all opinions are those of the author. Please support the brands that make Ultiworld possible and participate in CUT Camp!
The Youth Club Championships return to the National Sports Center in Blaine over the next three days for what is always a fun and exciting weekend. A record 27 teams will compete in the Boys U19 division, in a much improved format. No longer will one loss on Friday eliminate a team from competition, as two teams from each pool of six or seven will reach the quarterfinal round. The previous six years have crowned six different champions, a trend that can only continue for so long.
On the girls side, it's once again a question of whether anybody can take down Seattle. Could this finally be the year the perennial powerhouse is knocked off?
The tournament also features the most exciting mixed field in recent memory. Buckle up.
Boys U19
Pool A
BUDA comes in as the defending champion and the overall one seed. They lose their big name stars Tannor Johnson and Mac Hecht but they return a strong contingent of Amherst players. Although none of them ultimately made the team, Amherst sent five players to junior worlds tryouts this year, all of whom will be playing on BUDA. The most notable of those is Luke Webb, who led the team in goals last year and made an incredible catch in the finals that ended up sealing the game.
Nashville returns for its third year at YCC with big expectations. After an 8th place finish in 2015, the Nashvillains look to improve once again and earn a spot in the bracket. Grant Waldron comes off a gold medal with the US Junior National Team in Poland last week and will bring that experience back to his hometown team. Nashville features players from solid programs Blackman, Independence High School, and University School of Nashville, among others n the growing Tennessee youth scene.
Cincinnati Flying Pig will be the biggest challenge to Nashville for the second spot in the pool, after being eliminated by them in a thrilling pool play game last year. Jordan Monnin, also a member of the US Junior National Team, will once again be the center of the team. Monnin has a strong case for being the most dominant cutter in the division and has the ability to take over the field for stretches of points.
Rounding out the lone pool of six are Charlotte, Houston, and Connecticut. Charlotte is making its first appearance at the tournament after dropping out last year. They will be lead by Theo Watkins who plays club with BaNC and is an excellent athlete and defender. Connecticut will be led by captain Zach Braun who will be attending Ohio State this fall. They've been a surprise team at YCC before and look to be once again with an experienced team. Houston makes their second trip to YCC and should have good chemistry together after two warm-up tournaments with promising results. All three of these teams have potential to be a spoiler and will be trying to give the top three a run for their money.
Pool B
North Carolina's Triforce loses some tremendous players from last year, but once again comes in as possibly the favorite to win the tournament. The O-line will feature junior worlds players Liam Searles-Bohs and Dillon Lanier, but the depth of this squad goes far beyond those two. The team pulls from both Southerns finalists — Carolina Friends and East Chapel Hill — but also boasts studs from the growing number of good Triangle-area high school programs. Jeffery He from NCSSM and Dean Merritt from Carrboro are just a few of the lesser-known players that will make noise for this team this weekend. Triforce finished a very impressive 2nd at their warm up tournament, losing to club team Richmond Floodwall in the finals and scoring an impressive win over DC's John Doe. They will almost certainly be playing on Sunday again in Blaine.
Triforce will likely get its biggest pool play test from an aggressive and athletic New Jersey DEVYL team. Despite losing some talent to the Philadelphia mixed team, DEVYL is still stocked on players from high school powerhouses Westfield and Columbia. Connor Russell from Westfield stands out as a tall lefty handler that's hard to stop. Russell will be attending UNC-Wilmington next year. They will also get big contributions from Pennsbury studs Mac Rushing and Penn State commit Colby Gordon.
Actually seeded above New Jersey, Colorado will be looking to hold off DEVYL for the 2nd spot in the bracket. Cutthroat loses star Will Lohre but will once again be a solid team. The area will also field a B team for the first time this year, which speaks to a growing depth of youth talent from that area of the country.
New York's Little Pony describe themselves as a fiery team with upset potential. They definitely showed that last year when they gave Minnesota a scare before running out of gas. Nathan Shapiro has been practicing with PoNY and Connor Chin and Max Kong are strong playmakers for this team. The question once again is if they have enough depth to compete for a spot in the bracket. Neuqua Nightmare will once again focus on development in the Chicago suburb of Naperville, which is coming off their first ever High School Centrals championship. Last year the team scored a universe point win in pool play and carried that to an 18th place finish. St Louis Storm will aim to recover from a winless appearance last year and Milwaukee will be making their YCC debut with the hopes of breaking seed.
Pool C
Seattle's 2015 tournament ended abruptly as the hardcap sounded just seconds before BUDA went into the endzone for the semifinal-winning score. This year's team is once again stacked and will look to break the trend of disappointing finishes for the perennial powerhouse. They'll be led once again by Ultiworld's College FOTY runner-up and Stanford star Nick Hirning. His supporting cast of junior worlds players Ivan Lee, Aldous Root, and John Randolph aren't slouches either. Seattle should have no problems dispatching the rest of their pool and will their sights firmly set on Sunday.
Behind Seattle are strong teams from Minnesota and Texas who will likely compete for the 2nd bracket play spot. Texas includes a large contingent of players from Marcus High School who would have been a top team at Southerns had they been able to attend. Top player Noah Chambers is playing for Plex this year and will be attending the University of Texas. The home team Minnesota is always a solid program but has shown that they're a step below the top tier. Last year they put together a solid tournament before getting blown out by Triforce in a pseudo-quarterfinal match. They return playmakers Cole Jurek and Jared Klein.
DC rebrands their open team this year as the Foggy Bottom Boys. After disappointing performances in each of their previous two appearances, this year's team looks primed to compete with the top of the pool. They're led by pickup from mixed's Swing Vote Gus Norrbom who will dominate the touches on the O-line. They also return a large number of players with an extra year of experience including Ben Preiss, Nick Bowers, and Markus Wolf. Carolina Sky is consistently the best B team at the tournament; they reached a peak in 2013 when they upset DEVYL to finish 7th overall. This year, they will once again look to play quality ultimate and frustrate top teams. Iowa returns after a 19th place finish with a pretty new team and a new name. Rounding out the pool, Colorado fields a B team for the first time in program history.
Pool D
The ATLiens suffered a lot of turnover but still come in as the one seed in their pool. They've historically run a vertical stack offense with an emphasis on swinging. This ingrained system should pass on well to the new crop of players. Stan Birdsong will be the centerpiece of the team. He showed his ability to take over the game on both sides of the disc in the semifinals of Southerns and might need to do the same at times this weekend. The team also features Grady star Drew Di Francesco and top handler Evan Mapes. Pool D seems to be the weakest of the four, which gives Atlanta a pretty good shot to return to its 4th straight semifinal.
Chicago was the biggest victim of last years bracket format, as they finished 5th with their only loss coming to the eventual champion BUDA. Although there is room for error this year, Chicago has its sights set on taking the pool outright. The squad picks up Alex Dienner who dominated the stat sheet last year for Neuqua as well as University of Illinois's Ben Sabourin who was freshman of the year in the Great Lakes. Pittsburgh fields a very young team this year with just six of their 22 players being 18 years of age. At Stonewalled, they were taken to universe point by a much lower seeded DC team. It's unclear how much of their roster was at that tournament, but it's a troubling sign for the team's hopes of making the championship bracket.
Red Dawn out of the Bay Area suffers from losing talent to the mixed division. Last year's team suffered from execution errors throughout the weekend and finished in a disappointing 20th place. They return most of that team this year, including top contributors Victor Kao and Finn Collom. Indiana Inferno should once again be a very athletic team that could frustrate teams at the top of the pool. The majority of their team comes from Center Grove who is a consistent participant at Centrals. Maine Rising Tide made the finals of the mixed division in 2013 but has since been unable to transfer its success into open. In a wide-open pool, Rising Tide could make waves.
Girls
The girls division at YCC has been about as one-dimensional as you can get. Seattle girls have never lost a game in the tournament's history, sometimes without bringing their top players. This year is no different as they lose two junior worlds players to the mixed division. However, with the unparalleled depth of the Seattle area, they will still undoubtedly have the strongest roster from top to bottom. Claire Trop returns after a year in which she led the tournament in goals with 25 and is just one star out of many on this team.
The Warhawks out of North Carolina gave Seattle its closest game last year and aren't shy about their desire to go to finals. Kate Lanier comes off a silver medal in Poland and will be the main handler and playmaker for the team along with AC D3 freshman of the year Alison Bashford. Karen Ehrhardt also played at the junior worlds tournament for team Japan and will be a valuable cutter for North Carolina. The Warhawks' results have improved every year — all that's left is the finals.
Rounding out the top tier of teams, BUDA women ripped through their pool last year with their closest result being an 11-4 victory. This year BUDA will return much of that squad, including top goal scorer Casey Banta-Ryan, Tess Johnson, Josephine Coppinger, and Zoe Hecht. With both the Warhawks and Seattle in the other pool, there's a good chance that BUDA returns to the championship bracket.
The other reigning semifinalist, Cincinnati Belle, gets much of their team from Centrals champion Holy Family Catholic. Hayley Samson and Katherine Fry will lead the way for a squad that should have good chemistry together. Right behind them is the rebranded Neuqua Daydream, much of which finished right behind Holy Family at Centrals and in 5th place at last year's YCC. They will be hungry for another shot at Cincinnati.
Atlanta has a lot of potential to form a competitive women's team but Catlanta will be without top Paideia players like Ollie Peterson. The same goes for first time competitor DC Justice, who loses top players from Southerns champion HB Woodlawn to the mixed division. The fact that both of these areas are still fielding teams that will undoubtedly have competitive games speaks well to the growth of girls ultimate in the southern region.
Mixed
Last year's mixed finals featured the most exciting game of the tournament as DC Swing Vote took down the Bay Area Happy Cows in a double-game point thriller. This year, five junior worlds players and two alternates will be featured between the two teams, making a rematch likely.
Swing Vote will face two large challenges in pool play in Seattle and Philly. Although still not as strong as the single gender teams, Seattle mixed has really bolstered its roster this year with two members of the US Junior National Team in Kate Daugherty and Carly Campana. Mixed is the only youth championship that has eluded Seattle thus far, but these additions to an already deep roster could change that. Philly Forge finished in 5th place in its first year attending YCC, but only lost to the two finalists. This year they return the core of their team featuring all-freshman college players Nate Donaher and Spencer Deroos. They're once again in a pool behind two top tier teams, but with three advancing to the bracket, Philly could make waves on Sunday.
Elsewhere in the division Atlanta picks up LSU player and Bamasecs freshman of the year Johnny Sims along with worlds player Marie Perivier making them an upset threat. Oregon should also return to being a strong team after a down year in 2015. Utah and San Diego are making their first YCC appearances in the mixed division this year.