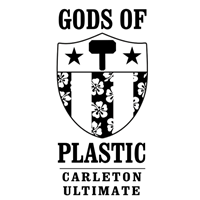 Carleton GoP
Based in
Northfield, MN
Nicknames
Fruit Pooch
Short Name
Gods of Plastic
Achievements and wins
DIII
National
Champions (3)
2012, 2010, 2009
Links
GoP is a 22 year old, single, Jewish boy from Northfield, MN. We are roughly 5' 9" tall, 125 lbs heavy, injury prone and single. Our main interests are frolf, Boone's Farm and Triforce. We enjoy long walks along the Cannon River with our pet lion Fruit Pooch and our favorite holiday is Alumni Weekend. We hate wasting time at the gym and prefer to spend our days doing something useful like spamming the listserv or playing Settlers of Catan. Our 5-year plan is to graduate with a humanities degree and no employable skills from a liberal arts college that no one has ever heard of and then move to San Francisco where we don't have a job. We are single and seeking someone age 18-99; our search radius is 500 miles but we have no means by which to travel. The perfect match is unmotivated, average looking, and quirky. If interested, please find us on twitter @GoPRocks. We don't follow back.
Recent Ranking
Carleton GoP was ranked #4 in our College D-III Men's Power Rankings on March 18th, 2020.
Recent Videos
For more videos try searching our video archives on VHX.