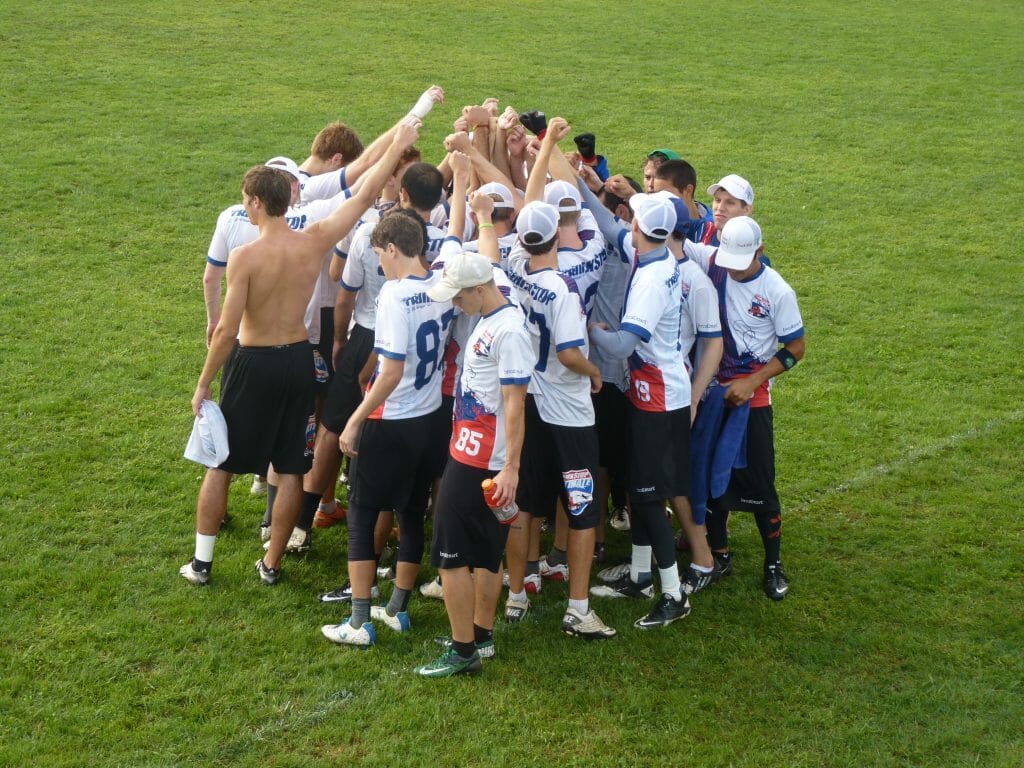 Two big sanctioned tournaments this weekend made for exciting — and important — action in all three club divisions. Let's run down the results.
Chesapeake Invite — Poolesville, MD [S]
Open
We were down in Maryland covering the Open division of Chesapeake all weekend. Here's our full recap. Videos, analysis, and more coming all this week.
Mixed
The weekend belonged to Minneapolis' Drag'n Thrust, the overall three seed, who went a perfect 7-0 to take the title and guarantee a top five spot in this week's USA Ultimate rankings. They began Sunday by crushing Bucket (Atlanta), who had upset the country's number one team, The Ghosts (Boston), on Saturday to win their pool. In semis, they beat a solid Ambiguously Grey (Washington) before upsetting Boston's Slow White in the finals, 13-10.
Before that game, Slow White was rolling — including two wins against crosstown rival The Ghosts, who were missing some top players this weekend. The Ghosts said on Twitter, "Not the outcome we wanted for the weekend, but we're just getting started."
Ambiguously Grey was the surprise of the tournament, coming up from the 10th seed to lose close in semifinals. They will solidify their top 10 ranking with their performance.
Connecticut's District 5 — a 2011 Nationals semifinalist — came to Chesapeake as their only tournament before the Series. They are not a practicing team — and it showed. They went 2-4, losing their pool and falling in prequarters to The Ghosts. Their chances at another Nationals run hinge on how many bids the stacked Northeast region can collect before the Series.
Women's
This was not an interesting bracket in the women's division. Washington's Scandal — the country's number three team — absolutely crushed the other five teams at the tournament, allowing only two points against them the entire weekend. They won 13-0 in the finals over VA Rebellion.
Heavyweights — Chicago, IL [S]
Open
Although not packed with top teams like Chesapeake, the Open Division at Heavyweights showcased many of the top teams from the Midwest. The finals matchup was inevitable: Madison Club v. Machine (Chicago). Coming off a strong performance at the Emerald City Classic, Machine continued to have an excellent season, taking down Madison 15-10 in the finals and going 8-0 on the weekend.
Could Madison Club's performance be strong enough to put them in the top 16, possible earning the North Central region a strength bid? Hard to say. It's also not certain that Regional rival Sub Zero will stay in the top 16. The two teams may have to face off for the region's only bid to Nationals.
Phoenix's Sprawl played well, losing only to Madison Club 12-10 in the semifinals. They likely didn't do well enough to get into the top 16, but they will be challenging on Sunday at Regionals.
Ten seed Space City Ignite (Houston) was the big surprise, making it to semis with wins against Voodoo (Seattle) and Phoenix (Ottowa) along the way. They played well against Machine, but lost 15-10.
Mixed
Perennial powerhouse Chad Larson Experience (Iowa) had an excellent weekend, going 8-0 including a 13-4 drubbing in the finals against Atlanta's Southern Revival. They had one close game that came against Denver's Mesteno in the semifinals, but they grabbed the 13-11 victory.
Southern Revival's path to the finals was unusual. After going 0-3 in power pool play, they played much better on Sunday, beating Cosa Nostra 13-10 in semis after losing to them 12-6 earlier in the weekend.
Women's
Heavyweights provided much more interesting games in the women's division than Chesapeake. Number four ranked Heist (Madison), however, stood well above the rest of the field, going 6-0 and dominating everyone except top seed Nemesis (Chicago). Heist has not lost yet this season.
New York's Bent also played well, losing only to Heist and likely doing enough to remain in the top 16 in this week's rankings.
Nemesis — a 2011 Nationals team and the tournament's top seed — did not have a great weekend, losing twice to Heist and once to Hot Metal (Pittsburgh). They did not play their scheduled game against Bent in the Saturday showcase round.
*
Stay tuned for lots more from the Chesapeake Invite, analysis of this week's rankings, and more.