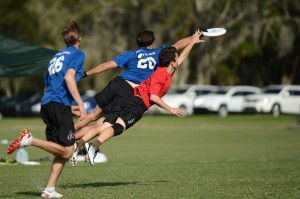 Here's a recap of all of Friday's action at the USA Ultimate Club Championships.
OPEN
Pool E
Ironside continued to roll on Friday with easy wins against Toronto's GOAT and Seattle's Sockeye, 15-6 and 15-8, respectively. The Boston team never looked challenged en route to locking up the one seed in bracket play. Nobody has scored more than eight points against them. Their game this morning comes against Atlanta's Chain Lightning.
Sockeye had to battle to get past a strong GOAT team, but pulled out the 15-13 win. They cruised past Rhino, who lost the pool to face a prequarter game.
Pool F
San Francisco's Revolver, in a much tougher pool, got past the two South Central teams: Denver's Johnny Bravo and Austin's Doublewide. Many were anticipating their game against Doublewide to be an exciting, close one. It was anything but. Revolver crushed them 15-3, outclassing them in every facet of the game in the biggest blowout of the weekend. Doublewide will need to put that behind them to beat GOAT in quarterfinals.
North Carolina's Ring of Fire made their day easier with a 15-11 win over Bravo. Ring faces Sockeye this morning. Bravo advanced to prequarters.
Pool G
Chain Lightning didn't have much business being in this pool and it showed. They cruised past both Vancouver's Furious George and Palo Alto's Boost Mobile to head to prequarters. Furious also lost to Sub Zero, who lost to Boost, giving them their first win of the weekend.
Pool H
Chicago's Machine was the heavy favorite in this pool. After a slow start against New York's PoNY, they pulled away late to win 15-11. They easily beat Washington, D.C.'s Truck Stop. Madison Club recovered from a rough Thursday to win against Truck and PoNY.
PoNY went winless on the weekend in a performance eerily similar to what happened at the Emerald City Classic, where they lost almost all their games – and all by just a handful of points. PoNY scored double digits in each of their games and many were very winnable. They have been unable to close out games all season.
Prequarters
See our recap of prequarters here.
MIXED
Pool E
The number one seed San Francisco Polar Bears slipped on Friday, losing both of their games, one to Iowa's Chad Larson Experience and the other against the Bay Area's Blackbird. They now have to face the two seed, Boston's The Ghosts, in quarterfinals. CLX looked strong, going 2-0 on the day with a 15-10 win over Blackbird. Cosa Nostra lost both games to face prequarters.
Pool F
Minneapolis' Drag'N Thrust stayed undefeated on the weekend with big wins against Northeast teams The Ghosts and Montreal's Odyssée. Many of Thrust's games have been close, but they have showed a lot of poise under pressure to pull out wins in every one. The Ghosts beat crosstown rival Slow White again to take second in the pool. Odyssée used the windy conditions to their advantage, getting a universe point win over Slow to relegate them to prequarters
Pool G
Three teams went 2-1 in this pool, making it a point differential question. San Francisco's Mischief, despite losing to Atlanta's Bucket, got through to prequarters thanks to a blowout 15-5 victory against Ann Arbor's Overhaul. First time Club Championships qualifier Wild Card lost both of their games.
Pool H
Oakland's American BBQ had to battle against Regional rival 7 Figures in a very windy game, but managed enough upwind scores to win 16-14, getting a spot in prequarters. Missoula's Mental Toss Flycoons and Philadelphia's AMP each got their first win of the weekend.
Prequarters
See our recap of prequarters here.
WOMEN'S
Pool E
San Francisco's Fury continued their march towards another title with two more victories on Friday. They didn't have much trouble against Boston's Brute Squad, but overall three seed Scandal (Washington, D.C.) gave them a game as the wind acted as an equalizer. But Fury still got the 15-12 win – that maintains their smooth path to finals. Scandal took second in the pool, but had to grind out a 15-13 win over Brute Squad. Brute ended up in prequarters after a 15-9 loss to Chicago's Nemesis.
Pool F
The wind made it tough for them, but Seattle's Riot got two wins Friday to stay undefeated on the weekend. Vancouver's Traffic, as usual, gave them a game, as did the surprising Showdown (Austin), who took second in the pool. Traffic, despite nearly taking down Riot, ended up 0-3 and facing a prequarters play-in. Boulder's Molly Brown's 15-13 win over Traffic got them straight into prequarters.
Pool G
Last year's semifinalist Toronto/Ottawa Capitals easily won this pool to head to prequarters. Madison's Heist are holding seed so far and will have to face Brute Squad again today to have a chance at 9th. Pittsburgh's Hot Metal got their first win of the weekend against Portland's Schwa.
Prequarters
See our recap of prequarters here.