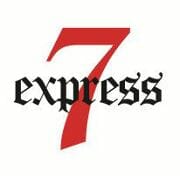 This is the first article in a series on USA Ultimate's new Club Division restructure, the Triple Crown Tour. We will be publishing comments from various teams and players about the new system and how it affects teams from the various tiers. We recommend reading this first to understand the Triple Crown plan.

New York's 7 Express finished in 7th place at Northeast Regionals in the Mixed Division, relegating our team into the Select Flight of the new USA Ultimate Triple Crown system. As a captain of this year's team, I would like to offer some insights and opinions about the new system by taking a look at our season and showcasing how it would be different under the 2013 changes.
This season 7 Express was fortunate enough to participate in some of the most competitive mixed tournaments in the country, playing in the Boston, Philly, and Chesapeake Invites. Participating in these tournaments provided us with invaluable opportunities to measure up against some of the best teams in the division. The experience gained from these events cannot be overstated especially for a team with a very young core.
Our season may have ended earlier than we wanted when we stumbled at Northeast Regionals, but if there is a silver lining at the end of a promising, yet disappointing season, it is this: being beaten by the best helps prepare you to become the best, and there is always next year. Except now there isn't.
In 2012 we played a total of 13 games — with a record of 3-10 — against teams that eventually qualified for USAU's Club Championships (and are now placed into the Pro and Elite Flights for 2013). One of those losses came on universe point against perennial powerhouse Slow White (Boston), who finished 10th in Sarasota. Another came in the finals of the Philly Invite against Overhaul, another universe point loss. Our average margin of defeat in those thirteen games was -2.8 points. Rounded up that would mean we basically played the top sixteen teams in the country to scores of about 15-12.
We also played 10 games against teams that will be relegated with us to the Select Flight (tier 3). In those games we were 8-2. With an average margin of victory at +3.6 points. In those ten games we only allowed teams to score in the double digits three times.
That makes 7 Express' record 11-12 against Tiers 1-3. We played a bunch of close games against the top teams despite losing most, but we also showed we could easily handle our peers in tier 3. Statistically this puts us right at the border of tiers 2 and 3. In the past, this would matter little, as the following season would offer plenty of opportunities to continue competing against the teams who placed above us. However, under the new Triple Crown system, I fear many of these opportunities are going to be lost as teams at this year's Club Championships will be required to mostly participate in segregated, tier specific events where a "lowly" team like 7 Express will not be allowed to participate.
One of USA Ultimate's stated goals of the new system is to encourage more meaningful competition among teams. It is my opinion that the new system will have the exact opposite effect on my team next season. The new structure will force us to play against teams that do not offer us the best in terms of competition. There is also the glaring problem of geographic diversity. By making it much harder for 7X to play against upper tiers, we are losing the opportunity to play against to following teams: AMP (Philadelphia), The Ghosts (Boston), Slow White, Wildcard (Amherst), and Odyssée (Montreal).
This season we played those teams (all located within about four hours of New York) a total of ten times, which accounts for a third of all our officially rostered games. Under the new system we would most likely need to travel significantly farther to play enough tier 3 teams. As a captain, I do not think it would make sense financially to require my team to travel significant distances to play competition that is weaker than what we were accustomed to playing this year. Yet I would have no issue with a West Coast trip if championship qualifiers were going to be in attendance: we have proved we can play with the best, and in some cases come out on top. The experience would be well worth the cost.
Until next season starts it will be impossible to see how tournaments and teams in all tiers are affected, but I am deeply concerned that good teams that narrowly missed out on the Club Championships are going to face unprecedented and unnecessary hardships in 2013. It is my opinion that this new system is going to stifle the growth of the "almost elite." I hope I am wrong.