The Santa Barbara Invite will give us our first real glimpse into Nationals squads from last year (California, Washington, and UC Davis), while providing the opportunity for up-and-coming teams to take their first step towards a bid to Madison.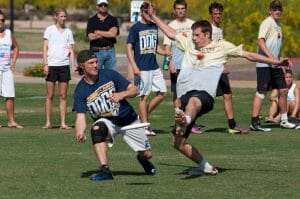 UPDATE (1/25): Due to rain, the tournament format is been changed fairly significantly. The bottom four California teams (UC Santa Cruz, San Diego State, Cal Poly SLO, and UCLA) have been dropped. Pool play has changed as well, but it has not been updated on Score Reporter.
Ed. Note: Welcome to Ultiworld's college season coverage! We will be around the country reporting on everything happening during the run up to the College Championships, including our blend of extensive video coverage, in-depth reporting, and high-level analysis.
While the Los Angeles area is cooling down from the annual beach party that is Lei Out, the spring season is about to heat up for a handful of West Coast regional contenders. Ninety miles up the coast on the campus of the University of California in Santa Barbara, the first high-caliber left coast tournament is nearly upon us. The Santa Barbara Invite will give us our first real glimpse into Nationals squads from last year (California, Washington, and UC Davis), while providing the opportunity for up-and-coming teams to take their first step towards a bid to Madison.
Adding intrigue to the weekend, the final at-large bid to the Stanford Invite is on the line this weekend. The bid will be given to the highest finisher between three teams: Arizona, California, and UCSB.
Pool A (Washington, California, Arizona State, UC Santa Cruz)
Easily labeled the "pool of death" with two Nationals teams from last year paired up with a dangerous team in ASU and a 2011 Nationals team, albeit with a forgettable season a year ago, in the slugs of UC Santa Cruz.
The Washington Sundodgers have opened their past two seasons with great showings at the SB Invite (runner-up in 2011, 3rd in 2012), and haven't missed nationals since the Northwest region was restructured after the 2010 season. They clearly deserve the overall one seed and have to be viewed as the early tournament favorite. And, adding to an already well-established program, Washington has reloaded from last season with a freshman class led by Junior Worlds stand out Khalif El-Salaam.
California UGMO rolled through the Southwest region last year with a veteran team that had 11 senior/grad student players. Couple this with Stanford Invite giving a bid to UC Davis over them, perhaps this spells a down year from California. That being said, Cal has made Nationals three of the past four years and is never wanting for talent.
Arizona State is a team on the rise. Prime (previously the Diablos) can match up athletically with any team in the country, and when their long game is on point they are a tough team to beat. Look out for Nate Bridges, who is bound to make a few incredible plays a game, and Scott "Track Star" Rivoir and Zak Semerad, who are both essential to Prime's deep game. Any team set to play ASU should be on upset alert.
UC Santa Cruz is a year and a half removed from a trip to nationals, but it feels like much more. After their trip to Boulder in 2011, the Slugs went through huge roster turnover and did not attend Regionals last year.
Pool B (Stanford, British Columbia, UCSD, UCLA)
Unless UCSD or UCLA make a strong push to knock off British Columbia, this may be the most lopsided pool of the tournament. This might seem like a bold statement, especially considering that perennial SW regional contender Stanford sits as the one seed. But the full-fledged Bloodthirsty does not lace up its cleats until Stanford Invite, opting to use SB Invite as a chance for development. They finished 8th in 2012 and 11th in 2011.
Of course this isn't an excuse to take them lightly though. They had a disappointing finish to the 2012 season, so they will be out for revenge this season. Bloodthirsty will have to adjust after graduating Jordan Jeffery, 1st team All-Region and member of San Francisco's Revolver, but they still have difference makers in Kellen Asercion, Ben Funk, and Tyler Boyd-Meredith that will continue to make Stanford relevant in the Southwest region.
UBC always has a wealth of talent and should be viewed as a championship contender in Santa Barbara. This fall they took place in the Canadian University Ultimate Championships (CUUC) and went undefeated. They also won the SB Invite the last time they played (2011). UBC lost a large part of the 2011 Nationals team and still nearly made it through the Northwest region last year, only losing to the eventual top two teams Washington and Oregon. UBC should be challenging late on Sunday.
UCSD and UCLA both find themselves in similar situations. Both have deep programs that have historically had a lot of success, but they have fallen on harder times in the past year. A bounce back from one or both of these teams would not come as a surprise. UCLA was granted a bid by finishing 2nd in the Santa Barbara Qualifier and was not challenged until the finals against Las Positas College (LPC declined the bid to the invite).*
Pool C (UC Davis, UC Santa Barbara, Victoria, Williams)
The Davis Dogs turned heads last year by earning the second SW bid to Nationals. At Regionals last year they played a consistent style and wore teams down with their depth and speed. Although they lost to Cal at Sectionals and Regionals last year, they have been given a bid to Stanford Invite over California later this year. They will be out to prove that they are not a one-and-done team. Do not expect UC Davis to give away victories.
The host team UCSB Black Tide is a team steeped in tradition and always shows up on their home turf. Each year is Nationals or bust for them and they view this tournament as the first step in that journey. Black Tide is always well coached, and with core group veteran players who spent their fall playing club on Condors, UCSB looks to have another deep team. Tide has also picked up 5th year transfer Niles Brinton, who previously played and captained at Clemson.
University of Victoria is also making the trip from BC, Canada, and, like UBC, they also took part in CUUC this fall, finishing 3rd. They finished behind UBC and Manitoba but both games were close (11-12, 11-14). UVic has a good mixture of youth and experience, with a huge freshman class. The teams at Santa Barbara will be a new experience for UVic who is looking to gain valuable experience from the trip.
Williams is making the trip all the way from Massachusetts, which didn't seem to bother them last year when they made it to quarterfinals before falling to Cal-Poly SLO. Last season SB Invite was their only major tournament until the middle of March. Williams is a D-III school that qualified for Nationals in 2009.
Pool D (Arizona, Florida State, San Diego State, Cal Poly-SLO)
Arizona Sunburn is coming off of a successful season, finishing tied for 5th at Regionals with a very young team. With only three D-line players lost from last year's team, Sunburn is looking to pick up right where they left off. In the fall they attended Missouri Loves Company and earned upset wins over Colorado and Carleton CUT, while battling close with Wisconsin in a showcase game. Expect handler Brice Dixon to put on a show with his huck game and Sean Ham to influence games with his physical D. Graduate transfer Tom McClintock from Amherst College will provide another dangerous thrower to the already handler-heavy Sunburn squad.
Florida State is a huge wild card team. Playing FSU DUF is going to be a new experience for everyone at Santa Barbara. DUF had a very successful fall season not dropping a game at two separate tournaments, and picking up victories against Central Florida and Dartmouth twice. And with a 4th place finish in the Southeast region last season DUF is looking to impress at Santa Barbara.
SDSU Federalis in 2011 had to absorb two heart-breaking loses in two games to go. Since then they have had huge turnover, but still put up respectable results last season, finishing 6th at Prez Day and finishing 8th at Regionals. This fall they went 3-3 at Sean Ryan, with loses to Stanford, California, and Las Positas, while posting wins against Cal Poly SLO, Long Beach, and Chico State. Santa Barbara will be a good proving ground to judge this team as a contender for the region.
Cal Poly-SLO will be missing two huge members from their team last year after graduating Jake Juszak, who plays for Boulder's Johnny Bravo, and Peter Raines, who plays for the Santa Barbara Condors. The last few years Cal Poly SLO CORE has been an athletic, hucking team, but it should be interesting to see how they transition after missing these two players.
Who Wins?
The heavy favorite has to be Washington, but UBC, UCSB, UC Davis, or Arizona could challenge for the crown. And with so many unknowns, like Cal, Stanford, and Florida State (all for different reasons), this tournament is hard to pin down. My big upset pick for the weekend is Arizona State. While they probably will not win the final game on Sunday, they will not leave Santa Barbara quietly.
A factor that must be taken in account is the absence of key players trying out for U23 Team USA in Los Angeles, CA, this weekend:
Tyler Boyd-Meredith   Stanford
Bryan Cheng    Stanford   
Nils Clauson   UCLA
Jesse Cohen   UCSD 
Travis Dunn    Arizona State
Khalif El-Salaam   Washington
Matthew Jaffe   California
Elijah Kerns    UC Davis
Cody Mills    Stanford
Trevor Purdy   UCSD
*Las Positas decided not to attend the Santa Barbara Invite because of U23 tryouts and because the Invite would be their third tournament in as many weeks.