Can Warm Up produce yet another National Champion?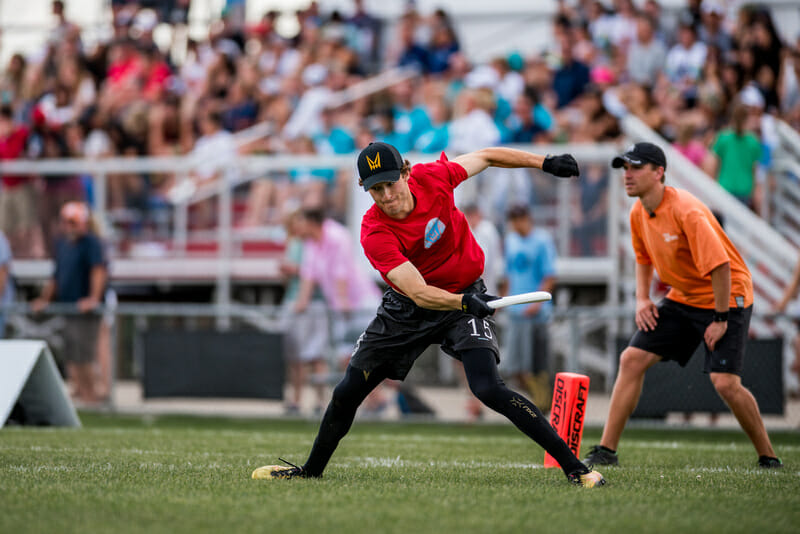 Our coverage of Florida Warm Up is presented by Spin Ultimate; all opinions are those of the author. Please support the brands that make Ultiworld possible and shop at Spin Ultimate!
There's no college tournament quite like the Florida Warm Up. Bringing together teams from every region to play three days of games in the beautiful Tampa sunshine, Warm Up delivers on the promise embedded in its name. Many teams — including the North Central powerhouse triumvirate of #1 Carleton, #3 Minnesota, and #5 Wisconsin  — will take the field for the first time this season.
With match play instead of traditional pool play, teams get a wide range of competition that is somewhat power-matched to their quality. A bigger bracket this year could bring some extra fireworks.
This tournament has always been a season-defining one. Since 2010, four Warm Up champions have gone on to win the National Championship (most recently, Minnesota in 2016). Bids are won and lost. Surprise teams emerge. Let's catch some rays.
Tournament Profile
Date: February 16-18
Location: Tampa, FL
Weather: Highs in the low 80s, nothing but sunshine
Top 25 teams: 10
The Format
Warm Up eschews traditional pool play for a hybrid format that combines an element of pool play (every team is in a five or six team pool and each team plays each other) with match play games against teams outside of their pool for a total of six matches.1
After pool play, every team will be ranked according to their overall record. Pool performance is irrelevant. The top 10 teams will make the bracket (that's up from six in recent years). The #8 and #9 seeds will compete for a spot in quarters against the #1 seed; similarly, the #7 and #10 seeds will vie to face the #2 seed. From there, traditional quarterfinal seeding and competition follows.
Given that many teams will have the same record, the following tiebreakers will be in place (in this order):
1. Head to head or point differential of tied teams. All tied teams must have played each other.
2. Total point differential
3. Total points scored
4. Sum of square roots of point differentials (add positive point diffs and subtract negative point diffs). [Closer games matter more, blowouts matter less.]
5. Coin flip
Some teams have easier paths to the bracket than others: it's part of the fun!
The Contenders
#1 Carleton CUT
Ahh. The reigning champions of men's college ultimate. A team packed with talent from various high-school-to-college pipelines across the fruited plains of America. CUT will simply grace Tampa with their presence, take a selfie in front of a Waffle House, and collect nine straight wins en route to a Warm Up title. Surely, there can be no other outcome.
To quote the great Lee Corso2, "Not so fast, my friend!"
Carleton, who, again, would go on to win Nationals last year, failed to even qualify for the bracket at Warm Up 2017. Those results speak to both the quality of the field at the tournament but also to the consistent early spring methods of CUT and head coach Phil Bowen.
"It would be easy to come off a championship when you return a lot of players and want to have that be your baseline level and work on more things and get more complicated," Bowen told Ultiworld. "We're definitely trying to take this year similarly to any other year, where the emphasis is on dialing-in the fundamentals and creating a good team culture through hard work."
Rather than layering on nuance and detail, CUT will be rediscovering the things that made them good in the first place. That's kind of a bummer for those who were excited to see Carleton be the best team in the country this very instant, but it's a necessary reset for their hopes at a championship repeat.
If it's any consolation to college ultimate fans following along at home, this process-oriented approach is probably as maddening to CUT as it is to you. It must be quite a temptation for Bowen and company not to just tighten the rotation, find something that works against an opponent, and beat them over the head with it.
Expect an unsexy and simple approach from Carleton this weekend.
On the bright side, it would be hard to make this team simple enough to miss the (now extended) bracket. CUT is stacked and their pool play schedule is weak. If they come out doing the fundamentals right (after a winter indoors), they'll be tough to beat.
Defining Pool Play Game: UConn
#3 Minnesota Grey Duck
Grey Duck has made the final in each of their last two trips to Warm Up. Each year, they ran exclusively person-to-person defense. Each year, freshmen defenders stepped up (Cole Wallin in 2016, Jonah Malenfant and Cole Jurek in 2017) and established themselves as major contributors.
With a huge rookie class full of YCC experience, there will be a lot of young guys trying to make a case for themselves as reliable D-line players.
"We're really excited about the youth that we have and the interesting looks that that could give us moving forward," said head coach Tallis Boyd. "Our goal this weekend is to try to get some of the new guys incorporated. For some of them this is the first real college ultimate. The fall doesn't really count. It's just different."
Boyd's right. Even at a big culminating fall event like Missouri Loves Company, you just can't manufacture the atmosphere of the spring. If some of the rookies can perform this weekend and earn regular playing time, that could give Minnesota more options on offense to make up some of the cutting duties left by the departure of Ben Jagt.3
It won't just be the freshmen finding out where they can help the team in Tampa. Codi Wood, hot off of throwing the U-24 World Championship winner one month ago, joins Grey Duck in his fifth year via Penn State. Minnesota has had a wealth of handlers in recent years, like Wyatt Mekler and Sam Kaminsky, who anchor the offensive backfield now, so Wood will likely start on defense and come over if necessary.
For whatever reason, Minnesota always looks to be the more polished and prepared of the North Central teams for this time of the year. Grey Duck should be a fun team to watch on day one in Tampa, with BYU, Auburn, and Michigan.
Defining Pool Play Game: Auburn
#5 Wisconsin Hodags
If you've seen The Blueprint, you know that the Hodags don't get many sunny, 80 degree days to practice their craft in Madison. Warm Up will be their first time outside. They will look rusty with the disc at times. Bet on that. But also bet on them to get a ton of blocks. That's just how it works for Wisconsin at Warm Up.
The Hodags have lost some firepower behind the disc – with Avery Johnson and Ross Barker now gone – and will have some tinkering to do. Fortunately, they have three days against Nationals level competition to get it right. Head coach Hector Valdivia will need to figure out how to maximize offense while keeping their defense potent enough to convert opportunities into breaks.
A dozen or so current Hodags spent the summer playing club together on Mad Men (a maneuver that is often imitated but seldom duplicated…for very long, anyway). Those extra reps together should pay dividends, especially when you sprinkle in players like big man Chris Wilen, Jeff Maskalunas, and Ian Hahn from Madison Club.
With teams like BYU, Connecticut, and Florida all coming after the target on Wisconsin's back, pool play should provide a good test to see where Madison is right now, and where it needs to be in May.
Defining Pool Play Game: FLORIDA!!! I MEAN, COME ON.
#9 Auburn Aetos
Gone are the years of Auburn putting together an entirely un-noteworthy regular season and then mercilessly ending seasons at Regionals. They'll still almost certainly uphold the latter half of their modus operandi, but now they're simply too good to not be similarly ruthless February through April. 2018 Auburn is the best Southeast team since the Florida State and Central Florida teams to make semis at Nationals in 2015.
Over the last three years of making Nationals, Auburn has always treated the regular season as a mere tool for helping them peak in the series. But they've already put together one strong tournament this season by going 5-1 at Queen City Tune Up, their one loss coming on double game point to #6 UNC Wilmington.
Martin Newman and Eric Sjostrom are a monster top two, and they are replete with depth as well. Evan Caldwell, Rocco Magnella, Michael Strobel, and James Hershey help make Auburn the deepest team in the region as well.
Cincinnati, Texas A&M, and BYU are all teams that could beat them, if they don't play their best game, but they'll be favored in all of those matches. Minnesota will be a real test, but if they don't slip up in places they shouldn't, Auburn should make the bracket comfortably and will be one of the favorites to win the whole tournament.
For the least few years, Auburn have been contenders at Nationals, peaking with a quarterfinals appearance in 2016. But this year, they should put on a few fun runs during the regular season, too. Weather kept them from fully realizing that at QCTU, but they shouldn't have to worry about that this weekend at Warm Up.
Defining Pool Play Game: Minnesota
#10 Michigan MagnUM
Coming off of a scorching hot CCC performance in the fall, Michigan entered the season ranked in the top 10 and looking like a buzzy pick for a breakout team in 2018. But they had their doubters, and perhaps some of those doubts were proven right at Queen City, where Michigan lost in pool play to #18 UConn and technically lost 7-4 to UNC Wilmington in a curtailed quarterfinal in the pouring rain.
Warm Up should provide more of a true test for a team that should easily make Nationals but wants to do more than show up. They have some tough games on their schedule, including a showcase nightcap against Minnesota on Friday evening.
Head coach Tyler Kinley is keeping his eye on May. "We're still entirely focused on peaking at the right time," he said. "Meaning, not now."
Jake Steslicki and Daniel Lee are the real deal, and we'll see if Nathan Shapiro can get it going in the backfield like he did at CCC. The team is about more than their blue-collar, gritty defensive reputation these days. They've got a legitimate O-line. We'll see how far it takes them in Tampa.
Defining Pool Play Game: Minnesota
The Teams Not As Good As The Contenders But That Are Still Pretty Good
#14 Virginia Tech Burn
Virginia Tech used to be one of those Regionals level teams that showed up to Warm Up (donning their classic Cookout jerseys) trying to knock on the Nationals door. Well, they are now a part of the in-club, having qualified in 2017 after stealing away NC State's bid at Atlantic Coast Regionals.
A very solid start to the season with a win over UMass (though a sloppy 10-8 loss to Pitt) sets the scene for their Warm Up appearance this year, where they have an extremely favorable schedule with five games against unranked teams and just one tough game against Michigan. That could set them up for a nice high seed in the bracket, and it would not be a shock to see them make a deep run to semis or perhaps beyond.
At Queen City, you could tell they were keeping Joe Freund in the cage a bit and not running him out on offense much if at all. He is far and away their most effective player, and perhaps we'll see them tighten lines up if they get into big games against top contenders later in the weekend.
VT does run a solid offense without some of their biggest guns on the field, but they are a defensive team through and through. Rhys Bergeron has played great for them throughout the fall and early spring and should be a player to watch in Tampa.
Defining Pool Play Game: Michigan
#17 BYU CHI
Though they obviously were not in contention to win the tournament, BYU was one of the darlings of last year's edition of Warm Up. It's rare for them to get to play on two days of a tournament, and they get two extra pool games to help make up for not being eligible for the bracket. A year ago they used those extra games to announce themselves as a top 10 team, but they're unlikely to replicate that this weekend.
This year they're more likely to use Warm Up as a weekend for developing younger players (cutter Seokhee Burningham is the only senior or grad student on the team) and will likely struggle against the elite teams more than they did a year ago. If they finish above .500 and are able to hang with Minnesota, Wisconsin, and Auburn late into those game, it will go down as a very strong weekend.
Defining Pool Play Game: Auburn
#18 UConn Grind
In many ways, Warm Up is the ideal situation for UConn. They are head and shoulders the best team in a Metro East region where they are near certain to qualify for Nationals. This allows head coach Bryan Jones to play the full complement of the roster and build towards the national tournament without the pressure to WIN WIN WIN right out of the gate to earn a strength bid.
That's good news for Grind, who still has some polishing to do after experiencing substantial roster turnover from last year's team. Three days of outdoor ultimate will help new starters feel out their roles and build the necessary fundamentals therein – against the quality competition you get when you spend the big bucks to fly to Tampa.
UConn will be working those contributors in around captain Wally Esker, who will get things started in the offensive cutting set; Nathan Getz, a D-line playmaker and mark breaker; and hucker Christian Bonebrake.
This is a team that has now gone to Nationals in back-to-back seasons – and that's a great accomplishment. But Grind has yet to make the bracket and in their rule as Metro East champs has been unable to find any real consistency when playing other squads the that will be finishing the year at the big show.
In their last two spring seasons, Connecticut is 4-11 (at -50) against Nationals competition.
A miserably rainy and abridged Queen City Tune Up might not provide the best sense of ability, but Connecticut started the tournament 4-1 before the weather cancellation. One of those four victories came against Michigan, who you'd certainly pencil in as a Nationals team (though the loss came to unranked Northeastern).
While UConn has the luxury of patience as the top dogs in a subpar region, like playing deep into elimination play at Warm Up might be exactly what they need to take that next step.
Defining Pool Play Game: Central Florida (who according to Bryan Jones, Grind has never beaten in a meaningful game)
#20 Texas A&M Dozen
Believe it or not, College Station is home to The Best Little Ultimate Program in Texas. It seems crazy to think but Dozen has gone to Nationals four years in a row. Heck, they've been the only qualifier from Texas in the men's division in the last two years.
There have been some transcendent throwers and players in that stretch, but they weren't on the roster last year. In 2017, A&M was not supposed to go to Nationals… but they did anyway. Dozen returns Connor Ughetta, a do-it-all handler who will literally have to do it all, and some experienced targets like Connor Cole and Jamie Wall.
This is a scrappy team (they outlasted Florida in a chippy quarterfinal game at Warm Up one year ago) that's ready to run a tight rotation and do whatever necessary to get wins.
Defining Game of Pool Play: Arizona State (first game of the tournament and a great chance to build momentum by beating a team they should beat)
#21 Florida Gators
Florida enters the season as one of the more curious teams in the division. For years now they've been at the top of the Southeast, and every year they find new ways to not make it out of Regionals. That reputation for coming up short when it matters most often finds them just outside of true national relevance, but they do historically perform very well at this tournament.
Florida is also deeper this year than they've been in the past few years, thanks in part to the additions of Chris Dixon and Josh Layton. Dixon is a graduate transfer from Villanova who helps anchor the D-line backfield, and Layton is a heavy favorite for Southeast Rookie of the Year, thanks to his experience with mixed club team Gainesville G-Unit.
Playmakers Billy O'Bryan, Hayden Wachob, and Ryan Hiser will have to keep the turnovers to a minimum, but Florida does have a fairly easy pool schedule. If they're able to knock off Wisconsin under the lights on Friday, they have a chance to go undefeated through pool play.
Defining Pool Play Game: Wisconsin (Duh)
LSU Ultimate
Warm Up is undoubtedly one of the biggest tournaments LSU has entered in the history of the program. That should give you an idea as to what they are hoping this year will be for them. The team is deeper and more talented than they've been in recent years, and in a region that should be pretty open after Auburn, they have to feel like this year presents a good chance to make Nationals. Fifth year Tom Echols is one of the best players in the region, and he's supported by a few strong freshmen classes from from Catholic High School in Baton Rouge.4
Last year they failed to make quarterfinals at Southeast Regionals with Echols playing on a broken leg, but they made the final at Missouri Loves Company in the fall. This weekend LSU is looking at a tough schedule, but that could be a positive if they are able to pull off an upset or keep games against Virginia Tech and Michigan close. If LSU is to make to Nationals, the Southeast likely need to have at least two bids. They can help their own cause this weekend.
Defining Pool Play Game: Virginia Tech
Cincinnati Ultimate
The breaking news out of Cincinnati is that Keegan North of High Five and a U-24 gold medal winner was not able to return to school in the spring. That's devastating news for Cincy…and Ohio Valley region rivals who were hoping to poach a potential strength bid they might earn. This team still has a solid core of guys that have spent the summer playing together with the club team Schweingeist, they get Jacob Turner back from injury to lock up the defense, and, most importantly, they're going to good tournaments. Aside from Warm Up, UC is also headed to Easterns.
"If we can play these top level teams at these top level tournaments, get that second bid for the region – good," said D-Line cutter and captain Ryan Adams. "But if not, playing these top teams at these top tournaments is also going to prepare us to play that team from Pennsylvania or whoever else might be there."5
Cincinnati put their name back on the map after a big performance at Classic City Classic. Keegan North was there but they didn't have Turner all fall due to injury. Nothing left for the southwestern Ohio boys to do but play the schedule in front of them and see how the bids shake out.
Their schedule is brutal, with Auburn, CUT, and Minnesota. We should know a lot more about UC's chances at a second bid pretty soon.
Defining Pool Play Game: BYU
Central Florida Dogs of War
You could do a Mad Max remake about the Southeast region and just sub out water for "bids to nationals" as the most precious resource. It wasn't long ago this part of the country sent four teams to Nationals. Like last year, it doesn't appear there will be an excess of bids in the SE unless teams like UCF start knocking off heavy favorites.
The defense has the potential to be very good; it's able to play takeaway and force pressure turnovers. The offense, on the other hand, looks pensive and lacks big throwers. Adam Vinson will be on hand to solidify the O-line. Others will need to step up and help generate holds.
Carolina Kickoff was particularly rough on the Dogs of War. It's probably one they'd like to forget – and they might be able to do that with a good showing at Warm Up. There are more than a few winnable games on the schedule for Central Florida.
"The mentality that we're going to have to go into it with is that we're going to be the trap game for every team," said coach Andrew Roca about his team's approach this weekend.
Roca and Central Florida need something – anything – if they want to turn this young season around. UCF looked undermanned last year at Warm Up, yet they rode an emotional wave and knocked off CUT. Will the Dogs be able to find a balance between controlled madness and total meltdown?
Defining Pool Play Game: Texas
Brown Brownian Motion
Brown has been a conundrum for a few years now. They have some truly elite players in recent history but have failed to register any important wins. They still have Eli Moytcka and Mac Hecht and add super frosh John Randolph, but until they develop a defense that can consistently get break opportunities, their talent at the top will continue to not matter.
Last year at Warm Up, Brown went 1-6 in pool play, but took Auburn and Florida to double game point. At times, their offense clicked, thanks largely to the playmaking ability of their two stars. They just couldn't ever stop anyone from holding their way to a win. Still, those close games (they also had one point losses to Washington, Georgia, Stanford, and Massachusetts last year) indicate they aren't that far away from being a good team. If they show improved depth on the defensive side of the disc, they could turn a few of those close defeats into wins this weekend.
Defining Pool Play Game: Connecticut
Northeastern Huskies
Who saw this coming? Northeastern had a pretty good case for cracking the top 25 two weeks ago when they showed up to QCTU, beat UConn, had a close loss to Michigan, and lost only to top 10 teams. They didn't crack the rankings, but consider them one of the first teams outside the bubble. They might not have the element of surprise this weekend after making some ripples in Charlotte, but they do have momentum and a winnable schedule.
Keep an eye out for 6'2″ cutter Ben Goossen.
Defining Pool Play Game: Virginia Tech
Florida State DUF
A new era begins this weekend for Florida State, as program builders Peter Van De Burgt and Chris LaRocque are both no longer involved with the program. Former player and 2017 assistant Kody Cotton is now at the helm and, after their first missed Nationals since 2012, they'll try to rebuild the program.
The cupboard isn't completely bare in terms of talent, but Stephen Muir and Scott Moore are the only players left that have real experience playing important points at Nationals, and Moore won't be playing this weekend. But they should have the talent to grab a few decent wins in pool play, thanks to a schedule filled with some good mid-level competition while mostly avoiding a gauntlet of powerhouses.
Defining Pool Play Game: LSU
The Bracket Hopefuls
Arizona State Prime
After producing five All Region players between 2015 and 2016, Arizona State is now trying to find their way back towards the top of the Southwest region. South Florida on Friday and Saturday against Northwestern will be where they'll look to grab wins in pool play.
Harvard Red Line
The post John Stubbs era begins in earnest for Harvard this weekend. The Callahan winner leaves impossible-to-fill shoes behind, and so Harvard will be starting from scratch in terms of team roles. Milan Ravenell and John Rahill are the biggest names left, but they don't have the parts to survive their brutal pool schedule right now.
Illinois State Gnomes
Chicago Machine cutter Jack Shanahan provides some serious star power to the roster, but Illinois State faces an absolutely brutal pool play schedule. If they manage to get a win before consolation play, it will be a surprising upset.
Northwestern NUT
Northwestern was the surprise story at this tournament a year ago when they went on a run all the way to semifinals. However, the rest of the team's season failed to live up to that performance, and now star Ben Spielman is gone. Roster turnover and a much tougher schedule will ensure that Northwestern does not replicate their 2017 Warm Up success.
Oklahoma Apes of Wrath
One of the program's best ever products, Kai Marshall, is gone. 2017 All South Central second teamer Sam Ward returns to lead the team, but even with Marshall, Oklahoma struggled to find national relevance. It will be tough for Oklahoma to avoid going winless through pool play, but perhaps a win or two in consolation could be in the cards.
Texas TUFF
Texas saw their season derailed a year ago at Warm Up when Dillon Larberg suffered a major collarbone injury. Larberg is gone now, and so too is Joel Clutton, the deputy to Larberg's sheriff a year ago. Luke Simerly is a solid player, but there's no doubt Texas is in rebuild mode.
USF Scallywags
South Florida has built a reputation for playing a pesky, physical style of ultimate, but they've lacked the technical skill to compete with the top teams in the region. Look for them to scrap out a victory against Arizona State or Harvard in pool play, and maybe hang with a better team for a half: more than that would be a surprise.
---