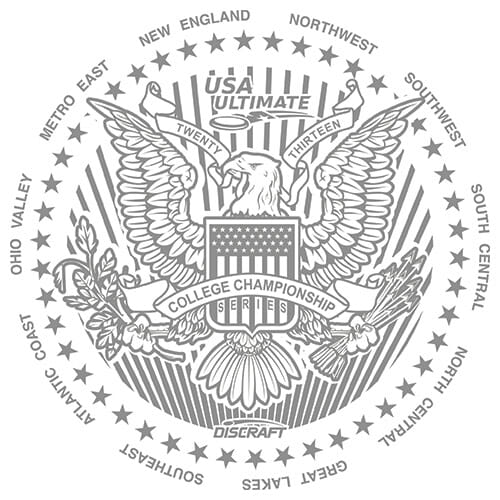 Forget about bids, forget about rankings, and forget about the regular season: this weekend marks the start of the college postseason. In one of the cooler aspects of any sport, every team in the country now has an opportunity to make a run at the National Championship. But first you've got to get out of your Conference.
Conferences aren't often considered particularly interesting. They are usually a formality for top teams, one last chance to tune up before the serious work begins at Regionals. But every year, there are some surprises. From a Conference that doesn't get enough bids to big upsets, there's usually something to talk about.
Here's a look at the D-I Open Conferences. The ones in bold we expect to be particularly interesting or worth paying attention to.
ATLANTIC COAST
Carolina
Bids: 6
Top Teams: #5 North Carolina, #16 UNC-Wilmington, App. State, Clemson, South Carolina
Archrivals UNC and UNC-Wilmington will face off in their first real matchup of the season, always an exciting game. They quietly played some scrimmages earlier in the Spring, but said only that the games were "competitive," not sharing information about the victor. While neither team has any chance of missing out on Regionals, whoever comes out on top here will have the mental edge in what could be a Regionals rematch for a bid to Nationals.
Colonial
Bids: 5
Top Teams: Maryland, Delaware, Georgetown, George Washington
This is likely to be one of the more across-the-board competitive conferences, with a good amount of parity among the top teams. The fight for seeding in the Atlantic Coast region — which has 10 of the top 70 ranked teams in the country — is important.
Virginia
Bids:5
Top Teams: #25 James Madison, Virginia Tech, Virginia, George Mason
JMU has big ambitions this year to be challenging for a bid to Nationals. This will be an important test. If they can't get through conferences easily, they'll have a tough time getting past the Carolina teams at Regionals.
GREAT LAKES
East Plains
Bids: 4
Top Teams: Indiana, Purdue, Notre Dame
Illinois
Bids: 7
Top Teams: Illinois, Chicago, Illinois St.
Tons of bids for a pretty weak conference. Illinois should roll through this tournament.
Michigan
Bids: 3
Top Teams: #21 Michigan, Michigan State, Eastern Michigan, Western Michigan, Central Michigan
Despite every team in this conference deserving a spot at Regionals, it will only advance three. Western and Central Michigan did not get 10 sanctioned games in by the end of the season, leaving them without those additional bids. That means that one of the four top teams in the Region will not be at Regionals. This is likely to be one of the most hotly contested conferences in the country.
Michigan has looked very good late in the season, and should lock up the first bid. The battle between Michigan State, Eastern Michigan, and Western Michigan for the last two will be intense. After developing rookies all spring, we expect Eastern Michigan to take the second spot and Michigan State to grab the third.
METRO EAST
Hudson Valley
Bids: 3
Top Teams: Connecticut, Central Conn. St., Yale
Metro NY
Bids: 6
Top Teams: Princeton, Columbia, NYU, Rutgers
Consistently one of the most competitive conferences in the country, this year shouldn't disappoint. The top four teams all have Nationals ambitions. The one bid Metro East makes the battle for seeding even more important.
Hard to pick a favorite here; every team is capable of beating the others. Princeton, as the one seed, is the nominal favorite, but don't be surprised by an upset.
Western NY
Bids:5
Top Teams: Cornell, SUNY-Buffalo, Syracuse, Queens Kingston
Can SUNY-Buffalo pull off the Conferences upset of Cornell two years in a row? Buffalo got soundly beaten by the Buds at late March's New England Open, 13-7, and will need to bring their best game to beat them when it counts. An important early test for Cornell if they hope to retain their Metro East champion title for another year.
NEW ENGLAND
Metro Boston
Bids: 6
Top Teams: Harvard, Tufts, Boston College
Since neither team can seem to figure out Dartmouth, the almost certain finals matchup between #14 Harvard and #15 Tufts takes on another layer of meaning. With only two bids coming out of New England and three teams in the hunt, winning this first matchup is critical for confidence.
North New England
Bids: 3
Top Teams: Vermont, Salem State, New Hampshire
South New England
Bids: 4
Top Teams: Brown, Massachusetts, Williams, Rhode Island
Brown continues to fly under the national radar, but they have the pieces to pull off some upsets at Regionals. First they'll need to prove they can take down the solid competition in their conference. Williams was ranked in the Ultiworld Top 25 for a time this season, after an impressive performance at the Santa Barbara Invite.
#13 Dartmouth is playing in the North New England DIII conference.
NORTH CENTRAL
Lake Superior
Bids: 5
Top Teams: #4 Wisconsin, Wisconsin-Milwaukee, Marquette
Northwoods
Bids: 4
Top Teams: #1 Minnesota, #8 Carleton, Minnesota St.-Mankato, Minnesota-Duluth
The season's first matchup between Minnesota and Carleton should be a battle. Minnesota is coming off of a strong, undefeated performance at Easterns, but Carleton couldn't be a more dangerous team. Former NexGen teammates Simon Montague (Carleton) and Greg Arenson (Minnesota) will be leading the way for their teams.
West Plains
Bids: 6
Top Teams: Northern Iowa, Luther, Iowa, Iowa State
The North Central region has been ravaged by poor weather, causing tournament cancellations and a tough regular season. This will finally be an opportunity to see how these good midwestern teams stack up in (we hope) decent conditions.
Northern Iowa narrowly missed out on a fourth bid for the region and now face a situation where they have a target on their back. With a lot of detractors calling them overrated, this is a chance to prove that they're the team to beat from the West Plains, and at least give something for Minnesota, Wisconsin, and Carleton to think about heading into Regionals.
Should be one of the best conferences to watch.
NORTHWEST
Big Sky
Bids: 5
Top Teams: Whitman, Washington St., Utah
Cascadia
Bids: 5
Top Teams: #2 Oregon, #24 Oregon St., Victoria, Washington, British Columbia
The big question mark here is: who takes second place? Oregon shouldn't have much trouble getting the top spot, but the team that takes second jumps into the conversation as a possible Nationals contender. Right now, Oregon State, who played Oregon close at an early season tournament, looks like the frontrunner, coming off of a Chicago Invite tournament victory.
But Washington and the Canadian teams are right on their heels.
OHIO VALLEY
Ohio
Bids: 7
Top Teams: #17 Ohio, Ohio State, Dayton, Cincinnati
Another conference where the second place finisher will get noticed. Dayton had some impressive results earlier this year at Warm Up, and Cincinnati has been talked about as a possible Sunday Regionals contender since early this season.
But Ohio State has a head-to-head win over Cincinnati already this season, and played well at the Tally Classic. They are the team to beat.
Ohio shouldn't have trouble winning this conference.
East Penn
Bids: 4
Top Teams: Penn, Millersville, Temple
West Penn
Bids: 4
Top Teams: #6 Pittsburgh, Carnegie-Mellon, Penn State
Pitt will use this as a warm-up for Regionals, but Carnegie-Mellon and Penn State both have Nationals dreams. A second-place finish would set them on their way towards achieving them.
SOUTH CENTRAL
North Texas
Bids: 2
Top Teams: North Texas, Baylor, Texas Tech
Ozarks
Bids: 7
Top Teams: Missouri, Oklahoma, Kansas St., Kansas
South Texas
Bids: 4
Top Teams: #9 Texas, #20 Texas A&M, Texas State
Texas and Texas A&M will meet in the finals and get an important look at each other in advance of their two-bid regionals. Texas captain Mitchell Bennett told Ultiworld at the Stanford Invite that he is nervous about Texas A&M, where his brother Matt captains.
Rocky Mountain
Bids: 3
Top Teams: Colorado, Colorado College, Colorado St.
SOUTHEAST
Gulf Coast
Bids: 6
Top Teams: Alabama, LSU, Auburn, Tulane
Follow the action from the GCCs on Bama Secs, the conference-specific microblog.
Florida
Bids: 4
Top Teams: #3 Central Florida, #18 Florida State, #12 Florida, South Florida
The three top teams in the Region face off in Conferences: you gotta love it. With strong teams from Georgia hungry for one of the region's three bids, seeding will matter. Sunday should be a lot of fun to watch.
Florida State beat Florida 8-5 at Easterns in dreadful conditions; Florida left the game at halftime. They will likely meet in semifinals for a more skill-representative matchup.
Southern Appalachian
Bids: 5
Top Teams: #23 Georgia Tech, Georgia, Tennessee, Georgia Southern
Georgia Tech v. Georgia game is always a must-watch. Winner this year will be in the best position to nab an upset and steal a Nationals bid from one of the Florida teams at Regionals.
SOUTHWEST
Desert
Bids: 2
Top Teams: #10 Arizona, Arizona State
NorCal
Bids: 6
Top Teams: #11 Stanford, Las Positas, UC Davis
UC Davis had a poor showing at the Stanford Invite, losing all of their games, but they are still a dangerous team with experience winning when it counts. If they face off against Stanford, it should be a good game to watch.
Las Positas is still a bit of a mystery. They were trying to earn a bid to the Stanford Invite this year by winning the Open, but they lost to Santa Cruz in the semifinals. They have shown the ability to hang with top teams. A strong performance at Conferences would say a lot.
SoCal
Bids: 8
Top Teams: UC San Diego, UC Santa Barbara, San Diego State
San Diego State made a nice run at the New England Open two weeks ago, nearly taking down Dartmouth in the quarterfinals. Does that put them as the frontrunner in this conference?
With eight bids, you'd expect more top-end talent, but the fact is that no team from this conference is likely to make a big dent at Regionals.