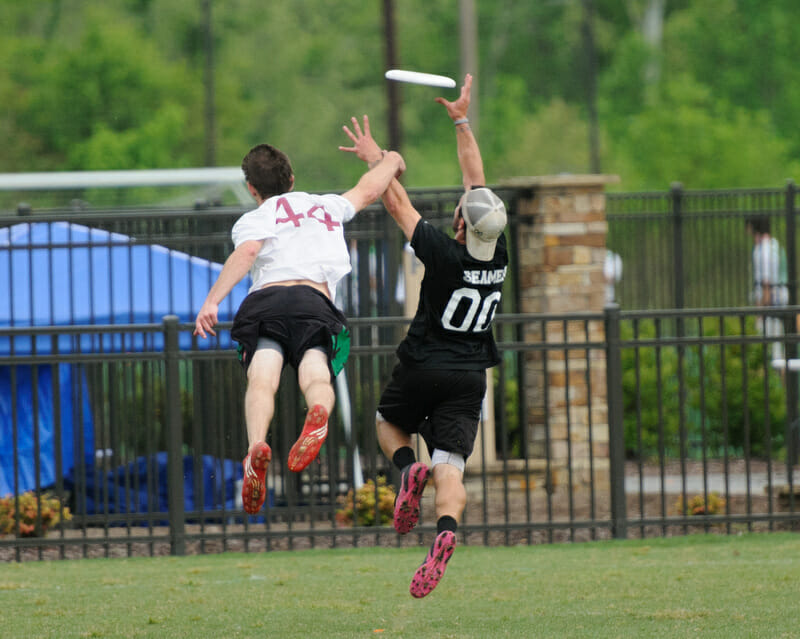 HARRISONBURG, VA — As the college season starts to get into full swing, the Hellfish Bonanza gave a number of East Coast teams their first look at their spring squad (and, for some, their first look at the outdoors!). These kinds of Regionals-talent level tournaments often get overlooked for bigger tournaments like last week's Warm Up, but they can often have an important impact on bid allocation.
With sunny pleasant weather and light wind for most of the weekend, teams got a chance to try out lots of different offensive and defensive looks. One of the biggest stories of the college season right now is the level of parity among teams below the top 25. It should be a battle to get through the backdoor bracket in many regions this year.
UNC-WILMINGTON STANDS ABOVE THE CROWD
As the lone top 25 Division-I team at the Hellfish Bonanza, UNC-Wilmington (#16), the clear one seed, was expected to roll through the competition. That's what they did, facing just one close game against Carnegie-Mellon in the semifinals (11-9). The Seamen used aggressive physical defense — and a very effective 4 man cup zone — to pressure other teams into turnovers.
In the finals against James Madison, UNC-W managed to rattle the previously strong JMU offensive line, forcing them into high stall hucks against tight defense. The Seamen D line showed poise after the turn, patiently working the disc on two consecutive points to jump out to a 3-1 lead. The game was not a clean one, particularly in the second half, where points dragged on with turnovers by both teams.
JMU gave up two more breaks and looked close to being blown out early with the score at 7-3 UNC-W. But Wilmington never found an answer for Ben Fleming — one of the standout players at the tournament. He scored their next point which JMU followed up with two breaks (one scored by Fleming) using a good 4 man cup to cut the deficit to one, 7-6.
But the second half was all Wilmington. They came out with a tall four man cup that JMU couldn't break. Wilmington took the first four points out of halftime, highlighted by a pretty sky score by Zach Gostling. JMU would score just once in the second half (on a O line Callahan).
Coming to Hellfish was a first for UNC-W, who often starts their season at the more competitive Queen City Tune Up.
Captain and 2012 NexGen player Tommy Lamar, who had a very good weekend, said, "We chose to go to an easier tournament to give the team some success early on in the season. I think this confidence is much needed for the long road ahead."
With the much tougher Easterns Qualifier slated for next weekend, UNC-W got a chance to work some kinks out early.
"I felt like the weekend was a success for us," said Lamar. "We did exactly what we were expected to do. Playing in a tournament like this is really a battle against ourselves. It can be tough at times to play up to your team's potential against lesser competition."
After an unceremonious exit from Regionals at the hands of Georgetown last year in the quarterfinals, Wilmington looks like a team hungry to get back to the College Championships. Wilmington does not want to face a repeat of last year's single bid from the Atlantic Coast region, although they aren't focused on trying to earn a bid. Their depth is impressive, and they spread playing time — as many teams did — across their roster.
They did have some trouble on the offensive line at times, throwing away simple passes on miscommunication errors and missing receivers deep. They were able to use their height and talent to generally keep teams from earning breaks against them this weekend, but against better teams that will prove increasingly difficult. They will need to clean up the offense to find success later in the season.
Next weekend's Easterns Qualifier has three top 25 teams (UNC-W, Ohio, and Dartmouth) in attendance, along with a host of contenders. If the Seamen can get quality wins at home, it will say a lot more than this weekend did.
JMU LOOKS STRONGER THAN EVER
Despite a tough finals loss that captain Jordan Albro called "pretty disappointing," JMU had a very good weekend. This was the furthest they had ever made it in their home tournament; the crowd of cheering, local fans in attendance helped them along the way.
In the finals, they showed an uncharacteristic number of mistakes: drops, throwaways, and poor decisions that got them out of contention early. A big pressure game like that, early in the season, can cause those kinds of issues. But having the experience of playing in a game like that is critical to a team's ability to win similar games later in the year.
They are playing for the first time in the Spring without 2012 1st team All Region player Kyle "Reptar" Fredericks, who they relied upon heavily to win them games in the last couple of years.
"Losing him has made us focus on the fundamentals," said captain Chris Olsen. Doing so seems to have helped the team, as they look the best they have in recent years. With explosive players like Fleming and Lloyd Blake (the most dominant duo at the Bonanza) able to play both ways, they have the talent to make a run at Regionals this year.
And that's their goal for the season: to make a run on Sunday at Regionals. Considering they were without Albro (knee) — one of their top players — this weekend, they should feel very good about their chances to achieve their goal.
They'll have to get in a lot of quality practice as their next tournament does not come until Southerns in late March.
DEPLETED DELAWARE SHOWS REAL PROMISE
Despite missing more than a handful of starters, including one of their captains, for various reasons, Delaware had a very good weekend with a run to semifinals. They beat a very good Penn State team in the quarterfinals with their effective zone that helped them jump out to a 7-3 halftime lead. By the time Penn State made a late run, Sideshow had already locked up the win.
Captain and fifth year player Matt Jerry led the team on offense throughout the weekend. He called the tournament "very successful" and was particularly happy about the underclassmen performance.
"We're extremely pleased about how our younger guys have been playing," he said, explaining that, with so many guys missing, they had to step up — and they did.
Jerry feels good about Delaware's chances in the AC Region this year. Although they lost to JMU without ever getting a break in the semis, most of that looked due to tired legs. With their starters back plus their impressive younger players in tow, they will have a shot to grab one of the bids out of the region.
CARNEGIE-MELLON DOESN'T DOMINATE, BUT GETS WINS
Carnegie-Mellon came into the tournament seeded 4th, putting them atop Pool D. In a crazy coincidence not matched since Portland Rhino's run at the 2012 Emerald City Classic, every game in the pool went to universe. Carnegie-Mellon won all three of theirs.
Despite barely beating the fourth seed Wake Forest (#12 – DIII), Carnegie-Mellon proceeded to put up the best game of the weekend against UNC-Wilmington. You might think their inconsistency would concern them, but wins are wins.
"We're digging through, but we can't really execute throughout the game," said coach Aaron Kane, saying the team was still "getting [its] legs back." This was their first time playing outside in over three months, and with a 19 man roster, that made the weekend challenging.
But their top talent, headed by captain Nipunn Koorapati, was able to grind out victories, which will be important to one of their season goals: to earn a bid for the Ohio Valley region.
"We tried to set up our tournaments to get another bid," said Kane. With their only loss coming to #16 ranked UNC-W, they're off to a good start.
PENN STATE FALTERS AFTER STRONG QCTU
With an excellent performance at Queen City Tune Up two weeks ago, Penn State crept into our Top 25 for a week before falling just outside of it this week. But they were not the same team this weekend. After nearly losing to Georgetown in pool play on an epic universe point finish, they came out flat against Delaware's zone and lost the game before they had a chance to get moving.
"I guess we never really had a problem with zone until today," said captain Rick Schaffer, explaining that Delaware consistently determined the pace of the game.
Perhaps the bigger problem was overlooking their opponents. "We gotta take everybody seriously," said Schaffer. They came out against Georgetown expecting an easy game, since Catholic Justice had lost to the pool's 3 seed George Mason earlier in the day.
Spank did recover well and won out their games on Sunday, including a quality win over Penn, but they didn't bring the same fire they had at QCTU. They'll need it if they want to have a chance to get out of the Ohio Valley Region.
They do believe they can make it to Nationals — they've been on the cusp for years. The last spot in the OV region should be up for grabs. Penn State lost to Ohio (#12) by just two at QCTU.
GEORGE MASON ON THE RISE
George Mason has never made it to Regionals. But all that looks to change this year after a very good showing at the Hellfish Bonanza, with a big upset over Georgetown in pool play and a surprise win against Millersville in the prequarters.
A team comprised of mostly seniors and rookies, this weekend was a chance to see how things were working. Captain Anthony McLean called the weekend "pretty successful."
"We definitely came in with a mix of young and old players and this was a test to see how everybody could play together," he said.
Senior Caleb Ward made big plays downfield all weekend and helped take GMU to the quarterfinals.
Although most teams at the tournament talked about their drive to make it to Nationals, George Mason has a more modest goal: get out of their section for the first time. The current crop of eight seniors has built the program from almost nothing in the last four years, and they look poised to get to — and even compete at — Regionals. "That's been our team's motivation all season," said captain Nathan Slade.
WAKE FOREST EYING DEEP DIII NATTYS RUN
Wake Forest was just two points away from a monster weekend. Despite playing mostly DI teams this weekend, the DIII Atlantic Coast powerhouse took two tournament semifinalists — Delaware and Carnegie-Mellon — to universe point on Saturday. Despite the losses, they still had a strong showing with strong wins over George Washington and Georgetown.
"We're not thinking DI and DIII this year," said captain Corey Casarella, explaining that in years past they would get intimidated by DI competition.
Calling this the deepest they've ever been, Casarella said that they are doing separate offensive and defensive lines "for the first time ever."
They are traveling to DI tournaments all season to get reps in against good teams as they look to get a top 5 finish at DIII Nationals. But, said Casarella, "hopefully we win it."
NYU SEES PATH TO METRO EAST TITLE
Up two breaks against Carnegie-Mellon in the quarterfinals, NYU looked like they had a chance to make some noise this weekend. But their offensive line — tired after long games on Saturday — faltered, giving up six breaks and losing the game, despite the best efforts of the defense which used a strong four man cup to earn multiple breaks of its own.
But coach Kevin Riley wasn't particularly concerned about the loss. Wins were not the goal of the weekend. "The goal was to make the most possible improvement in the most areas," he said. To that end, he didn't play NYU's top players both ways, relying on a young rookie-heavy defensive line to try to earn breaks.
Captain Wes Wong was happy with the result. "A lot of our younger players and rookies made big strides," he said. "Our goal leading up to Regionals is just to get better every game."
Riley emphasized the importance of developing depth. "You don't win that last game, the game-to-go, with eight guys," he said. "You win it with 13."
In the Metro East, where this year, more than ever, every team has a shot to take the lone bid to the College Championships, NYU thinks focusing on development makes more sense than trying to get your top guys lots of reps.
NYU's Jayson Lian was consistent at the offensive handler position all weekend, and there were positives for the offense. But they'll need to improve at playing under pressure to make a deep run this year, as they hope to unseat Cornell from their perch atop the Metro East.
MILLERSVILLE LOOKS TO BUILD DEPTH
Millersville had a tough showing this weekend after blowing a big lead over George Mason to lose their prequarters matchup on universe after losses to JMU and NYU on Saturday. Visibly upset about some "iffy" foul calls on the final point, one Millersville player kicked down the scoreboard and threw a chair.
But captain Kyle Wolf saw positives in the weekend. They showed the ability to be competitive with just nine or ten guys in their rotation (their roster is only 18 deep). "Normally what we have out ther is what we want to win the game," he said.
But this season they will look to continue to develop the fundamentals all the way down the roster. Their top players all have a year of club experience with Heva Havas, which made some noise at the Atlantic Coast Regionals in 2012.
"I want to be able to use the rest of our short roster," said Wolf. Their weekend could have ended very differently with just a point or two going differently. They also lost to NYU on universe point.
GEORGETOWN EYES NATIONALS DESPITE MIXED RESULTS THIS WEEKEND
Georgetown went 3-4 this weekend, with losses to George Mason, Penn State, NYU, and Wake Forest. Much like at QCTU, they showed flashes of brilliance (almost upsetting Penn State in pool play) but also showed a lot of inconsistency. (Last year at Hellfish they went 6-1).
Part of that is due to open lines, said coach Ryan Thompson. He is focusing on developing the very young team — they have 9 freshman and 15 rookies on the roster this year. "We're just trying to get everyone here experience," he said.
Thompson feels very good about the team's chances and points to Centex as the tournament where they will "make some noise." He believes they have a good shot of making it to Nationals, calling that their season's "only goal."
He reminded me that Georgetown had a big upset win over UNC-Wilmington in the quarterfinals of Regionals last year — he wants to build on that success. He believes that, had their been two bids last year, they would have had a great shot to make it. He feels the same way this year. "We're not scared of UNC-W," he said.
QUICK HITS
– Pennsylvania had a good weekend, losing by just two to eventual finalists JMU in the quarterfinals and notching solid wins over Wake Forest and NYU. They still have work to do to break through in the Ohio Valley after a 12-8 loss to Penn State in the last round on Sunday.
– George Washington has to be disappointed after an 0-5 weekend despite strong play by captain (and NexGen player) Chris Kocher. Often, he tries to do too much for the team, being too aggressive with hucks and not dominating, as he does very well, in the middle of the field with a lot of touches. GW lost all three pool play games on universe.
– It's interesting to watch a tournament like this after seeing Warm Up, with much higher caliber teams, just a week before. Whereas the country's best teams are working on defensive positioning and small tweaks to the offense, these regionals level teams are still focused on playing with each other, learning to handle a four man cup, and figuring out roles. There is so much more room for improvement with the lower level teams, and it's evident that coaching can really have an even bigger impact on them.